All hail The Grand Dame. Let's be real: Karen Huger is the reason most fans of The Real Housewives of Potomac tune in to the series. Her overarching fabulosity combined with her wisdom and quick shady wit make for excellent television, and she always has an opinion to share. The season seven reunion was more controversial than ever thanks to the Green-Eyed Bandits, Gizelle Bryant and Robyn Dixon. Gizelle's lies about Chris Bassett, and Robyn's inability to be real about her life were glaringly loud during the reunion and made it very tense. This tension was only amplified by the later discovery that Robyn was only revealing the truth of her and her now-husband Juan Dixon's issues on her podcast Reasonably Shady's Patreon. That's right, Robyn opted to save the juiciest bits to monetize for her own benefit. And Karen has a lot to say about Robyn's return, and Juan's scandal.
'RHOP' Fans Are Over Robyn Dixon and So is the Grand Dame
After the revelation regarding Robyn's withholding of information from the show, many fans have called for her to be fired from the series. And who can blame them? That's the whole point of the series: to get insight into the marriages and lives of the people on it. The rumors of Juan's infidelity were out there, and they should have been addressed. It's totally unfair to charge 'RHOP' fans for information that should have been featured on the show. Especially when it could have made her storyline in the season more interesting. The Grand Dame did her part to keep them interesting during season, sharing the rumor of the other woman Juan was seeing, who funnily enough, looks like her. But alas, denial, denial, denial from Robyn. Fans are bored and so is Karen. So bored, in fact, that while Robyn alluded to her and Juan's sex life in the bachelorette party discussion in the season seven reunion, Karen fully and openly yawned. It's lightly petty and we lived for it.
Karen Huger, The Grand Dame of Potomac, The Queen of Shade on 'RHOP'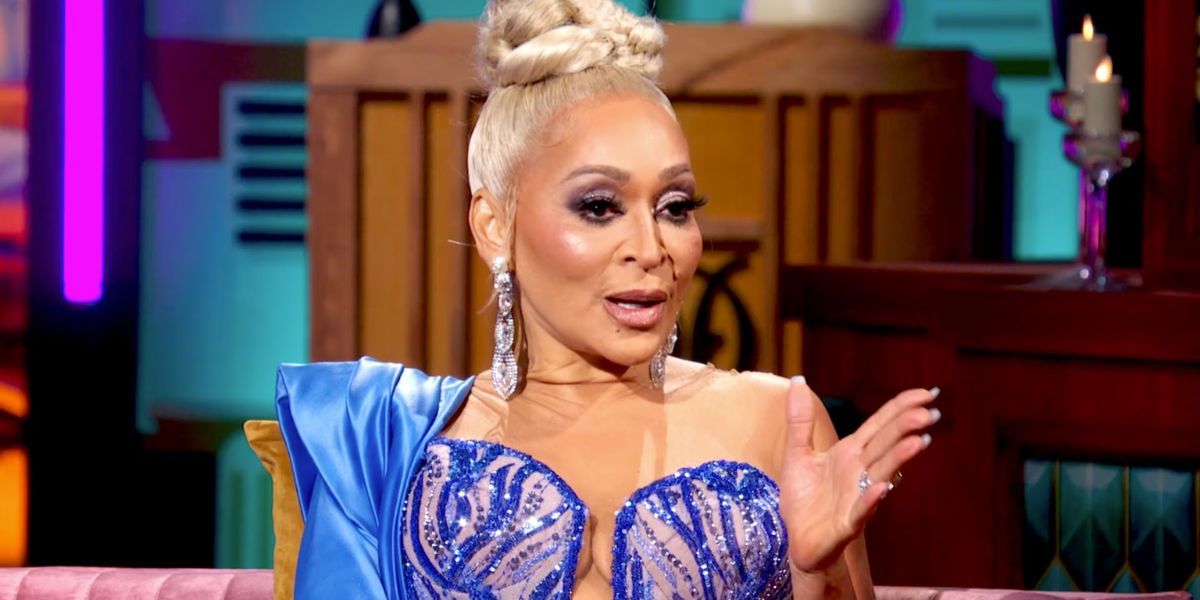 see more : U.K. TV's Boom and Bust: 2022 Saw Biggest Ever Turnover But Producers Predict Pain for 2023
To be fair, there hasn't been a moment the Grand Dame wasn't been over it when it comes to Robyn Dixon. Their relationship has been a struggle for many seasons. In fact, when recently asked about the upcoming season, Karen said, "Robyn made it back and the show is great. The girls are, per usual, messy as heck," as Entertainment Tonight reports. Viewers couldn't help but notice her choice of words. "Robyn made it back," essentially alluding to the fact that Robyn probably should have been fired from the show. When asked about Juan's legal woes and being fired from Coppin State University amid a poor season record and a sexual misconduct scandal, she remained fairly neutral, stating that she did not want to comment on legal matters. She is a class act, as she went on to say, "I don't know, but I'm wishing everyone the best and healing from this because I'm a mama bear. Whatever I do, kids are number one and trusting our children's institutions to educate them and have people around them be trusted it's very important."
Ultimately, as shady as she is, the last statement she made rings true. It's obvious that despite her larger-than-life personality she is a really caring person. She is the true and only Grand Dame, and we love her for it.
Source: https://dominioncinemas.net
Category: REALITY TV