Editor's note: The below contains spoilers for Ahsoka Episode 4.
Episode 4 of Ahsoka is one of the best that Star Wars has to offer, largely because it gives us a lot of something we love about the franchise: lightsaber duels! There are three battles of the sort in this week's "Fallen Jedi," and they are all an absolute delight for the fans to watch. Peter Ramsey's direction does a lot to make them raw and gritty, but that wouldn't work without Dave Filoni's understanding of the practice and of what makes a lightsaber battle engaging for the fans. It's a lot more than just the clashing of plasma blades, and Filoni and Ramsey show us how they can be used for storytelling and not just action sequences.
Their storytelling purpose is part of what makes these duels so good. There's a lot of taunting and bad blood between the fighters, making everything even more dramatic. But Ahsoka's choreography itself is not full of the flashy, dance-like moves from the Prequel Trilogy, being instead closer to the raw fighting from the Original Trilogy. Let's see why that is and how that makes for such good duels.
RELATED: See 'Ahsoka' on the Big Screen — Episode 5 Is Coming to Select Theaters
Sabine and Shin Have Their Rematch in 'Ahsoka' Episode 4
If their first meeting was groundbreaking for Star Wars, this time it's more about the apprentices trying to prove themselves to their masters. There is already a good amount of bad blood between Sabine Wren (Natasha Liu Bordizzo) and Shin Hati (Ivanna Sakhno), which makes this fight a lot more personal, too. They are both properly dressed for a duel, Sabine in full Mandalorian armor and Shin with her own medieval-inspired pauldrons on her shoulders. Eager as they are, they don't waste much time taunting each other and just go straight to fighting.
It's impossible not to draw a parallel to their first meeting on Lothal. In that duel, Shin pierced Sabine's torso with her lightsaber, so it was a clear win for the Dark Side. Now, though, things are a little different. Sabine is committed to using her Mandalorian arsenal and gimmicks in the fight, and that confuses Shin in the beginning — and us, too. She starts the duel by using her blasters, but Shin cuts it short by knocking Sabine against a tree and removing her helmet in the process. Symbolically, that's like Shin telling Sabine to fight like a Jedi, but Sabine still has her armor, so she can't forsake her heritage in a duel that's seemingly to the death.
Mandalorians have been fighting Force-sensitive warriors for millennia, and we've seen Sabine herself train in the ways of the lightsaber with Jedi Knight Kanan Jarrus (Freddie Prinze Jr.) in Star Wars Rebels. Back then, she learned from Kanan how a lightsaber works, with the flow of emotions reaching the kyber crystal at the center and how that affects the fight itself. In that same scene, she also learned from fellow Mandalorian Fenn Rau (Kevin McKidd) that her people developed all their gimmicks precisely to make up for the lack of Force-sensitivity when fighting a Jedi
Towards the end, after Ahsoka Tano (Rosario Dawson) has already defeated Marrok and started her second duel in the episode, Shin knocks Sabine down. The Mandalorian opens her hand as if trying to use the Force, a smart move supposed to make Shin taunt her and lose focus, and what happens is just that. After Shin says Sabine has "no power," Sabine shoots at her opponent with a series of darts and forces her to drop her lightsaber. Shin then runs off in the direction of her master. Although no one is severely wounded or killed, it's safe to say that Sabine won this round, even if only for just showing Shin she can hold herself when properly prepared.
Ahsoka Faces Off Against Marrok in Episode 4
While Sabine and Shin have their Padawan fight, Ahsoka takes on Marrok, the last Inquisitor, in a grown-up duel. A lot of theories were floating around about Marrok's identity — that he could be a new canon version of Galen Marek (Sam Witwer), Ezra Bridger (Eman Esfandi/Taylor Grey) turned to the Dark Side, and even Ahsoka's own former Jedi best friend Barriss Offee (Meredith Salenger). Turns out he was just Marrok, a former Inquisitor who had the aid of some good old Nightsister magick in his fighting.
The duel itself is rather short, though. Marrok is very agile and slick, which is a typical Inquisitor trait in battle, and uses his double-bladed lightsaber very well, complete with spinning attacks and all. But we've seen Ahsoka defeat countless Inquisitors back in Rebels, so she made quick work of him using only one lightsaber as opposed to her regular two (more on that later). The end of their duel is very reminiscent of Obi-Wan Kenobi (Stephen Stanton) against Maul (Sam Witwer) in Rebels, too. In both duels, the victor employs just good tactics and patience, as opposed to the flashy movements of the adversaries. The result is the same on both.
Episode 4 Leads Ahsoka to a Bigger Showdown With Baylan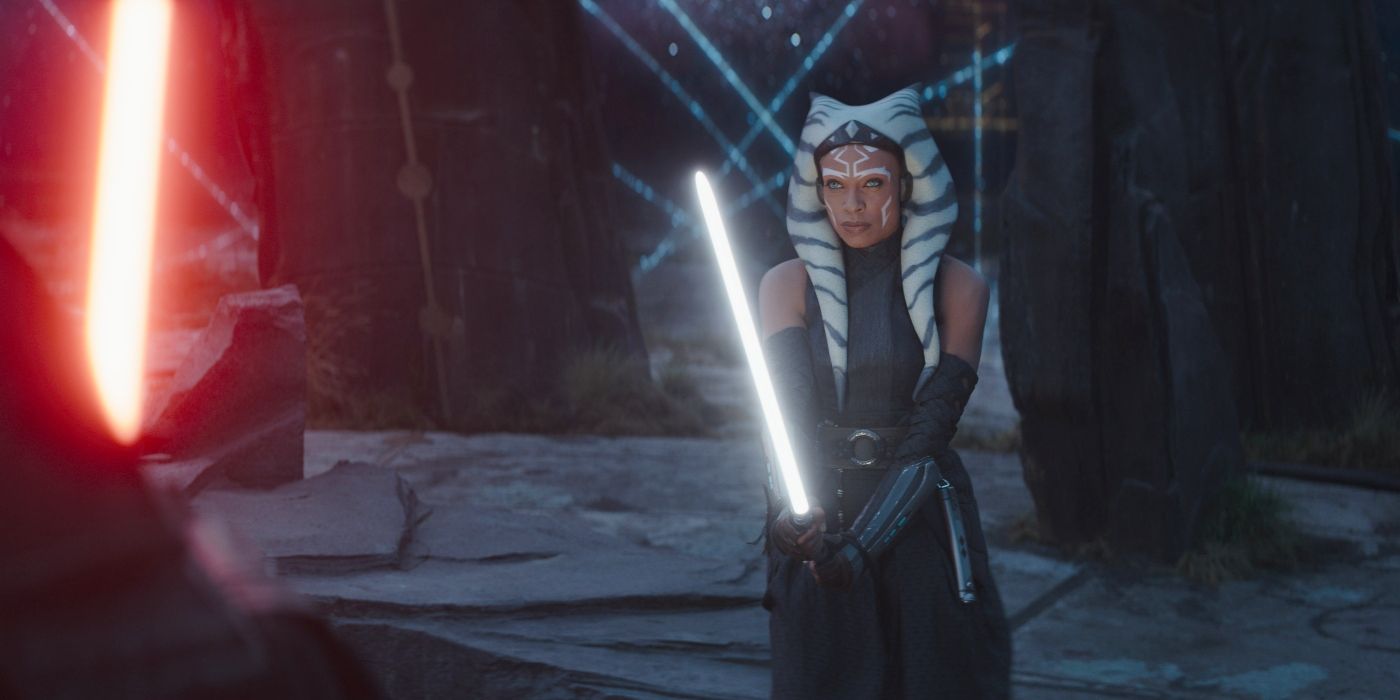 As good as the other duels may have been, the main act is Ahsoka against Baylan Skoll (Ray Stevenson). The fighting starts without them even bearing their lightsabers, just provoking each other. While Baylan seems calm and collected, though, Ahsoka is on edge. Perhaps it's the sheer stakes of the fight, and this imbalance impacts her performance even before the actual duel starts. For example, she chooses to use just one lightsaber again and literally throws her cowl away as she tells Baylan she's not there to discuss her past.
Baylan is a big man and wields a lightsaber that looks a lot like a big claymore sword; even the blade seems longer. He uses his size and strength to his advantage a lot against Ahsoka, but in a more graceful way if compared to other strength-based duelists like, for example, Darth Vader (Hayden Christensen/James Earl Jones). If Ahsoka wasn't so anxious here, she could have won this duel seeing as she's usually very quick and agile herself and uses her shoto lightsaber for defense, and she has taken far better fighters than Baylan on before. In fact, Baylan himself seems on edge about the duel, too. He mentions it to Morgan Elsbeth (Diana Lee Inosanto) earlier and his stance is rigid at the beginning.
What's interesting about this particular duel is how Ahsoka and Baylan study themselves at the beginning, like they're measuring each other and defining strategy. Also, both of them fight using typical Jedi stances which may explain some of Ahsoka's apparent anxiety here. For the first time in a long time, she's fighting someone who has the same training as her. Inquisitors have their own typical style, but Baylan is a Jedi-trained warrior. Although his style uses a lot of brute force, he still carries himself like a Jedi when fighting.
From half the duel on, Ahsoka's focus is completely gone, as she attempts to reach the map, burns her hand, and has to let it go. Baylan is now tapping into the Dark Side, openly taunting her, and uses even more force after Ahsoka Force-throws Shin at a rock for fear of Baylan's padawan having killed Sabine. His last strike throws her off the cliff, but it hits just her lightsaber blade.
Why Are Star Wars' Lightsaber Duels So Damn Good?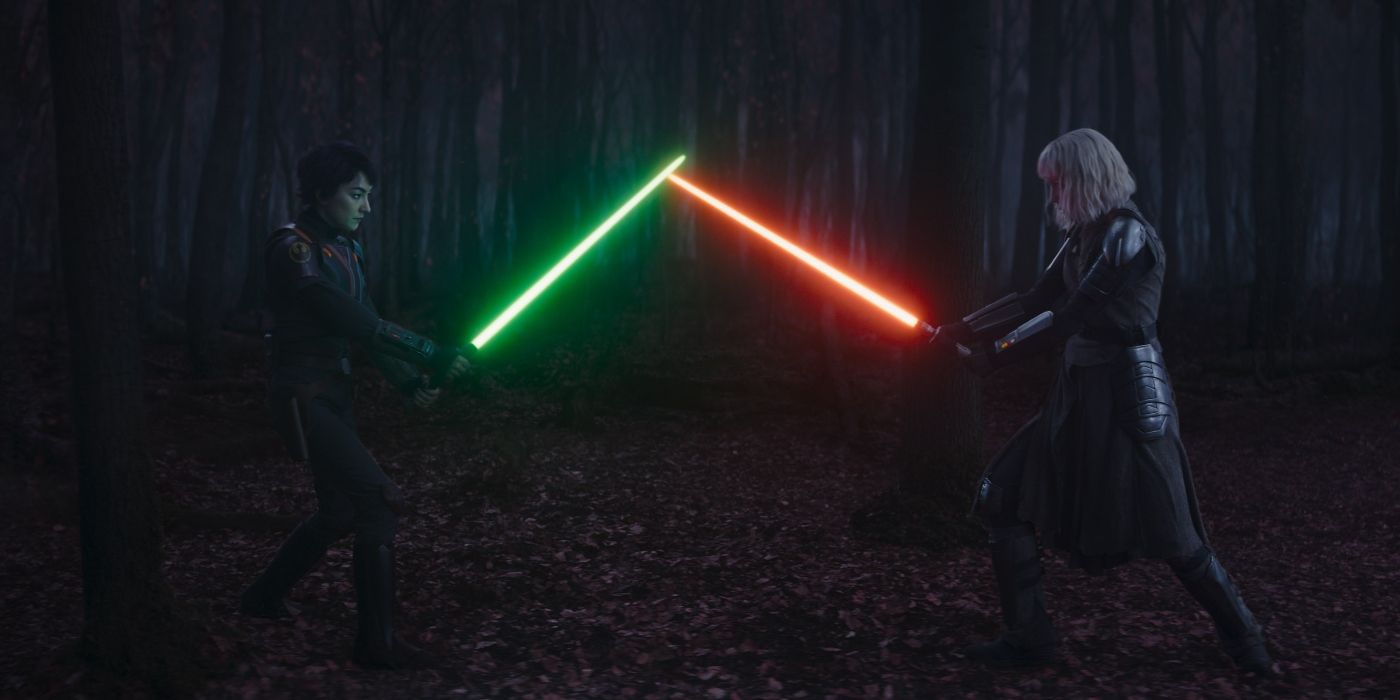 When The Phantom Menace came out, everyone was excited to see two Jedi engaging a Sith wielding a double-bladed lightsaber. In Attack of the Clones, it was about Anakin Skywalker (Hayden Christensen) wielding two lightsabers at once and seeing Master Yoda (Frank Oz) fight for the first time. In Revenge of the Sith, it was the great duel between Obi-Wan (Ewan McGregor) and Anakin. As important as they are in their own movies, these fights had nothing to do with the ones we saw in the Original Trilogy — and even later in the Sequel Trilogy — and were usually the culmination of a story, not a storytelling device themselves, hence the flashy choreography.
In "Fallen Jedi," the fights seem designed to tell a compelling story, not the other way around. It's interesting to see, for example, that Sabine and Shin and Ahsoka and Baylan often strike at one another's blades at the beginning, a test of their adversaries' reaction. Of course, Star Wars requires a certain degree of flashiness, turns, and twirls, so there's some of that there, too, but what makes Ahsoka's duels so good is that they are plausible just as the ones in the Original Trilogy were. Darth Vader was even played by Olympic fencer Bob Anderson in The Empire Strikes Back and Return of the Jedi, and in Ahsoka, Baylan's style feels very similar to that. A more realistic approach to lightsaber dueling means not only that the action itself is more enjoyable, but also deadlier, and that raises the stakes by a lot. Even if a character has a so-called "plot armor," the audience will feel insecure about their coming out alive if the action is raw and gritty.
New episodes of Ahsoka premiere every Tuesday on Disney+.
Source: https://dominioncinemas.net
Category: TV FEATURES