Editor's Note: The following contains spoilers for Netflix's One Piece
Netflix's One Piece is overflowing with a cast of colorful and inventive characters, each with personalities and abilities that make the open seas feel alive and vibrant. Eiichiro Oda's sprawling epic has made a successful jump into live-action thanks to the balance between realism and inventive imagination with these interpretations of the characters. The show finds a middle ground that makes the action sequences look engaging without being overly goofy. Luffy's (Iñaki Godoy) immensely stretchy body and Zoro's ludicrous three-sword fighting style are translated into the 3D world with surprising care that pays proper homage to the source material without losing all sense of credibility on screen. Even Buggy the Clown (Jeff Ward), with his zany circus aesthetics and ability to split his body parts into multiple pieces, is able to look menacing in this adaptation. However, among all these unique characters, there is one villain that feels even more creepy and sinister in live-action: Arlong (McKinley Belcher III), the captain of the Arlong Pirates and the most dangerous pirate in the East Blue. The interpretation of the fishman carries an aura of genuine threat whenever he's on the screen, putting the audiences on edge with fear at the potential of the vicious pirate's capabilities.
Arlong Lurked Like a Shark in the East Blue in Netflix's 'One Piece'
Part of what made Arlong such a menacing presence in the series was his introduction before his introduction. Taking a page from the Jaws school of shark introductions, the audience learns about the devastation Arlong can cause long before the Straw Hats actually see him. While they are dealing with other pirates, Arlong looms in the background, slowly but assuredly stalking after the young crew. After Luffy, Zoro, and Nami (Emily Rudd) defeat Buggy and reclaim the map to the Grand Line, the latter is revealed to be in communication with a mysterious person who is also in search of the map. Though it's not revealed to the audience at this moment, this moment of deceit from Nami lets the audience know that there are more foes and rivals in pursuit of this treasured belonging.
When Buggy is shown recuperating from his defeat at the hands of Luffy, a crew member of the Arlong Pirates approaches him to tell him that his captain wants to speak with him. At the mere mention of Arlong's name, Buggy's bravado and false confidence melts away. There is genuine terror in his expression, signaling that the opposing pirate's reputation is to be feared. Even when Buggy retaliates, he is swiftly defeated by the powerful fishman. Though this crew member wasn't even the captain, he demonstrates immense strength, highlighting that the fishmen aren't just another humanoid species — they are ones with supernatural capabilities that make them dangerous even to Devil Fruit users.
RELATED: 'One Piece' Pre-Credits Scene Explained: Who Is That Shadowy Figure?
Arlong's Introduction in the 'One Piece' Adaptation Is Visceral and Threatening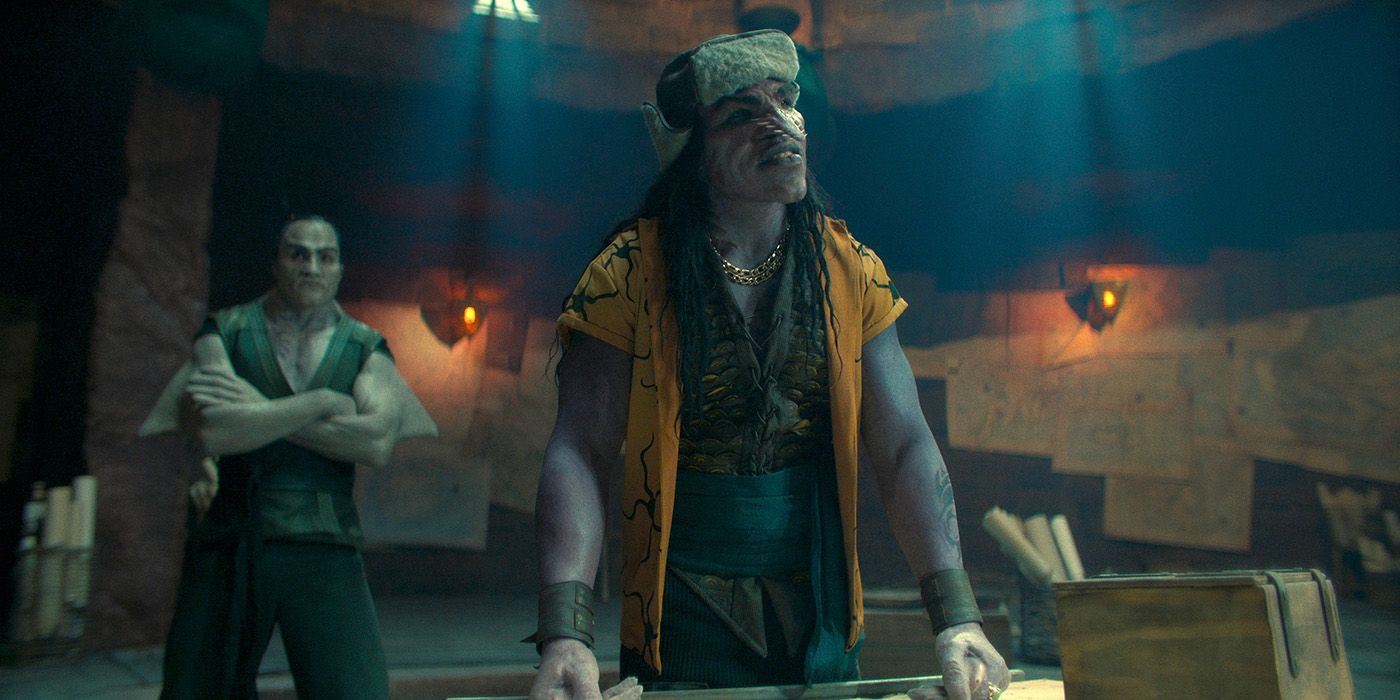 Arlong's introductions to the audience and to the Straw Hats are both immensely intimidating. He is first shown interrogating Buggy, once more striking fear into the rival pirate captain's heart. When audiences first see Arlong's actual appearance, it's frightening. He is broad-shouldered and muscular, with a large frame that evokes his superhuman strength. Based on a sawshark, Arlong's face is angular and vicious; his teeth are razor sharp like a shark and his nose is elongated and bristling with spines. At this point in the series, he is the most otherworldly character in terms of appearance, truly looking like a ravenous shark-turned-man. If visual intimidation weren't enough, Arlong was accompanied by a rhythmic and intimidating theme, influenced by hip-hop beats, that turn up the anxious intensity of the scene. The trap-inspired music is unique in the soundtrack, making Arlong Park feel distinct from places the Straw Hats have been before.
When Arlong arrives at the Baratie, it's as if a shark has found its prey to feast upon. The moment he enters the restaurant, there is a wave of fear and tension by his very presence. Keeping in mind, this is a restaurant that is more than willing to serve pirates— it's already not the safest place on the seas. However, his overwhelming aura and vigorous demands for the pirate in the straw hat shake the other diners with fear. Even Zeff, who is established as a former pirate captain, appears on edge. When he offers Arlong food, the fishman demolishes the cuts of prime rib in a bloody feast.
The ensuing fight between Luffy and Arlong is the most vicious beat down in the series. Though Luffy has clearly gotten much stronger, it's evident that Arlong is on another level. Luffy's most powerful attacks barely faze him. Even when a powerful punch knocks out many of Arlong's teeth, the sadistic pirate only smiles a bloody grin as they regrow. It's an image out of Shark Week, seeing the ferocious pirate smirk at Luffy's attempts to beat him. The teeth grow back in disgustingly vivid detail, with blood dripping down his chin as he eagerly stares at his prey. When Arlong does defeat Luffy, he is about to end the young pirate's life in the most vicious way, by ripping into his throat with a bloodthirsty bite. If Nami were even a moment slower, the series would have turned from swashbuckling pirate adventure into deep-sea horror, as even Luffy's rubber body would not have recovered from such an animalistic attack.
Arlong's Crimes Feel Incredibly Personal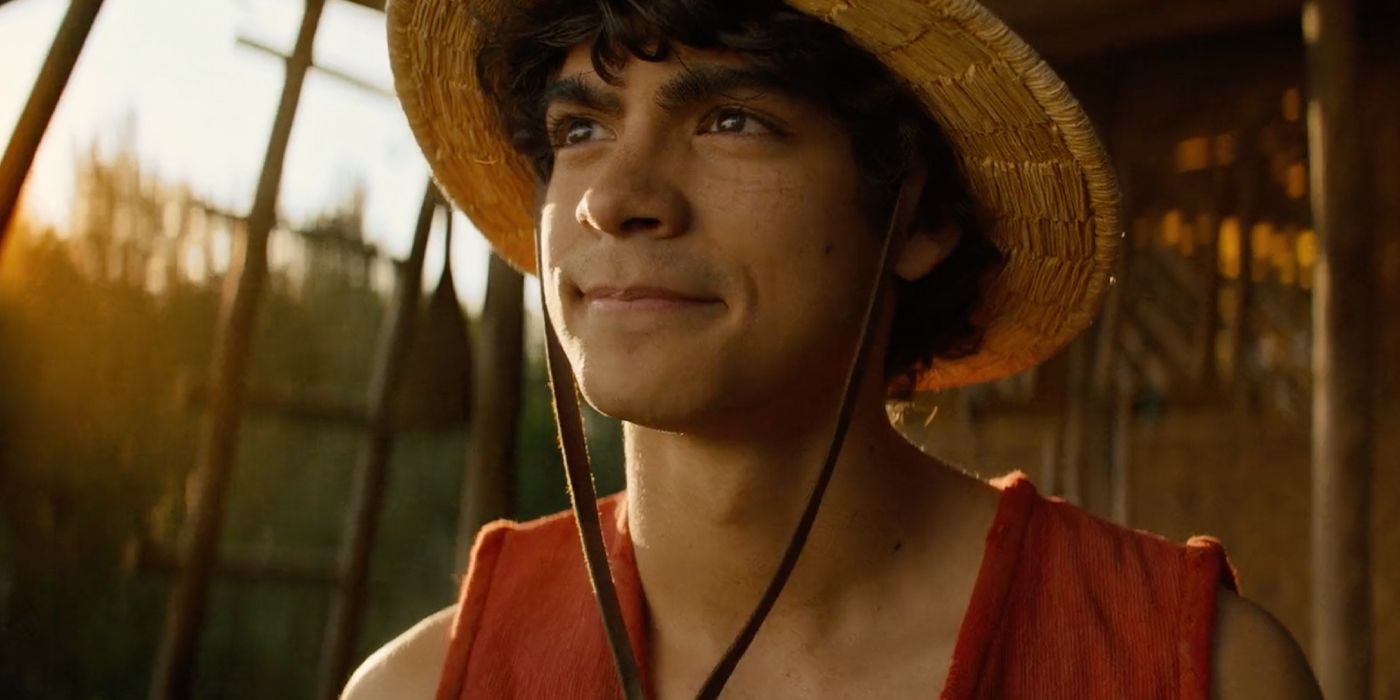 If the shark attack on our beloved pirate captain weren't enough, the more the audience learns about Arlong, the more heinous his crimes are revealed to be. Nami's betrayal guts the crew, but as Luffy astutely points out, there has to be a reason behind her actions. Her flashback then reveals one of the most brutal and heart-wrenching moments in the series. Arlong and his pirates arrive at her small home, Coco Village, and immediately rain terror down on the unsuspecting citizens. He demands a large tax for each person as a fee for letting them leave. Though Nami's mother, Bellemere, attempts to hide her two daughters from danger, the pirates are able to expose the children. With enough funds saved for only them, Bellemere pays the tax for her children and sacrifices herself to Arlong. The unrelenting pirate then murders her without a moment's hesitation, in front of her terrified young children.
Brave even when she was young, Nami eventually made a deal with Arlong that if she works for him and manages to accumulate 100 million berries, he would free her village from his despotic rule. When Nami returns with the map to the Grand Line, having betrayed her closest friends, Arlong heartlessly deceives her. He sends a pack of corrupt Marines that he has threatened and coerced into leaving him alone to the secret hiding location of Nami's gold. They ruthlessly take back the millions of berries that she had stolen over the years, effectively trapping her in perpetual servitude. She was chained to her room as a child, imprisoned by the fishman. And even years later, he continues to keep her trapped in a state of helplessness.
After bonding with Nami throughout the season, Arlong's abuse and oppression of her and her village stokes an unrelenting fire in Luffy and the audience. Arlong isn't just a violent and dangerous pirate, he is a vindictive liar who mercilessly hurt Nami in the ways that would wound her the most. From his foreshadowed and ominous introduction all the way to the final brawl against Luffy, the depiction of Arlong is perfectly dangerous, menacing, and intimidating, worthy of his reputation as the baddest pirate in the East Blue.
Catch Arlong and his fights against the Straw Hat Pirates on Netflix, where One Piece is streaming now.
Source: https://dominioncinemas.net
Category: TV