Editor's note: The below contains spoilers for Season 2, Episode 4 of The Wheel of Time.
The Wheel of Time's initial Season 2 release ended with several cliffhangers. Episode 3, "What Might Be," leaves Perrin (Marcus Rutherford) on the run, Mat (Dónal Finn) unsure of where to go, Rand (Josha Stradowski) starting a fire with his uncontrolled power, and Nynaeve (Zoë Robins) barely escaping the ter'angreal with her life. But the beginning of Episode 4, "Daughter of the Night," doesn't begin with any of those characters. Instead, it opens with the Dark One's lieutenant, Ishamael (Fares Fares), releasing a mysterious bloody figure.
Meanwhile, Lan (Daniel Henney) remains with Alanna (Priyanka Bose) and her warders, but he misses Moiraine (Rosamund Pike), and the broken bond still affects him. His fight with Moiraine left Lan doubting his life with her, but Alanna comforts him by reminiscing about Moiraine before her abrupt change a few years before meeting Lan, unaware of what caused it. She reassures Lan that Moiraine's secretive nature isn't his fault. Unsure of what to do next, Lan listens to wisdom about the warder's relationship from Ihvon (Emmanuel Imani) and Maksim (Taylor Napier). Though coping well, Lan struggles with losing his bond to Moiraine, trying to make sense of her harsh words. Among Lan's things, Alanna finds a prophecy that discusses someone known as Lanfear, and it turns out to be the same words Ishamael used to awaken that bloody creature at the beginning. Now, in the world again, Lanfear has been seeking a new lover.
RELATED: The 10 Best 'Wheel of Time' Characters, Ranked by Likability
The White Tower Learns of a New Threat in 'The Wheel of Time' Season 2
Nynaeve, now officially an Accepted, struggles after living through her fears. Egwene (Madeleine Madden) tries to help, but Nynaeve pushes away her friend. Egwene talks to Elayne (Ceara Coveney) about the change in her relationship with Nynaeve, frustrated that she cannot help her friend. Word of Nynaeve's legendary channeling inside the arches spreads, yet Liandrin (Kate Fleetwood) hears of an invasion that the White Tower is not addressing. She confronts the Keeper, Leane Sharif (Jennifer Cheon Garcia), who is in charge while the Amyrlin Seat (Sophie Okenedo) is away, but Leane doesn't change her mind. Liandrin threatens both Leane and the Amyrlin before leaving.
see more : 'Ahsoka' Gets the Retro Treatment from Hasbro With New Figures
Haunted by her fears, Nynaeve sits by the arches, surprising Liandrin. Nynaeve cannot process the fact that none of it was real, revealing that she believes she lived there for years. Liandrin discusses her secret son and her admittedly selfish decision to hide him for decades while keeping him close. She claims that while men who can channel suffer from madness, leading them to kill those they love, the slowed aging curses the Aes Sedai by forcing them to watch their loved ones die. After sharing a compassionate moment, Liandrin tells Nynaeve of an invasion, which includes a report that Perrin and Loial (Hammed Animashaun) were found by the invading Seanchan. Though Nynaeve promises not to do anything rash, she inwardly plans to rescue her friends. Nynaeve tells Egwene of her intentions to save Perrin and Loial, and contrary to Nynaeve's expectations, Egwene insists on coming. As a novice, she faces more danger for leaving, but Egwene claims protecting her friends is what she has been training for. Nynaeve and Egwene sneak out of the Tower, but Elayne follows. Before they can convince the princess to return, Liandrin discovers the three and knocks them out with the One Power.
While Perrin Meets New Allies, Mat Finds More Danger in 'The Wheel of Time' Season 2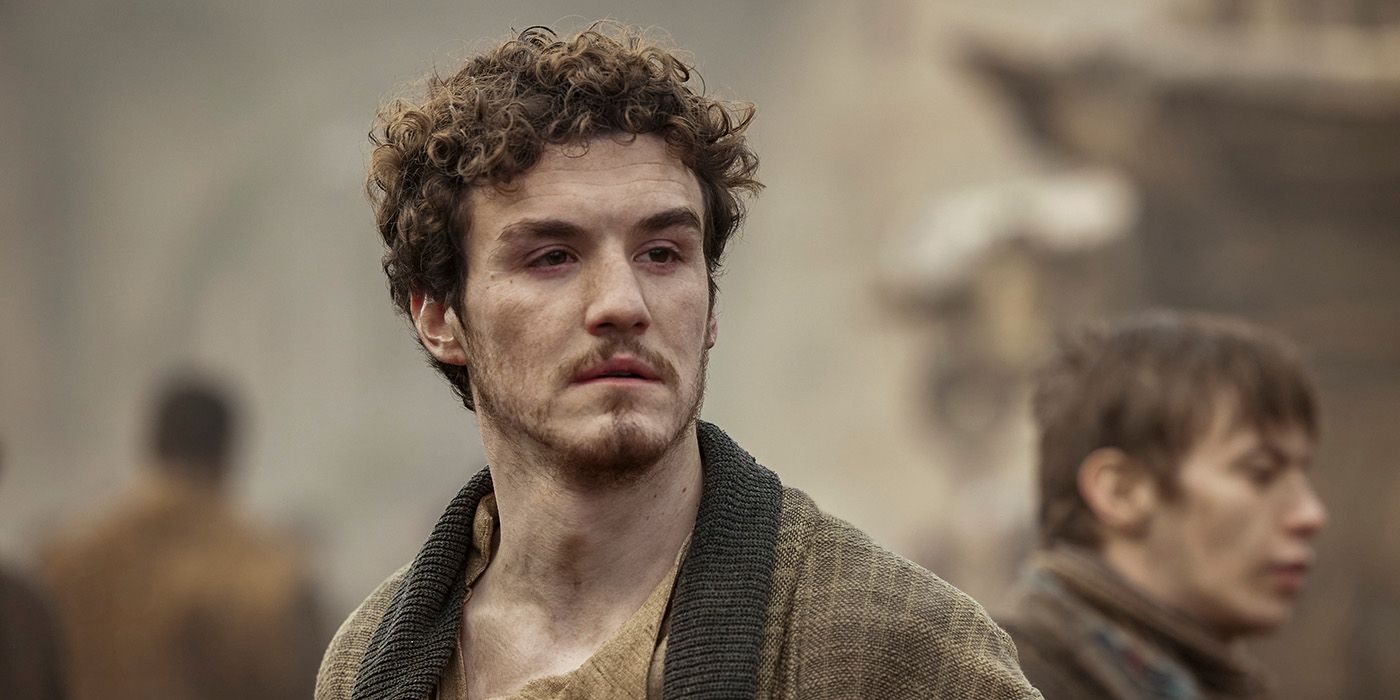 After his last-minute rescue, Perrin travels with Elyas (Gary Beadle) and the wolves while Elyas explains their shared relationship with the wolves. Wolfbrothers, as they are called, can send and receive visions with the wolves in their pack. Elyas also reveals that he and the wolves have been watching Perrin for a long time, saving him and Egwene from the Whitecloaks in Season 1 — but they didn't approach him because of the danger Wolfbrothers face from the Aes Sedai. During the journey, Perrin befriends one wolf in particular, Hopper.
After leaving Tar Valon, Mat and Min (Kae Alexander) have no plan, deciding to stay at an inn. But while Mat gets drunk, Min waits to meet a mysterious stranger. Before the meeting, Min relives her worst visions, longing for them to stop. When Ishamael appears, she sees nothing. Sent by Liandrin, Ishamael claims to be able to stop her visions, but only if Min does as he asks. Unaware of who she is helping, Min attempts to get out of her deal, but Ishamael will not release her. He instructs her to get Mat to Cairhien.
'The Wheel of Time' Season 2 Shows Cairhien to Be a Dangerous Place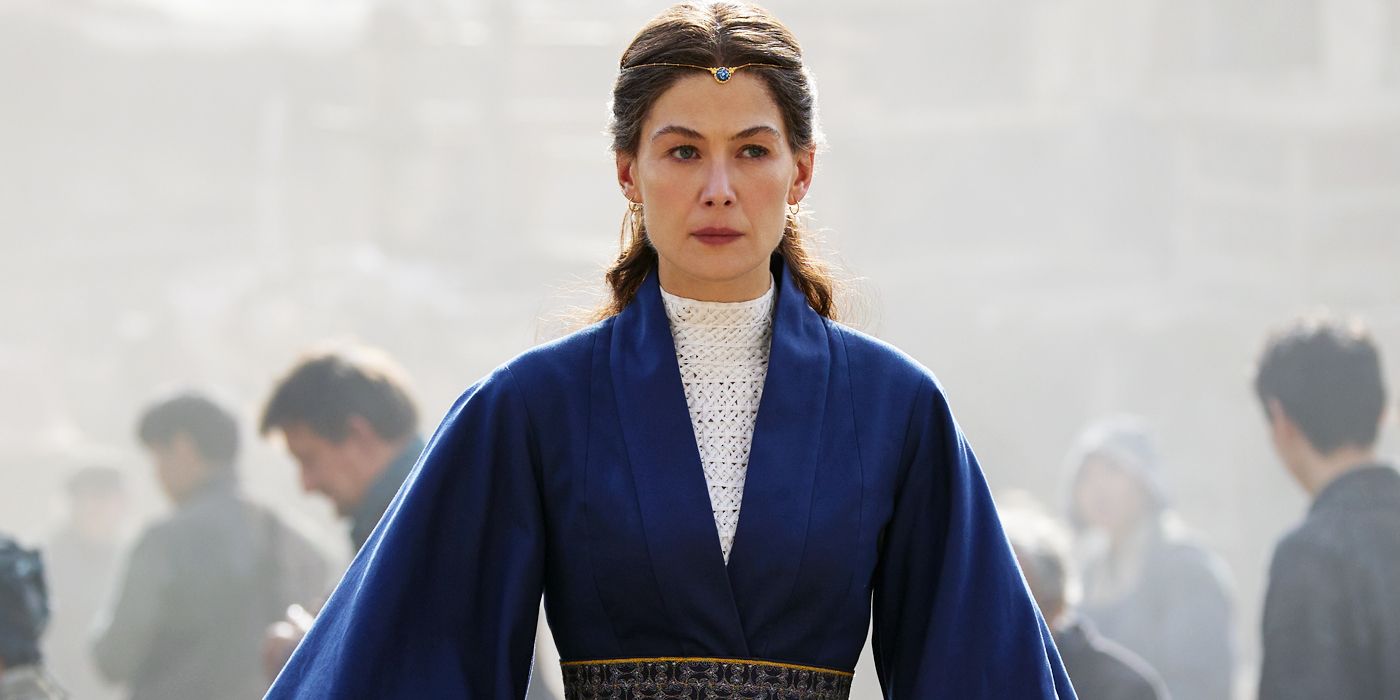 see more : Dan Harmon's 'Krapopolis' Takes a Strong Voice Cast to Ancient Greece: TV Review
In Cairhien, Lady Anvaere Damodred (Lindsay Duncan) meets with the woman who is revealed to be her older sister, Moiraine — who looks much younger due to her use of the One Power. Moiraine doesn't slow down as she enters, asking to keep a low profile and refusing to catch up with her sister. Though Anvaere allows the Aes Sedai what she asks for, Moiraine's decades-long absence undoubtedly frustrates her. Moiraine goes to the sanitarium, asking about Rand before visiting Logain (Álvaro Morte) and revealing that she wants him to train Rand. But Logain, still bitter from his gentling, refuses to help her until she bribes him. For his cooperation, Moiraine offers to leave a knife with him so Logain can kill himself — the most common fate of those who lose their ability to channel. Logain caves, telling her where Rand is staying and what he knows about the other man, but Moiraine insists he trains Rand before getting the knife.
Rand cleans up the ashes of the burned-down inn. Though he started the fire with the One Power, Selene (Natasha O'Keeffe) claims it was a result of her not putting out the candles, and Rand cannot correct her. Selene intends to get away, staying at a cabin near Kinslayer's Dagger and inviting Rand to come along. Though he initially refuses, Rand decides to accompany Selene to the same place she would visit with her former lover. Rand admits to missing his home but knows the Pattern will not let him go back — yet Selene suggests he can make his own fate.
Moiraine continues searching for Rand until her sister confronts her. Anvaere reminds Moiraine of their family's struggles, which Moiraine abandoned her to. She explains how she worked to raise House Damodred after a family disgrace and insists that Moiraine will not damage her reputation. Having stolen all the spies Moiraine has in the city, Anvaere knows where Rand is but will not give the information to the Aes Sedai without getting what she wants first.
A Fade attacks Rand, and he kills it with the One Power, but Selene witnesses his ability to channel, acting surprised by the reveal. Rand apologizes for hiding it and says he loves her before trying to leave to protect her — yet Selene recovers from the supposed shock quickly, telling him not to hide his power. She doesn't allow him to leave, wanting to stay together for as long as they have before his madness sets in. As the two of them tangle up in bed and Selene ties Rand's wrists to the headboard, she reveals herself to have power too, which she begins to unleash — but just then, Moiraine appears and kills her, angering Rand. Moiraine convinces Rand to run because, even with a blade through the chest and a slit throat, Selene — better known as Lanfear, the most dangerous of the Forsaken — cannot actually be killed. Indeed, as Moiraine and Rand flee together, the camera pans in on Selene's closed eyes, which eventually reopen.
New episodes of The Wheel of Time Season 2 premiere every Friday on Prime Video.
Source: https://dominioncinemas.net
Category: TV