Editor's note: The below contains spoilers for Episode 3 of Ahsoka.With the exception of Andor and Obi-Wan Kenobi, which took advantage of their captive audience's streaming attention span, all of the Disney+ Star Wars series have suffered from too-short episodes that nip their potential in the bud. After a lengthy two-episode premiere, Ahsoka has immediately fallen into this same trap with Episode 3, which clocks in at only thirty minutes. This short-form storytelling seems to mirror the formula that fans of The Clone Wars and Rebels are more familiar with, however, these series always had seasons that spanned fifteen to twenty-two episodes. Shorter episodes within these longer seasons made sense because the stories they sought to tell had time to build across episode arcs. With Ahsoka's eight-episode Season 1, Dave Filoni does not have time to leisurely meander through the story, and with the ironically titled "Time to Fly," it has never been so apparent.
The episode opens on the heels of "Toil and Trouble," with Sabine Wren (Natasha Liu Bordizzo) training with Huyang (David Tennant) aboard Ahsoka's (Rosario Dawson) ship as they set out to learn more about Thrawn's (Lars Mikkelsen) impending return. The training sequence is not particularly new or inventive—especially for anyone who has played Star Wars: Jedi Challenges or Jedi: Fallen Order—but Steph Green's direction at least makes it visually appealing to watch.
The Disney+ description for "Time to Fly" mentions that Hera (Mary Elizabeth Winstead) will "tangle with New Republic politics" in the episode, and that is about the extent of the moment. Hera takes a meeting with Chancellor Mothma (Genevieve O'Reilly) and a panel of disinterested senators to discuss her findings at the Santhe Shipyards on Corellia. She attempts to raise an alarm about the Imperial sympathizers she discovered there, but the senators are insistent that all of the former Imperials are true to their oaths of loyalty. Mothma seems genuinely alarmed by Hera's next revelation, which is the theory that Thrawn may still be alive, but the rest of the panel is unimpressed. "Master and Apprentice" made it seem as though Ahsoka and Hera had never discussed the search for Thrawn or Ezra Bridger, but through this exchange, the senators accuse Hera of trying to allocate New Republic funds for her personal quest to find Ezra.
Following the meeting, Hera runs into her son Jacen (Evan Whitten) in the hallway, where everyone's favorite murder droid, Chopper, has told him about Sabine's plans to become a Jedi. Jacen excitedly proclaims that he also wants to be a Jedi—which has never been a smart move for anyone named Jacen—and Hera fondly placates him. For fans of Rebels, this tiny moment has greater meaning, considering Jacen's late father Kanan Jarus was a Jedi, but Ahsoka side-steps any real mention of him. Instead, Kanan is part of the catchall "family" that Hera lost while fighting Thrawn during the war. The weight of Hera's wistful smile is lost to the casual viewer, much like so many of the best moments so far in the series.
see more : Who Is Jacen Syndulla in 'Ahsoka'?
RELATED: 'Ahsoka' Brings Back This Iconic Star Wars Element
To Be or Not to Be a Jedi
For a show led by a former member of the Jedi Order and in a period of time where there are very few Jedi remaining, Ahsoka seems quite fixated on the idea of the Jedi. About a third of the episode attempts to build on the newly introduced plot point which is Sabine's previous Jedi training with Ahsoka. Despite the premiere dedicating a decent amount of time to establishing Sabine's force sensitivity, the conflict between her and Ahsoka that arrived from their failed apprenticeship, and opening up a path for her to resume that apprenticeship, "Time to Fly" seems disinterested in committing to any of that.
If Huyang is to be ignored, Sabine is decent with a lightsaber—she has good form and natural instincts, but she is also insistent that she isn't force-sensitive in the same way that Ahsoka is. The dialogue also backpedals on whether or not Ahsoka and Sabine had a formal master and apprenticeship, by having Ahsoka dismiss the idea that Sabine even needs to become a Jedi. After all, Ahsoka left the Jedi Order, and despite her track record of bolstering Luke's desire to start the second downfall of the Jedi Order, she is fully aware of the inherent issues with the Order. While Huyang's gentle barbing about the long line of failed Jedi that came before Ahsoka is amusing, no amount of snark can make up for the disjointed way this plotline is being rolled out.
The latter half of the episode is where things take flight, as Ahsoka and Sabine discover that their foes are constructing a hyperspace ring that will, presumably, take them to a galaxy far, far away. The ensuing firefight with Shin Hati (Ivanna Sakhno), and a slew of throwaway fighter pilots, forces Ahsoka and Sabine to function as a team again. It is a welcome sight after the weird tension between them in the first two episodes, and it provides a glimpse of a much warmer Ahsoka—a characteristic that has been sorely missing in her live-action portrayal.
After narrowly escaping from Morgan Elsbeth's (Diana Lee Inosanto) grasp, Ahsoka and Sabine take a moment to discuss the creature they encountered during the fight after taking refuge in the forests on a nearby planet. Fans of Rebels will already know that they were soaring through the stars among Purrgils, and for once Ahsoka takes the time to explain that the last time either of them saw Purrgils it was when Ezra and Thrawn disappeared. Huyang explains that the hyperspace ring that Morgan Elsbeth is constructing is capable of jumping to a neighboring galaxy, with the aid of Purrgils. The episode ends rather anticlimactically with Baylan Skoll (Ray Stevenson) giving the order to hunt down "The Jedi." However, and not to sound like Huyang "um actuallying" anything, but given the earlier discussions in the episode—neither Ahsoka nor Sabine is a Jedi. Has anyone clued Baylan in on that factoid?
Time Flies When You're… Having Fun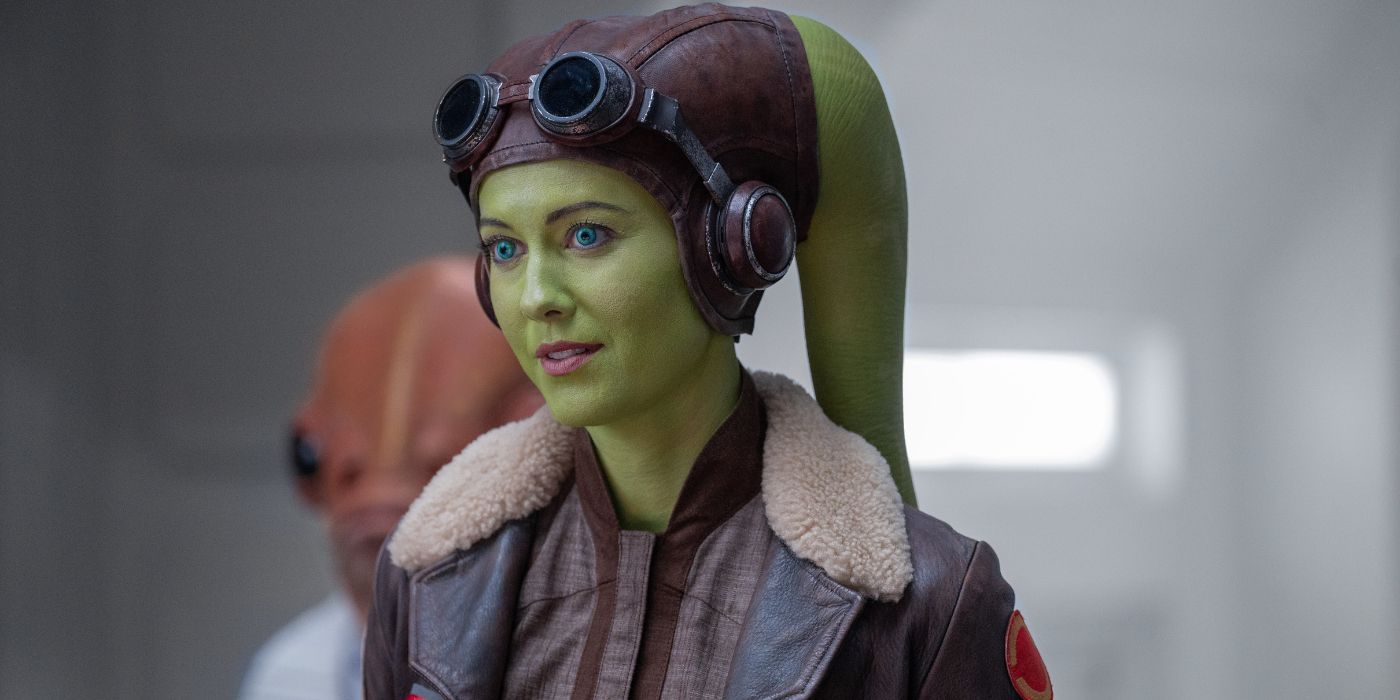 "Time to Fly" is an apt title for Episode 3, as the time did indeed fly while watching the episode. Green's direction and O'Reilly's brief appearance were the episode's sole redeeming qualities, despite Bordizzo's and Winstead's best efforts to salvage the disjointed character arcs they've been given. The episode ends rather abruptly with neither a moment of closure nor a cliffhanger, which is a bewildering way to tease the journey ahead.
It remains to be seen if Ahsoka can pull together a more coherent story arc by the midway point next week, or if we're watching an eight-episode series designed to establish Filoni's upcoming feature film. The latter wouldn't be surprising when The Mandalorian's second season was used as a backdoor pilot for Ahsoka and the no-go Rangers of The New Republic. Episode 3 could've benefited from about fifteen more minutes of storytelling to establish crucial plot points that have been brushed over thus far for more casual viewers, though the premiere did make it quite clear that Ahsoka is aimed at a very niche audience who may prefer their truncated episodes.
The first three episodes of Ahsoka are streaming now on Disney+.
Source: https://dominioncinemas.net
Category: TV