Editor's note: The below contains spoilers for Episodes 1 and 2 of Ahsoka.
The two-episode premiere of the highly anticipated Star Wars TV show Ahsoka does not disappoint. It's got everything a Star Wars show needs: the ongoing battle of Jedi vs. Sith, relics with a secret map in them, and extraordinary fight scenes. It has characters we all recognize, whether from live-action series like The Mandalorian or animated installments like The Clone Wars or Star Wars Rebels. It brings characters we've only seen momentarily and sheds light on their story, hence the name Ahsoka, whom the story revolves around, but audiences have been dying to see more of. It also includes a groundbreaking moment we haven't seen in live-action Star Wars films or series before — and it's impossible to miss this glorious fight scene.
RELATED: Star Wars Has Never Had a Character Quite Like Ahsoka Tano
Sabine and Shin's Lightsaber Duel Is Star Wars History In the Making
Right away, this female-driven series is breaking boundaries for young padawans everywhere. It slices right through the usual one-woman-to-a-group-of-men ratio and instead gives us a crowd-pleasing lineup of hard-core, tough female leads. And this is the first time in Star Wars history that a live-action film or TV show has had two women having an intense lightsaber battle. In Ahsoka's very first episode, Sabine Wren (Natasha Liu Bordizzo) and Shin Hati (Ivanna Sakhno) duke it out in an epic flash of lightsabers and combat skills. This wicked fight scene is short but bittersweet; you'll want to watch it repeatedly. One moment in particular involves Shin spinning her cloak in a quick blur, evoking Darth Maul (Ray Park) in The Phantom Menace. Intense stare-downs ensue, sabers fly through the air, and one of them doesn't get up. These two characters are sure to meet again for another legendary battle.
Is this really groundbreaking, though? Or just cool? Women fight in Star Wars all the time. But while Rey (Daisy Ridley) had many fantastic lightsaber battles where she showed the galaxy her Jedi skills and helped take down the First Order, she never faced off against another woman in a combat moment just like Sabine does. Considering that the Star Wars franchise has been around since 1977, it's safe to say a duel revolving around two women wielding lightsabers is monumental. Even in the animated shows, fights centering around two women are few and far between.
Although women are just starting to get more of the limelight in Star Wars, that isn't to say that there weren't awe-inspiring female characters who came before Ahsoka. Leia Organa (Carrie Fisher) is the obvious choice to point to first because she paved the way for many women in the Star Wars universe by being a total rebel herself. She killed Jabba the Hutt, she rescued Luke Skywalker (Mark Hamill), she faced Darth Vader (James Earl Jones), and she led her own rescue mission after the boys botched it. She takes the damsel in distress stereotype and turns it on its head — and without her, we would never have had the potential for more badass women in Star Wars at all.
Ahsoka Also Takes Down More Than One Enemy in the Series Premiere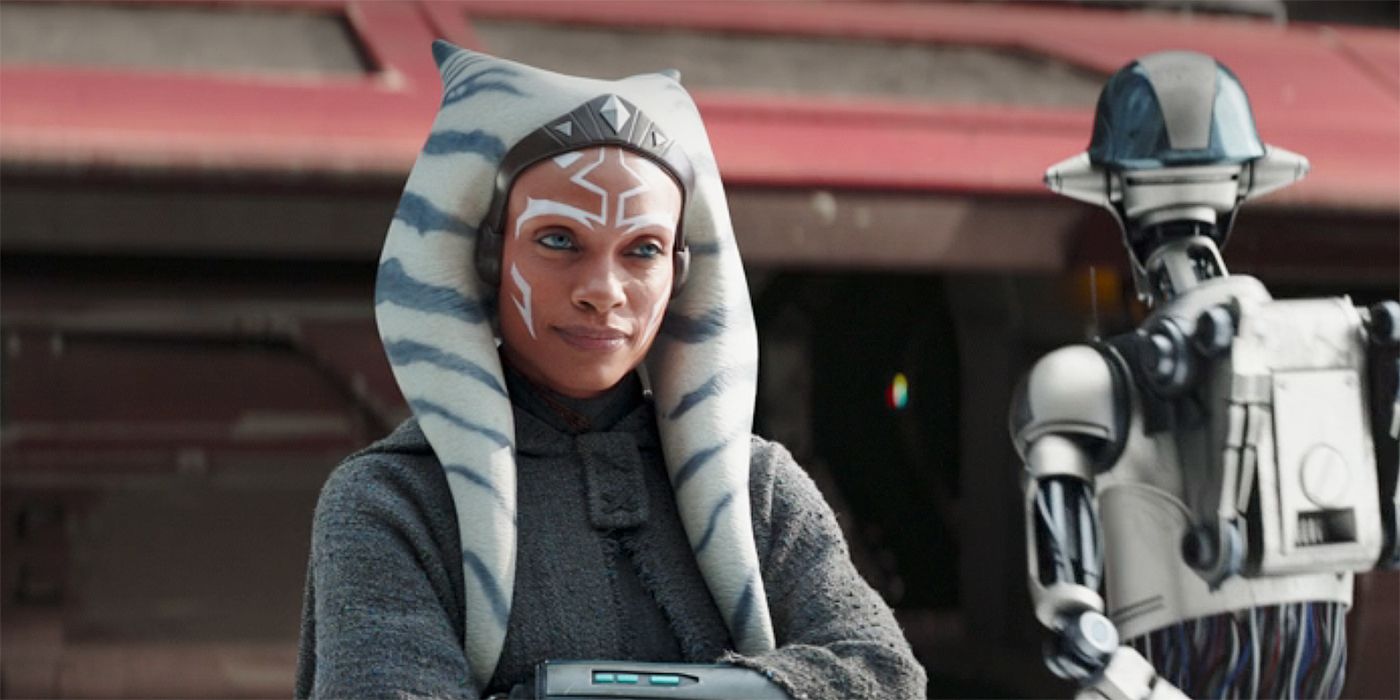 Just because Sabine has made Star Wars live-action history doesn't mean there aren't other great fight scenes to point to. Within the first two episodes, Ahsoka Tano (Rosario Dawson) really showcases her talents and resourcefulness. Right away, she's on a mission all her own, and she uses her lightsaber to slice a circle of the roof to get her inside the temple where a valuable starmap has been hidden. Later, she wields the same moves to take down a herd of assassin droids coming after her in order to procure the map for themselves. Her skills know no bounds as she fights against the Sith.
Later, when she's on the New Republic Shipyards in Corellia, Ahsoka takes on both an assassin droid and a masked Inquisitor — and that's after she and General Hera Syndulla (Mary Elizabeth Winstead) uncover and take down some Empire loyalists. We were promised lots of lightsaber action, and so far, it's been delivered wrapped in a pretty bow. But let's face it: Ahsoka doesn't get out of bed unless she's fighting more than one opponent. To do otherwise would be a waste of her talents.
'Ahsoka' Shows That Sabine Still Has Some Learning To Do
Although Sabine is pretty handy with a lightsaber herself, she's still a padawan, as Ahsoka proclaims her at the end of the episode, and has some learning to do around using the Force — but that's not to say she isn't resourceful in her own right. Sabine is able to crack the code to unlock the map to Thrawn. Granted, she loses the map to Shin over the course of their lightsaber duel, but she is able to put the puzzle pieces together and bring Ahsoka one step closer to finding not just Thrawn, but someone else equally important.
Losing the map aside, Sabine is having a tough time after losing her best friend, Ezra. She has his lightsaber and has made adjustments to it to make it her own, but she is having trouble adjusting without him. She skips the ceremony planned for the morning because she would have to think about him. But now that Ahsoka is back, things can be different; there's even a possibility that Ezra is alive. And with that chance is some hope for the future. So Ahsoka and Sabine set out to find the map, continue Sabine's training, and hopefully find Ezra in the process.
If the first episode of Ahsoka has already made history, one can only imagine what the show will do next. This series has so much potential to do great things and take its audience on marvelous adventures — and that's not even getting into everything going on with Morgan Elsbeth (Diana Lee Inosanto), who is stirring up trouble with the Sith. But with Ahsoka resuming Sabine's training, there will surely be more epic battles and lessons to be learned — and hopefully, even more awesome lightsaber duels featuring the show's kickass female characters.
New episodes of Ahsoka premiere Tuesday night on Disney+.
Source: https://dominioncinemas.net
Category: TV