There are movie roles, and then there are movie roles: performances so indelibly tied to a specific actor that it's impossible to imagine another person in their stead. Perhaps this actor's interpretation of the script was too singular to ignore. Maybe they scored that elusive "the right place at the right time" phenomenon, and pop culture imprinted them onto the public consciousness as enduringly as a dinosaur's footprint on a river bed. The great Alan Rickman hit both qualitatives and then some. List his resume on a dart board, and the darts will hit a classic every time.
Having said that, although Harry Potter devotees might disagree with the following sentiment, none of Rickman's quintessential roles were as irresistibly engaging as the urbane, derisive, and too intelligent for his own good villain Hans Gruber in Die Hard. Rickman's presence is a fuse to a lit match, an electric thrill overwhelming the screen with just a cutting look or silver-tongued word. It's an even more remarkable feat given that Die Hard was the actor's film debut. Yes, a man with that assured bearing strode onto Hollywood screens rocking that pristine designer suit with all the ease of a predator surveying his spoils. Ironically enough, Rickman almost turned down this career-making — and career-defining — role.
Alan Rickman Wasn't Interested in an Action Movie
In the late 1980s when Die Hard producer Joel Silver and director John McTiernan were on the hunt for their lead villain, Alan Rickman was already a veteran of the stage. He graduated from London's prestigious Royal Academy of Dramatic Art in 1974 before joining the equally distinguished Royal Shakespeare Company, where he remained for years. After migrating from London to Broadway, his performance as the sinister, beguiling Vicomte de Valmont in the play Les Liaisons Dangereuses garnered him a Tony Award nomination in 1987.
As fate would have it, it was Les Liaisons Dangereuses that caught Joel Silver's eye. After Silver attended a production, he offered Rickman, a complete unknown in the Los Angeles film world, the pivotal role of Hans Gruber. One can only assume Silver witnessed what the rest of the world saw after Die Hard premiered in 1988: a star operating in a league inaccessible to anyone else on planet Earth. Rickman, however, had doubts. In a 2015 BAFTA Life in Pictures event looking back upon his career, the refined thespian revealed his reaction to the Die Hard script — and it wasn't positive. "I read it and I said, 'What the hell is this?" Rickman shared. "I'm not doing an action movie."
see more : 'Bounty Law' Star Rick Dalton Dies at 90, Quentin Tarantino Confirms
For a performer who cut his teeth on William Shakespeare, Alan Rickman's bias against a script that might read as a pedestrian, graphically violent shoot-em'-up tracks. The Bard's tragedies have no shortage of gruesome deaths, but Shakespeare didn't pepper his soliloquies with profanity, machine guns, and caustically uttered Christmas puns. Sure, Die Hard was a guaranteed (if "extremely cheap") paycheck, but for American audiences and the Hollywood industry, Rickman schmoozing around in a popcorn flick would be their first impression of the actor. And when it came to Hollywood, at 40 years old, Rickman was as green as spring grass. "I didn't know anything about the film business," he admitted during the Life in Pictures celebration. Despite his hesitation, Rickman rescinded his almost-rejection after "agents and people" insisted he reconsider. "You don't understand," they implored, "this doesn't happen. You've only been in [Los Angeles] two days, and you've been asked to do this film." Upon the advice of the experienced, Rickman signed on. The rest, as they say, is history — diabolical, sophisticated, and unfairly charming history.
Alan Rickman's Theater Experience Created a Better Character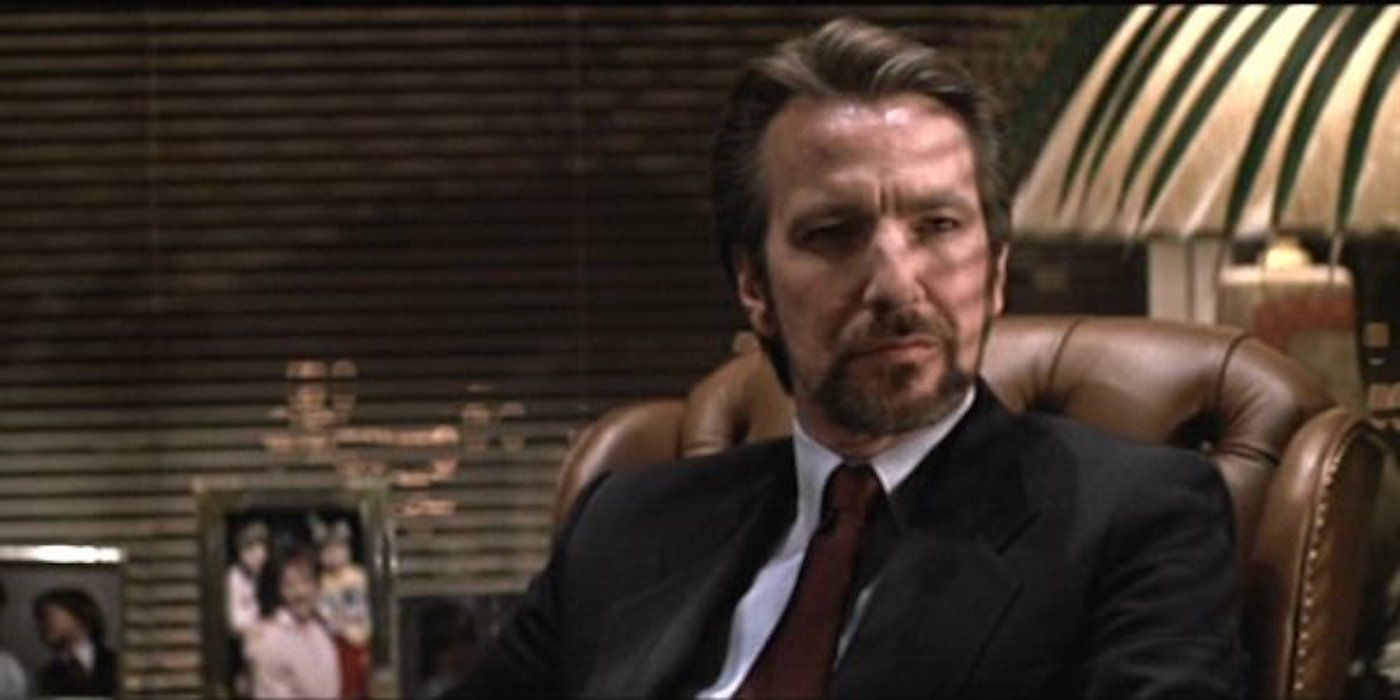 Rickman may have unwillingly accepted the antagonist mantle for the "character piece with an action setting" experiment that is Die Hard, but he didn't leave his instincts at the door. He refined Gruber's wardrobe to set him apart from his fellow thieves in their sloppy gray sweatshirts and tiny athletic shoes, setting the standard for every cool and collected villain to follow. Such a seemingly minimal yet vital change enhanced Gruber's menace. He reeks of stolen respectability. This is a man with a brain who demands ingenuity from John McClane (Bruce Willis), not a generic baddie to be punched. Likewise, the infamous scene where Gruber tries to wiggle his way out of certain death by faking an American accent? Rickman's idea.
"I was just thinking," he explained to Life in Pictures, "if I was wearing a suit and not all of this terrorist gear, then maybe there could be a scene where I put on an American accent, and he thinks I'm one of the hostages." Rickman's suggestion was a two-fold win: establishing a lived-in character through cinematic language and solving a scripting dilemma. Circumstances hadn't allowed Gruber and McClane to meet face-to-face, which was a necessary dramatic component. But Joel Silver wasn't sold — at first. According to Rickman, "I kind of got the Joel Silver: 'Get the hell out of here, you'll wear what you're told.' [Then] they handed me the new script. So, you know, it just pays to occasionally use a little bit of theater training when you're doing a movie."
RELATED: Why Alan Rickman Was So Good At Playing the Villain
Having thespian instincts does indeed pay off. Die Hard was a turbulently tricky production from the start. Rather than relying on the cool millions afforded to overstuffed franchise blockbusters, the Die Hard crew built their original feature from the ground up. That equation — passion + originality — cultivated a pillar of the action genre, one that redefined its workings for a modern audience and launched countless mimics. As is the way with Hollywood, such mimics often fail to understand why Die Hard remains significant. The movie's formula wasn't a new one, but it was expertly applied: character first. Audiences have to care about John McClane for the story to matter. And, in complementary contrast, Alan Rickman's performance makes it delightfully difficult not to also root for the villain. Gruber is a character with weight. In less deft hands, 50% (at least) of Die Hard's objective wouldn't succeed with such delicious flair.
No One Except Alan Rickman Could Have Played Hans Gruber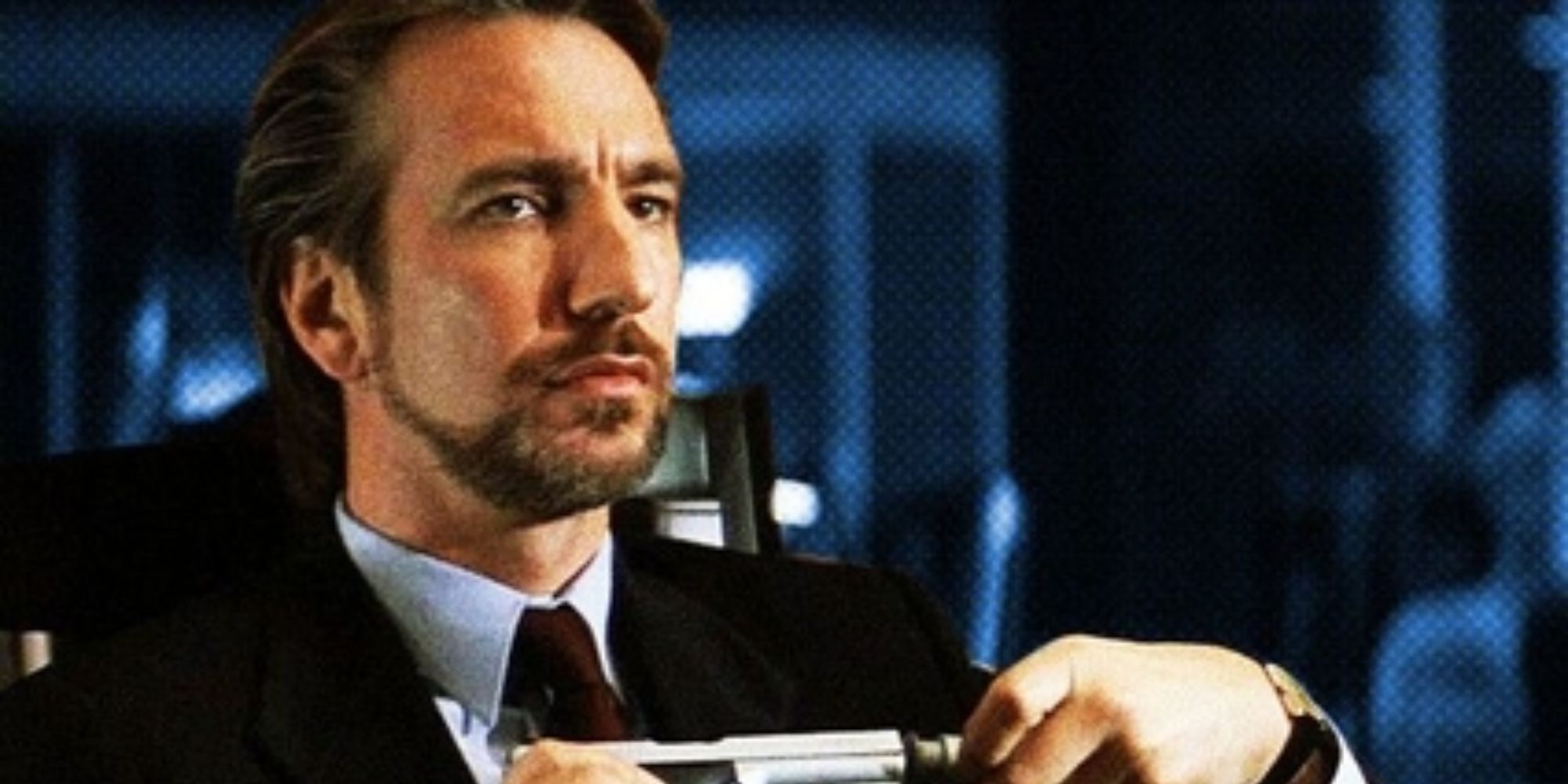 Die Hard launching Alan Rickman's career spawns certain associations. For older generations of moviegoers, their knee-jerk image of the actor is the genre-changing Hans Gruber, not the doomed Severus Snape from Harry Potter. Rickman's informed nuance and natural charisma enriched a well-written role, and that dedication crafted one of cinema's most memorable and imitated villains. Once Die Hard debuted in theaters in 1988, the model for the perfect onscreen European baddie was born. The thought of a Die Hard sans Rickman? That's tantamount to sacrilege.
In 2015, a year before his death, Rickman shared an antidote about Die Hard's effect on his life: "I walked into a screening [of Die Hard] in New York anonymous and walked out not anonymous. You are aware that something has happened." He spoke fondly about the action film he once dismissed, proud of its revolutionary approach and subsequent staying power. "Die Hard has wit and style," he said. "That's why it lasted." One can say the same about the actor who breathed life into Hans Gruber. In Rickman's hands, Die Hard was never "just" an action movie. A single difference can upset a movie for better or worse. There's an alternate universe where Rickman rejected the role and another performer stepped into his shoes. But who can truly imagine, let alone want, a Die Hard without him?
Source: https://dominioncinemas.net
Category: MOVIE