Editor's note: The below contains spoilers for Episode 4 of Ahsoka.
Episode 4 of Ahsoka is one of those perfect Star Wars stories, but it brought us no closer to answering one of its greatest questions: Will Sabine Wren (Natasha Liu Bordizzo) ever become a Jedi? We've seen her train with Ahsoka Tano (Rosario Dawson), spar with Huyang (David Tennant) and even hold her own against a trained Force-sensitive warrior such as Shin Hati (Ivanna Sakhno), but she's still unable to perform basic Jedi tasks, such as calling upon the Force to lift objects. She tried lifting a cup in Episode 3, but the cup won. She tried pushing Shin away in Episode 4, but to no avail.
Still, despite her lack of Force-sensitivity, she hasn't given up her training. She's treated by Ahsoka as a Jedi Padawan, and Huyang even mentioned once how Sabine would "fit right in" in Ahsoka's "non-traditional" Jedi lineage. Baylan Skoll (Ray Stevenson), a Jedi himself (or maybe a "dark" Jedi, for lack of a better term), also talks to Sabine as if he acknowledges her as a learner. All this has gotten many people arguing whether she should be trained or not, but is the ability to "use the Force" what actually defines a Jedi?
RELATED: Is 'Ahsoka' Just 'Star Wars Rebels' Season 5?
What Makes Someone a Jedi in Star Wars?
We've all tried to use the Force before. No judgment, we've all been there. Most of us have also played Jedi by swinging sticks as if they were lightsabers, just like that little boy in The Last Jedi does. Those are usually the two things that first come to mind when we think about the Jedi: the ability to lift things with their minds and lightsabers. But Luke Skywalker (Mark Hamill) himself explains to Rey (Daisy Ridley) in the same movie that being a Jedi is much more than that, so we shouldn't be limiting our criteria to just that, too.
For example, there is a precedence for people taking up lightsabers without being Jedi, like Finn (John Boyega) in The Force Awakens (until The Rise of Skywalker retconned that, at least), and also for people who dreamed so badly of becoming Jedi, they were eventually accepted. In the anthology Stories of Jedi and Sith, the tale "What a Jedi Makes" follows a homeless orphan from Coruscant named Lohim Nara as he tries to fool the Jedi Order into believing he is Force-sensitive. He practiced all the acrobatics, crafted a makeshift lightsaber, used magnets to make up for the Force, and even faked a midichlorian test. He's been turned down twice before, but by a twist of fate, he rescues a Jedi Initiate by posing as a Jedi himself. He fools everyone, but can't bring himself to lie to Master Yoda (Frank Oz), who, in turn, accepts the boy into the Jedi Order and admits that the Jedi are much more than just Knights and Masters and that the Force is not what makes a Jedi.
Before the end of that story, though, Yoda tells young Lohim to study a Jedi Master called Lyr Farseeker. He's the author of Poetics of a Jedi, one of the sacred texts kept by Luke Skywalker in The Last Jedi. According to Yoda, "no great power had he, yet from his ink sprang some of the Jedi's greatest texts." Farseeker wasn't Force-sensitive but understood the Force and the attributes of a Jedi like no other member of the Order. In The Rise of Skywalker novelization, Rey briefly reads the Poetics and finds one of the verses that shows us why Farseeker deserved to be a Master: "The mind of a Jedi can move mountains. But the heart of a Jedi can move souls." Lohim literally faked it until he made it, and Lyr Farseeker wrote one of the quintessential Jedi works, and neither were Force-sensitive. What does Sabine have going on for her that justifies her being a Jedi?
It's simple: no one needs anything to "justify" being a Jedi. It's about commitment to a code and to a philosophy, it doesn't matter if you're a Jedi Master, a Knight, a librarian, or a gardener. Yoda mentions in "What a Jedi Makes" that wanting to be one is more than enough, and Luke explains very clearly in The Last Jedi that this idea of them having a "monopoly" over the Force is what brought upon their downfall.
Sabine More Than Makes Up for Her Lack of Force-Sensitivity in 'Ahsoka'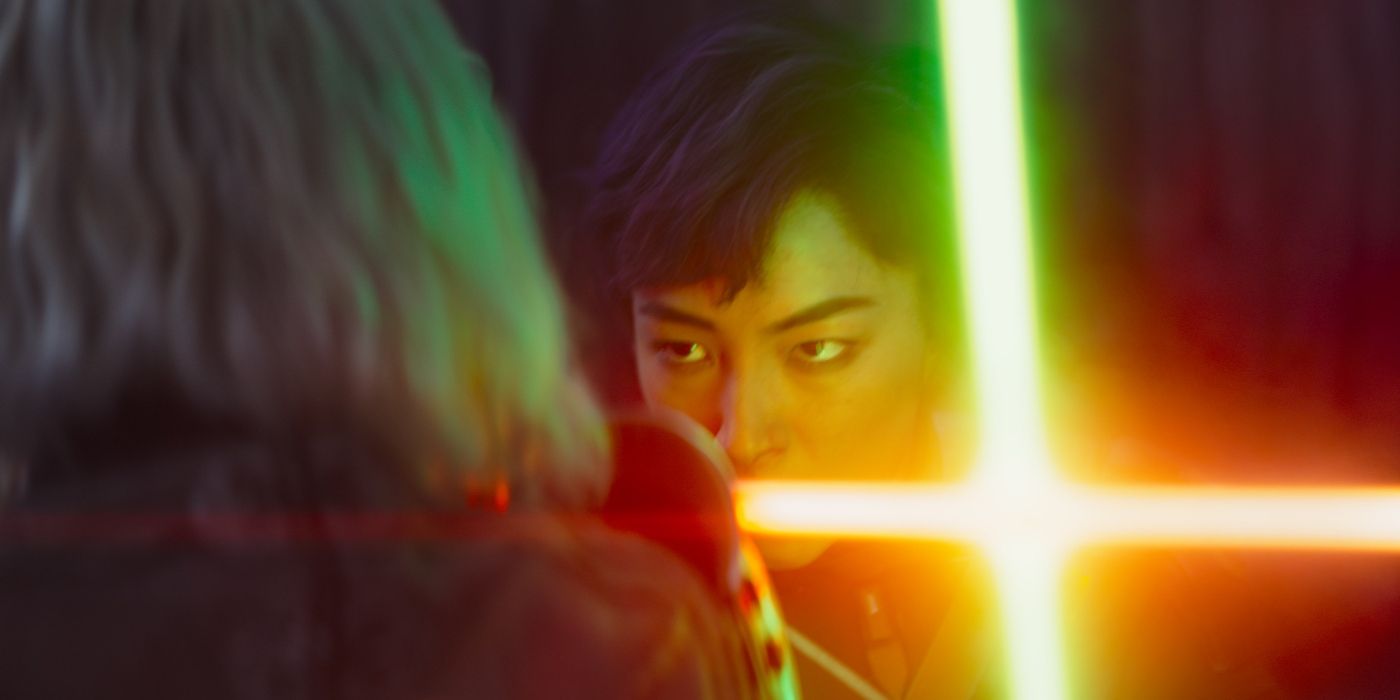 We've seen Sabine train with Ahsoka in Episode 3 using the same method Obi-Wan Kenobi (Alec Guinness) used to train Luke Skywalker in A New Hope. Wearing a helmet with blinds, she took a lot of hits from her master but did deflect a few. We've also seen Sabine (voiced by Tiya Sircar) train with another Jedi in Star Wars Rebels, Kanan Jarrus (Freddie Prinze Jr.). That sequence alone should be enough to justify her abilities with a lightsaber, but, being a Mandalorian, she also has the means to more than make up for her lack of Force-sensitivity.
During the training, Kanan explains to her how a lightsaber works, how it channels the emotions of the wielder into the kyber crystal, and that reflects on the warrior's own stance. He also mentioned how Jedi and Mandalorians have had countless conflicts over the centuries, and, later, Fenn Rau (Kevin McKidd) told Sabine to try some of their Mandalorian gimmicks on Kanan (and that made him very angry). Mandalorian armor is filled with weapons on every surface, and that's so precisely because they had to fight Jedi in the past. Dueling against someone who can throw you on a tree with their mind is not fair, so the Mandalorians leveled it by adding beskar armor and other weapons to the fold. In fact, a Mandalorian can take on a Jedi even without having a lightsaber, now imagine if they had those, too.
see more : 'RHOA' Producers Scramble to Recast Show Ahead of Season 16
It just so happens that Sabine does have a lightsaber. Her last duel against Shin Hati (Ivanna Sakhno) in Episode 4 proves that she can use her gimmicks to her advantage – she even disarmed Shin right after the Dark Side Padawan told her she had "no power". That must've felt pretty good, and it's the kind of thing that was designed specifically for this. If we take into account that Sabine's lightsaber once belonged to Ezra Bridger (Eman Esfandi/Taylor Grey), too, it's a combination that could make one an impressive warrior with proper training. For all things related to the dueling part, at least, Sabine has absolutely nothing holding her down on her way to becoming a Jedi.
A Jedi Still Has To Understand the Force Even If They Don't Wield It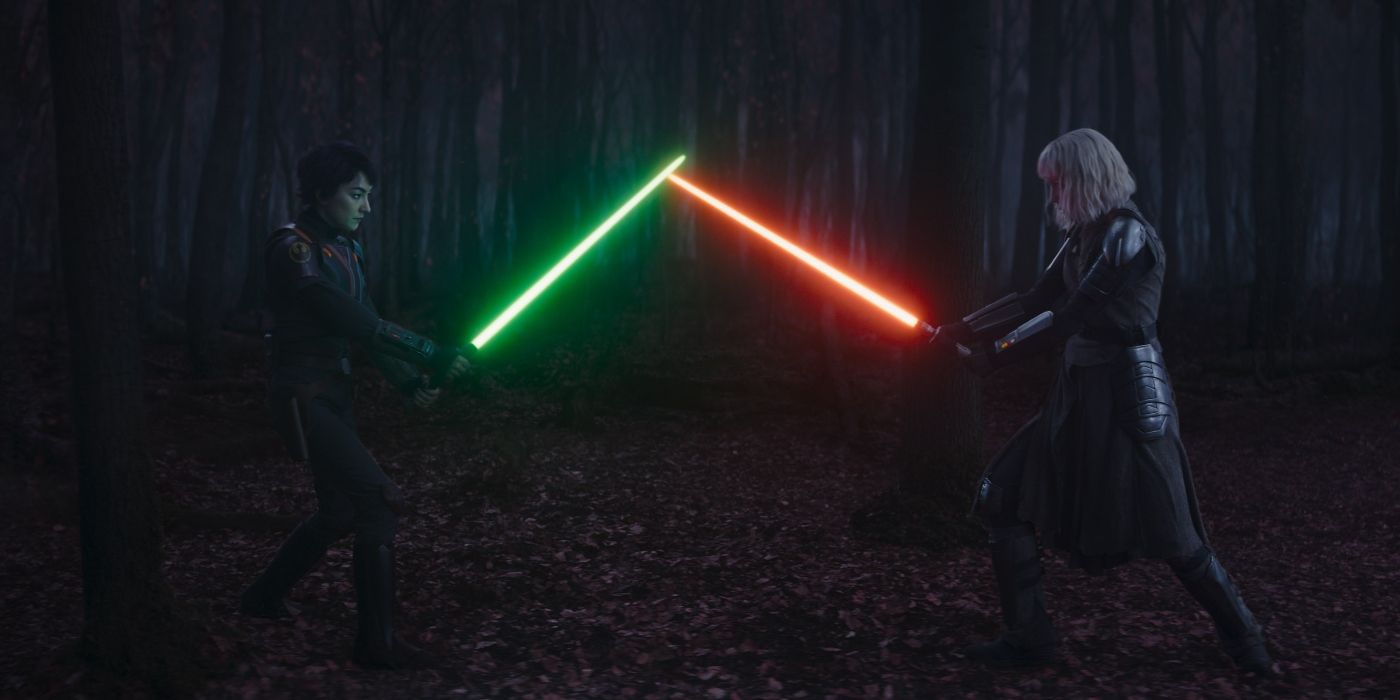 Before Star Wars was acquired by Disney in 2012 and a new canon was established, new stories made up what was called the Expanded Universe — now not canon anymore and published as "Legends". All sorts of weird stuff were found in Legends between its games, novels, and comics, and a lot of those had to do with the Jedi, of course. Among those, we've met Kyle Katarn (Jason Court) in the Dark Forces video games.
Kyle Katarn is an interesting character who is known for his catchphrase in the old EU: "I'm no Jedi, I'm just a guy with a lightsaber and some questions." Eventually, though, he did become a Jedi, and that's what those games are all about, but he never discovered any kind of Force-sensitivity until he was in his late 20s, and even then he only learned about it because he had insight from another Jedi. Before that, though, he was just like Sabine: a rebel operative who was pretty good at his job. The games are awesome, and give the player the opportunity to decide Kyle's oath following the Light or the Dark Side — and are where The Mandalorian's Dark Troopers made their first appearance, too. But Katarn was only allowed to become a Jedi once he committed to learning about the Force with Luke Skywalker (if you picked the Light Side path, of course), and this is what being a Jedi is actually all about: understanding the Force.
Sabine has all the same attributes as Kyle Katarn did, and a very similar path to walk. She may turn out not to be Force-sensitive at all, but that shouldn't stop anyone from becoming a Jedi because the ability to use it isn't what defines one, and neither is prowess as a warrior. It's actually about learning and understanding the Force that one becomes a Jedi, hence Lyr Farseeker's example. And Sabine has a great teacher in Ahsoka Tano to help guide her path.
New episodes of Ahsoka premiere Tuesdays on Disney+.
Source: https://dominioncinemas.net
Category: TV