Editor's note: The below contains spoilers for the Justified: City Primeval finale.
Detroit: the home of Motown, Ford Motors, Eminem, Jack White, and… U.S. Marshall Raylan Givens (Timothy Olyphant)? Well, at least it was for the Elmore Leonard-inspired revival series Justified: City Primeval that just wrapped its eight-episode run on FX, and it's time to take a look at what went down between our favorite White Hat and the winsomely sadistic killer Clement Mansell (Boyd Holbrook). The two have been playing a game of cat and mouse throughout the season, and we finally got some closure in the finale titled "The Question." There have been a number of other characters who have managed to get in between Givens and Mansell during the eight episodes, including a dogged defense attorney named Carolyn Wilder (Aunjanue Ellis), Raylan's daughter Willa (the star's real-life daughter, Vivian Olyphant) — and boy, did showrunners Dave Andron and Micheal Dinner give us one helluva call-back twist after the action had wrapped up in the Motor City (but more on that toward the end).
An Albanian Screws It All Up
Everything has fallen into place just like Carolyn had planned. She orchestrates a plot with the Albanian mob boss Toma Costia (Terry Kinney) to surprise both Clement and Raylan as they are meeting at the bar at the Radisson Hotel. They have both men in their custody and proceed to take them back to Skender's (Alexander Pobutsky) downtown studio home. The plan is simple: let Raylan go and leave Clement in the soundproof safe room behind four inches of steel to slowly starve and rot to death. But things become a lot more complicated when Skender — who had been the mark of a long con by Clement and his girlfriend Sandy Stanton (Adelaide Clemens) and ultimately had his leg shattered as well as his heart broken and ego irreparably bruised — just had to go back and settle the score himself. Naturally, Clement is waiting there to ambush and beat Alexander to death before taking out the entire group of Albanian mobsters as well. It's pretty clear where he's going next, but can Raylan get there first?
RELATED: 'Justified: City Primeval': Trailer, Release Date, Cast, and What to Expect
Raylan Lies in Wait for Clement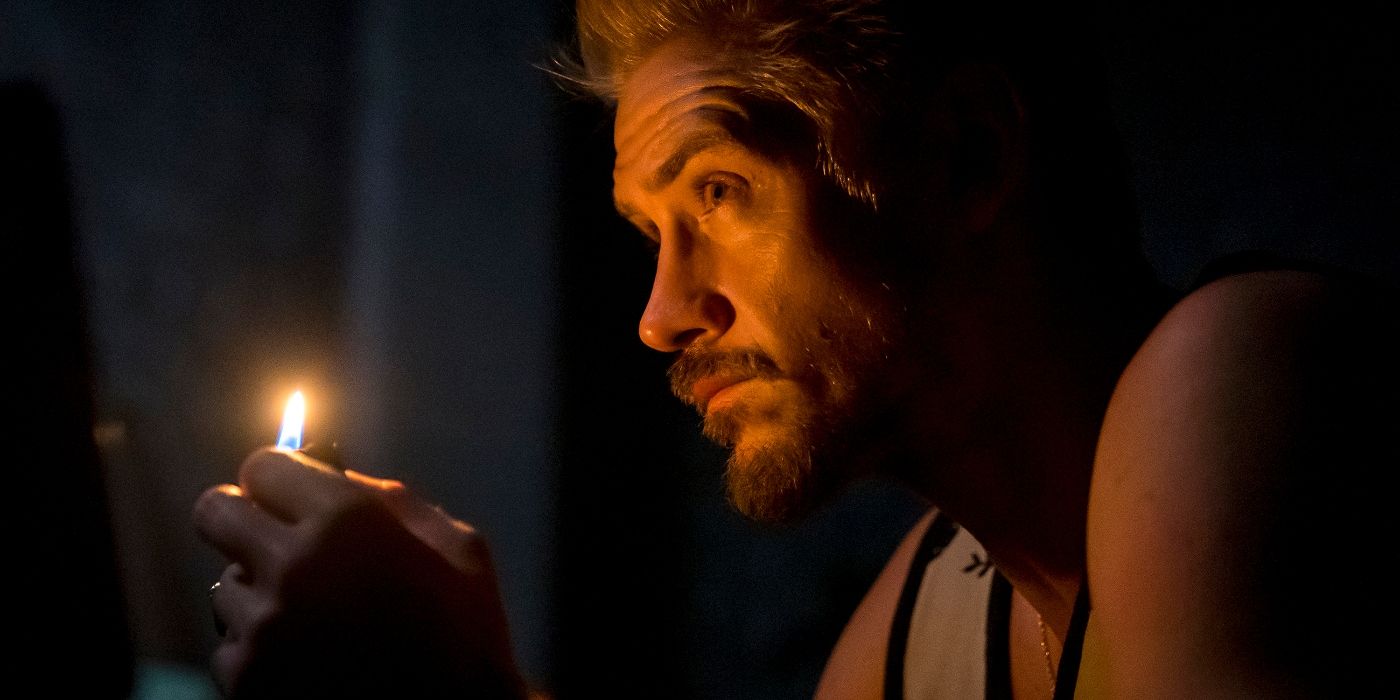 After disposing of the Albanian nuisance quickly and quite easily, Clement is headed for his attorney's house. Now, Carolyn may still be his defense lawyer in the legal sense, but after she turned him over to the Albanians to die, he isn't filled with the warm fuzzies for her anymore on top of the fact that he's a complete psychopath. When he breaks into her house, she isn't there, but our man Raylan is, and it turns out that he's actually been waiting on Clement for some time. The two have a calm discussion and Clement even grabs a cold beer from the fridge, but Raylan is jumpy and ready with that right-handed draw at the slightest hint of foul play — and when Clement says he has something to give him and reaches into his coat pocket, Raylan flashes the steel and plugs Clement faster than Barry Gordy could turn a soul song into a Motown hit single. As Clement lies dying against the refrigerator, it becomes clear to Raylan and Carolyn, who arrives after the shots, that Clement had been going to give the U.S. Marshal a mixtape of his favorite Detroit-based White Stripes songs that we heard in the opening episode.
Does Raylan Really Retire From the Marshals?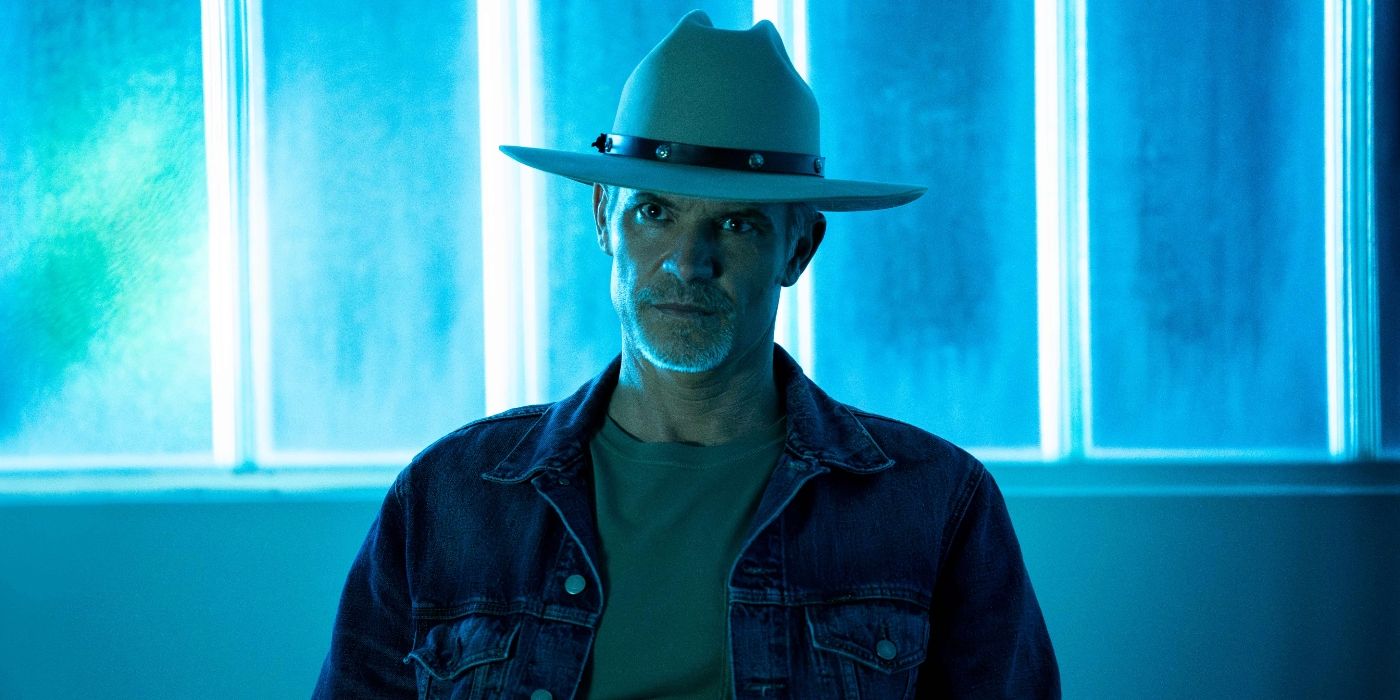 Back at home in Florida, after a sendoff for his old boss Dan Grant (Matt Craven), Raylan informs him that he is retiring from the U.S. Marshal's office to spend more time with Willa. He appears to be one hundred percent serious, too. He's repainting his home and looks like he wants to settle down after a conversation with his ex-wife Winona (Natalie Zea). He even takes Willa out on the boat of an ex-criminal that the U.S. government has been kind enough to let him use. They both seem to be in a great place and ready to have that father-daughter relationship that Raylan has been putting off for all these years — and that's when we get the sweeping leg kick from show producers Andron and Dinner. They really saved the best for last, didn't they?
Walton Goggins Returns as Boyd Crowder in the 'Justified: City Primeval' Finale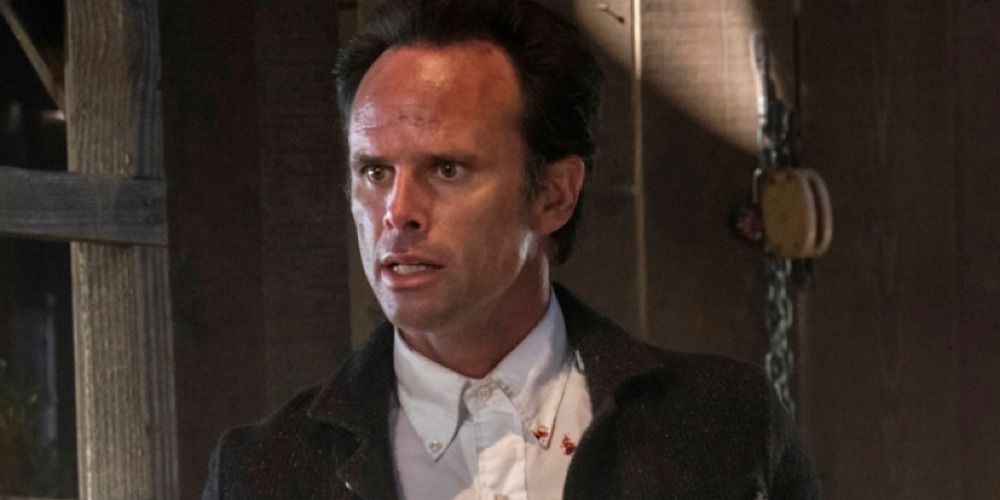 We never saw it coming — but the show ends with a sequence that shows the great Boyd Crowder (Walton Goggins) from the original Justified has been kicking around pretty much in the same place where we last saw him end up so many years ago: Tramble State Penitentiary in Kentucky. He's up to the same old charming antics with his smooth-talking swagger and patented bullshit for anyone who will listen. Boyd claims to a group of inmates that he has a very serious illness and is going to be transported to a facility that can treat his terrible disease. On the way there, he escapes with the help of one of the correctional officers who pulls a shotgun on the other, and the two drive away down a dusty rural road with Boyd cackling like a magpie. So what does this mean for Raylan — and the future of Justified?
Will This 'Justified: City Primeval' Finale Twist Bring Raylan Out of Retirement?
Just as Raylan has started to settle into the good life out on the boat with his wonderful daughter, his cell phone rings. He's about to get the news that Boyd has escaped custody and is on the lam — but he doesn't answer it right away. In fact, the show fades to black while the phone is still ringing, which leaves us with a delicious open-ended cliffhanger. It had been originally claimed by Andron and Dinner that Justified: City Primeval would be a single standalone project, but this twist ending has obviously left the door open for more of the quickdraw U.S. Marshal to make a return in order to track down his old friend-turned-nemesis. If the sequence hadn't been almost six minutes in duration, we might have just chalked it up to a fun little Easter egg, but given that the series put all that time and effort into the escape, it certainly feels like there is more Justified on the way, and we'll be here for it to break it down for you if that promises to be the case.
Justified: City Primeval is available to stream on Hulu.
Source: https://dominioncinemas.net
Category: TV