Editor's note: The below contains spoilers for Episode 4 of One Piece.
At the end of the last episode, we learned just a touch more about Usopp (Jacob Romero), and why as a child he had the tendency to run through the streets of his village, alerting everyone to the arrival of pirates that don't exist: with his own father Yasopp (Stevel Marc) out at sea pursuing a life of piracy, he held fast to the belief that his father's return meant his mother's health would improve. Now seven years later, with the very real threat of Captain Kuro (Alexander Maniatis) lurking in Syrup Village, and with no one to help, Usopp is forced to turn to Koby (Morgan Davies) and the Marines for help. But will they stop Kuro in time?
Episode 4, "Tell No Tales," opens not with Usopp, but with Zoro (Mackenyu), lying at the bottom of a dry well, fortunately not dead, though the same can't be said for poor Merry (Brett Williams). He might still have his three swords, but that's not going to be of much help when he's several feet below the ground. Meanwhile, Usopp gets Koby caught up on the problem so far, and Koby is immediately ready to spring into action. Helmeppo (Aidan Scott) is immediately skeptical, reiterating his father Axe-Hand Morgan's (Langley Kirkwood) claim that Kuro was dead at his hands. I understand him wanting to believe his father but when presented with so much evidence of his incompetence and lies… Koby blows past Helmeppo's reluctance when he realizes Luffy is also trapped in the house with Kuro and Kaya (Celeste Loots) and leads the party toward the house.
RELATED: The Darkest 'One Piece' Moment Isn't Even in the Series, but This Movie
Still unaware that Kaya's butler Klahadore is really Captain Kuro of the Black Cat Pirates, Nami (Emily Rudd) wanders into the kitchen and finds Luffy (Iñaki Godoy) passed out cold, his face stained with the remnants of Kaya's bright blue "special soup." She doesn't get much of a chance to figure out what's wrong before Buchi (Albert Pretorius) and Sham (Bianca Oosthuizen) walk in, loudly updating Kuro on the status of their plan, unintentionally revealing to Nami that they're all actually pirates. They're also surprised to find Luffy there, but aren't overly concerned since that much poisoned soup likely killed him. Just as they go to dispose of the body, Koby, Usopp and Helmeppo arrive at the front door looking to ask a few questions.
As much as Koby is ready to lead the charge and get more information, even he seems intimidated by Kuro's presence. While Usopp tries to convince the Marines that the butler is in fact a pirate, Kuro uses Usopp's history of exaggeration against him. While it's true, Usopp's suggestion that they check Kuro's gloves for blades didn't pan out, I have to wonder why Koby at the very least didn't take Usopp's claims somewhat seriously. He has no reason to believe Kuro instead of Usopp, and even Helmeppo's insistence that Morgan killed Kuro ought to be taken with a grain of salt, since Koby himself has witnessed Morgan's lies and incompetence.
Helmeppo has enough of this, and tells Kuro they're actually looking for Luffy. While Kuro admits he's seen Luffy, and that he's actually in the house, he shuts them out until Buchi and Sham can bring him out front, presumably to keep the neon-blue poison a secret. They deliver Luffy to the Marines, as Koby tells Usopp he has no proof to pursue an investigation of Kuro, though likely in an effort to try and help other people, Koby attempts to ask him a few more questions. The interrogation is halted before it can begin by Nami knocking Sham out with a frying pan, and Usopp takes off into the night, determined to find someone who will help him.
see more : 'Will Trent' Season 2: Cast, Creators, Plot, and Everything We Know So Far
At the bottom of the well, Zoro tries and fails to fashion a grappling hook that he can use to haul himself out, and it's then we get a flashback to his youth as a student at the Isshin Dojo, where he learned to fight with swords. Young Zoro (Maximillian Lee Piazza) is bested in the sparring match by Kuina (Audrey Cymone), and storms off in frustration. Kuina tries to offer advice, but it's less than well received, even though she's the only student at the school more skilled than he is. Zoro decides that the problem is their practice blades, and he'd have a better chance at beating her with a real sword, a challenge Kuina accepts.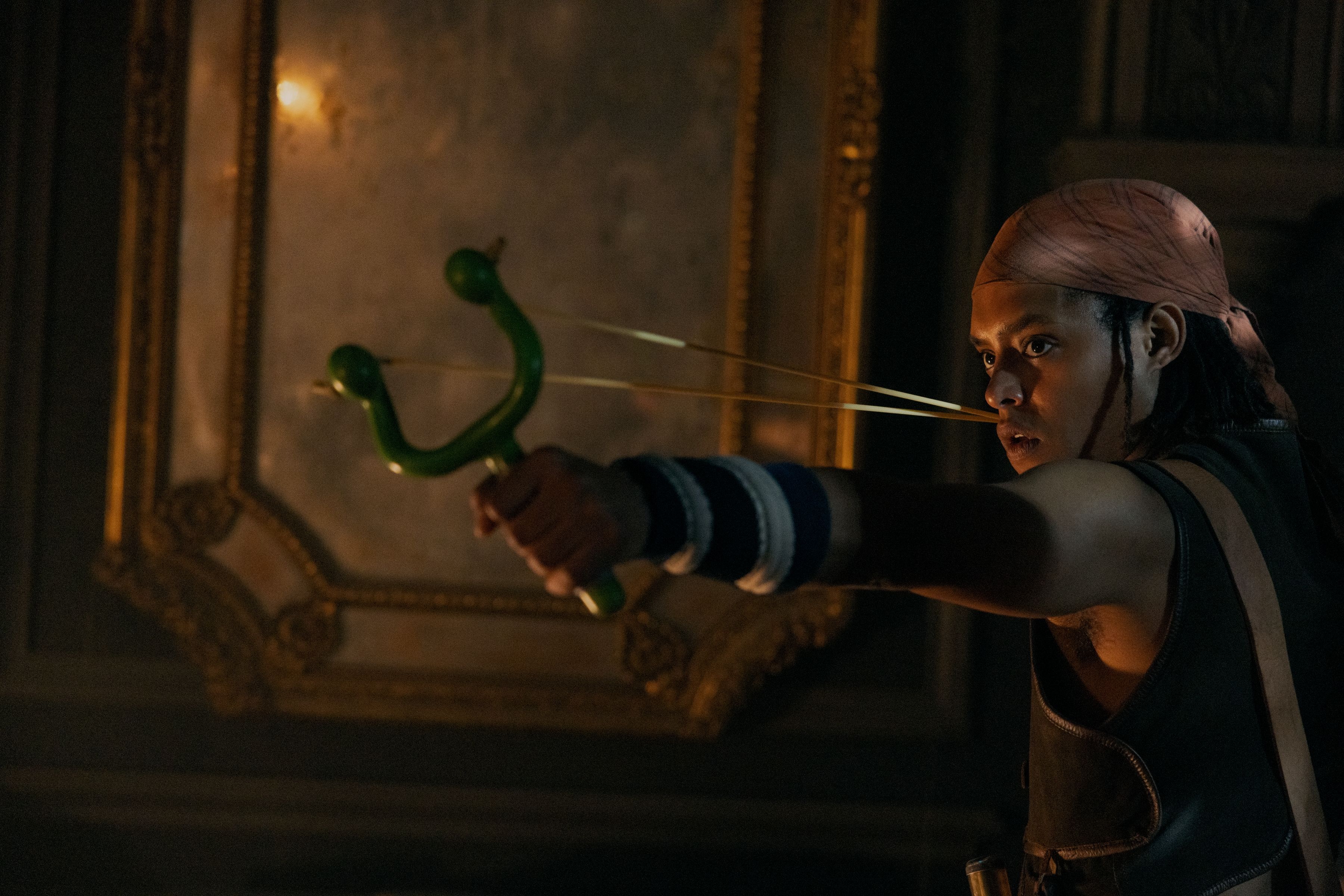 Unable to find anyone else to believe him, Usopp sneaks into Kaya's room and tells her the truth about Kuro, how he's really a pirate and is responsible for killing Merry. Realizing this particular story isn't fun and fantastical like Usopp's stories usually are, Kaya is reluctant to listen to him and tries to throw him out. Where Usopp would usually run, this time he decides to stick it out and make sure Kaya is safe, his bravery no longer just bravado.
Buchi and Kuro find Sham in the kitchen, where Sham reveals that Nami heard everything. The clock strikes midnight at last, making Kaya officially 18 years old and able to sign everything over to Kuro. He orders Buchi and Sham to put the house on lockdown, shuttering all the doors and windows to trap everyone inside. As Kaya finally realizes how serious the threat really is, Nami finds her and Usopp hiding, and tells Kaya she's been being poisoned for years. Kaya holds on to the idea that this is all part of one of Usopp's lies, but even she doesn't really believe that anymore, especially since the timeline of her illness and Kuro's employment line up. This marks one significant change to the story from the Manga, with Kaya's illness a result of Kuro's actions, and not just an extreme case of sadness and worry. Given the overall suspense-thriller vibe of these two episodes, having her condition be yet another part of Kuro's plan adds that extra level of horror to the whole thing, and makes for a more interesting change.
Kaya doesn't have too long to dwell on all these realizations though, as Kuro is on the prowl in the corridors. By the time he bursts into her room, she, Usopp, and Nami are long gone, taking a secret passageway to Kaya's parents' room to find the second crank that can open the shutters. Kaya's cough tips Kuro off to their location in the walls, and there's no more time to waste. Back in the well, Zoro has switched to plan B: scaling the wall by hand. There, we get another flashback intercut with his climbing the wall, this time of his duel with Kuina. Zoro arrives with two katanas while Kuina warms up with just one: the Wado Ichimonji, the white-hilted blade we've seen Zoro carry in the present day. The two duel without any sort of protective gear, and while he does put up a good fight, Kaya winds up besting him. Though Kuina said it would be a duel to the death, it never actually goes that far, ending when she disarms him.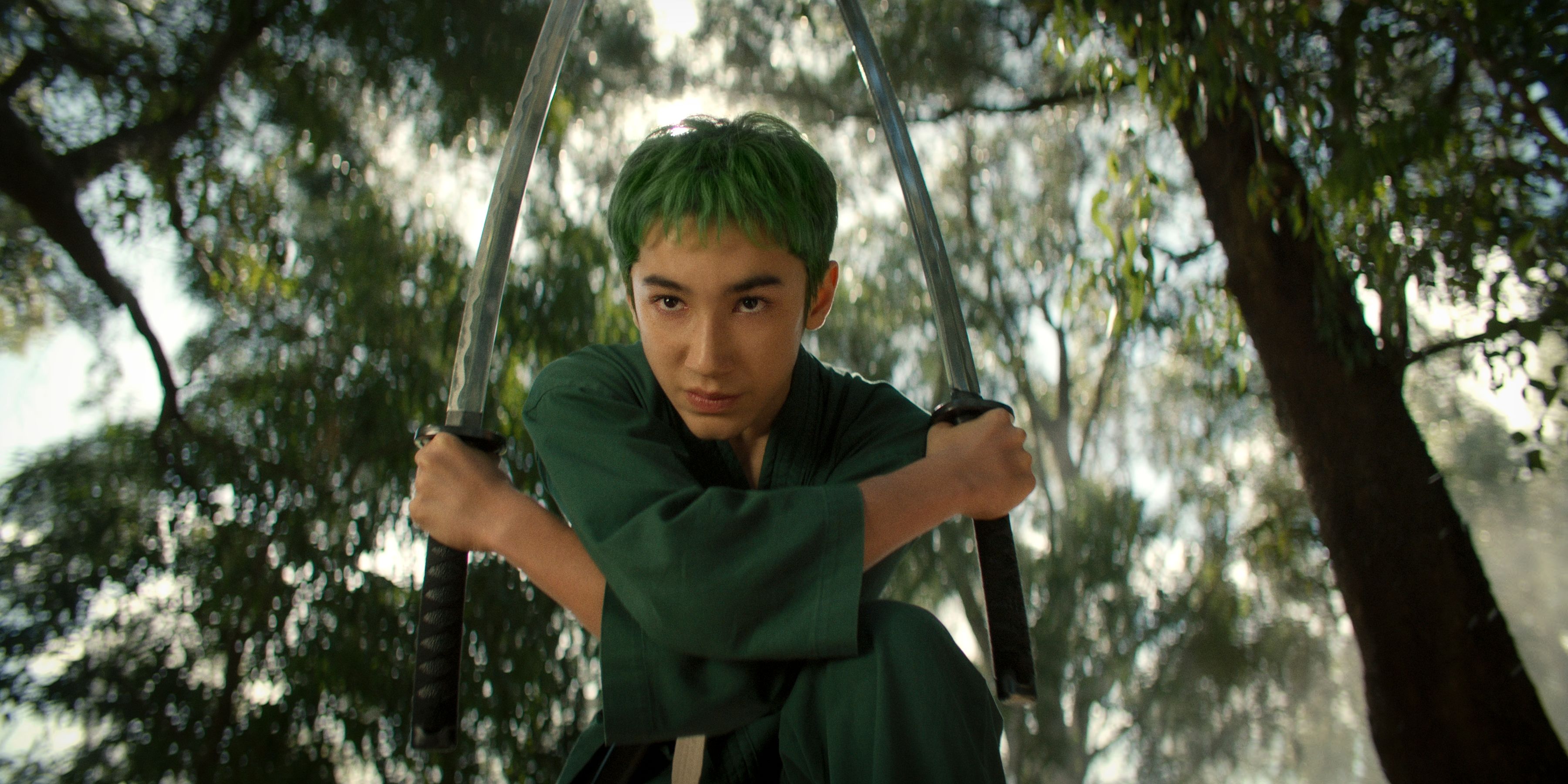 Present-day Zoro slips and falls down the wall as past Zoro concedes the fight, telling Kuina to just kill him. Instead, she helps him up, and just as Zoro is prepared to give up swordfighting for good, Kuina lets out what's really been bothering her. With the two of them now in their teens and puberty around the corner, Kuina tells him that eventually, his raw skill combined with greater size, strength, and speed will have him surpassing her in every way, and that no woman would ever be able to beat a man, no matter how many times a girl can beat a boy.
Zoro's response to this is by far the best change the series makes to this first arc of the story. The Manga treats Kuina's statement as fact, a heartbreaking plot point for those of us who gave up on sports or saw our friends give up on sports for the same reasons Kuina did. Instead, the series has Zoro rightfully point out that while this is her belief, that doesn't mean it's true, and her concerns are nothing additional training can't overcome. The pair put their rivalry aside, and vow to train together instead until one of them becomes the greatest living swordsman (or swordswoman). How could this possibly go wrong?
see more : 'Rick and Morty' Season 7: Release Date, New Cast, Plot, and Everything We Know So Far
In Syrup Village, Koby has doubts about not investigating Kuro any further, doubts Helmeppo doesn't take seriously. He then tells Koby the only reason Vice Admiral Garp (Vincent Regan) trusts him is that he and Luffy are friends, and he is using him, which is awfully rich of a useless nepo baby to call someone else's skills into question but I digress. As the two argue, Luffy finally wakes up from his poison-soup food coma — proving his body may be rubber, but he has the stomach of a concrete elephant — ready to eat some more. Helmeppo attempts to antagonize him and gets a shirtful of regurgitated soup for his trouble. Kaya, Usopp and Nami finally make it to her parent's bedroom, where the reality of it all finally hits Kaya. Though in Episode 4, Nami admits she doesn't really have a good grasp on being a friend, she does an amazing job keeping Kaya focused and bringing her back from her panic spirals. Though they manage to find the crank to open the shutters, the movement tips Kuro off to their location.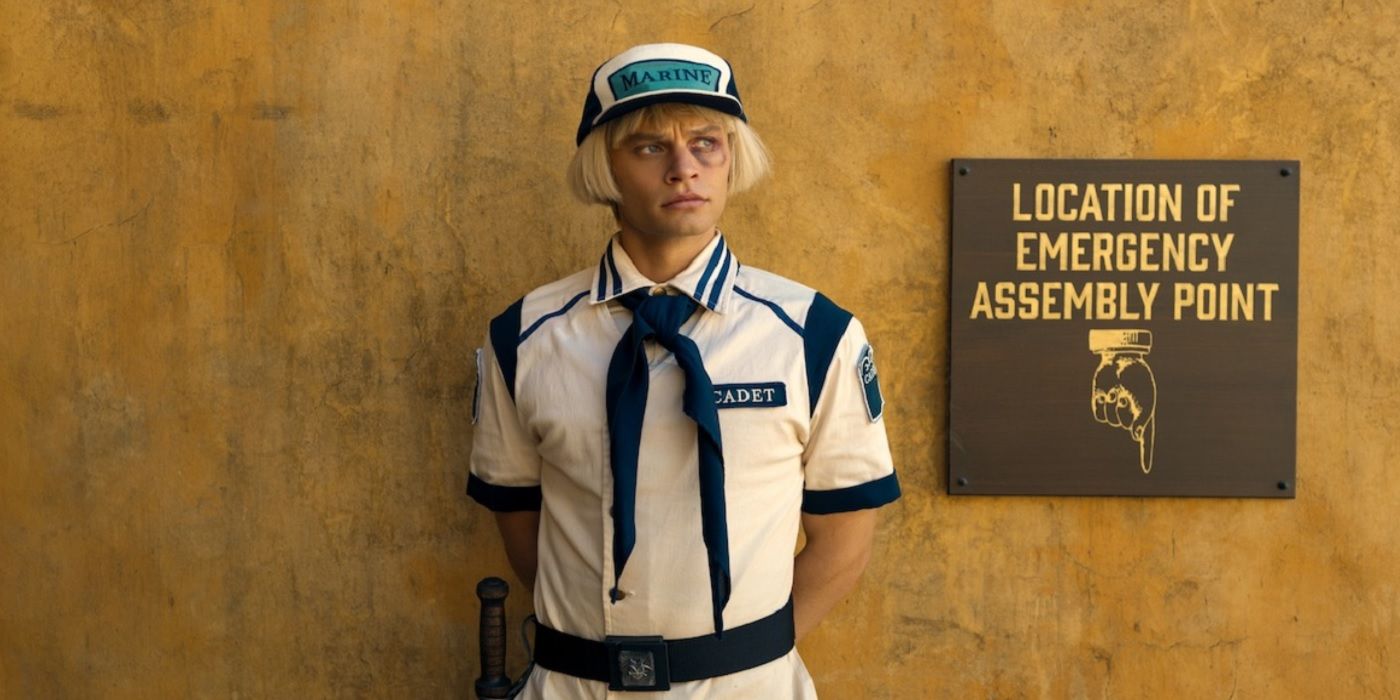 In the third and final flashback to Zoro's childhood, intercut with his final attempt to climb out of the well, young Zoro is waiting for a sunrise training session with Kuina when their sensei (Nathan Castle) — and Kuina's father – comes to find him instead, and tells him there's been an accident which Kuina did not survive. Devastated, at the funeral, Zoro asks permission to carry her sword in addition to his own, telling their sensei of his promise to become the world's greatest swordsman, which he vows to fulfill for both of them. That same promise is the motivation Zoro needs to haul himself out of the well at last.
Luffy begs Koby to let him go back and help Kaya, and while the appeal to Koby's better nature works, Helmeppo doesn't have a better nature, and tries to shoot Luffy. Fortunately, Zoro shows up, knocks out Helmeppo, and he and Luffy leave Koby behind and head back to the house together, where Kuro has caught up to the rest of the gang at last. Kuro goes on an unhinged, angry rant, shaming Kaya for her helplessness — as if he's not personally responsible for her weakened state — trying to startle her out of her hiding place. She and Nami eventually try to charge Kuro, but he's too fast for the two of them, knocking Usopp to the ground as well. Luffy and Zoro arrive at the house just in time, with Zoro pulling up the shutters by hand, exhibiting a tremendous amount of arm strength for someone who just dragged himself out of a well. The pair split up to find their friends, but Zoro is held up in the foyer by Buchi and Sham. Luffy, however, makes it to Kaya's parents' room just in time to stop Kuro from slicing them all to ribbons, and the two fight.
Kuro falls victim to the classic villain blunder: monologuing. He seems to take it deeply personally that a life of crime also resulted in a lifetime of being hunted by law enforcement, something he probably should have expected. But while he tries to condemn Luffy to the same fate, Luffy protests that piracy is more about the adventure than the raids, and more importantly about the friends you make along the way. Luffy finally outsmarts Kuro at his own game, listening carefully to catch the pirate before he can move again.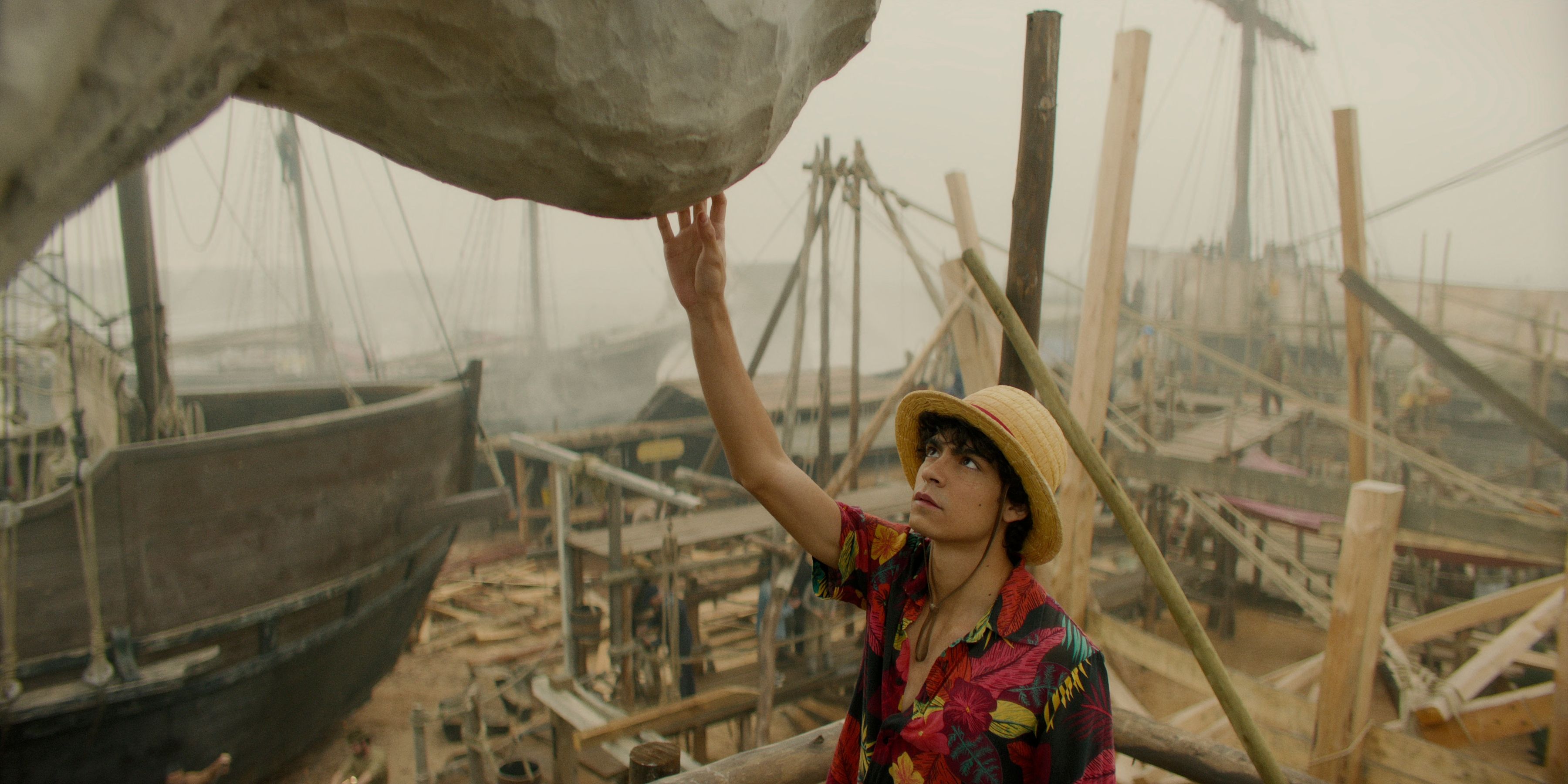 Together, the crew take out Kuro, Buchi, and Sham once and for all, and in gratitude Kaya gifts them the ship with the ram's head, which Luffy names the Going Merry in honor of the dearly departed financial advisor. Luffy finally asks Usopp to join their crew, telling him he wants a sharpshooter just like Usopp's father. Though he's reluctant to leave the village, and by extension Kaya, she encourages him to leave and pursue his dream while she chases her own, and the two of them share a sweet kiss that elicits amusing reactions from the rest of the crew.
Out at sea, the trio now a foursome, the Straw Hats settle into their new home. One with all the amenities including a stocked galley, hammocks, lots of space, an Usopp-centric flag that Luffy hates, and presumably a working bathroom. As much as the series is an action-adventure show, the moments where the crew get to just hang out and joke, and just generally not escape various perils are some of the most fun in the entire season, giving the cast a chance to really show off their excellent chemistry. The peace doesn't last long — because it never does — when the Marines pull up to the Going Merry, Koby having flushed out the Straw Hats like Garp hoped they would. Luffy pulls out a telescope to investigate. He spots Garp standing there — or, as he calls him, "Grandpa."
All eight episodes of One Piece are streaming now on Netflix.
Source: https://dominioncinemas.net
Category: TV