You Are So Not Invited to My Bat Mitzvah is essentially a Sandler family production that infuses beautiful Jewish cultural moments into a tired coming-of-age storyline. Netflix's new movie features all the hallmarks of a teenage comedy: middle school dramas, love triangles, and quarreling best friends. It's just packaged with the Sandler stamp. While Adam Sandler has certainly made his mark on family comedies, in this film, Sarah Sherman steals the show as Rabbi Rebecca. The film is filled with comical quips, especially from the adults, but Rabbi Rebecca's unconventional attitude and unique relationship with her students set her apart. As the resident weirdo who has pure intentions and only wishes the best for her students, Rabbi Rebecca is a refreshing change of pace from the painfully predictable teenage drama. Sherman wholeheartedly embraces this side character, giving the role her unpredictable flair and commanding the attention of the audience every time she appears on-screen. Despite being criminally underused in this role, Sherman still manages to become the film's highlight.
you are watching: Sarah Sherman Is the Best Part of 'You Are So Not Invited to My Bat Mitzvah'
Sarah Sherman Is Introduced With a Bang
Middle school drama can be just as tenacious and chaotic as high school drama. Stacy Friedman, played by Sandler's daughter Sunny Sadler, proves just that in this adaptation of Fiona Rosenbloom's novel of the same name. Meticulously planning to make her bat mitzvah figuratively and literally light up like New York Times Square, Stacy enlists the help of her best friend Lydia (Samantha Lorraine) to make this possible. This involves a lengthy PowerPoint presentation to Stacy's parents (Adam Sandler and Idina Menzel) as well as catching the attention of the popular middle school boy who only now figures out she exists. We wait patiently as the film traditionally sets up the stakes, motivations, and relationships of the characters, until about 20 minutes in when we get hit with some "razzle-dazzle."
Sarah Sherman graces the screen with fiery energy and an equally fiery vest, jolting us from our stupor. From her vocal intonations to her vibrant assemblage, at first glance, we feel like this character is not meant to be in this movie. It is almost like she is written for a different script and this effect only increases as the film progresses. Introducing herself as the girls' Hebrew teacher, she completely dissolves the mold of what we often expect a religious school teacher archetype to be. We have often either gotten the strict and foreboding disciplinarian or the wise and warm mentor. Sherman's passionate and unconventional approach to this role not only subverts our expectations but also rewards us with a fun and wacky performance. Once everyone's in the classroom, we truly get a taste of Rebecca's wackiness when she accuses her middle school student of cheating on his imaginary wife. The entire scene captivates both us and her students. Quickly melting down into giggles and fist bumps, Sherman truly knows how to work a crowd.
Sarah Sherman Nailed 'You Are So Not Invited to My Bat Mitzvah's Comedy & Sentimentality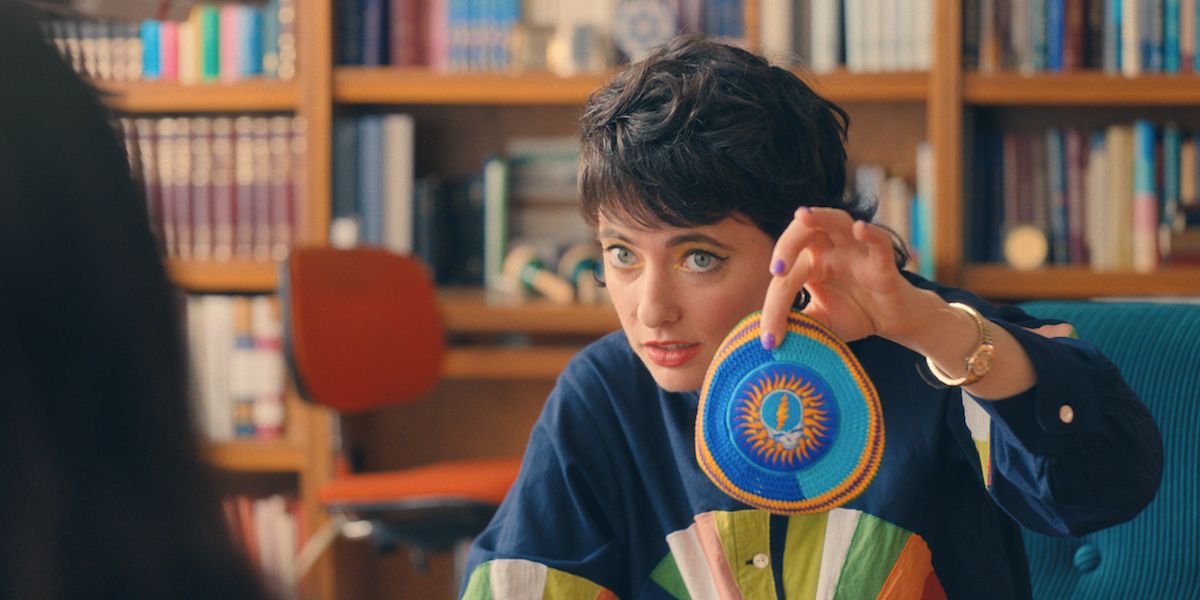 Despite her penchant for flamboyance and comedy, Sarah Sherman deftly displayed a softer side to Rebecca Rabbi. After Stacy and Lydia's fight, Stacy is caught on her phone during Rabbi Rebecca's class, landing her in Rabbi Rebecca's office for a mentor-student-like talk with a twist. As Rabbi Rebecca imparts wisdom to Stacy by encouraging her to begin her mitzvah project, her steadfast dedication to her students and ability to give tailored support is exhibited. It is also accompanied by the bizarre imagery of her side-stepping on a treadmill in electric blue pants, blinding red socks, and embroidered sandals. This scene once again captures the entirety of Rabbi Rebecca's character. Every time she appears on-screen, Sherman delivers every single one of Rabbi Rebecca's traits woven together delicately and purposefully, managing to construct such a dynamic character despite her limited screen time.
While Rabbi Rebecca shines when she is belting out catchy tunes or making almost insane remarks, the most sentimental scene is when she decides to use her words. Towards the end of Stacy's coming-of-age journey, when her close friendship with Lydia has disintegrated and her crush on Andy (Dylan Hoffman) has run its course, she's left conflicted and guilt-ridden. After unequivocally, albeit unintentionally, ruining her best friend's bat mitzvah, Stacy is dead set on neglecting her own. But since the bat mitzvah is an integral milestone in Jewish culture, her dad throws her over his shoulder and carries her to the temple where she dolefully reads from the Torah. Rabbi Rebecca is actually the one who announced Stacy's entrance and stands beside her as she reads. But when Stacy diverges and begins her apology speech, Rebecca Rabbis quietly lets her take center stage and also supports her by promptly stopping Cantor Jerry's (Dan Bulla) guitar strumming, ensuring Stacy has a prime space to speak. But what's really heart-warming is the expression of absolute pride on Rebecca Rabbi's face when Stacy finishes her Torah portion. Switching between the contorted expressions on her face to the beaming pride just once again indicates how balanced her character is.
see more : 'Evil Dead Rise' Sets Streaming Date on Max
RELATED: Sarah "Squirm" Sherman Is the Renegade Body-Horror Comedian 'SNL' Needs
Sarah Sherman Is No Stranger to Comedy
Considering her background in stand-up comedy and visual artistry, the ease with which Sarah Sherman performs this role is no surprise. She is known as the founder of the underground comedy show, Helltrap Nightmare, which hosts a wide range of shows that are generally categorized as unfiltered and chaotic. Sherman's performances tend to involve the body and the exploration of the grotesque, combining confrontational, comedic, and surreal elements together into a self-described "freak show." She is even a recurring guest at Saturday Night Live, where she is labeled as an "agent of chaos" and her work has even been described as "so absurd and graphic that it exists outside the outrage machine entirely" by Vulture.
Knowing what she is notorious for really puts Sherman's performance as Rabbi Rebecca in a different light. Sherman's primary work is fully unorthodox and graphic, distinctly contrasting the more cultural persona she acquires in You Are So Not Invited to My Bat Mitzvah. That being said, Sherman's uplifting energy and rowdy demeanor enhance the likability and comedic impact of Rabbi Rebecca. Sherman quickly became a refuge for audiences – a breath of fresh air when the inane teenage drama became mind-numbing.
Source: https://dominioncinemas.net
Category: MOVIE