This review was written during the 2023 WGA and SAG-AFTRA strikes. Without the labor of the writers and actors currently on strike, the film being covered here wouldn't exist.There are not many actors who are on the level of Benicio Del Toro. He's an award winner, has starred in films across various genres, and is likely one of your dad's favorite actors after he saw the Sicario films in between reruns of Yellowstone on the Paramount Network. All jokes aside, Del Toro is the real deal in the industry and has never once phoned in a performance. With Grant Singer's gripping debut film Reptile, he finds himself doing the kind of role that he does best, playing a morally ambiguous protagonist in a tense and often bleak world.
The film kicks off with real estate agent Will Grady (Justin Timberlake) coming home to find the mangled corpse of his girlfriend. Enter Tom Nichols (Del Toro), a police detective with a battered and sketchy past, who only loves two things in his life: his fierce wife Judy (Alicia Silverstone) and being a cop. Yes, this is something he literally says in the film almost word for word. His crew is quickly roped into the murder of Grady's girlfriend and is almost immediately suspicious of the real estate agent and his fragile relationship with his late girlfriend. The further Tom gets into the investigation, the more he begins to lose trust in everyone around him as his past is continuously coming back to haunt him. If Reptile sounds like a familiar story to you, that's because it is. It's not aspiring to reinvent the crime thriller, and it really doesn't need to.
'Reptile' Is a Familiar Story Told Well
Reptile is clearly inspired by films like Se7en, Zodiac, or really any David Fincher thriller you can think of. Much like Fincher, Singer comes from a music video background, and you can see his clear admiration for the acclaimed auteur in nearly every frame of the film. While this is a Netflix film, he gives the film a visual style that is extremely satisfying to watch on the big screen. It's the mid-budget crime film that we don't get nearly as much anymore and you can't help becoming invested in the story.
Related:'Reptile' Director Grant Singer on Landing a Superstar Cast for His Feature Debut [Exclusive]
Of course, with this kind of movie, one should expect a plethora of twists and turns and Reptile definitely delivers on that front. Some of the film's plot beats go in fairly predictable directions, but it's also not without some memorable surprises. In particular, the film's final showdown is worth noting as it is one of the most riveting sequences you'll see all year. Reptile feels fully confident with itself without ever alienating the audience. It's not pretentious and tells its mystery in a fairly straightforward way and never runs the risk of feeling overcrowded. Part of this could be credited to the nearly two-and-a-half-hour runtime, which does feels a bit unnecessary.
There are several scenes throughout the film that go on for just a minute too long and could have easily been cut without the film having to lose any steam. As amusing as it is to watch Del Toro curse real estate agents under his breath or research how to buy a new faucet online, and square-dancing with Silverstone, the scenes weren't necessary. It is not that these scenes weren't entertaining and they do bring a sense of levity to the film. But as the story chugs towards its conclusion, you do start to feel the length, especially with a rather abrupt ending.
Benicio Del Toro Gives His Best Performance Since 'Sicario'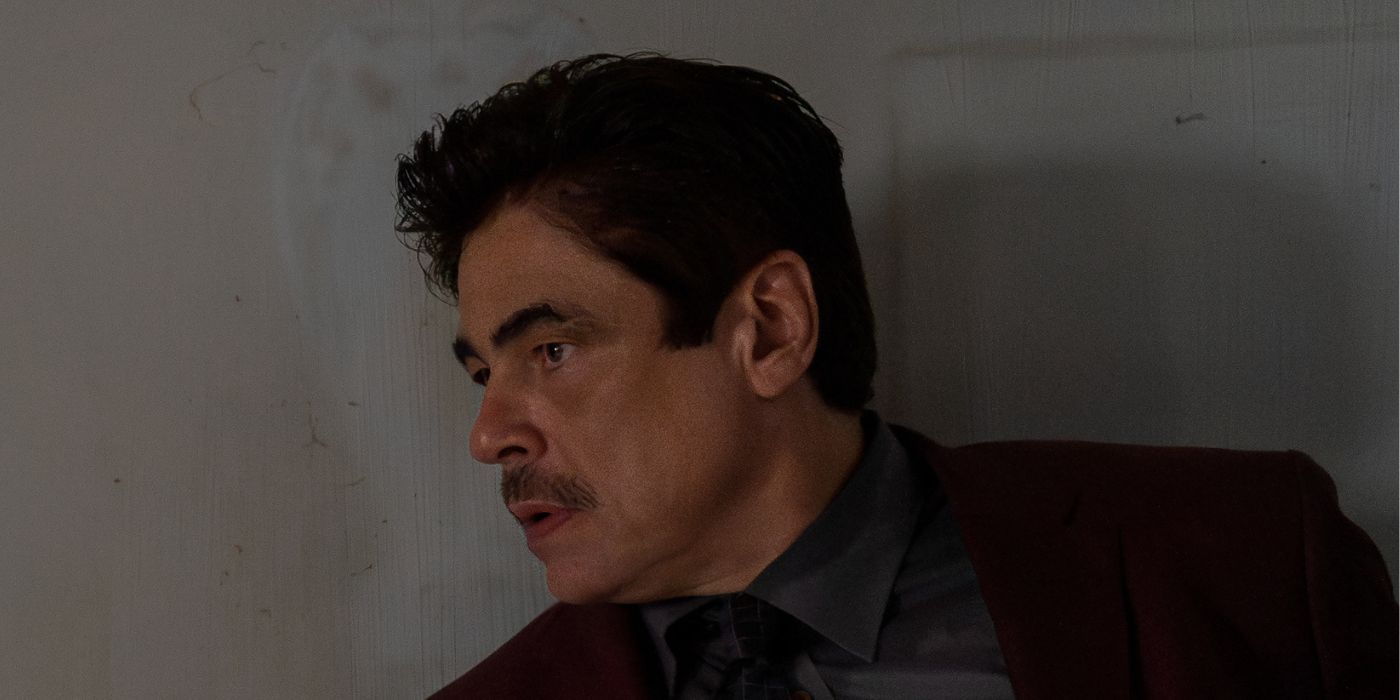 One of the more interesting notes to make about Reptile is that it marks Del Toro's screenwriting debut (he co-wrote the screenplay alongside Singer and Benjamin Brewer). It makes perfect sense as the character of Tom Nichols plays to all of Del Toro's greatest strengths as an actor, resulting in his most exciting and compelling performance since the first Sicario film. He obviously has the brooding and cunning nature of his character down to a T, but he also is incredibly proficient in delivering the film's few moments of dark humor. This is the exact kind of role that Del Toro was put on this planet to fulfill.
Reptile also marks a reunion between Del Toro and Silverstone after starring together in Excess Baggage. Thankfully, this is a far more effective movie. Not only does Silverstone come dangerously close to outshining every other cast member, but she has such a believable and oddly charming chemistry with him. The characters that the two play aren't really the common type of people that dominate much of modern Hollywood, but at the same time the film never demonizes them or makes them into unlikable people. You can't help but root for them, especially as nearly every other character is hard to trust.
When it comes to Timberlake, that's another story as he has always been an unpredictable actor. Films like The Social Network and Friends with Benefits gave him roles that feel tailor-made for him, while other times you'll get some subpar thriller where he feels wholly miscast like In Time or Runner Runner. It's not that Timberlake feels miscast in his role, in actuality he suits this kind of character extremely well, but there is something that just feels somewhat wooden about his performance, especially in the film's opening act. With that in mind, an argument can be made that his performance actually benefits his morally gray character.
Timberlake's acting aside, Reptile is the perfect kind of digestible, mid-budget crime thriller that we just don't get enough of. At times, it reminded me of a much better version of the oft-forgotten Denzel Washington flick The Little Things. But where that film failed in creating an uncomfortable level of ambiguity, Reptile succeeds.
Rating: B+
Reptile premiered at the 2023 Toronto International Film Festival. It opens in select theaters on September 29 before streaming on Netflix on October 6.
Source: https://dominioncinemas.net
Category: MOVIE