The vast array of Star Wars and Marvel content may be Disney+'s biggest selling point, but that's not all the conglomerate is bringing into your homes. All the animated classics are available, as well as the Pixar films and series for younger audiences, not to mention National Geographic documentaries and thirty seasons worth of The Simpsons, in case you happened to miss a few hundred episodes.
But if space cowboys or superhumans or dancing kids don't do it for you, there's an abundance of heartrending material whose stories will affect you deep down. These are the best dramas on Disney Plus right now.
For more recommendations, check out our list of the best movies on Disney+ or the best dramas on Netflix or Hulu.
Editor's note: This article was updated April 2023 to include Chang Can Dunk.
RELATED: The Best Movies on Disney+ Right Now
West Side Story (2021)
Run Time: 2 hrs 36 min | Director: Steven Spielberg
Cast: Ansel Elgort, Rachel Zegler, Ariana DeBose, Rita Moreno
Steven Spielberg's West Side Story is a glorious and glamorous upgrade from the original 1961 film. West Side Story tells a Romeo and Juliet story set in 1960s New York City, and Spielberg's version stars Ansel Elgort (Baby Driver) and Rachel Zegler (Shazam! Fury of the Gods) as Tony and Maria. With vividly colored costumes and exquisite choreography, Spielberg's West Side Story is a visual feast brought to life by a flawless cast. Ariana DeBose (Schmigadoon!) is spellbinding as Anita, while the legendary Rita Moreno (One Day at A Time) introduces a new character, Valentina, who seamlessly provides a foundation for the musical to build upon. – Yael Tygiel
Chang Can Dunk (2023)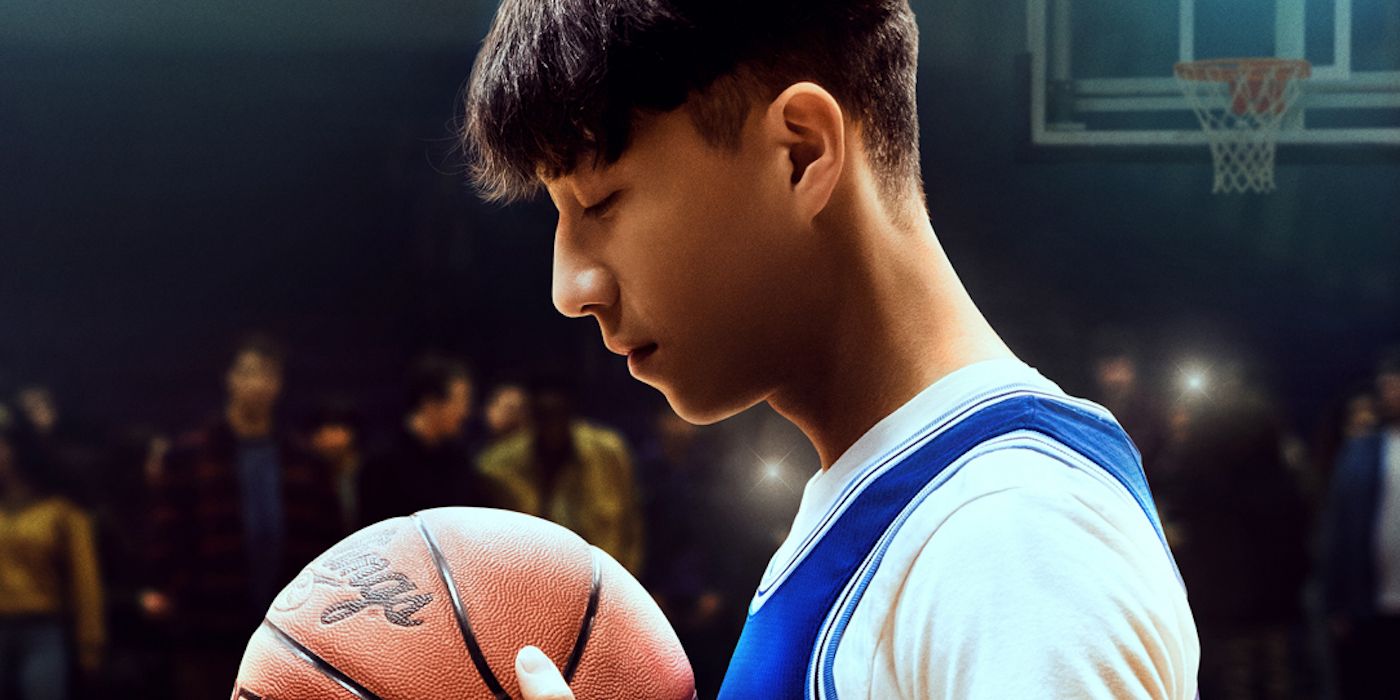 Run Time: 1 hr 49 min | Director: Jingyi Shao
Cast: Bloom Li, Ben Wang, Zoe Renee, Dexter Darden
Written and directed by Jingyi Shao in his feature debut, Chang Can Dunk stars newcomer Bloom Li as an unpopular high schooler whose admiration for the sport of basketball is more than just a minor hobby. Throughout the film, Chang attempts to show up resident athlete — and former friend — Matt (Chase Liefeld) while impressing his love interest, Kristy (Zoe Renee). In this charming coming-of-age story, Chang Can Dunk focuses on Chang's family while exploring themes of determination, perseverance, and passion. Chang Can Dunk is a playful underdog story wrapped in a sports movie and sprinkled with a hint of romance. – Yael Tygiel
Avatar (2009)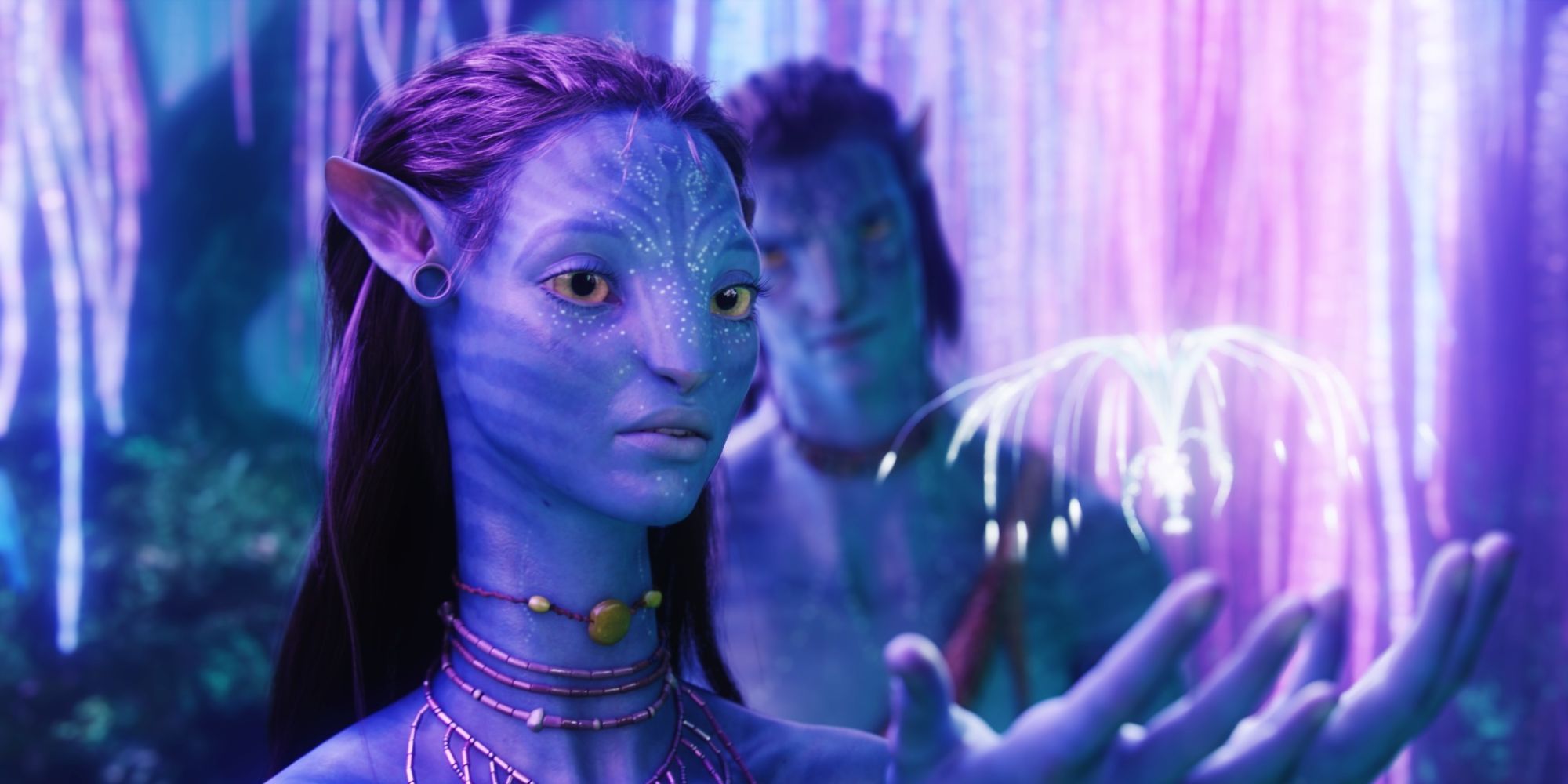 Run Time: 2 hr 40 min | Director: James Cameron
Cast: Sam Worthington, Zoe Saldana, Sigourney Weaver
Up until 2019, Avatar was the highest-grossing film of all time not adjusted for inflation. Even adjusted for inflation, it sat in second place behind the classic Gone with the Wind. Truly an incredible feat by James Cameron and everyone involved with the film. It's one of the most surprising accomplishments of his career. This was a property that did not have the benefit of an IP like Terminator 2: Judgment Day or Aliens did. It was a pretty simple story about an indigenous people, the Na'vi, whose planet Pandora was being mined by an occupying force of humans for their resource of unobtainium (I still can't with that).
So, what set it apart and sent it on this box office run? Was it the visual effects that were stellar in regular theaters never mind in 3D theaters which this film was built for in the first place? Was it the cast of Sam Worthington, Zoe Saldana, Sigourney Weaver, Michelle Rodriguez, Giovanni Ribisi, and Stephen Lang? Or was it just the name James Cameron, who had shocked the world once already with the mega-hit that was Titanic? Well, whether it was one thing or a combo of things, the film became a massive smash and was re-released numerous times to add to its box office total. If you've got a decent TV/sound system, then revisit Avatar on Disney Plus and enjoy the imaginative visuals, the thrilling action sequences, and those magnificent dragon flying scenes. — John Rocha
The Greatest Showman (2017)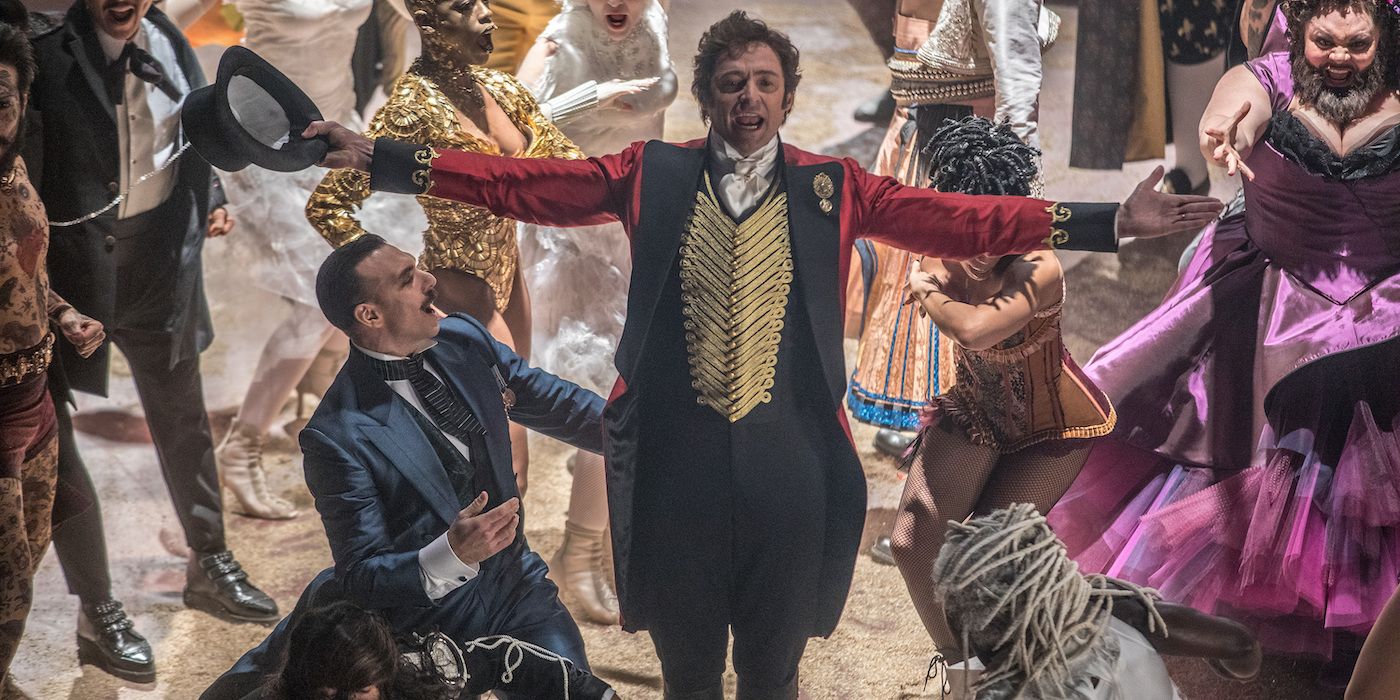 Run Time: 1 hr 45 min | Director: Michael Gracey
Cast: Hugh Jackman, Zac Efron, Michelle Williams, Rebecca Ferguson, Zendaya
I'm not scared to be seen; I make no apologies – this is me! The Greatest Showman is a powerful story about P.T. Barnum (Hugh Jackman), an entertainer behind the famous Barnum & Bailey Circus, and those he employs to work with him. From playwrights (Zac Efron) to acrobats (Zendaya) to breathtaking singers (Rebecca Ferguson), there are many dazzling acts with various extraordinary talents from all different walks of life. The Greatest Showman is visually stunning, with excellent performances and a memorable soundtrack. You'll laugh, you'll cry, and you'll want to get up and dance. – Taylor Gates
Cruella (2021)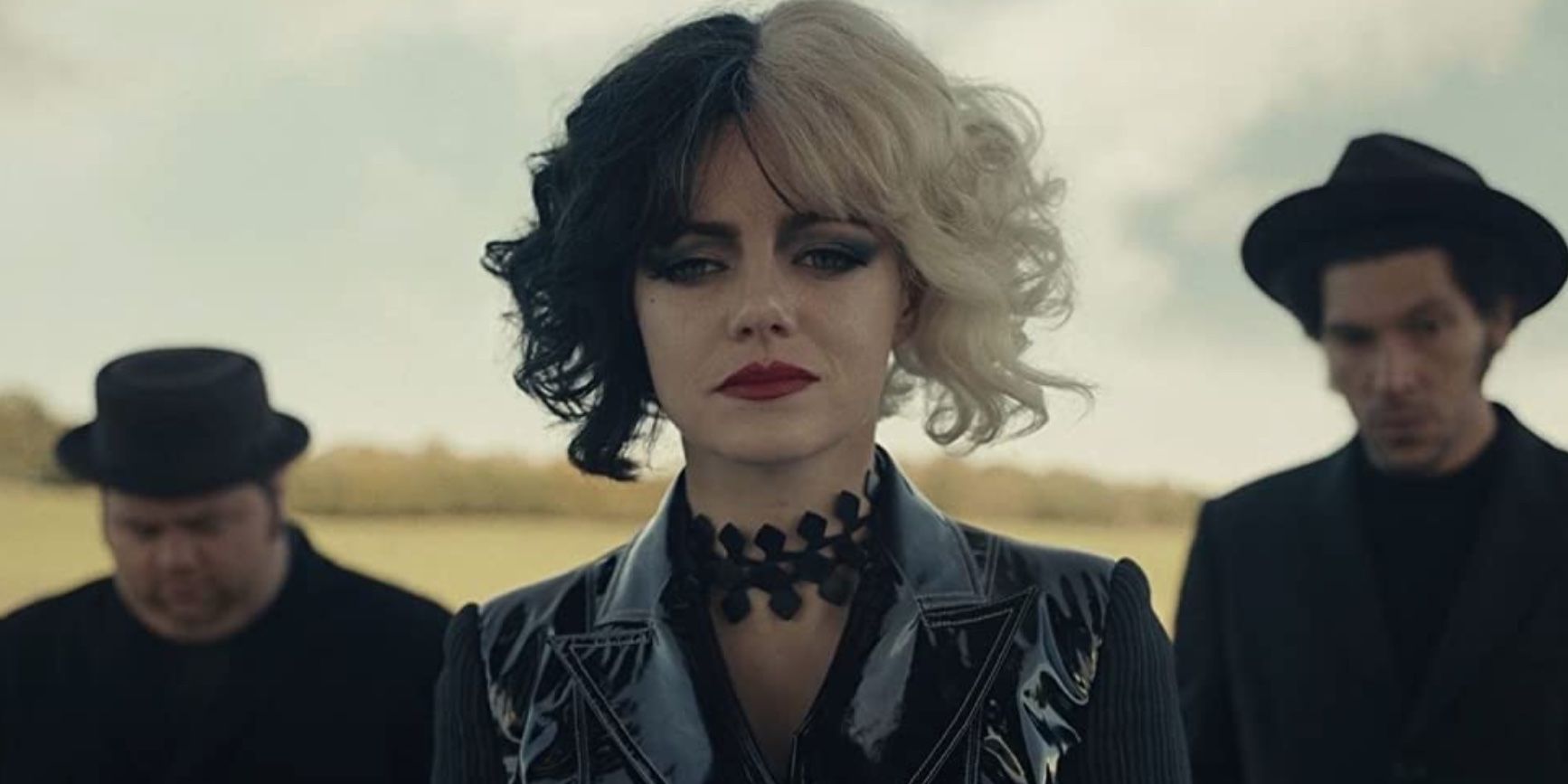 Run Time: 2 hr 14 min | Director: Craig Gilliespie
Cast: Emma Stone, Emma Thompson, Joel Fry, Kirby Howell-Baptiste, Paul Walter Hauser, and Emily Beecham
You may be wondering why we need a movie about one of the most infamous Disney villains. Upon watching Cruella, you'll understand. Emma Stone shines as Estella, a grifter who is set on taking the fashion world by storm in England in 1974. The film gives Estella an interesting journey on her way to becoming known as Cruella, offering up a disturbing backstory that makes her hatred of dalmatians much clearer. But, much like the live-action Maleficent films, Cruella avoids making the titular character a full-blown villain, giving the viewer a chance to see the character from a fresh perspective. Darkness, death, and delicious drama await those who are ready to watch Cruella's tale unfold. And there's much more story to be told, which is why the big Disney machine has already put a sequel in the works. – Jay Snow
Holes (2003)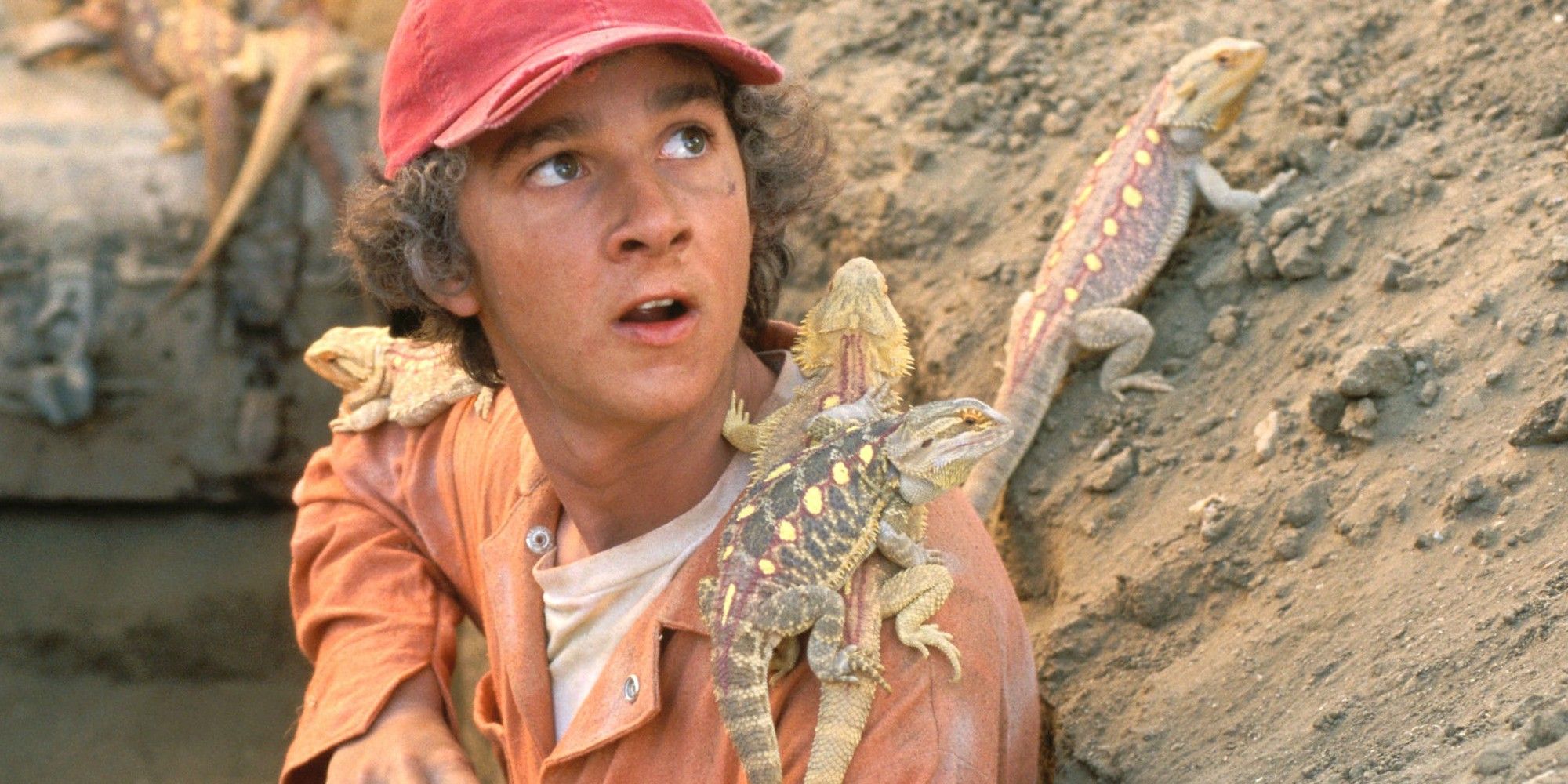 Run Time: 2 hr | Director: Andrew Davis
Cast: Sigourney Weaver, Jon Voight, Patricia Arquette, Tim Blake Nelson, Shia LaBeouf
Based on the novel of the same name by Louis Sachar (who also wrote the screenplay), Holes is one of those movies that continues to delight with every passing year. Filled with a star-studded cast and beautiful cinematography, the film follows the story of Stanley Yelnats (Shia LaBeouf) after he is sentenced to 18 months at Camp Green Lake, a juvenile detention camp for stealing a pair of donated sneakers that once belonged to baseball player Clyde "Sweet Feet" Livingston. The warden of the camp, Louise Walker (Sigourney Weaver), and her underlings are cruel, forcing the inmates of the camp to spend each day digging holes under the hot desert sun in search of some mysterious treasure. As Stanley finally finds his place among the other teens at the camp, he slowly begins to uncover the story behind the detention center, the holes, and his very own family. – Olivia Fitzpatrick
Mr. Holland's Opus (1995)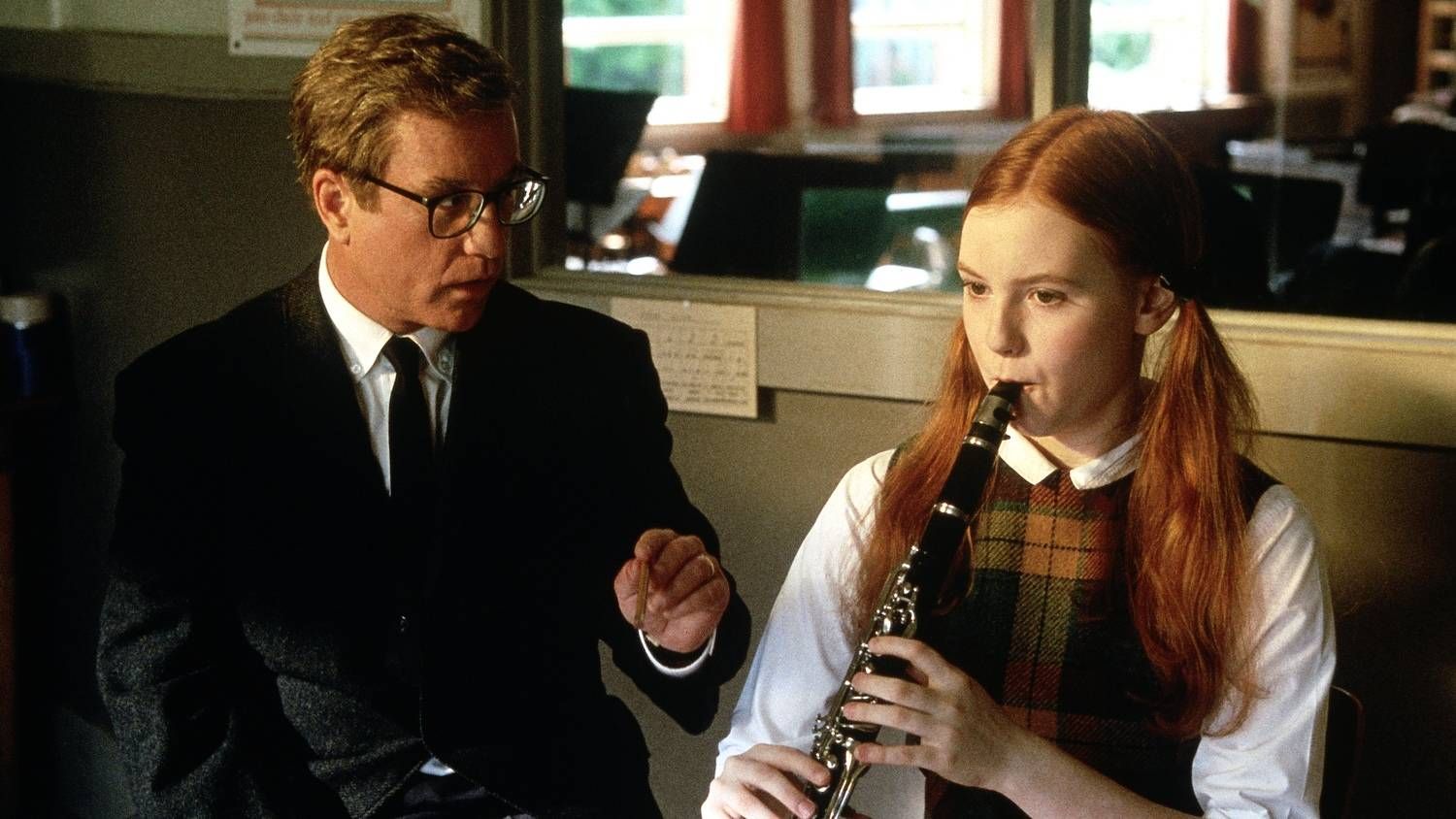 Run Time: 2 hr 23 min | Director: Stephen Herek
Cast: Richard Dreyfuss, Glenne Headly, Jay Thomas, Olympia Dukakis
In 1964, the time has come for Glenn Holland (Richard Dreyfuss) to put his composing on hold and go with his Plan B; teaching. As Mr. Holland goes through the decades, he faces changes with the times as well as his students as he learns to love his job all the while still hoping to finish writing his Opus. A gift of a film for teachers or anyone who had a memorable teacher that changed their lives, Mr. Holland's Opus is sure to tug at the heartstrings and hit all the right notes. – Jennifer McHugh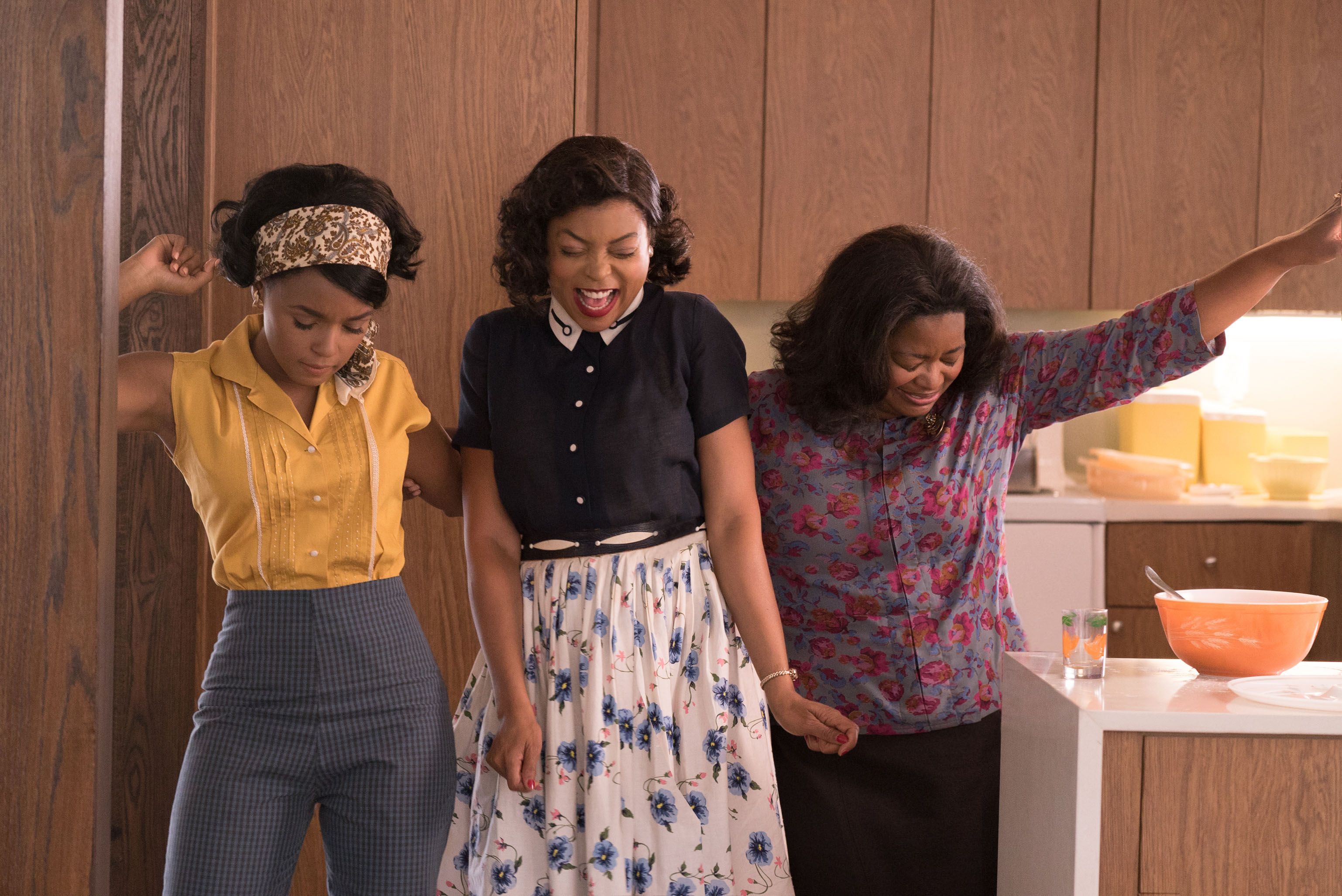 Run Time: 2 hr 7 min | Director: Theodore Melfi
Cast: Taraji P. Henson, Octavia Spencer, Janelle Monáe, Kevin Costner, Kirsten Dunst, Jim Parsons, Mahershala Ali, Aldis Hodge
If you're looking for inspiration, look no further than Hidden Figures. In 1961, three Black female mathematicians are subjected to racism and discrimination as they try to do their jobs at Langley in Virginia. The three women Katherine Johnson (Taraji P. Henson), Mary Jackson (Janelle Monáe), and Dorothy Vaughn (Octavia Spencer) set out to simply do their jobs and wind up changing history. All three women were given the Congressional Medal of Honor as well as many other awards. The film adaptation was widely praised and ultimately nominated for three Academy Awards including Best Adapted Screenplay, Best Supporting Actress (Spencer), and Best Picture. – ​​Jennifer McHugh
The Last Song (2010)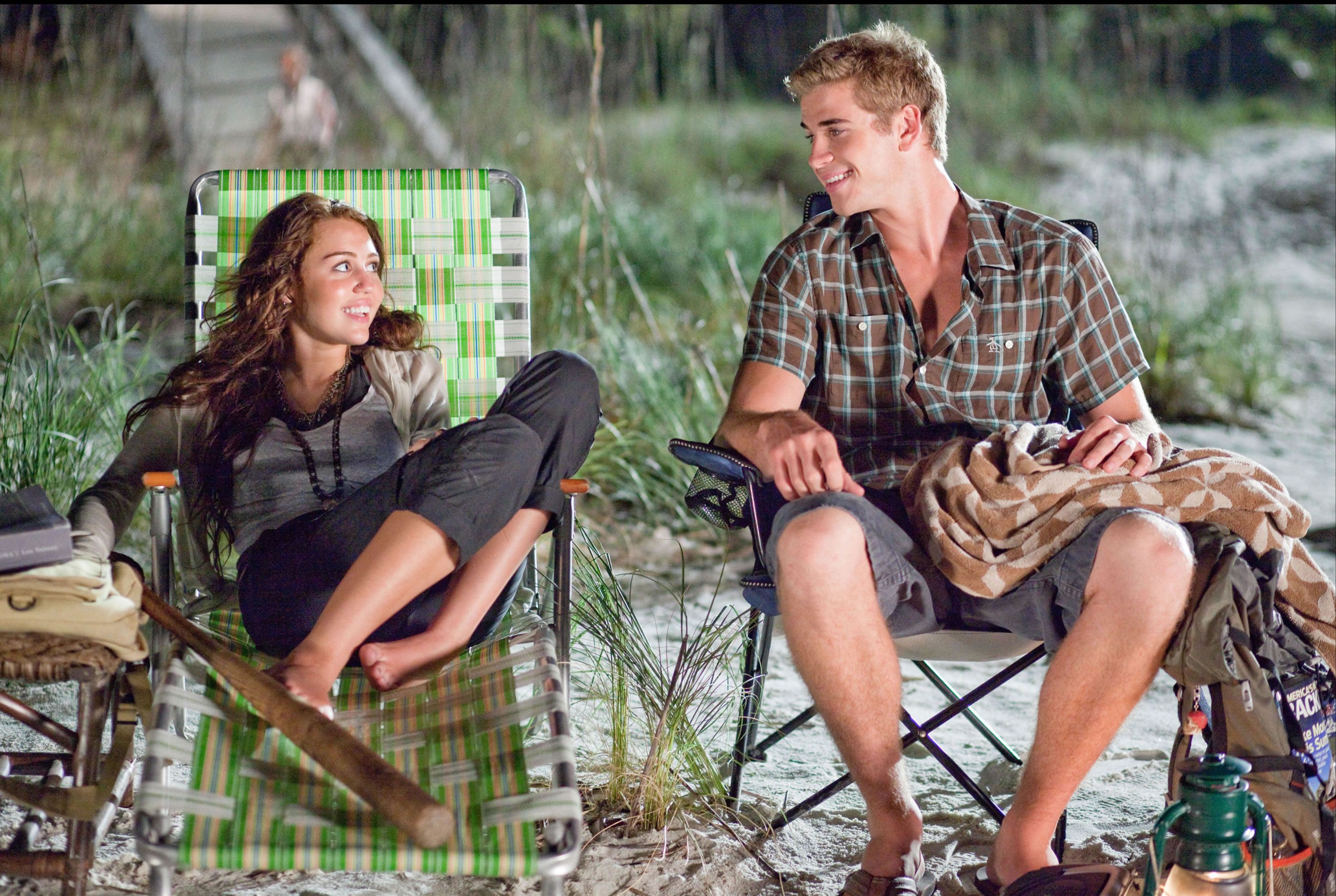 Run Time: 1 hr 47 min | Director: Julie Anne Robinson
Cast: Miley Cyrus, Liam Hemsworth, Greg Kinnear, Bobby Coleman, Kelly Preston
Miley Cyrus proved her acting chops outside of Hannah Montana when she starred in the Nicholas Sparks adaptation, The Last Song. Cyrus plays Ronnie, a rebellious former piano prodigy who is sent to spend the summer at a small seaside town in Georgia with her father (Greg Kinnear) and brother. She barely knows her Dad after her parents divorced and so, the teenage brooding is at an all-time high. Enter Liam Hemsworth who plays Will, the wealthy happy-go-lucky town hottie, and him and Ronnie embark on an intense summer romance. She helps him to indulge his rebellious side more and he inspires her to get back into music – the perfect yin and yang couple.
The Last Song has all the usual leitmotif of a Sparks adaptation: Gorgeous young couple, something that is trying to break them up, a terminally ill character and a lot of kissing on the beach. Unlike some of his other films, The Last Song stays in its own territory, never trying to venture out to discuss greater topics like religion or philosophy. It has charm, there are some truly heart-breaking scenes and it allowed Cyrus come into her own as an actress. – Emma Kiely
Edward Scissorhands (1990)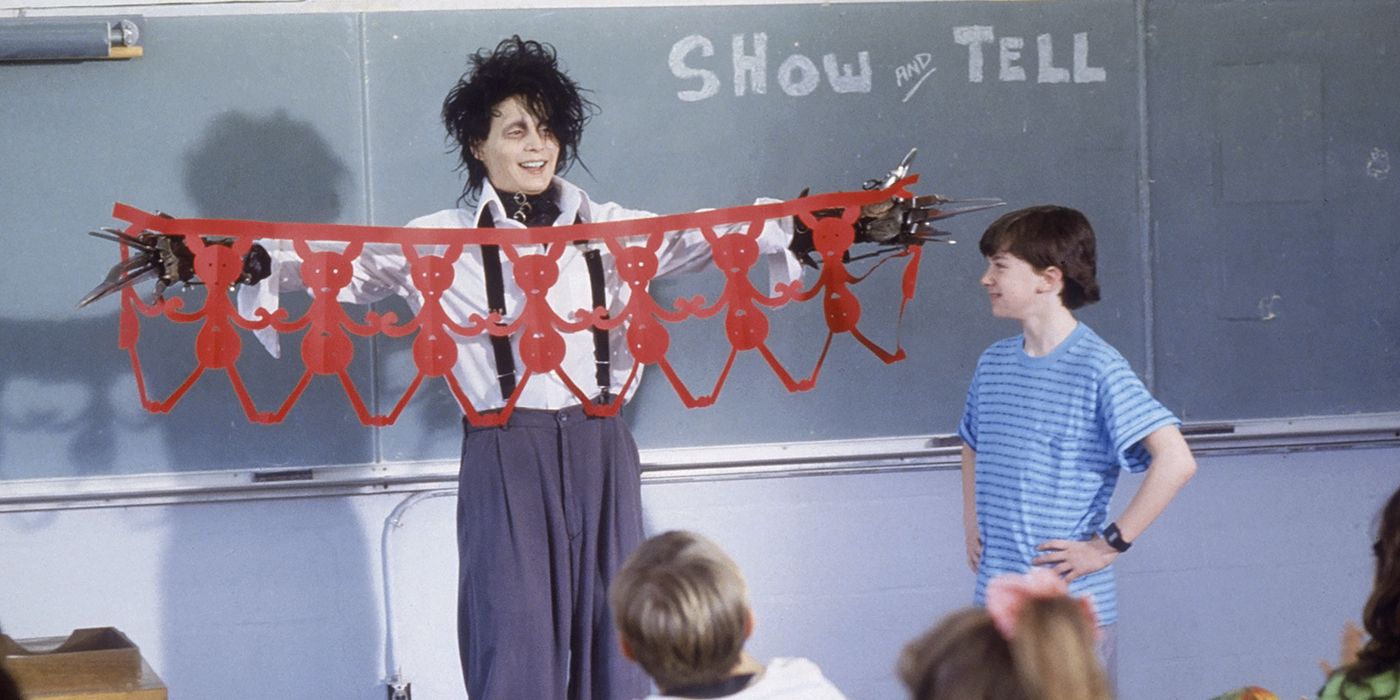 Run Time: 1 hr 45 min | Director: Tim Burton
Cast: Johnny Depp, Winona Ryder, Dianne Wiest, Anthony Michael Hall, Kathy Baker, Alan Arkin, and Vincent Price
Tim Burton's take on the tale of Frankenstein, Edward Scissorhands is an early example of Burton's favorite topics, but also how beautifully he can blend gothic elements with heart. Johnny Depp stars as the title character, a creature who lived in isolation with his master (Vincent Price), and was never fully finished—hence the scissors for hands. Burton and writer Caroline Thompson craft a surprisingly tender character, who wants compassion and love, but his appearance and the public opinion that he's a "monster" keeps him away from those he wants to be with. We know that Burton has an affinity for strange, misunderstood characters, but Edward Scissorhands might be his most empathetic and heaertbreaking character. Edward Scissorhands is like the eponymous character himself, seemingly a bit weird and strange on the outside, but nothing but tenderness and warmth on the inside. – Ross Bonaime
Old Yeller (1957)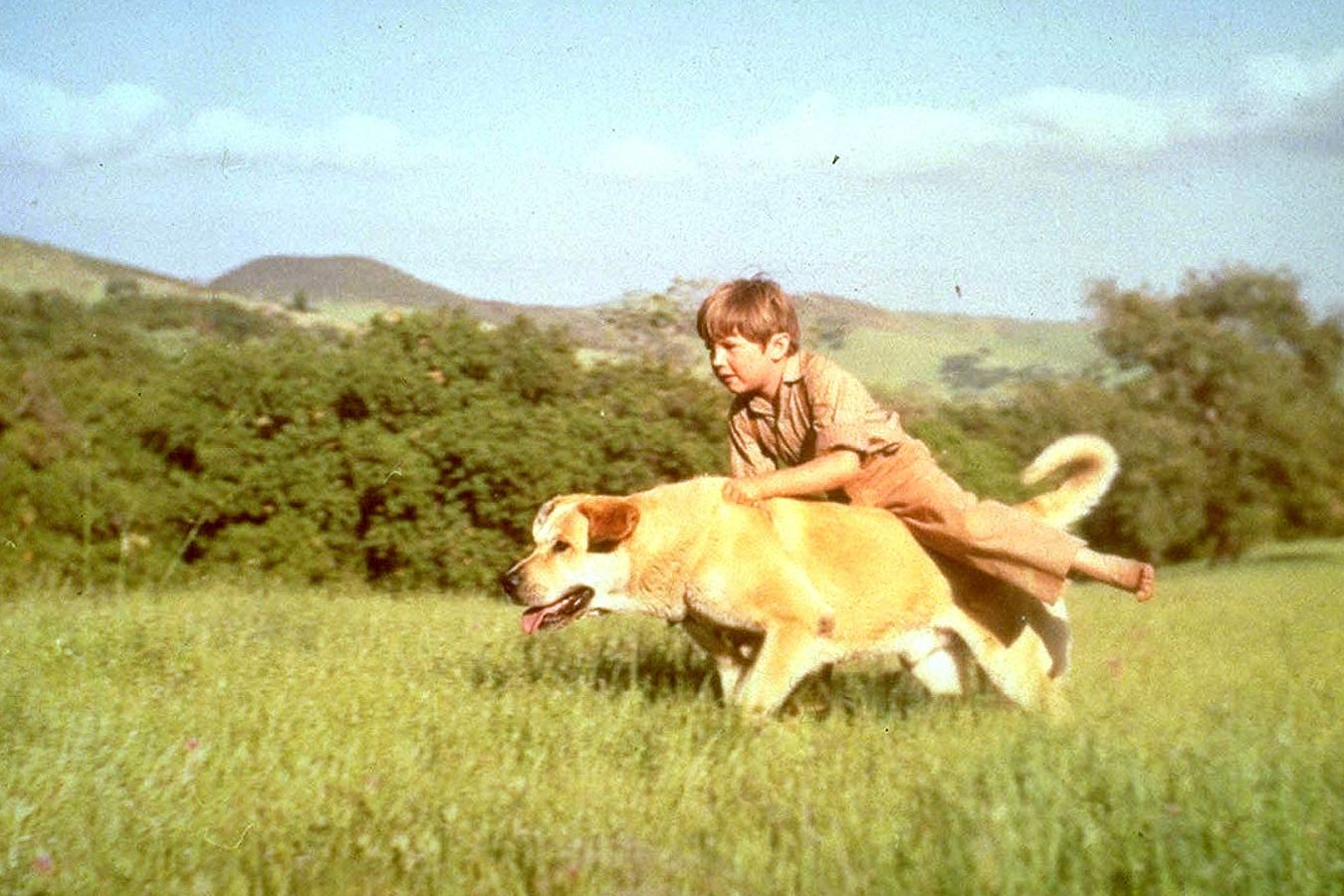 Run Time: 1 hr 23 min | Director: Robert Stevenson
Cast: Dorothy McGuire, Fess Parker, Jeff York, Tommy Kirk
The grandfather of sappy dog movies, Old Yeller has been breaking audience hearts for six decades. The tale about Travis, a teenage boy tasked with looking after his mother and kid brother in 1860s Texas while his father is away on a cattle drive, soon becomes a boy-meets-dog story of grave consequence. Befriending a yellow mutt, who fights dangerous animals away from the family homestead, Travis ultimately comes face to face with the reality that saying goodbye is the hardest thing in life, especially when it comes courtesy of the business end of a rifle (spoiler alert). Old Yeller is a coming-of-age affair about growing up, about responsibility, and about tragedy. Families have long cherished this film, which has endured as a good reminder for storytellers that a bittersweet resolve is often the best option in weaving an emotionally potent narrative. Also, everyone loves dogs. — Brendan Michael
The Sound of Music (1965)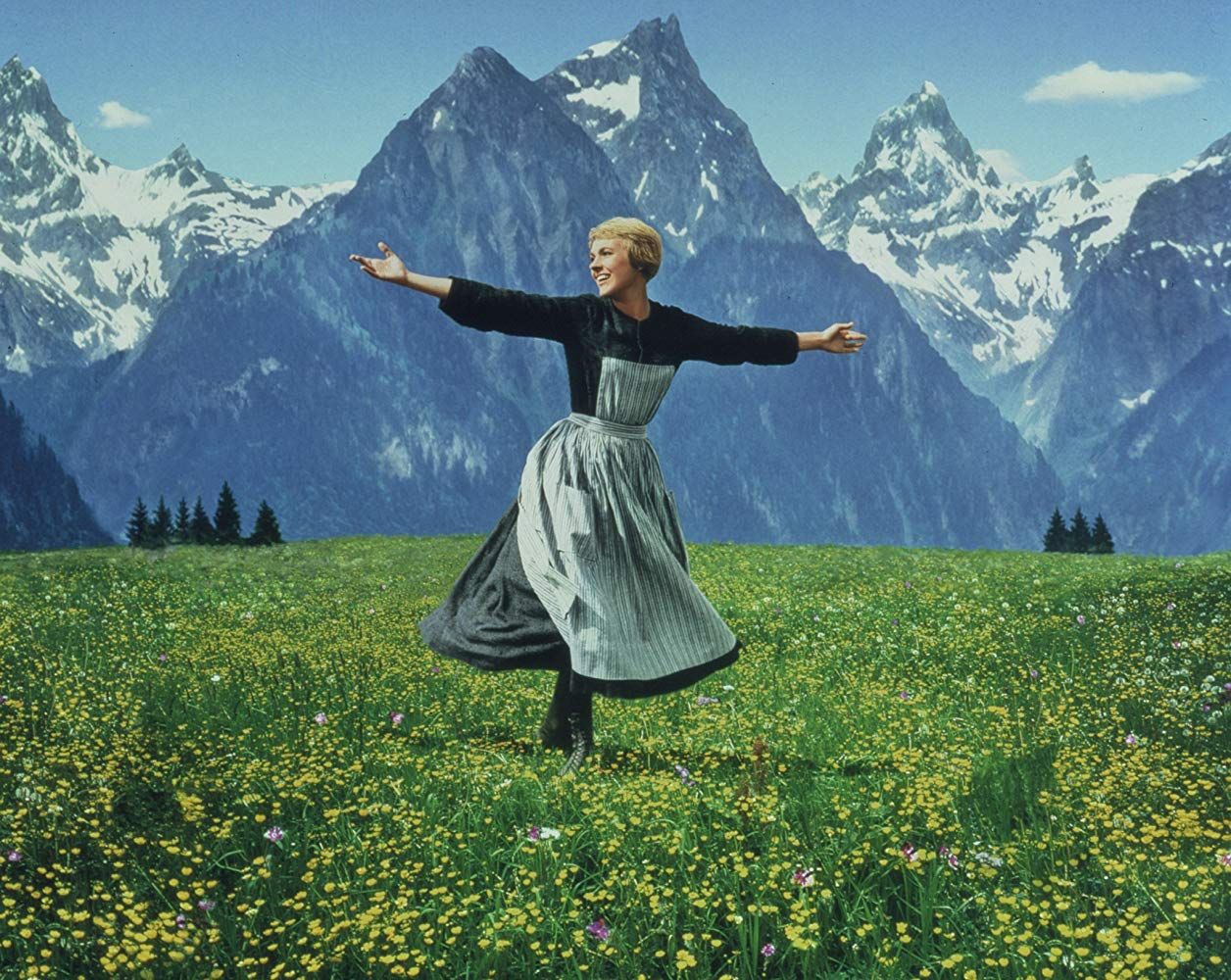 Run Time: 2 hr 54 min | Director: Robert Wise
Cast: Julie Andrews, Christopher Plummer
If you've got three hours to spare, and you're in the mood for a sprawling period musical epic, nothing really compares to The Sound of Music. The story of Maria, played by Julie Andrews, who becomes governess to the children of a widowed naval officer (a young Christopher Plummer, who was, believe it or not, a young man once), became an instant classic. Among its five Oscar wins were Best Picture, Best Director (Robert Wise), and a Best Music no-brainer. Shooting on location in Austria and Germany—including the Bavarian Alps—the film (shot on 70mm) has a scope that was unparalleled in 1965. Though set against the backdrop of World War II with the threat of the Third Reich pressing in, the movie's tone is a joyous one, and its triumphant conclusion leaves you marveling at its beauty and pining over the fact that they don't make 'em like they used to. — Brendan Michael
Three Men and a Baby (1987)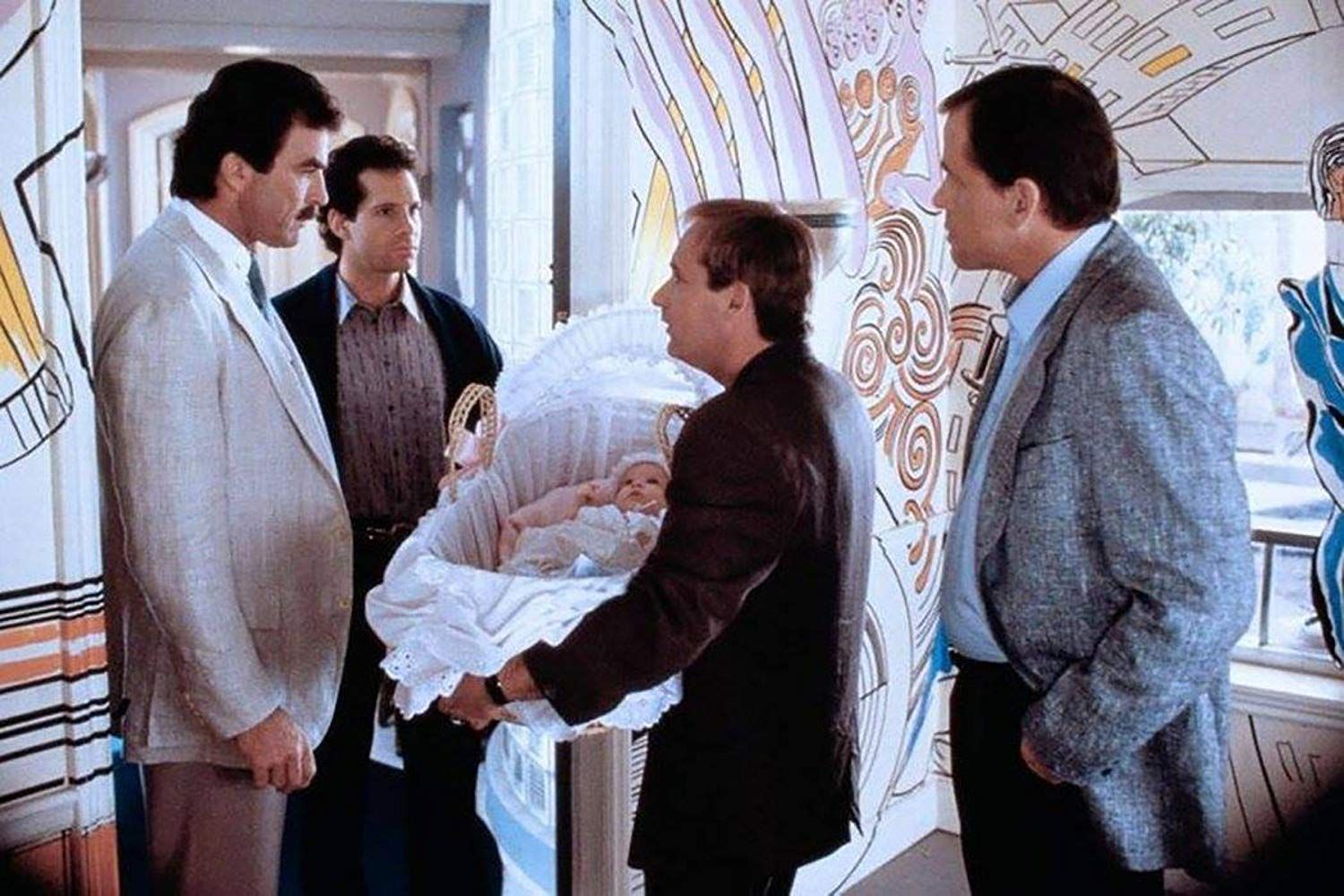 Run Time: 1 hr 42 min | Director: Leonard Nimoy
What do you get when you throw an architect, a cartoonist, and an actor into a swanky Manhattan apartment and force them to share the duties of caring for an infant? You get the biggest American hit of 1987. Conceptually, Three Men and Baby is more of a comedy, but the thoroughly '80s film about this trio of buds and the hijinks they find themselves ensnared in, has a good bit of heart. The men, played by icons of their era, Tom Selleck, Steve Guttenberg, and Ted Danson, soon discover that this infant, who at first seemed nothing more than a nuisance, is actually making a positive impact on them. Directed by Leonard Nimoy, in his first feature departure from Star Trek, the film is thoroughly watchable—one you'll want to revisit time and again. It doesn't move you like most on this list, but if you want your laughs mixed with surprising sentiment, it's right up your alley. — Brendan Michael
Turner & Hooch (1989)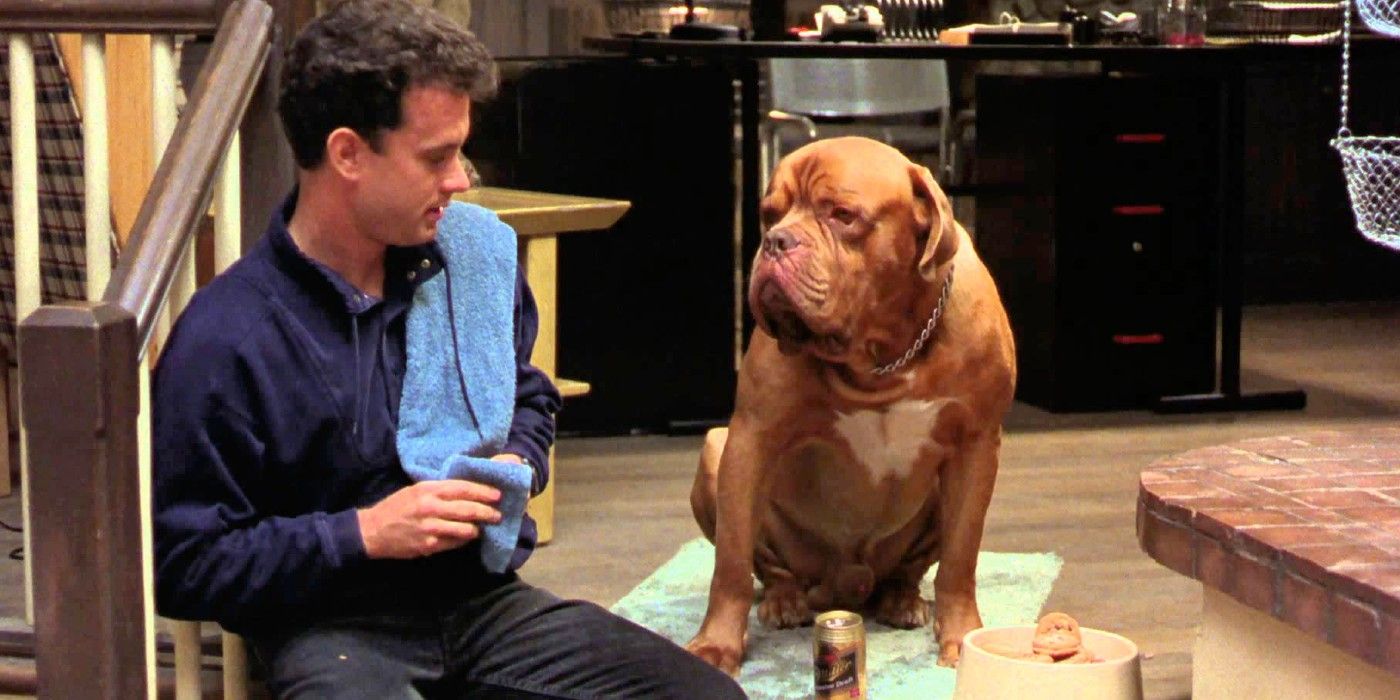 Run Time: 1 hr 37 min | Director: Roger Spottiswoode
Cast: Tom Hanks, Mare Winningham, Craig T. Nelson
A year after Tom Hanks delivered his first Academy Award-nominated performance in Big, he played a police investigator who takes in a Dogue de Bordeaux (which is a dog—a French Mastiff, as we'd call it), formerly belonging to a murder victim. Hanks is Scott Turner. His new unwanted roommate (and sort of partner) is Hooch. This mongrel is a wrecking ball in Turner's life, but there's no place else for the dog to go. Soon, however, Turner realizes that Hooch may be more valuable than he initially thought. Though the film is a laugh-a-minute romp most of the way through, thanks to the comedic sensibilities of Hanks, it's ultimately the investigation and the drama that keeps your eyes glued to the screen. It even works as a buddy cop movie. But it's the ending that stays with you. That's when the buddy cop comedy becomes a sappy dog movie of the highest order. It also gives Hanks an opportunity to show off his talent—one that would shine brighter than anyone else's the following decade. — Brendan Michael
Sister Act (1992)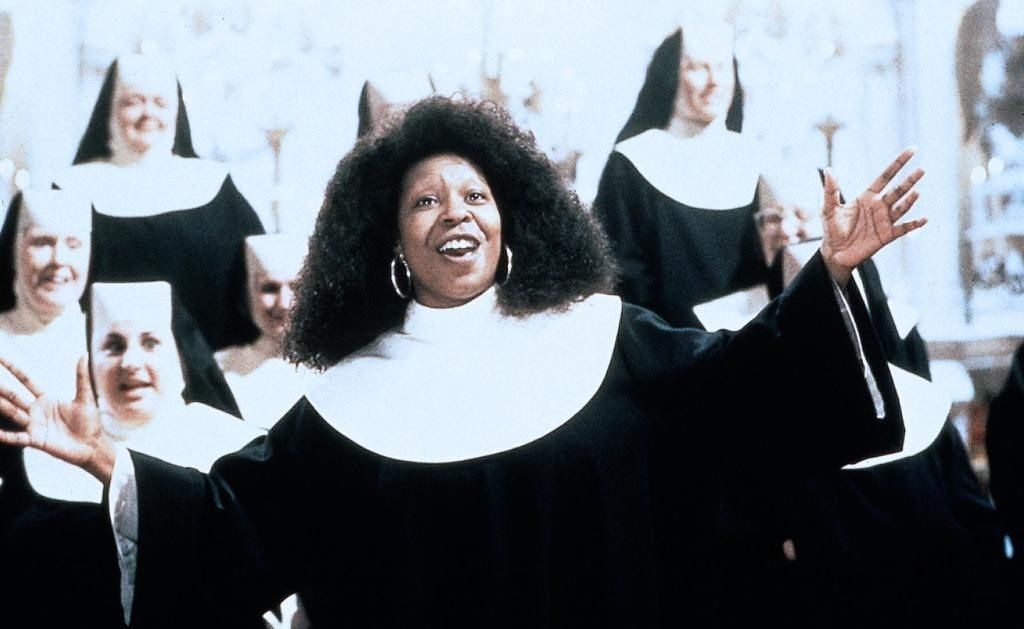 Run Time: 1 hr 36 min | Director: Emile Ardolino
Cast: Whoopi Goldberg, Maggie Smith, Harvey Keitel
Long before she was spouting her polarizing opinions on The View, Whoopi Goldberg had a nice movie career going. Two years after her Oscar-winning turn in Ghost, Emile Ardolino, director of Dirty Dancing, cast Goldberg in what has become one of her most memorable roles. In Sister Act, Whoopi plays Deloris, a lounge singer who witnesses her lover Vince (Harvey Keitel) kill a man. Vince is a gangster, it turns out, which puts Deloris is in imminent danger. But a police lieutenant finds a place to hide her: in a convent… as a nun. The treat is watching the irreverent Deloris attempt to fit in with her newfound "sisters" knowing the threat of death looms large. It's funny, it's sweet, and it's even a bit tense. But at its core is strong storytelling and a reminder that Goldberg, in the right role, is a magnetic talent. — Brendan Michael
The Sandlot (1993)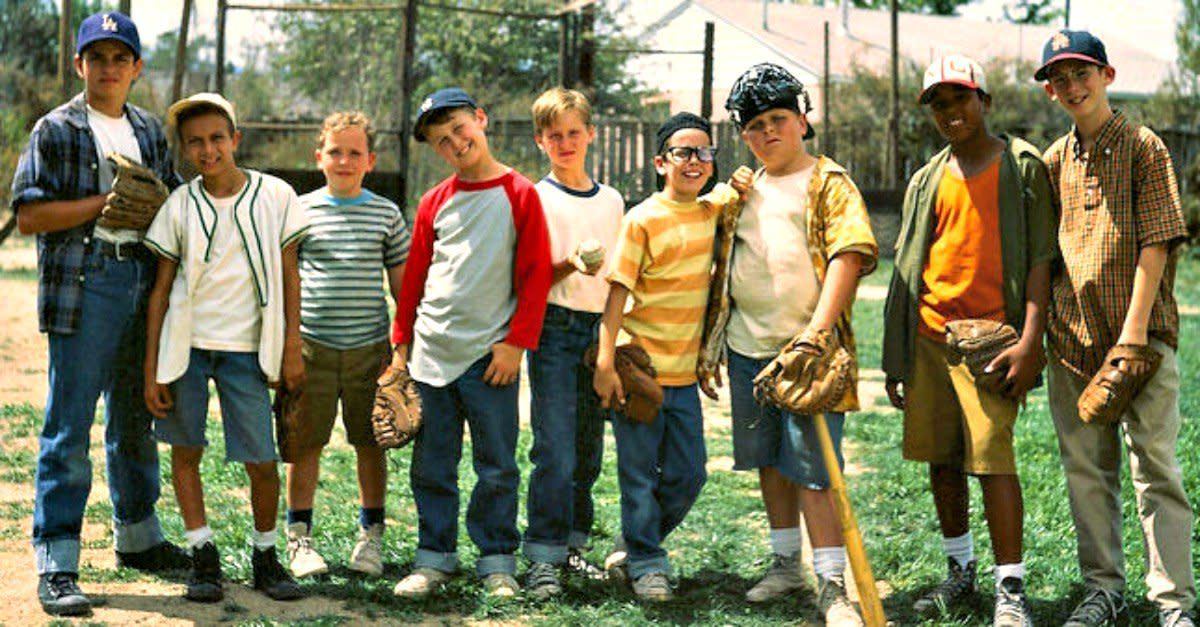 Run Time: 1 hr 41 min | Director: David Mickey Evans
Cast: Tom Guiry, Mike Vitar, Karen Allen, Denis Leary, James Earl Jones
Sports comedies can also be dramas. And that, ultimately, is what The Sandlot is. The film, about the nerdy Scotty Smalls (Tom Guiry), who moves to a new Southern California neighborhood in the summer of 1962 and falls in with a band of baseball-playing middle schoolers, is an ode to both baseball and childhood nostalgia. It's got a bit of A Christmas Story flavor as it follows the misadventures of the boys in their efforts to recover a baseball signed by Babe Ruth—now guarded by a monster dog on the other side of their precious sandlot's fence. As a comedy, it's a knee-slapper. As a baseball movie, it's a top ten. As a coming-of-age tale about growing up, it hits all the right notes. A perfect summer film, The Sandlot has endured as a cherished family-friendly experience that you loved as a kid, and now can enjoy with your kids. — Brendan Michael
Remember the Titans (2000)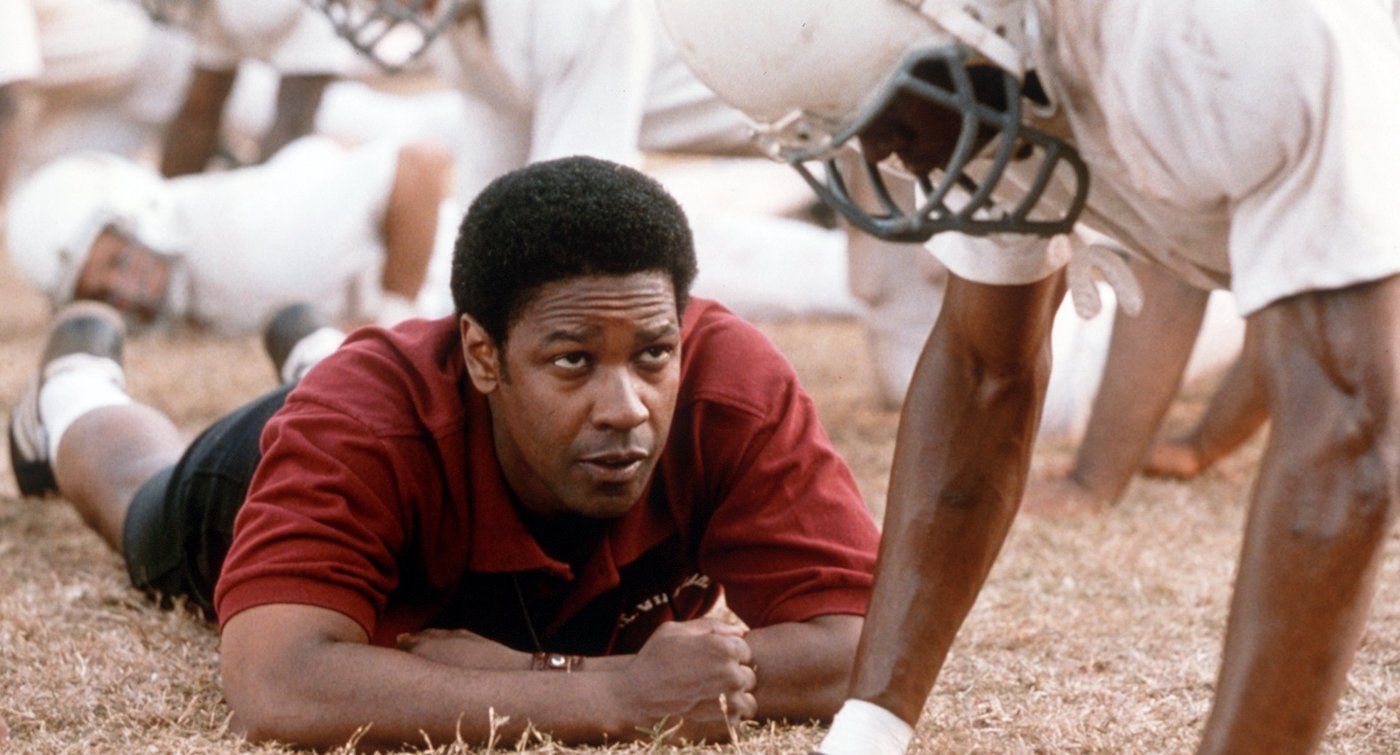 Run Time: 2 hr | Director: Boaz Yakin
Cast: Denzel Washington, Will Patton, Wood Harris, Ryan Hurst, Donald Faison, Hayden Panettiere
You'll be hard-pressed to find a football movie better than Remember the Titans. The true story (with a healthy number of liberties taken) about a black football coach leading a high school team in its first year of integration in 1971, will move and inspire you. Denzel Washington plays coach Herman Boone—a standout performance in a career marked with great ones. He won't allow prejudices to mar the lives of these young men and, before long, the Titans are dominating on the field and gelling off of it. It's a movie about the senselessness of racism and how overcoming it shouldn't be as difficult as it's been in America (and the rest of the world). Put everyone in the same circumstance with the same goal—like a football field—and equality is a lot easier to recognize. It's a movie that makes you stand up and cheer and boasts a score by Trevor Rabin that will give you goosebumps. Look out for a young Ryan Gosling as one of the players as well. — Brendan Michael
The Rookie (2002)

Run Time: 2 hr 8 min | Director: John Lee Hancock
Cast: Dennis Quaid, Rachel Griffiths, Angus T. Jones, Brian Cox
After Remember the Titans, Disney saw that it found a good thing with the inspiring nonfiction sports drama. So 2002's The Rookie became the next in a decades-long stretch of them. In it, Dennis Quaid plays high school baseball coach/chemistry teacher Jim Morris, who once had a shot at the big leagues himself as a pitcher, but injuries set him back. Now, well into his 30s, his team challenges him to try out once more. He will, if they win. Well, they win, so he does—reluctantly. To Morris' surprise, his fastball still registers in the upper 90s and, before long, this family man who'd given up on his dream, is on a path back to achieving it. The film is a better character piece than it is a baseball movie, and its father-son angle is likely the element that will get you choked up more than any other. — Brendan Michael
The Chronicles of Narnia: The Lion, the Witch and the Wardrobe (2005)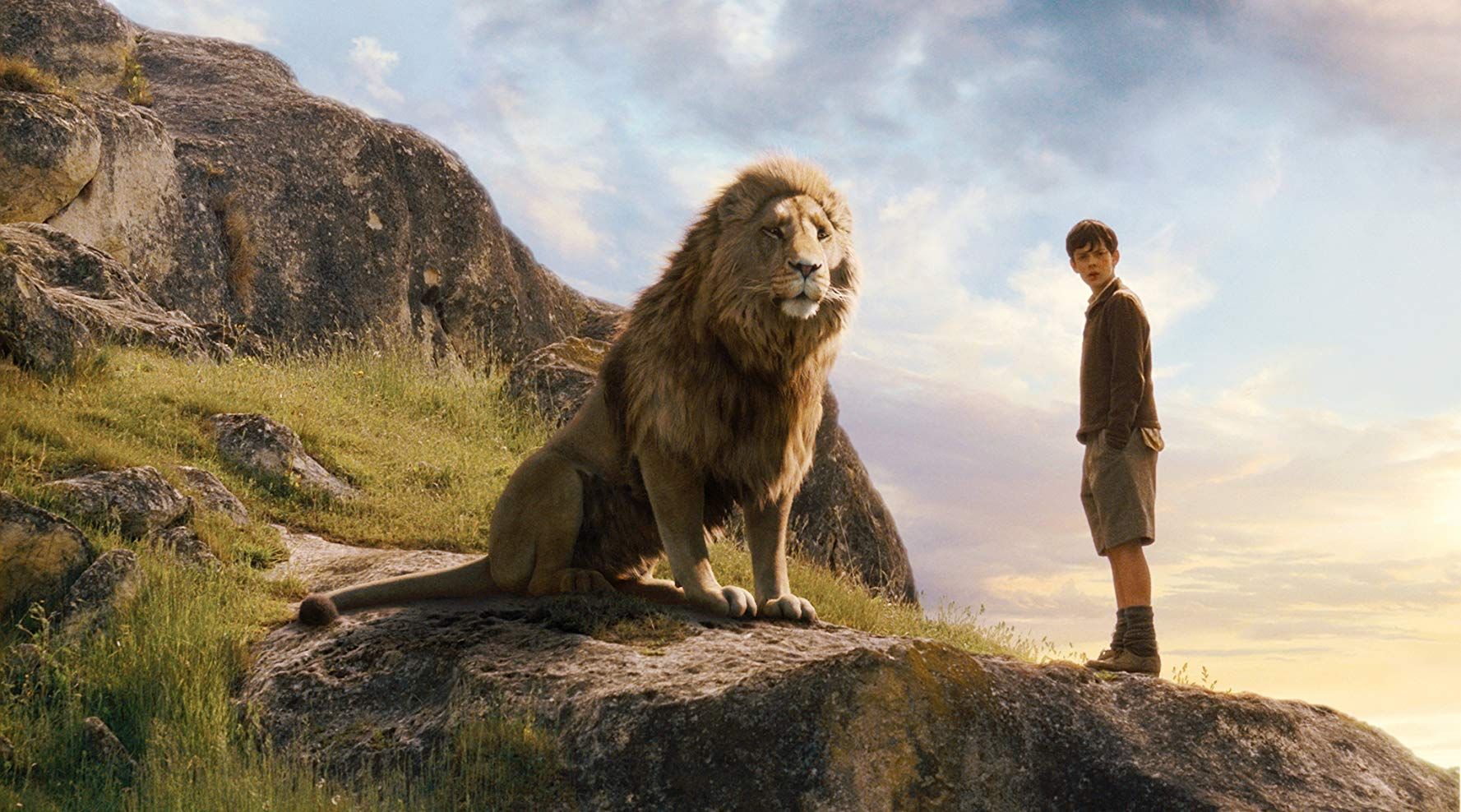 Run Time: 2 hr 30 min | Director: Andrew Adamson
Cast: Georgie Henley, William Moseley, Anna Popplewell, Skandar Keynes, Liam Neeson, Tilda Swinton, James McAvoy
Based on the first of C.S. Lewis' classic series, The Chronicles of Narnia: The Lion, the Witch, and the Wardrobe is a faithful adaptation of the cherished book. Directed by Andrew Adamson, this live action fantasy epic is not on par with The Lord of the Rings film trilogy (Lewis and Tolkien were good buddies, remember), but it's more palatable for children of all ages. It's also a deftly made Christ allegory, which was always Lewis' intent. Aslan the lion, voiced by Liam Neeson, is among the most spot-on representations of Jesus in popular culture that we've ever seen—complete with an atoning death, resurrection, and eternality. The film's CGI is a bit dated, particularly in the battle sequences, but like any good movie, story trumps all else. There are also themes and mentions of Christmas in the film, rendering it a solid option for the holiday season. And James McAvoy has goat legs, which is pretty cool. — Brendan Michael
Source: https://dominioncinemas.net
Category: Disney+