Spooky season is upon us, and the hunt for Halloween-appropriate viewing options has already begun. And while you aren't going to find the out-and-out scariest options on Disney+, Disney's direct-to-consumer streaming platform, there are some really great movies that will put you in the Halloween spirit (bloodlessly, of course).
These are movies that evoke the spirit and mood of the season without going over the top on gore or extreme thrills. They're movies, TV shows, and shorts that you can have on while carving your pumpkin or filling your Halloween tray. They're charming, low-impact, and a lot of fun. (And, yes, we're still waiting for them to properly digitize and release stuff like Disney's Halloween Treat, an old TV special that combined shorts, excerpts, and musical segments and is the perfect Disney Halloween sampler.)
Keep scrolling for some good Halloween viewing ideas and get even more Disney+ updates here.
For more recommendations, check out our list of the best Halloween movies on Netflix, Prime Video, and Hulu.
Editor's note: This article was updated on October 28th to include Werewolf by Night.
Related: The Best Horror Movies on Hulu
"Trick or Treat" (1952)
Director: Jack Hannah | Run Time: 9 min
Cast: June Foray, Clarence Nash, The Mellomen
This short just popped up on Disney+ and it is the perfect bite-sized Halloween treat. This Donald Duck short, which runs a little over 8 minutes, features Huey, Dewey, and Louie in their iconic Halloween outfits and a plot involving a witch (Witch Hazel) who helps the boys get revenge on Donald (who has very much leaned into the "trick" portion of trick-or-treating). Featuring gorgeous Technicolor animation and strong direction from Jack Hannah, who directed the similarly spooky Disney short "The Old Mill" several years earlier, and backgrounds and layout by Yale Gracey, who would go on to become an Imagineer and contribute many of the effects and "illusions" to Disneyland's Haunted Mansion, "Trick or Treat" is an endlessly charming short perfect for your Halloween programming. (Also, try and get that insidiously catchy theme song out of your head. It'll be there until Thanksgiving.)
Werewolf By Night (2022)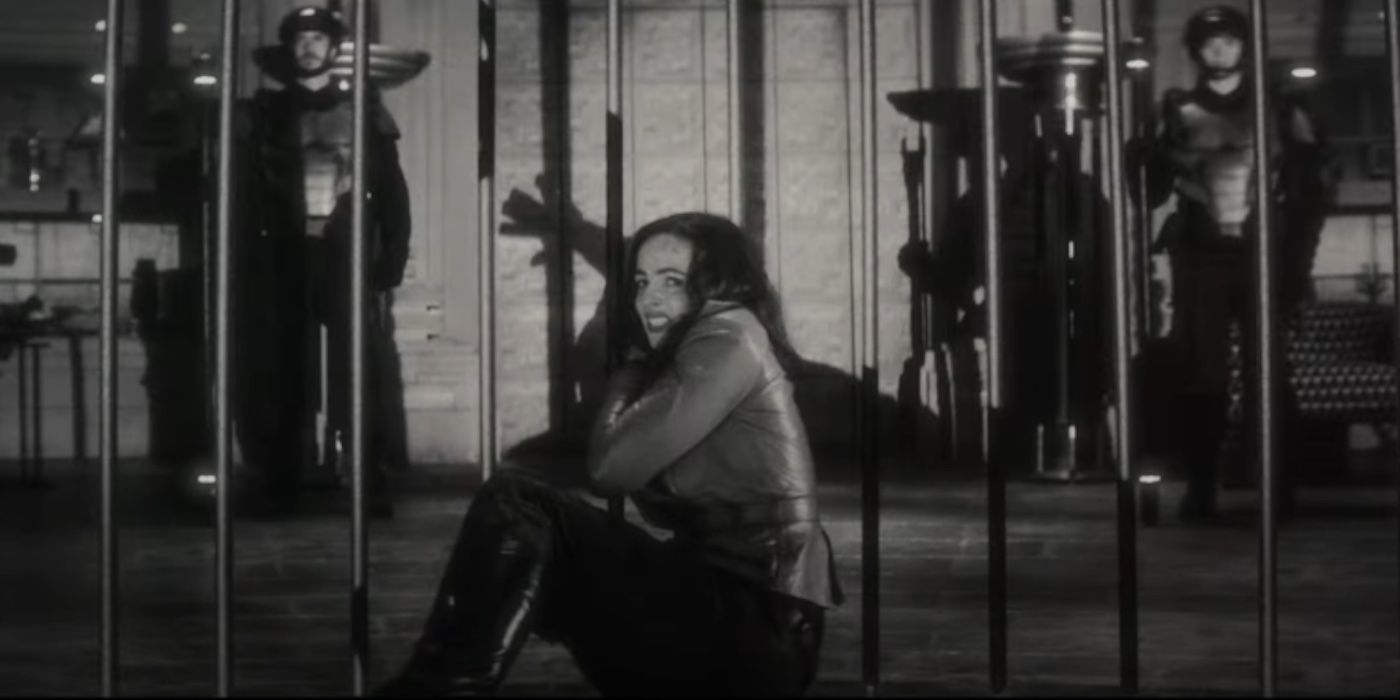 Run Time: 52 min | Director: Michael Giacchino
Cast: Gael García Bernal, Laura Donnelly, Harriet Sansom Harris
Marvel's Werewolf By Night stars Gael García Bernal (Maya and the Three) as Jack Russell, a superhero who, as a member of a secret monster-hunting team, thwarts evil using his lycanthropic powers. Werewolf By Night features exciting performances from Outlander's Laura Donnelly and the incomparable Harriet Sansom Harris. Director Michael Giacchino crafts a visually appealing cinematic experience, especially for a project released on streaming. Giacchino creatively applies practical effects and plays with shades of gray, allowing clever pops of color in a black-and-white landscape to elevate Werewolf By Night's story, which was adapted from comic to screen by Heather Quinn and Peter Cameron. – Yael Tygiel
Miss Peregrine's Home For Peculiar Children (2016)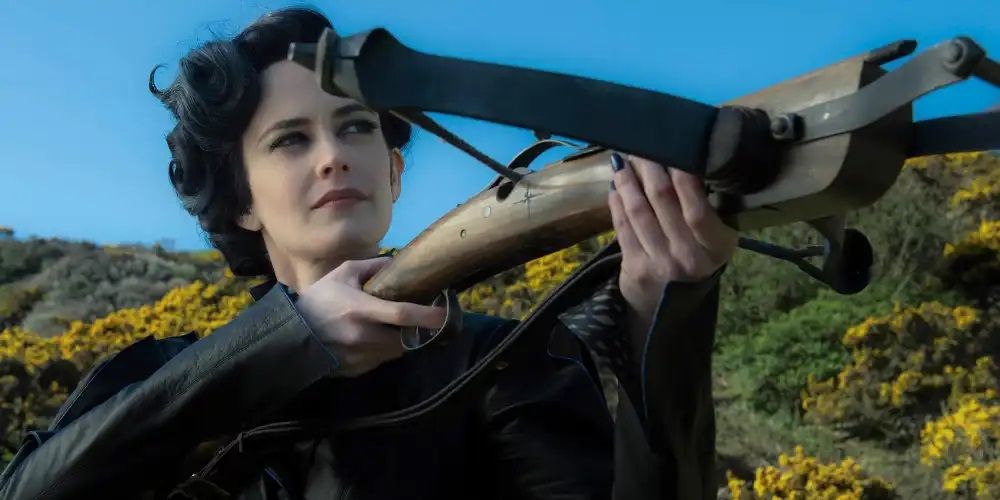 Director: Tim Burton | Run Time: 2 hr 7 min
Cast: Eva Green, Asa Butterfield, Chris O'Dowd, Allison Janney
Although Tim Burton's recent efforts have been rather underwhelming, his 2016 adaptation of the popular young adult fantasy series reminds us of the great filmmaker he once was. In this horror-themed take on the X-Men, a young boy Jake (Asa Butterfield) sets out to meet the illustrious Miss Peregrine (Eva Green), the headmistress of a mysterious home that he's heard about in bedtime stories. Miss Peregrine's home is populated with children who possess special powers. Miss Peregrine's Home For Peculiar Children exemplifies the things that Burton does best; he's empathetic to characters that feel "different" and allows them to find a community that accepts them. –Liam Gaughan
Hocus Pocus 2 (2022)
Director: Anne Fletcher | Run Time: 1 hr 47 min
Cast: Bette Midler, Sarah Jessica Parker, Kathy Najimy, Whitney Peak
The Sanderson sisters are back! After 29 years since their last night of mischief, the witches are resurrected after two Salem teens, Whitney Peak and Belissa Escobedo, light another Black Flame Candle. Bette Midler, Sarah Jessica Parker, and Kathy Najimy don't miss a beat stepping back in their iconic roles, and newcomers Hannah Waddingham and Tony Hale carve their own space in this beloved cult classic. A sequel that's just as fun as the original, Hocus Pocus 2 proves to be an emotional story about the power of sisterhood. – Meredith Loftus
Edward Scissorhands (1990)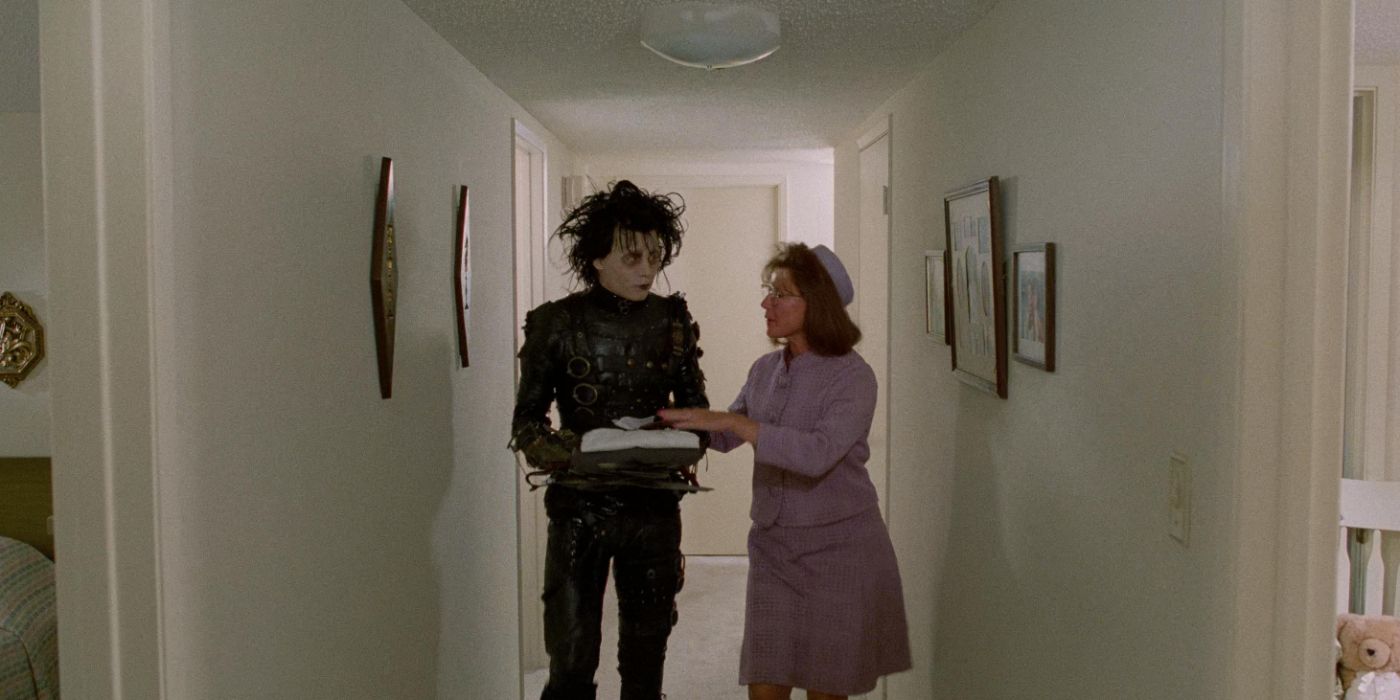 Director: Tim Burton | Run Time: 1 hr 45 min
Cast: Johnny Depp, Winona Ryder, Anthony Michael Hall, Dianne Wiest, Alan Arkin, Vincent Price
When an inventor (Vincent Price) dies before giving his humanoid creation hands, Edward Scissorhands (Johnny Depp) travels to Suburbia with Peg Boggs (Dianne Wiest) in search of his place in the world. The beginning of the collaboration between Depp and Tim Burton, the film strikes the balance of the gothic aesthetic Burton is known for with the fantastical. At its core, Edward Scissorhands is a movie about love, conformity, and accepting differences with the backdrop of a peculiar gothic character. – Meredith Loftus
The Simpsons "Treehouse of Horror" Episodes (1989-present)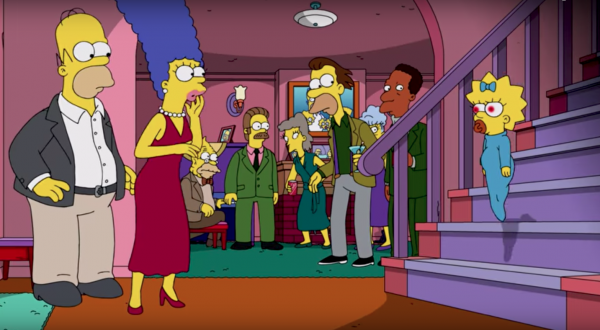 Created by: Matt Groening
see more : Disney's 'Moana' Live-Action Remake Sets Official Release Date
Cast: Dan Castellaneta, Julie Kavner, Nancy Cartwright, Yeardley Smith
Nothing says Halloween like the spooky special episodes of The Simpsons. And Disney+ has all of them. For me, it's hard to top season 5's "Treehouse of Horror IV" (still labeled as "The Simpsons Halloween Special" in the episode's intro), which features Homer selling his soul to the devil (Flanders) for a donut, a parody of the "Nightmare at 20,000 Feet" episode of The Twilight Zone with a gremlin attacking Bart's school bus, and a riff on Bram Stoker's Dracula, which had recently been released, with Mr. Burns as the famous vampire (all wrapped inside of a framing device that references Rod Serling's underrated Night Gallery). There's also season 7's Treehouse of Horror VI," which contains the "Attack of the 50-Foot Eyesores" segment where all of the signs and billboards in Springfield come to life, the very funny spoof of Nightmare on Elm Street (with Groundskeeper Willie filling in for Freddy) and the groundbreaking "Homer" segment that features some of the characters rendered in 3D computer animation for the first time (and a killer Tron joke). But, really, any installment will do.
The Adventures of Ichabod and Mr. Toad (1949): "The Legend of Sleepy Hollow"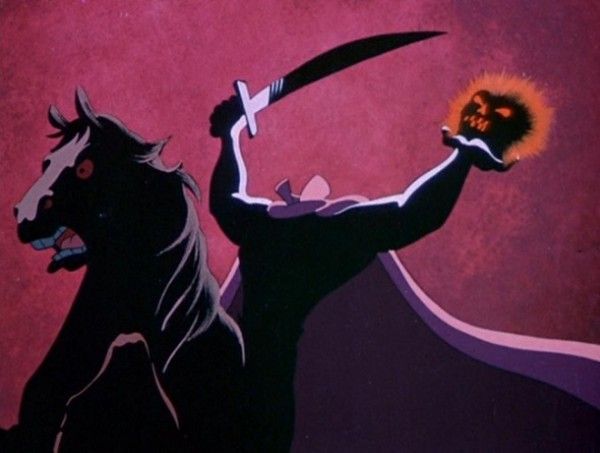 Director: Jack Kinney, Clyde Geronimi, James Algar | Run Time: 1 hr 8 min
Cast: Eric Blore, J. Pat O'Malley, John McLeish
Obviously, you are only interested in the back-half of this two-film special feature, produced during the company's lean years following World War II and running a svelte 68 minutes. That's the second devoted to "The Legend of Sleepy Hollow," based on the classic Washington Irving story about a schoolteacher named Ichabod Crane who comes to the town of Sleepy Hollow in upstate New York and gets the wits scared out of him by the ghoulish Headless Horseman. While the film hits all the same beats of the short, with the same not-all-that-supernatural resolution, it still packs a punch and is full of heart-stopping imagery like the Horseman racing across the covered bridge, flaming pumpkin in hand. Not only has this character and its accompanying image been widely adopted by Disney for various Halloween activities (including a Headless Horseman running, full gallop, down Main Street USA in the Magic Kingdom) but it was also utilized pretty shamelessly by Tim Burton in his live-action, R-rated Sleepy Hollow. Clearly, this one leaves a mark.
Mr. Boogedy (1986) & Bride of Boogedy (1987)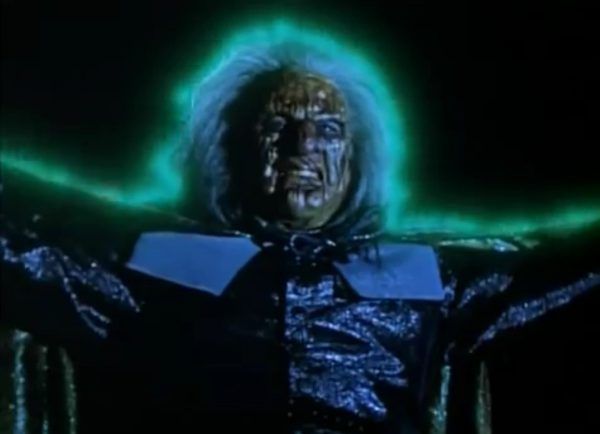 Director: Oz Scott | Run Time: 2 hr 25 min
Cast: Richard Masur, Mimi Kennedy, Benjamin Gregory
Mr. Boogedy originally aired as the Disney Sunday Movie (shortly before it transformed into The Magical World of Disney) in the spring of 1986, which makes no sense because the movie is such a Halloween story. It follows a family (led by Richard Masur and including a very young, pre-Buffy Kristy Swanson) who own a joke shop and who wind up in the small town of Lucifer Falls, moving into a very obviously haunted house (there's a gag early in the movie where a dangling "absolutely not haunted" addendum on the house's for sale sign falls off, because, you know, it is haunted). Slowly the family uncovers the truth about the town and the house, thanks mostly to the sinister-looking real estate agent (played by Addams Family alum John Astin, dressed like the Babadook), including details about the titular Boogeyman. The tone sometimes skewers too much in the "comedy" direction, but it's still solid, goofy fun. And if you want to continue the story, Bride of Boogedy is also on Disney+. The sequel, which premiered almost exactly a year later, is sadly Swanson-free, but does feature Eugene Levy as a distrustful general store owner. So we think it's a net win.
Gargoyles (1994)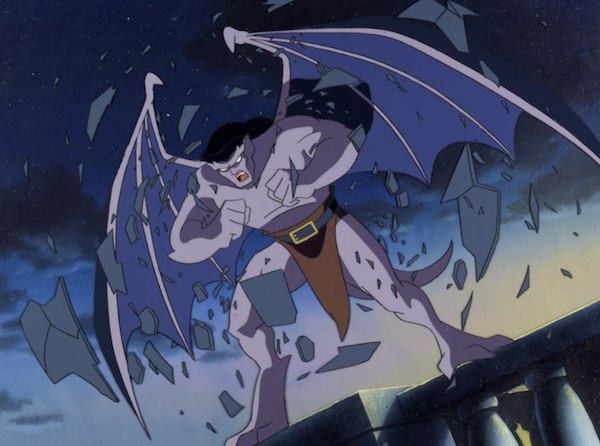 Created by: Greg Weisman
Cast: Keith David, Salli Richardson, Jeff Bennett, Bill Fagerbakke
Maybe the greatest accomplishment of the golden age of Disney television animation, Gargoyles was the company's first half-hour animated drama. And it was centered around some really incredible creatures – a band of medieval warriors who were imprisoned in stone for 1,000 years. Now, they have been brought back to life in modern-day New York City and fight crime, other monsters, and try to figure out the mysterious reasons for their resurrection. The gargoyles themselves were pretty scary and the show was able to tackle a number of mature themes and not just of the supernatural variety (one of the most infamous and widely praised episodes dealt with an accidental shooting). There's a very spooky, Halloween-y vibe to the first two seasons (the third season, which wrestled control away from the original producers, is a wash and should be skipped) and, if you've never seen it before, you should give in. It's easily of the same caliber as a similar, more widely celebrated dramatic animated series, with gorgeous animation and properly complex storylines.
Frankenweenie (2012)
Director: Tim Burton | Run Time: 1 hr 28 min
Cast: Catherine O'Hara, Martin Short, Martin Landau, Charlie Tahan
Back when Tim Burton was toiling away at Walt Disney Animation, he busied himself with projects that wouldn't require him to draw cutesy animals. One was a stop-motion short dedicated to Vincent Price and the other was a live-action half-hour special about a young boy who resurrects his dead dog. Years later, after Burton had made Disney $1 billion with his new version of Alice in Wonderland, Burton returned to the material and turned it, incredibly, into a stop-motion black-and-white animated feature called Frankenweenie. And honestly, it's one of Burton's more underrated movies; it's full of heart and humor and the kind of oversized, imaginative set pieces that made his early films so memorable and distinct (think Beetlejuice). Burton and screenwriter John August do some genius things with the extra runtime, namely giving the other kids resurrected pets (including a towering, Gamera-like turtle), which leads to some truly awe-inspiring mayhem. Both versions of the Frankenweenie saga are available on Disney+ if you want to double your undead dog fun (and, considering you're gearing up for Halloween, you just might do that).
The Scream Team (2002)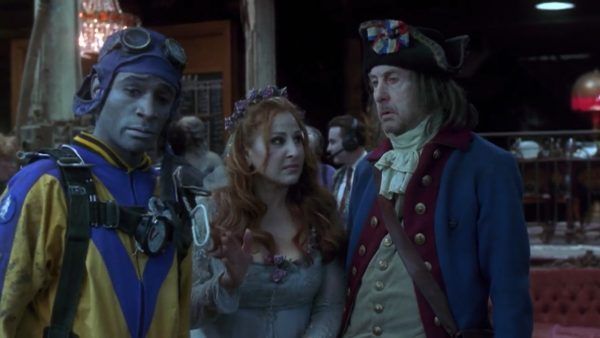 Director: Stuart Gillard | Run Time: 1 hr 28 min
Cast: Mark Rendall, Kat Dennings, Robert Bockstael
There are a bunch of horror-themed Disney Channel Original Movies (or DCOMs) including, but not limited to, Don't Look Under the Bed, Girl vs. Monster, and Phantom of the Megaplex. (You could also lump more recent franchises like Descendants and Zombies into that category, although the emphasis in those is more music than monsters.) But few were as successful as The Scream Team, a DCOM that expertly mixed the laughs and the scares in a way few accomplished and one with a more sophisticated look (clearly inspired by things like Peter Jackson's The Frighteners) and a startlingly impressive cast that includes Eric Idle, Tommy Davidson, Kathy Najimy, and a young Kat Dennings. The plot concerns a wholesome family who moves into a creaky old house after the death of their beloved grandfather and discovers a somewhat foggy plot involving ghosts that haven't yet moved on and an evil spirit who murdered his wife. Things can actually get pretty intense, which nicely offsets the broader moments. It's unclear why The Scream Team didn't achieve the same level of cult popularity as some of the other, sillier DCOMs did, but we're very thankful it's on Disney+ and ripe for rediscovery.
The Hunchback of Notre Dame (1996)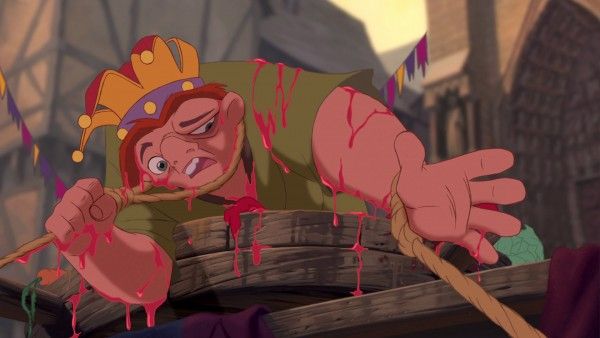 Director: Gary Trousdale, Kirk Wise | Run Time: 1 hr 31 min
Cast: Tom Hulce, Demi Moore, Tony Jay
Sure, The Hunchback of Notre Dame was one of the big, brassy animated epics produced during the so-called Disney Renaissance. But it's also the only animated feature to highlight a monstrously deformed character previously embodied by Lon Chaney and include what is arguably the most deeply disturbing animated musical number in the company's history (hello "Hellfire!") There's also a trio of gargoyles that are either horrifying or adorable depending on your sensibility. It was definitely a big swing for Disney to adapt this material (a singularly bleak novel by Victor Hugo) into a cheery Broadway-style musical and it must have taken even more chutzpah to approve the levels of darkness that are here, including a prolonged sequence where our heroes venture into a scary-ass gypsy underworld. One of the more underrated Disney animated features from the period, The Hunchback of Notre Dame is one of those perfect Halloween warm-up movies, which you watch during the day to get you ready for the really intense stuff later that night. Bonus points if your snack spread is Festival of Fools-themed.
Maleficent: Mistress of Evil (2019)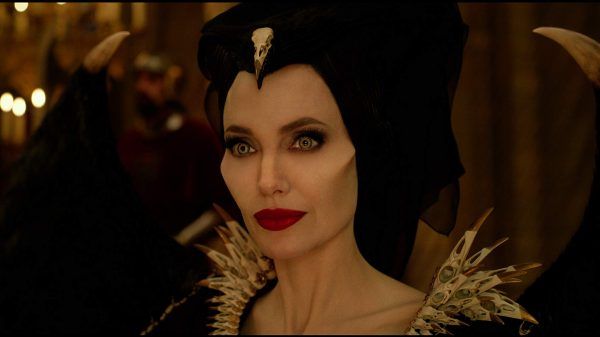 see more : The Best Romantic Movies to Stream on Disney+ for Valentine's Day
Director: Joachim Rønning | Run Time: 1 hr 58 min
Cast: Angelina Jolie, Elle Fanning, Chiwetel Ejiofor, Sam Riley
For some reason Maleficent: Mistress of Evil came and went in 2019, even though it had a prime, pre-Halloween release date and was infinitely better than its soggy predecessor. This installment allows Angelina Jolie to really vamp as the titular winged witch, who this time is upset about the upcoming wedding of Aurora (Elle Fanning) and Prince Philip (Harris Dickinson). (Remember: The first movie attempted to rehab her reputation from the baby-poisoning terror in Walt Disney's original Sleeping Beauty.) From there, Maleficent uncovers more about her monstrous past and Michelle Pfeiffer is introduced as a villainess even more wicked than the Mistress of Evil. What makes this so much more satisfying, especially as a Halloween movie, is its emphasis on all sorts of creatures (including Chiwetel Ejiofor as one of Maleficent's kind) and the understanding that evil can lurk in virtually anyone, no matter what they look like. Plus, Maleficent: Mistress of Evil has a really satisfying, exciting, and visually splashy finale where the long-simmering tension between mankind and the fairy folk erupt into all-out war. And yes, Maleficent finally gets to turn into a huge creature. It's not exactly her dragon-form from Sleeping Beauty, but it'll do.
Halloweentown (1998)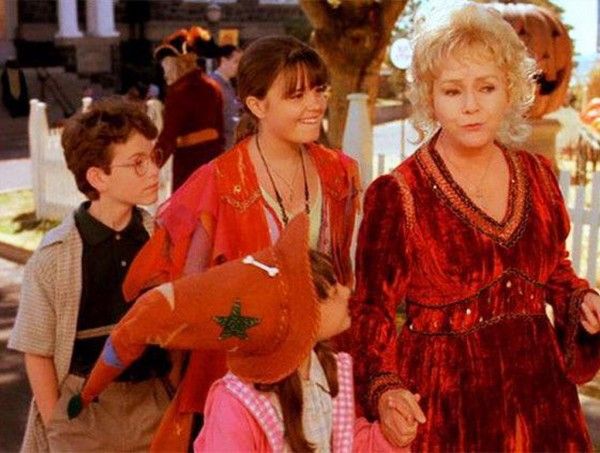 Director: Duwayne Dunham | Run Time: 1 hr 24 min
Cast: Debbie Reynolds, Judith Hoag, Kimberly J. Brown
No Halloween-themed DCOM looms as large as Halloweentown. Not only did it spawn a veritable franchise, including Halloweentown II: Kalabar's Revenge, Halloweentown High, and Return toHalloweentown High, but it is just so essentially Halloween. In the movie, some kids follow their grandmother (Debbie Reynolds, hitting all the right notes) after she makes her annual Halloween visit. They get on a bus that is seemingly populated with costumed adults but when they disembark realize they have traveled to an entirely different world, Halloweentown, where all sorts of ghouls, goblins, witches, and warlocks live (also there's a talking skeleton cab driver). The plot of Halloweentown, involving one of the kids learning to become a witch, is sort of incidental (there's also some stuff about a demon who is mad at the kids' mom for marrying a human, which is weird). But the world of Halloweentown, with a shocking number of prosthetic and animatronic effects, is pretty wonderfully realized; a quaint New England town full of sub-Rick Baker creatures. There's a reason they play this all the time during Halloween; it instantly puts you in the spirit of the holiday and will leave a big smile on your face.
Hocus Pocus (1993)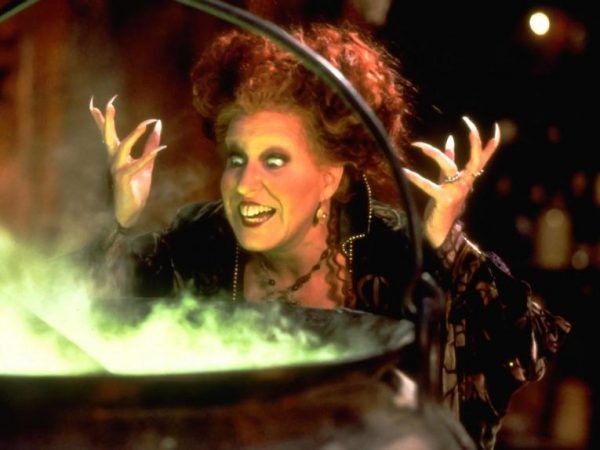 Director: Kenny Ortega | Run Time: 1 hr 36 min
Cast: Bette Midler, Sarah Jessica Parker, Kathy Najimy
It's funny to think that Hocus Pocus didn't make much of a mark when it originally premiered, but over the years has become a total cult juggernaut. Now Disney releases new Hocus Pocus merchandise every Halloween (costumes, T-shirts, Funko Pops) that is ravenously scooped up and they've even tailored their Halloween parties in Walt Disney World's Magic Kingdom around the Sanderson Sisters (the stage show is, admittedly, pretty awesome). And from what we understand the sequel is inching closer to reality. This is good because Hocus Pocus is a very good, very fun movie that deserves its status as a modern classic. Bette Midler, Sarah Jessica Parker, and KathyNajimy are phenomenal as a trio of Salem witches who are cursed on Halloween 1693 but resurrected in the present day. It's pretty much a one-stop-shop for all of your Halloween needs – witches, a shambling zombie played by a young Doug Jones, a talking cat, plus lots of Halloween decorations and a tender coming-of-age story. It's just the right amount of funny and scary, too. Huzzah to Hocus Pocus, the Disney favorite that could.
Mighty Joe Young (1998)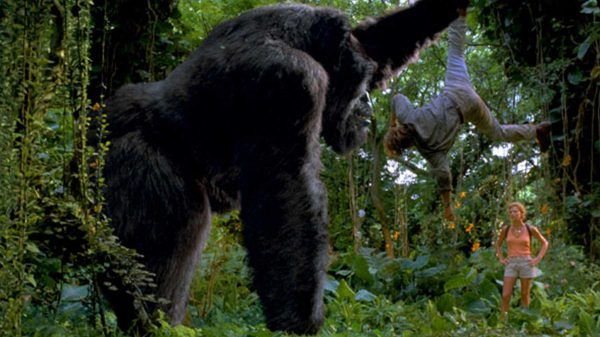 Director: Ron Underwood | Run Time: 1 hr 54 min
Cast: Bill Paxton, Charlize Theron, Rade Šerbedžija, Naveen Andrews
Part of the late 1990s giant monster movie boom that included Roland Emmerich's Godzilla and Peter Jackson's King Kong (developed in the late 1990s but not released until 2005), Mighty Joe Young was Disney's entry (one of their few out-and-out monster movies) and is something of an underrated gem. Bill Paxton and Charlize Theron star in this well-meaning adventure about a giant gorilla and an evil poacher who vows revenge. There's nothing all that remarkable about the story, but there are some pretty thrilling action set pieces that harken back to director Ron Underwood's work on Tremors. And Mighty Joe Young himself, brought to life by the incredible talents of Rick Baker and Industrial Light & Magic, is a truly stunning cinematic creation – expressive and fearsome. (But, you know, not too fearsome.) If you want to watch a creature feature the whole family can enjoy, you could do a lot worse than Mighty Joe Young.
Mickey Mouse Shorts, from "Ghoul Friend" to "Going to Pieces" (2013-2019)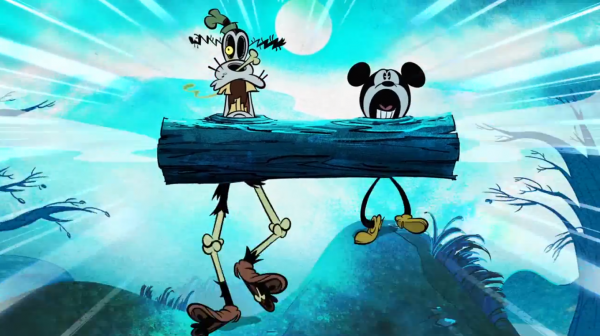 Created by: Paul Rudish
Cast: Chris Diamantopoulos, Bill Farmer, Tony Anselmo
The Mickey Mouse cartoons, launched by Paul Rudish in 2013, is a nonstop blast. And given how willing it is to go to some outrageous places (befitting the original elasticity of the character), it shouldn't surprise you that things occasionally get weird and creepy (but in a fun, accessible way). "Ghoul Friend" is probably the most Halloween-appropriate installment (available in the season 1 collection on Disney+), with Mickey's car breaking down next to a spooky graveyard and him encountering a truly disturbing zombie version of Goofy. The fact that Disney allowed the short to turn one of its marquee characters (part of the "Fab Five") into a ghoul complete with exposed bones, missing eyeballs, and dripping goo, is pretty amazing. But that the short doesn't skimp on the horror or the heart (it of course has a very cute ending) is even more amazing. The other shorts, spread throughout the four-season run, aren't as Halloween-y but would still make for great seasonal viewing – "Black and White" sees all of Mickey's paint scared off of him by a scary movie; "Entombed" has Mickey and Minnie visiting an ancient Egyptian pyramid with the usual scary results; and "Going to Pieces" is more abstract but just as weird and unsettling, with Goofy falling apart and Donald and Mickey having to put him back together. It's like a Disney remake of Very Bad Things. All of the Mickey Mouse installments are deeply essential but these are the best for PSL season.
Coco (2017)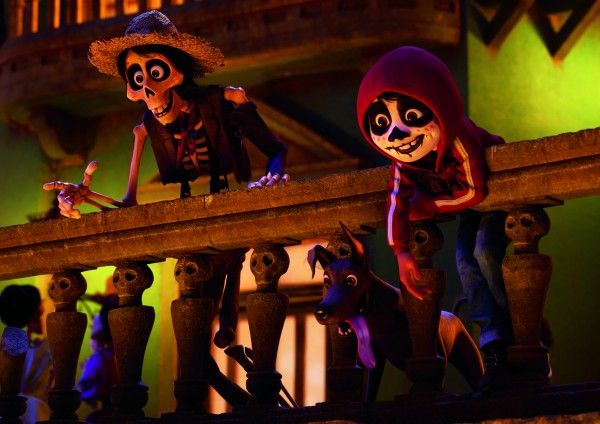 Director: Lee Unkrich | Run Time: 1 hr 45 min
Cast: Anthony Gonzalez, Gael García Bernal, Benjamin Bratt
While not explicitly a Halloween film, Pixar's Coco takes place during the adjacent Mexican holiday of the Day of the Dead (or Dia de Los Muertos), which has similar iconography. But instead of being a time when scary monsters come calling, the Day of the Dead is a time of remembrance, when the spirits of our ancestors come back to check in on the living. It's sweeter than it is spooky. But there is still plenty that makes this essential Halloween viewing material: young Miguel (Anthony Gonzalez) and his trip to the Land of the Dead, where everyone and everything is a skeleton; the presence of Pepita, a monstrous alebrije; and a central plot point that revolves around an actual murder. There's lots of fun to be had in Coco and its central message, about never forgetting the loved ones you've lost, is especially important this year when so many have had to say goodbye.
The Haunted Mansion (2003)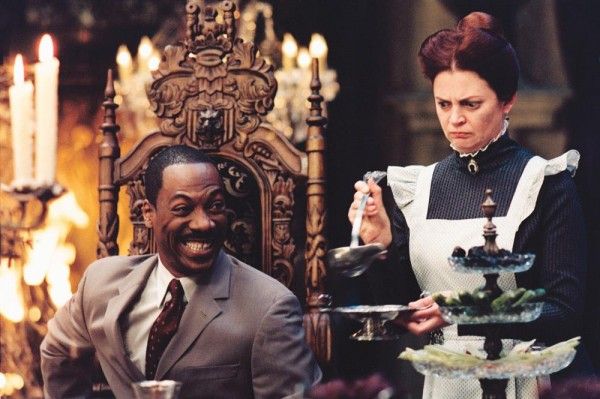 Director: Rob Minkoff | Run Time: 1 hr 27 min
Cast: Eddie Murphy, Terence Stamp, Wallace Shawn
The Haunted Mansion is based on the beloved Disney theme park attraction and while it doesn't exactly live up to the expansive mythology and winning mixture of frights and laughs of the original ride, it is still pretty fun (especially if you're watching it alongside the cheesier, made-for-TV Disney stuff). Eddie Murphy plays a real estate agent who puts the titular mansion up on the market but gets more than he bargained for when some spirits wish to utilize his wife for an undead ritual (or something). Watch the movie for the visual callbacks to the original attraction (most notably in a sequence where Murphy and his kids are riding in a skeletal horse-drawn carriage through a graveyard full of gags from the ride) and for the ingenious make-up effects by wizard Rick Baker, highlighted by a sequence where Murphy and his son get trapped in a catacomb with all sorts of zombified creatures. While far from essential, this is the kind of good-natured, family-friendly Halloween movie that will be able to harmlessly goose even the youngest viewer.
Source: https://dominioncinemas.net
Category: Disney+