The Walking Dead Season 4 saw a drastic shake-up from the ensemble series we'd grown accustomed to. As the credits rolled on the mid-season finale, "Too Far Gone," audiences were left on the edge of their seats. The prison had fallen and people had died, with the survivors scattered throughout the surrounding forests, hopeless to find each other again. When the show returned a few months later, showrunner Scott Gimple chose to slow the series down and focus on tight, character-driven narratives as the prison gang found themselves separated into small, misfit groups. The jury is out on how this slow-burn approach sat with fans, but it definitely provided some much-needed character work for some of The Walking Dead's smaller characters.
Up until Season 4, Emily Kinney's Beth Greene was often seen as the innocent farm girl of the group and was hardly explored more than that. However, after witnessing the decapitation of her father Hershel (Scott Wilson), at the fall of the prison, Beth found herself in an unlikely duo, escaping alongside Norman Reedus's Daryl Dixon. While the cross-bow-wielding biker is mostly remembered for his partnership with Melissa McBride's Carol, his short, yet influential time with Beth is a strong contender for Daryl's best team-up.
Emily Kinney's Beth Greene Unlocked Daryl's Emotions
Midway through Season 4's second run of episodes, was a slow, character-driven episode titled "Still." Written by future showrunner Angela Kang, the episode focused solely on Beth and Daryl, exploring their relationship after the prison's downfall. Beth found herself on thin ice with a broken Daryl, who'd seemingly lost all hope after losing everyone he'd finally come to care for, but Beth's youthful optimism chipped away at him, slowly pulling him out from the dark place the lone wolf was in. From then on, the two worked together as Daryl took on a brotherly role to her, teaching her how to survive, while she kept him hopeful, marking a change in his character.
An episode later, the companions were split up just as suddenly as they came together. While fleeing from an onslaught of Walkers, Beth is kidnapped and taken by a mysterious car with a cross on the back, leaving Daryl just as hopeless and lost as he was only a few episodes prior. It was a heartbreaking test of his character who was eventually reunited with Rick Grimes (Andrew Lincoln) as the prison gang one-by-one made their way to Terminus.
RELATED: How 'The Walking Dead: Dead City' Sets Up Season 2
Beth and Daryl were briefly reunited moments before her heartbreaking death in Season 5's mid-season finale, "Coda," where the toughened farm girl stabbed the manipulative leader of Grady Memorial Hospital, the community where she'd found herself captive since her separation from Daryl. Her death is truly heartbreaking, not only because of Maggie's (Lauren Cohan) breakdown but because the previously hard-as-nails Daryl broke down too. It became clear just how much their short time together had impacted him, and he was forever changed as a result of it. Beth's death was a jaw-dropping way to end Season 5's first run of episodes and frankly, we're still not over it.
Daryl Dixon and Beth Greene Are From Different Backgrounds
A key moment of character development between the unlikely duo comes at the climax of "Still," when Beth and Daryl share a bottle of Moonshine and play a game of "Never Have I Ever." Soon a rift begins to form between them, with the contrast between their characters being put on full display. Beth stems from a loving family, one full of hope and optimism… and a pet Pony. Meanwhile, Daryl's upbringing was hard (and lacked ponies) as he had constant brawls between himself and his brother Merle (Michael Rooker). Daryl, now intoxicated, lashes out and holds nothing back, stepping into the role of his older brother to Beth. His yelling draws the attention of a nearby Walker, whom he decides to use to teach Beth a lesson. Grabbing the scared girl in his arm, he forces his iconic crossbow onto her, aggressively teaching her how to use it, toying with the Walker, delivering non-fatal shots, and using it for target practice.
see more : Disney Pushes Back on ABC Sale Reports, Says Company 'Has Made No Decision' Yet
As things begin to escalate, it's Beth's positivity and unrelenting kindness that pulls him through. She allows him to grieve when he begins to blame himself for the prison's downfall, simply hugging him and allowing him to vent. Daryl was acting like Merle as that's all he knew, but Beth showed him the kindness that she grew up with, something that had a lasting effect on his character. As the episode comes to a close, Beth takes a rebellious page from Daryl's book, suggesting that they burn down the house where they'd found refuge. It marked the characters moving on from their earlier conflict, but also that Daryl is letting go of his past with Merle. He was now determined to treat Beth how he wished he'd been treated, teaching her how to defend herself along the way. This ignited Daryl's road to leadership on The Walking Dead.
Beth Reminded Daryl That There Are Still Good People in the World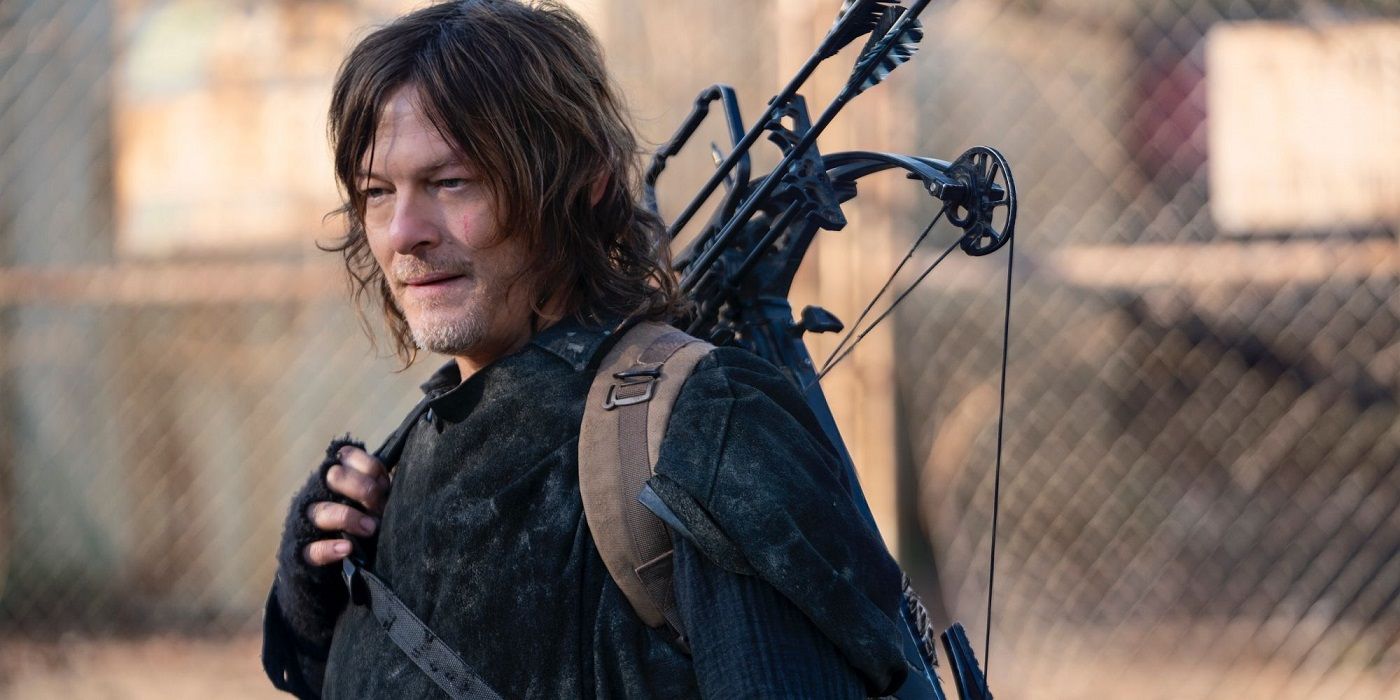 As Daryl broke down in "Still," he was reminded that there are still good people out there. Beth's kindness embodied that. His dislike for her initially came from a belief that only the bad guys survive, a mentality brought on by his abusive relationship with his brother. As the two argue, Beth tells him exactly that, hammering home that, despite her innocence, she is still alive, and Daryl shouldn't treat her any differently for it. So as Daryl began his new journey, his mindset shifted, no longer seeing the rest of the world as an enemy.
The following episode, "Alone," reflects this when the two find themselves in a well-kept house, with a pantry stocked full of food. He tells Beth that they shouldn't take it all, instead leaving some in case the house's occupants returned. Daryl began to see the world in a more positive light, and that's all thanks to his short stint with Beth. Daryl and Beth hardly shared the screen again from that moment on, but the impact of their brief companionship can be seen as Daryl continues to become a better person throughout the rest of the show. With his solo spinoff The Walking Dead: Daryl Dixon, Daryl is sure to encounter many more hurdles, but one can be sure that he'll carry Beth's mindset with him every step of the way.
Source: https://dominioncinemas.net
Category: TV