Rod Serling's classic series The Twilight Zone is one of the greatest TV shows of all time, but did you know that he also had another show from around this time? The late '60s saw the return of Rod Serling's particular brand of genre storytelling with Night Gallery, an anthology much like The Twilight Zone, but one with a very different brand of terror. If The Twilight Zone was the perfect sci-fi horror series to come out of the atomic age of movies and television, then Night Gallery is the perfect show for a culture that had moved on from a fear of nuclear threats and bug-eyed monsters. Instead, this show was pure horror and suspense. It might not be as great as his most famous show, but at the very least, Night Gallery is a fun look at Serling trying his hat at classic horror tropes and feels like a natural extension of where he last left off.
As the world was ushered into the end of the late 1960s, culture at large had finally caught up to what Rod Serling had been doing all along. When most people think of The Twilight Zone, they think of black-and-white sci-fi horror stories that are filled to the brim with creepy aliens, killer dolls, and otherworldly phenomena. If you only know The Twilight Zone from afar, you won't have any idea that the show actually spends a lot of its time Trojan-horsing social commentary into its stories. Rod Serling's seminal television program is an extremely thoughtful and ideologically relevant show not only to the time that it was made in but even resonates with many audiences today.
'Night Gallery' Is More Horror Than Serling's 'Twilight Zone'
That's what makes Serling's shift to the late '60s so interesting. He would continue to tell politically relevant stories after the cancelation of The Twilight Zone in movies like Planet of the Apes, but as he made a return to anthology storytelling on the small screen, the world around him became much more socially charged in general. At this moment, Serling didn't decide to lean into what he had masterminded so many years before. Instead, with Night Gallery, it's as if Serling decided his new show would actually be a means for audiences to take their mind off of everything going on in the outside world. For the first time, Rod Serling's work would be almost exclusively genre… but that wasn't entirely his choice. (More on that later, though.)
If you've seen all of Twilight Zone and you need more, then Night Gallery will feel like an obvious extension of that show. This series aired its pilot on November 8, 1969, but officially premiered as a full-blown series a little over a year later, on December 16, 1970, and would run until May 27, 1973. This show, like The Twilight Zone, is an anthology series that tells new stories every episode. Every episode opens with Serling in a darkly lit art gallery, informing us that the paintings that we are about to see are "suspended in time and space, a frozen moment of a nightmare," and that they're being viewed for the first time. Cue the eerie music, and we're off. Sounds familiar, right? Even though he isn't exactly popping up into the locations of the show as he does at the beginning of every Twilight Zone episode, more than ever, Serling seems to be the omnipresent force behind these tales.
see more : 'Winning Time's Surprise Cancellation Is HBO's Latest Foul
RELATED: This 'X-Files' Episode Was So Controversial, It Only Aired Once
As stated earlier, Night Gallery leans more into horror than Serling's previous anthology, but it's also a show that tends to explore various genres in general. Aside from horror, Night Gallery explores fantasy, drama, crime, mystery, and even comedy. Another thing that differentiates this series is that instead of keeping each episode constricted to one story and in a half-hour format, these episodes ran for hour-long blocks, and, most of the time, told multiple different stories every week. You wouldn't tune into Night Gallery just to watch something like "Nightmare at 20,000 Feet," you would tune in to catch episodes like "The Caterpillar/Little Girl Lost," or "A Fear of Spiders/Junior/Marmalade Wine/The Academy," as well as your occasional solo outing into the gallery. You'll also feel a severe lack of Bernard Herrmann's music in Night Gallery, but the various composers that do fill his void still bring a nice and spooky atmosphere.
'Night Gallery's Pilot Perfectly Sets the Horror Tone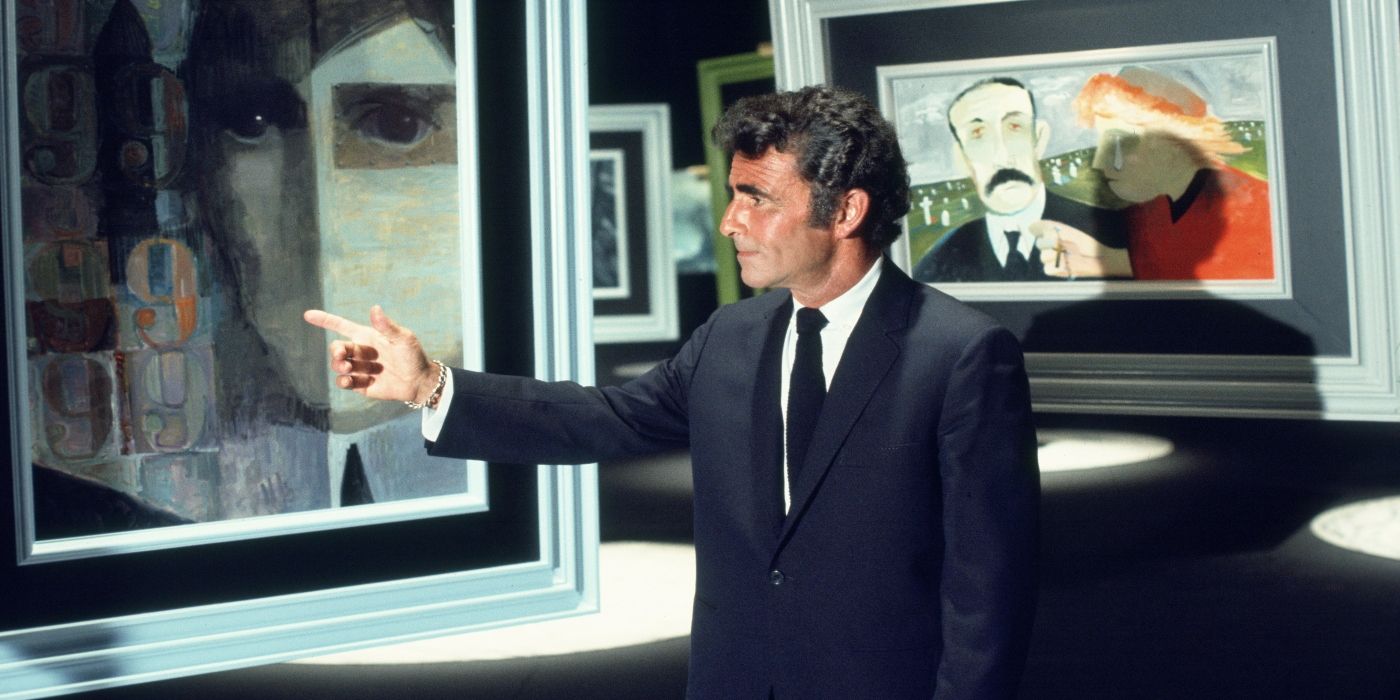 Night Gallery really is a horror show at its core, though. A lot of the time, it's weirdly a little bit too simple in its approach to horror, considering the genius behind the show. That being said, there's nothing wrong with a good, cut-and-dry horror story. The pilot itself aired with three different tales, the first of which, "The Cemetery," being most rooted in classic horror, as well as one of the best episodes in general. If you're looking to get into this show, seriously, run straight for the pilot. "The Cemetery" kicks things off wonderfully. This story follows a man who kills his rich uncle and inherits his estate, only for a painting of the family cemetery to keep changing, showing his uncle rising from the grave. It's a short that's set in a large house next to an eerie cemetery, covered in shadows, and boasting some wonderfully chilling haunted house imagery that would make the Universal and Hammer horror pictures shudder. Go to the pilot for "The Cemetery," but stick around for "Eyes," an episode directed by a very green Steven Spielberg.
This series wasn't always rooted in Serling though. Even though he wrote many episodes for the show, others would often come in and contribute stories and scripts. Classic TV writers like Jack Laird and Malcolm Marmorstein would occasionally come on to help, meanwhile, sci-fi and genre fiction legends like Richard Matheson and Robert Bloch also wrote episodes. There's even an episode that's a direction adaptation of the H.P. Lovecraft short story "Pickman's Model," as well as "A Matter of Semantics," an episode that was neither written by Serling nor is its main character an invention of Serling — Count Dracula (Cesar Romero)! It's a very odd show, but its variety in story types and commitment to horror as a genre makes it refreshing.
The Creative Differences Behind 'Night Gallery' Frustrated Rod Serling
That being said, even though Night Gallery is great, it's actually a little bit too outside of Serling's wheelhouse for the acclaimed writer's taste. For one, Serling found his own writing to be altered so much to the point where he no longer wanted his name to be part of the show's brand. In an appearance on The Dick Cavett Show, Serling expressed disappointment in the series' overt lack of science fiction and fantasy. The show ended up veering more into action filmmaking to compete with other shows at the time, as opposed to sporting Serling's interests in the cerebral. While it was supposed to fall into horror, it wasn't supposed to break out of that box more often than it ended up doing.
You can also tell that the series' eventual short comedy sketches came from a place that couldn't have been Serling. While his works do occasionally play for a laugh, you'd never be fooled into thinking he was a comedian. These little sketches are so oddly juxtaposed with the show's otherwise pitch-black tone. It just doesn't make very much sense and feels like the ham-fisted move of a corporation, rather than a thoughtful artist like Serling. That being said, once you're a few minutes out from these comedic moments, you'll find yourself quickly immersed in the world that Night Gallery best operates. The conflict of interests behind the scenes of Night Gallery led to the series eventually being canceled. While it is a strong show, its tonally disjointed nature always hits like whiplash, creating a show that feels nowhere near as singular as The Twilight Zone. Still, if you're a fan of Rod Serling and you're wondering what he got up to in the late '60s and early '70s, then he'll always be ready to meet you in the Night Gallery.
Source: https://dominioncinemas.net
Category: TV FEATURES