Editor's note: The below contains mild spoilers for Season 2 of Invasion.
Now that the second season of the Apple TV+ science fiction show Invasion is off and running, we're starting to understand what these aliens that have invaded Earth look like and plan on doing. In the first episode of this season, "Something's Changed," we see most of our main characters now in the position of mounting a counter-attack and taking the war to the invading species.
Notably, Mitsuki (Shioli Kutsuna) is mourning the loss of her girlfriend and life partner, Hinata (Rinko Kikuchi), when she teams up with a potential rebel group led by billionaire tech investor and scientist Dr. Nikhil Kapoor (Shane Zaza) who allows Mitsuki to make contact with the alien brain aboard the ship that she helped to shoot down at the end of the first season. This is a pivotal moment in the early part of Season 2 as this brain communicates with the aliens that are out on the streets waging war with the human race and trying to terraform Earth. The aliens are winning the war in Invasion's new season, but they aren't necessarily the most formidable or terrifying extraterrestrial that we've seen on screen, and it's becoming more evident that the aliens and the threat they pose are more palpable and scary when we don't even see them.
Our Minds Always Create Scarier Aliens Than What We Get in 'Invasion'
The human mind has a way of creating a much scarier and more visceral and stomach-churning alien foe than what usually ends up on the screen — and Invasion is no exception. Some of the best moments of the first season came before we even laid eyes on the tentacled, black puffball creatures that didn't even make themselves fully visible until after the midway point. Some complained that it was taking too long for showrunners Simon Kinberg and David Weil to get to the real "meat and potatoes" of the whole thing and give us a glimpse of the invisible force that was attacking and wreaking havoc on humanity. But I would argue that those first handful of episodes are among the show's best.
As with most science fiction involving alien invasion (with a few noteworthy exceptions including Alien and Predator) the anticipation of what these creatures may look like is always far more daunting than the real thing — even with CGI as prevalent as it is today (take Spielberg's War of the Worlds, for example). We humans intrinsically leap to the worst-case scenario when imagining a close encounter with an unknown species. There is something more entertaining about trying to paint our own picture of what kind of technology they have or what form they may take. And in Invasion, when we don't see the black balls or the fluid brain, we get the opportunity to project our own ideas of what this unknown entity is planning, and it's the kind of escapism that we love about science fiction and alien invasion shows in particular.
RELATED: Prepare for 'Invasion' Season 2 With an Extended Look at the Premiere [Exclusive]
We're Always Waiting For Something Bigger and Badder To Show Up — Like in 'Aliens' or 'The Last of Us'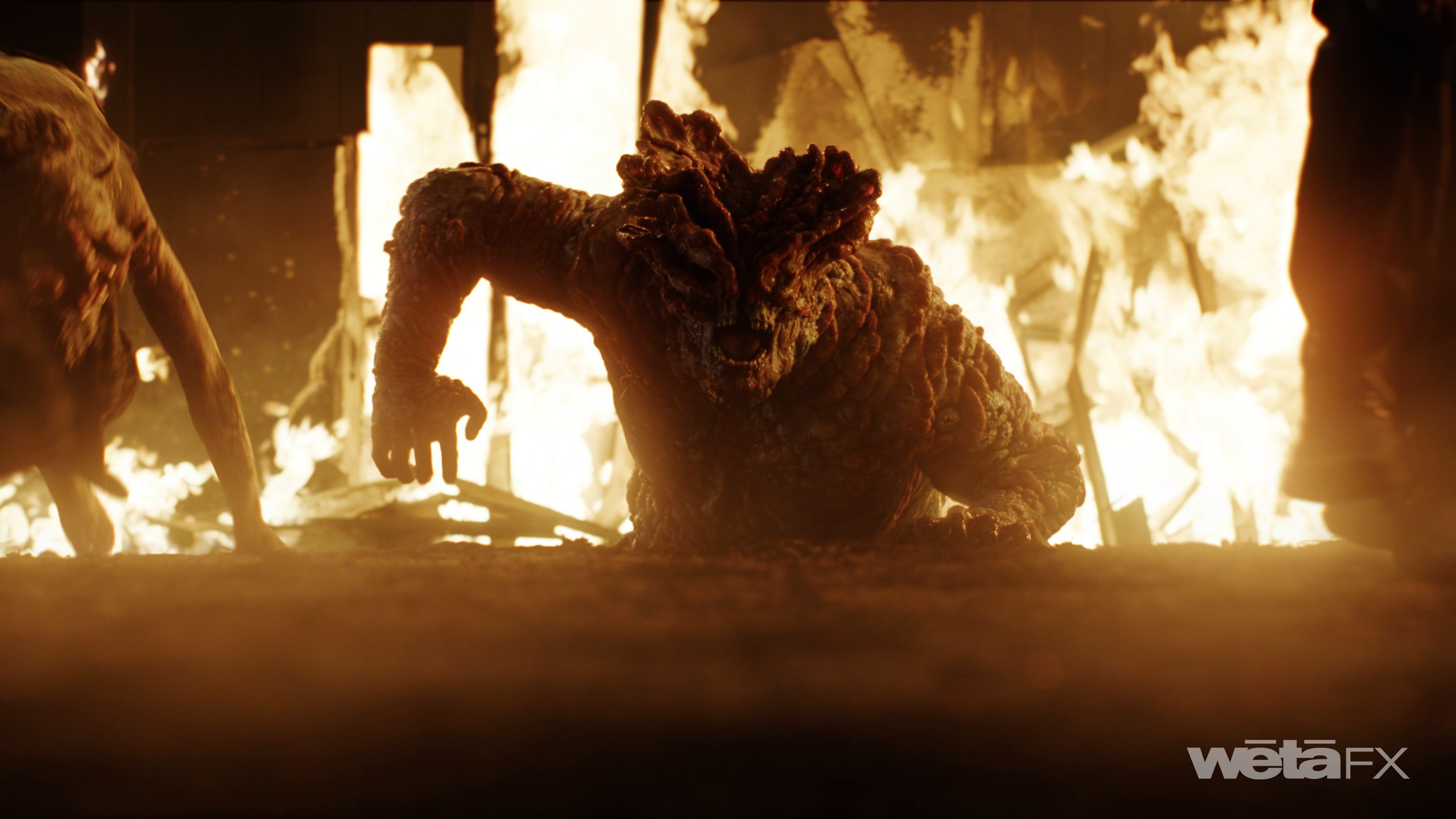 The aliens in the Alien franchise are maybe the paragon of expectation living up to reality. The xenomorph that Ridley Scott and H.R. Giger brought to the big screen and James Cameron improved upon in Aliens almost a decade later were, and still are the gold standard for living up to the hype. Once we saw the soldier aliens, some of us were terrified, but others were fascinated by the design of the Xenomorph with its acid for blood and rapier-like tails that could cut a man in half. But this franchise set a precedent for longing for something much bigger and badder lurking down the road — and the mother alien in Aliens also set the standard for upping the ante on that front.
On television, in The Last of Us, the human zombies with fungi sprouting from every orifice of their bodies were pretty damn cool, but when that bloater came out of the fiery sinkhole, that's when you knew that the game was truly on, and the human race was entirely screwed. That's where our brains are poised right now with Invasion. We don't know if they are waiting to unleash something that will make the current examples of Velcro-like balls with legs look like the very vulnerable species that they are.
Does 'Invasion' Season 2 Have an Even Bigger Threat Up Its Sleeve?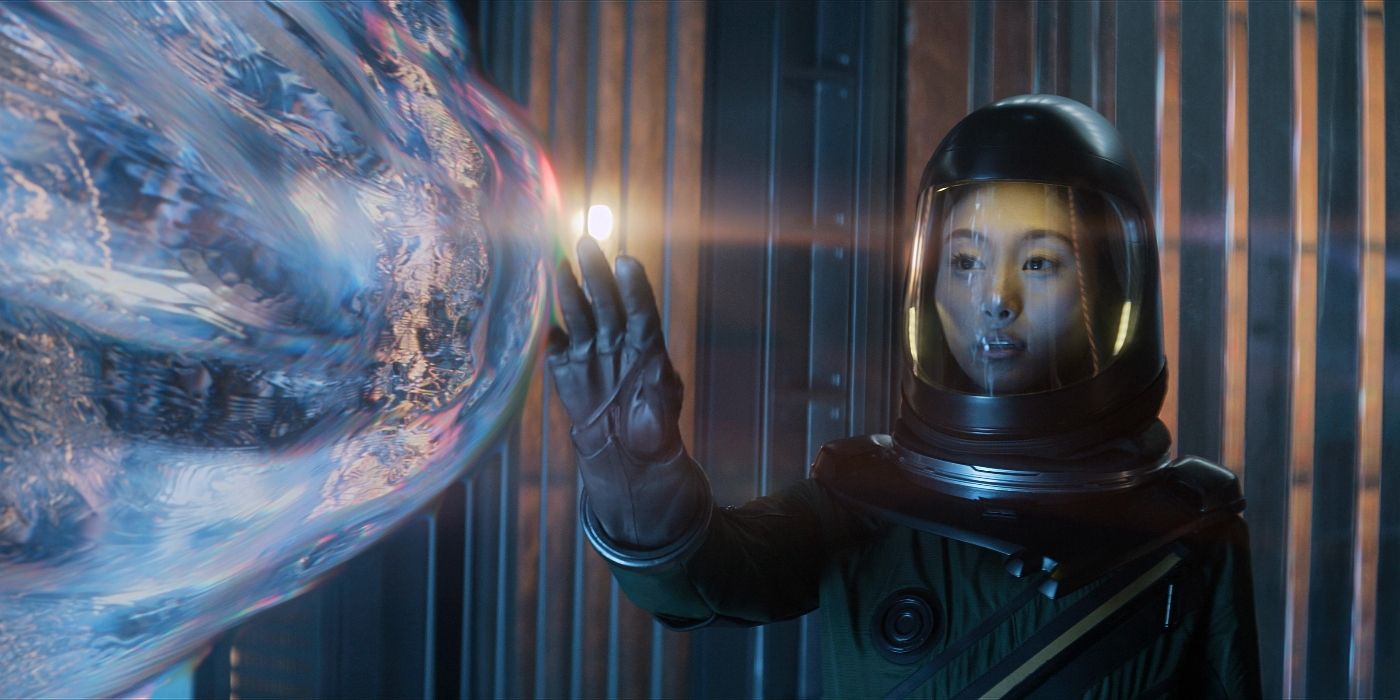 Whether Kinberg and Weil have that bigger and badder ace up their sleeve for Invasion remains to be seen (although you could argue that the water amoeba, electrically charged, kaleidoscope-like creature in Episode 2 was pretty damn awe-inspiring already), but as it stands right now, the show clips along best when we are witnessing how the human race responds to a near-extinction-level event. Would we like to have an "oh, shit!" moment like in Alien and The Last of Us? Absolutely! It's why we watch these well-written and well-shot Apple TV+ shows in the first place. We want to be taken to places that we couldn't even imagine in our own minds.
But pulling back from those big moments also gives Invasion's talented and very diverse cast the opportunity to develop their characters on a much more organic level that we can get emotionally invested in and take a ride with. Surely, it's possible to identify with at least one of the series' four main protagonists in Caspar (Billy Barratt), Mitsuki, Trevante (Shamier Anderson), or Aneesha (Golshifteh Faharani), and the terrible ordeal they are going through that we can only imagine in our worst nightmares. Meanwhile, let the aliens do what they are going to do while we get to know our characters better. That doesn't mean we don't like the action, but as is the case with a cataclysmic apocalyptical event, it's usually the other humans that present the most clear and present risk. Do we want the WTF moment? Of course, but not at the expense of a fully formed cast that makes us care about whether they even survive in the first place, and Invasion is starting to do that again in Season 2.
New episodes of Invasion premiere every Wednesday on Apple TV+.
Source: https://dominioncinemas.net
Category: TV