Editor's note: The below contains spoilers for Episode 3 of One Piece.Welcome to Syrup Village, a charming little port town that features a shipyard, a bustling marketplace, and… a boy who likes to cause trouble. One Piece Episode 3, "Tell No Tales," opens on that very boy, a young Usopp (Kevin Saula), tearing through town screaming about how the pirates are coming. While the townsfolk believe him the first couple of times, they quickly realize there's no actual threat, and stop taking him seriously. Not that that stops him from keeping up the performance. Seven years later, an older Usopp (Jacob Romero, a constant delight on screen) still insists that the pirates are coming…eventually. And when that day comes, he'll be ready to protect the village. Guess they never got "The Boy Who Cried Wolf" out in Syrup Village.
Out at sea, Nami (Emily Rudd) studies a map while Luffy (Iñaki Godoy) works on his very crooked Jolly Roger flag, and Zoro (Mackenyu) apparently fails to notice that the ship doesn't have a bathroom until the cabin starts flooding. Zoro and Nami start pointing fingers until Luffy suggests a far more simple solution: find a new pirate ship worthy of the Straw Hat Crew. Though the other two still refuse to actually believe they're a crew, they still need a new ship, and so the not-a-crew sets out for the Geko Islands, home of Syrup Village.
Also on a mission is Vice-Admiral Garp (Vincent Regan), putting Koby (Morgan Davies), Helmeppo (Aidan Scott), and the rest of their squad through their paces while they hunt down the Straw Hat Crew. Koby tries to cover up for Helmeppo's shoddy rope work, which winds up catching Garp's attention and earning Koby a well-deserved compliment. Garp puts Helmeppo in his place for being a useless nepo baby, and has Koby follow him for more advanced work.
RELATED: 'One Piece' Episode 2 Recap: Buggy's Big Top Bonanza
Once the Straw Hats make it to Syrup Village, Nami sets out to "work on" getting them a ship, which she hopes will be easy in a ship-building town. Zoro has a moment of realization when Luffy points out that despite the massive bounty on Buggy the Clown's head, it would have been impossible for him to claim it, since no Marine would be willing to pay a wanted man. It's a stark realization for a man who was once known as the Demon Pirate Hunter to find he's thrown his lot in with those he used to kill, all conveyed through the most deadpan expression of annoyance.
So how is the "stupid clown" faring these days? Fortunately for Buggy (Jeff Ward), he's managed to get all his body parts out of the various boxes they were stuck in. Unfortunately, he is visited by a Fish Man pirate who informs him that Arlong (McKinley Belcher III) is looking for him. All things considered, he probably should have just stayed in those boxes. When the leader of the Fish Men finally does show up, he tries to extract tribute from Buggy. In an attempt to save his own life, he offers up Luffy as an alternative target for Arlong's ire and offers to help him track the Straw Hats down.
In the shipyard, Luffy starts listing out his dream requirements for a ship with all the enthusiasm of a first-time homebuyer who has no idea how much things actually cost. Not even Nami's reminder that there are only three of them is enough to deter him — after all, there won't always be only three of them! When she suggests they instead find a ship that is smaller and therefore easier to steal, Luffy puts a stop to the whole thing: if they're going to get a ship, it needs to be the perfect one, and it needs to be gotten the right way, even if they don't have the money to pay for it. Nami sends Luffy off to find out if asking nicely is enough to get his dream ship before she and Zoro turn their attention to the original plan of stealing one. For someone so quick to hurl the word "thief" like an insult in Episode 2, Zoro's come around to the ways of the five-finger discount really quickly. Desperate times, or maybe he just really wants a new ship with a working bathroom.
It doesn't take Luffy long to find his dream ship, a mostly-finished construction with a ram's head mast that is as iconic to One Piece fans as Luffy's straw hat. Usopp catches Luffy admiring the ship, and sells him on all the features the ship has to offer. Luffy assumes this also means Usopp can literally sell them the ship. While he informs the crew that technically he only works there, he assures them that his best friend will be able to help, since she owns the entire shipyard. Interested in what a "rich rich" girl might be keeping at her house, Nami agrees to at least swing by and ask.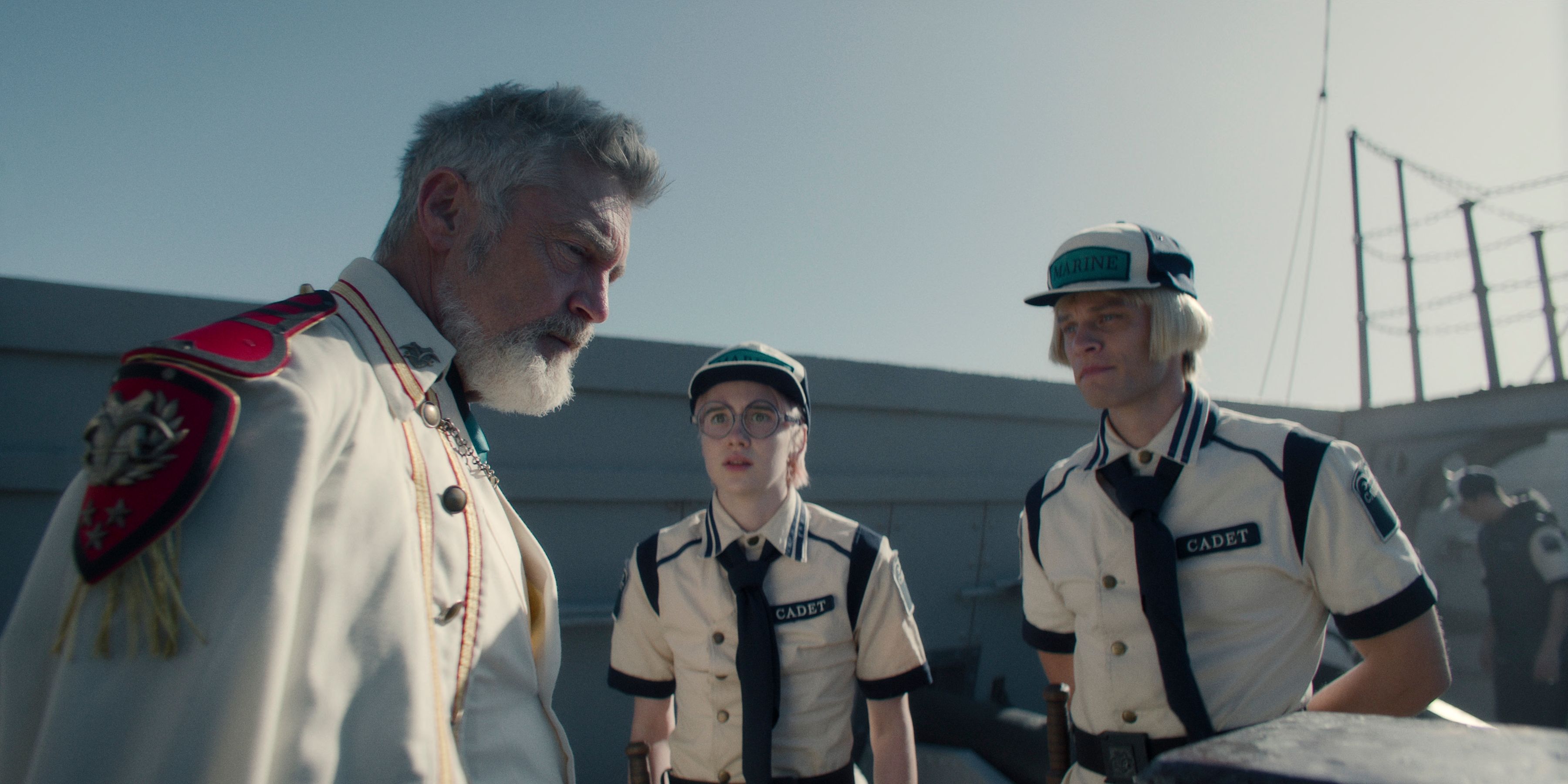 see more : What Happened to Seth MacFarlane's 'The Flintstones' Reboot?
While Usopp and Luffy admire the property, Nami wastes no time in assessing the place, reasoning to Zoro that a single homeowner with a small staff will make the place easier to rob. Even though he seemed willing enough to help her steal a ship, Zoro judges her for being so fixated on money, specifically for her own personal gain with complete disregard for her allies (since neither of them will actually admit the trio are friends yet). Usopp leads the group through the garden and towards the "special" VIP entrance around back, which turns out to just be his way of sneaking in when household staff Buchi (Albert Pretorius) and Sham (Bianca Oosthuizen) try to stop him from coming in.
Even though he's embellished the truth about everything else, the one thing he had right is that the homeowner Kaya (Celeste Loots) actually is a friend of his. Usopp is saved from having his ass kicked with Kaya's arrival on the arm of her butler Klahadore (Alexander Maniatis). When she asks if Usopp has come by to tell her one of his adventure stories, he counters by introducing her to the Straw Hats, whom he calls "his" crew, and Kaya is so delighted she invites them all to stay for dinner, which is enough to offset Luffy's annoyance at not being recognized as the captain. Klahadore is less than excited at the prospect but concedes on the condition they all change and bathe before dinner.
While the rest of the crew gets ready for dinner, Usopp sneaks in to see Kaya and give her her birthday present: a giant pearl. While the pearl may or may not be real, the real highlight of the gift is the fanciful story that comes with it, one that has Kaya so amused she starts coughing hard enough to restrict airflow. Usopp gives her the tea that will supposedly help, a tea that is suspiciously and unnaturally bright blue, and asks if her health has changed at all. For as long as she's been sick, Kaya is resigned to her fate, and to the fact that only the unnaturally blue tea seems to help.
If there's one thing I love in a series, it's when the events go on a brief pause so the characters can dress up for an event, and One Piece delivers in this episode. Nami, Luffy and Zoro gather in Kaya's closet to pick out clothes for dinner, and for all that Nami judges Kaya for having way more than a single person could need, it doesn't stop her from trying to pick out the prettiest dress she can find — even if the boys aren't helpful in giving their opinions. Luffy bets Nami that he'll be able to convince Kaya to just give them the ship, agreeing to go with her plan of stealing one if he fails. While they browse, Zoro raises his suspicions that he's seen Klahadore somewhere before but is struggling to place him.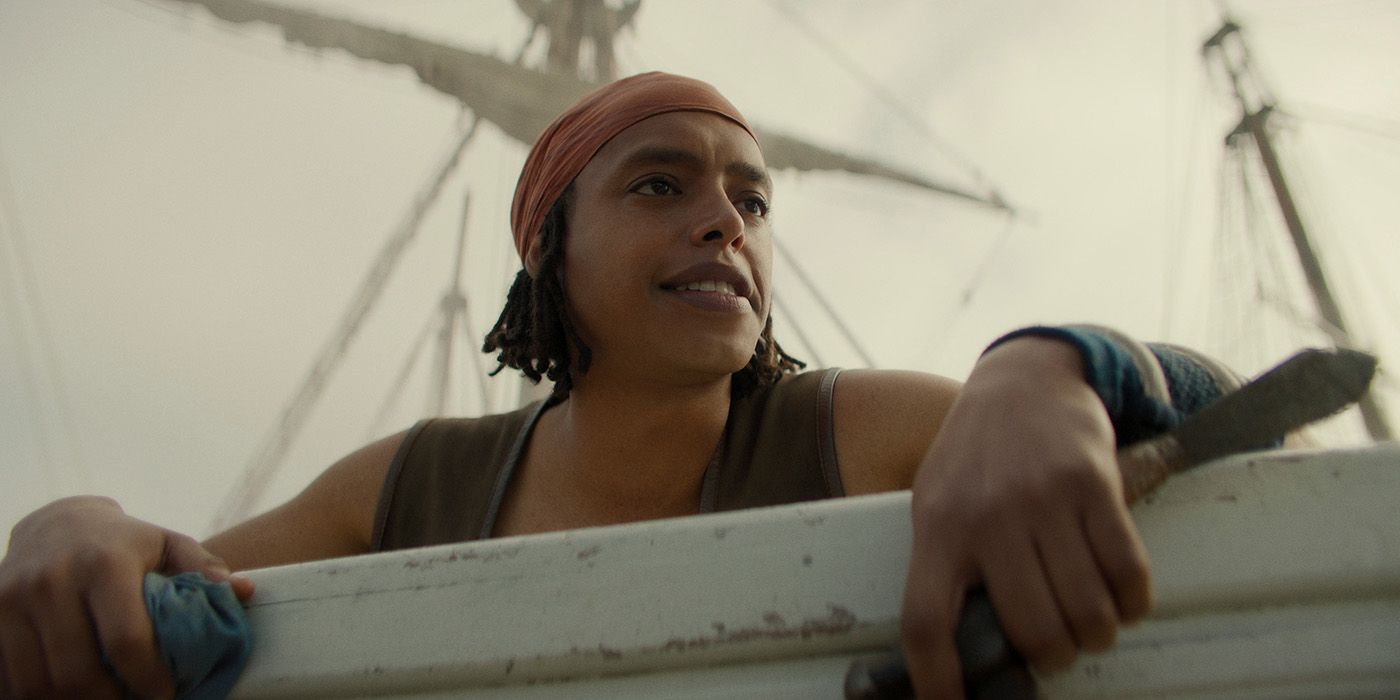 It turns out Zoro is right to be suspicious of the good butler. Though Kaya embraces him and calls him a friend, the declaration seems to rattle the man, and rightly so. He joins Buchi and Sham in the kitchen where the pair are preparing a bright blue puréed soup for dinner, which Sham has to remind Buchi is poisoned. Given how terrified the two are of Klahadore, and how he made sure Kaya had even more of the blue tea, something is definitely up with this bright blue poison. Something important enough to have Klahadore on edge
In Garp's office, the Vice-Admiral asks Koby if his seamanship skills come from his time with Alvida, then reassures the cadet that the experience helped him learn and survive, but it doesn't define him, something he knows Koby probably still holds to heart, which would explain why he didn't mention Alvida at all in front of Helmeppo. He then challenges Koby to a game of Go as a battle of wits, which Garp wins because he points out Koby plays too defensively. He changes tactics, and challenges him to another game, giving them a total of two minutes to play to stop Koby from overthinking. Of course the whole thing is more than just a game, and rather a lesson in taking decisive action against pirates when Koby encounters them. The games don't last much longer when Helmeppo arrives holding Luffy's crooked flag, and Garp orders the two of them to take a landing party to Gecko Island, with Koby leading as the senior.
Though Koby doesn't return to the Manga narrative until much later in the game, having him as the newbie POV on the Marine side of things acts not only as a balance to Luffy's own growth as a pirate but also makes that whole side of the story more accessible. It's not the older men of the World Government hunting down our heroes, it's a peer and a one-time friend of theirs overall trying to do some good in the world, and really grounds the story overall.
The Straw Hats, Usopp, and Kaya gather for dinner, also joined by Merry (Brett Williams), who manages Kaya's finances. Nami attempts to charm him into revealing more about the business side of things, but is interrupted by Kaya's arrival and overt attempt to strike up a friendship. Meanwhile, Zoro attempts to work out how he knows Klahadore, but the butler remains evasive, moving instead to stop Merry from discussing the transfer of ownership of the shipyard into Kaya's name.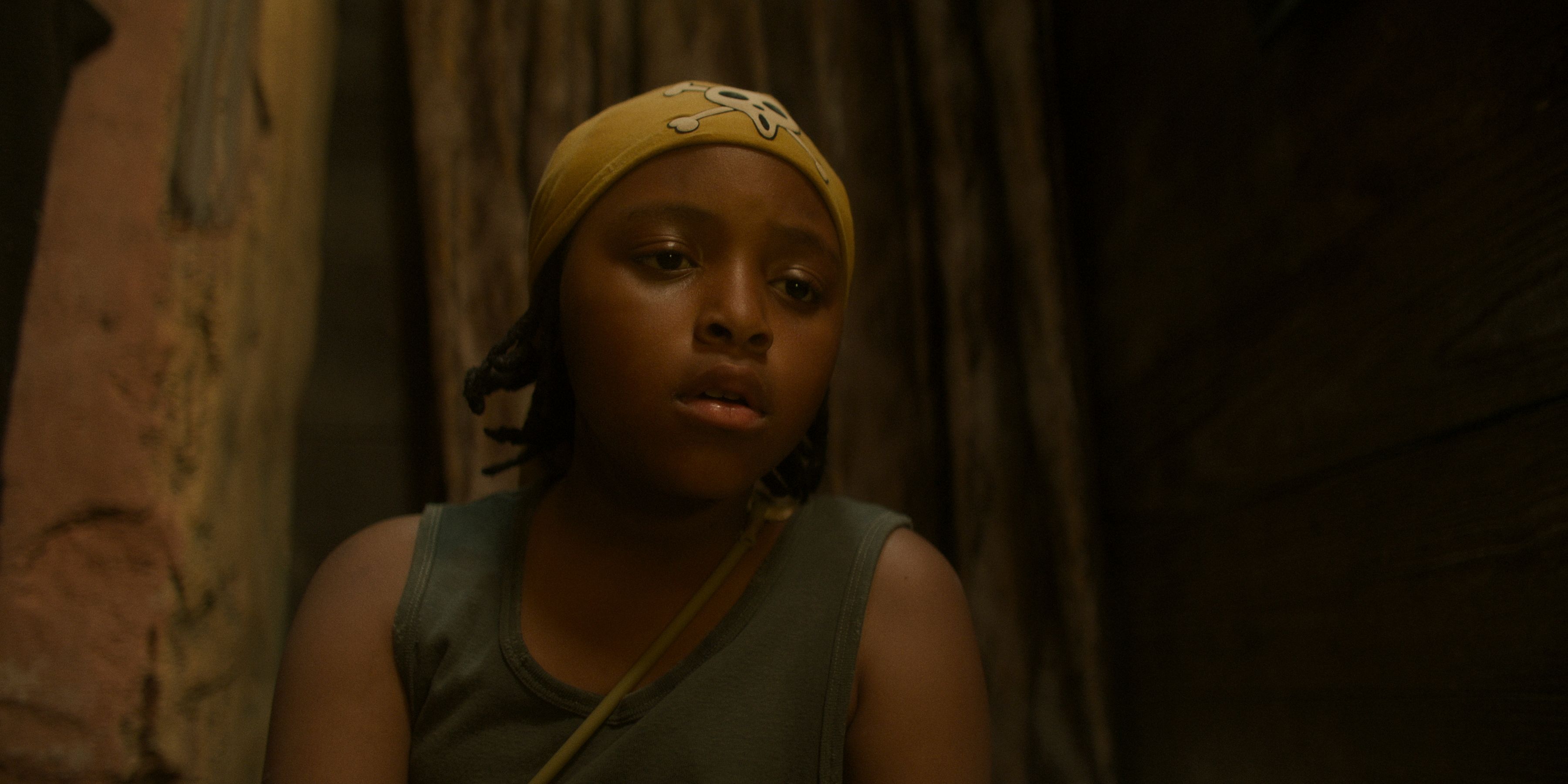 But Zoro isn't the only one now suspicious of Klahadore. Nami bristles over how controlling the butler is, dictating what Kaya can and can't eat, and speaking for her besides. In an effort to defuse the tension, Usopp suggests Luffy ask Kaya about the ship he was eyeing in her shipyard. Luffy excitedly reveals that they're not just sailors but pirates, to absolutely everyone's respective mortification and horror. Though Kaya does seem charmed by Luffy's enthusiasm, Klahadore attempts to throw them all out until Kaya intervenes and invites them to stay the night.
Merry hovers in the hallway, still looking for Kaya to clarify why it is she apparently wants to transfer the ownership of the shipyard into Klahadore's name, and not her own. His first — and as it turns out, final — mistake is in revealing all his suspicions to the most suspicious person in the house. Klahadore produces two sets of claws and stabs the poor financial advisor right in the chest.
The Straw Hats are all a little unsettled after dinner. Zoro bumps into Luffy while supposedly out looking for a drink, but the normally level-headed swordsman is just jumpy enough that it's more likely he's actually looking for Klahadore. Luffy buys the drink story and volunteers to help him find the kitchen since he's on the hunt for a snack. Nami seems much calmer, roaming the house with a pillowcase grabbing anything she thinks she might be able to sell, until she accidentally wanders into Kaya's room.
For her part, Kaya doesn't seem bothered by Nami's sticky fingers, and makes an overt offer of friendship, one Nami doesn't seem to think she can turn down. The two do start to bond fairly quickly though once it becomes clear to Nami how lonely Kaya actually is. It's enough that when Nami eventually leaves Kaya's room at the end of the episode, she feels guilty enough to put the valuables back.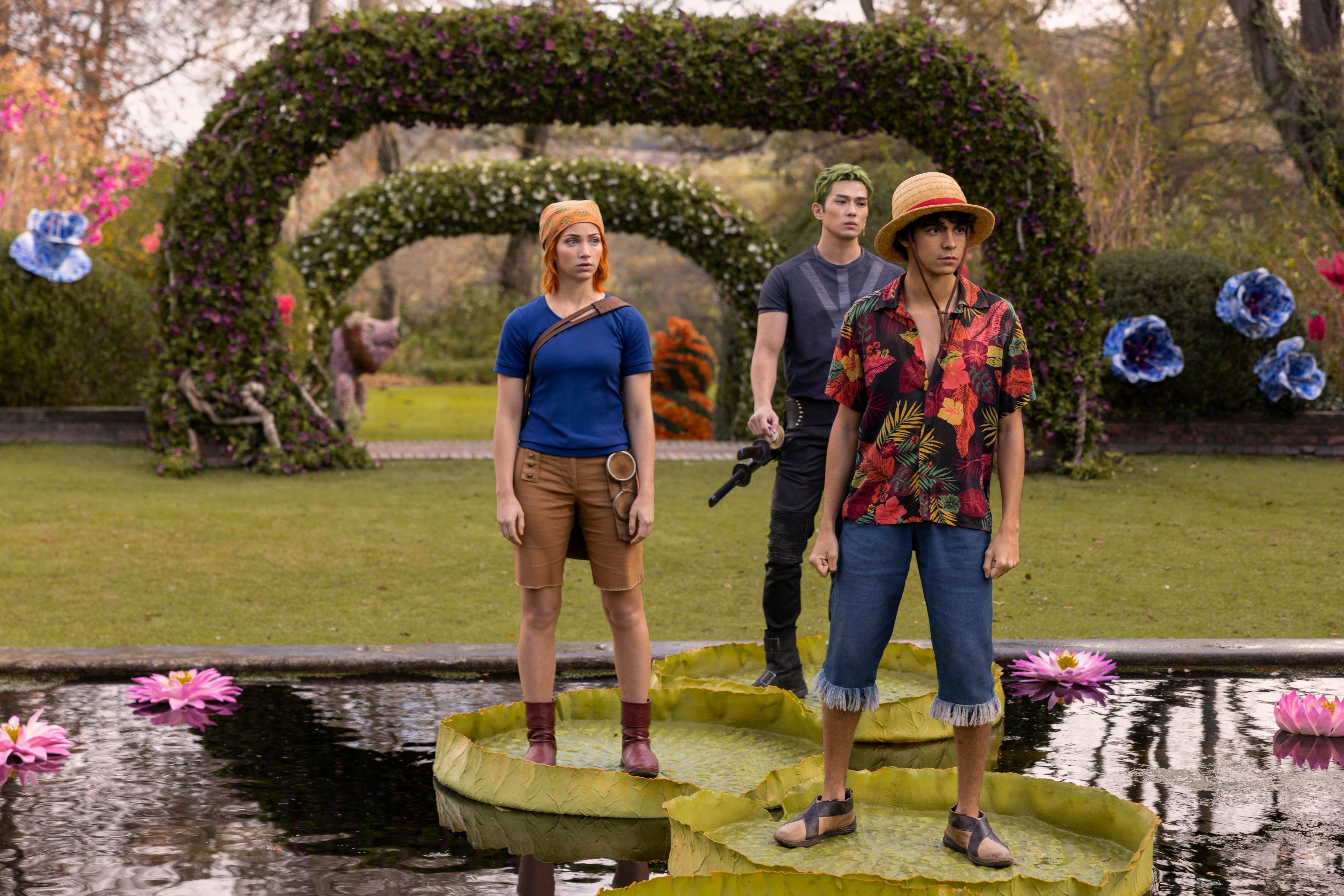 Luffy and Zoro bump into Usopp in the kitchen and ask him if there's anything going on between him and Kaya, something both of them deny separately, though it's obvious they really care about each other. Usopp says he just wanted to be there for Kaya when her parents died, but the more he talks about her, the more obvious it becomes that he really does have a crush on her. The more important details for Luffy, however, are that Usopp is an incredible shot, and that Usopp's father Yasopp (Stevel Marc) was a member of Shanks' crew, and someone Luffy knew growing up. As Zoro and Usopp head off to the house's wine cellar, you can practically hear the "join my crew" wheels turning in Luffy's head, even though he stays behind to guzzle down all of Kaya's leftover poison soup.
Down in the cellar, Zoro and Usopp find Merry's body under a table, and Zoro's suspicions are raised yet again by the recognizable M.O. Klahadore doesn't keep him wondering for long, arriving to confront them just as Zoro puts it together: Klahadore is actually Kuro, the captain of the Black Cat Pirates — incidentally, another pirate Captain Morgan (Langley Kirkwood) claimed he had taken care of, leading to the conclusion that Morgan is just terrible at his job.
Zoro draws one of his blades but is quickly outmatched by Kuro's stealth…and by Sham hitting him on the head with a bottle. Usopp manages to scramble away, but Kuro is unconcerned. Usopp has cried "pirate" one too many times to be taken seriously. He orders Buchi and Sham to dispose of Merry and Zoro's bodies, which they do by dumping them in the well in the yard. Usopp runs through the town calling for help, but naturally, no one believes him. No one, that is, except for Koby.
All eight episodes of One Piece are streaming now on Netflix.
Source: https://dominioncinemas.net
Category: TV