Netflix has had a very interesting and controversial impact on the film industry. Some cinephiles have praised the streaming service for helping to popularize and distribute auteur projects from legendary filmmakers who had struggled to get funding elsewhere. However, there are many who have criticized Netflix for its impact on physical media sales and the movie theater experience in general. But as many remember, Netflix's humble beginnings were first as a DVD rental service, and not a studio behind thousands of hours of original content including Stranger Things, Wednesday, The Queen's Gambit, The Crown, and Orange Is the New Black, to name a few. Back in 1997, Netflix rented out its first library title. It was a film that holds a surprising amount of relevance today: Tim Burton's 1988 classic Beetlejuice.
What Makes Tim Burton's 'Beetlejuice' So Popular?
Beetlejuice was a big hit in the 1980s, and helped show off Michael Keaton's versatility beyond traditional comedic roles. While Keaton had proved himself as a comic star in films like Night Shift, Mr. Mom, Johnny Dangerously, and Gung Ho, Beetlejuice required a more extensive amount of physical comedy in order to account for the film's fantastical premise and setting. The incredible makeup work done by Burton's production team still holds up to this day. The computer-generated imagery of Burton's more recent films, such as Alice in Wonderland and Dumbo, don't look nearly as striking as the ghoulish designs in Beetlejuice that he had created decades earlier.
see more : How 'FBI: Most Wanted' Wrote Out Julian McMahon — and How Dylan McDermott Will Fit in Post-'Law & Order: Organized Crime'
It's not surprising that Beetlejuice was among the first rentals that shipped out on Netflix. The film was an in-demand title, and many of its stars would go on to have very successful careers in the '90s. Burton's collaborations with Keaton on 1989's Batman and 1992's Batman Returns had been incredibly successful, which made looking back at his 1988's Beetlejuice a little weird. It's odd to see Keaton in such an eccentric, over-the-top comedic role when his version of Bruce Wayne was so straightforward and serious. Beetlejuice star Winona Ryder, who had been given her breakout role in the film as Lydia Deetz, had blown up in the nine-year gap from the rental in 1997. She would star in another cult hit a year later with the teen dark comedy Heathers, and her success only grew from there on. Ryder had received Academy Award nominations for her work in Little Women and The Age of Innocence, and had returned to the horror genre with Francis Ford Coppola's Bram Stoker's Dracula.
RELATED: The 50 Best Movies on Netflix Right Now
Beetlejuice was at the point in 1997 when it had already solidified itself as a generational classic. In many ways, it serves as the perfect "gateway horror film" for younger viewers who are just getting adjusted to the genre. The film contains a surprising amount of spooky and racy content, despite receiving a PG rating from the MPAA. Beetlejuice isn't graphic or violent, but it is scary and shows the fun that can be had when dealing with dark, demented subject material such as death and resurrection. Beetlejuice is the sort of horror comedy that the entire family can enjoy equally, and as a result, has become a favorite yearly Halloween watch in many households.
A 'Beetlejuice' Sequel Starring 'Wednesday's Jenna Ortega Is on the Way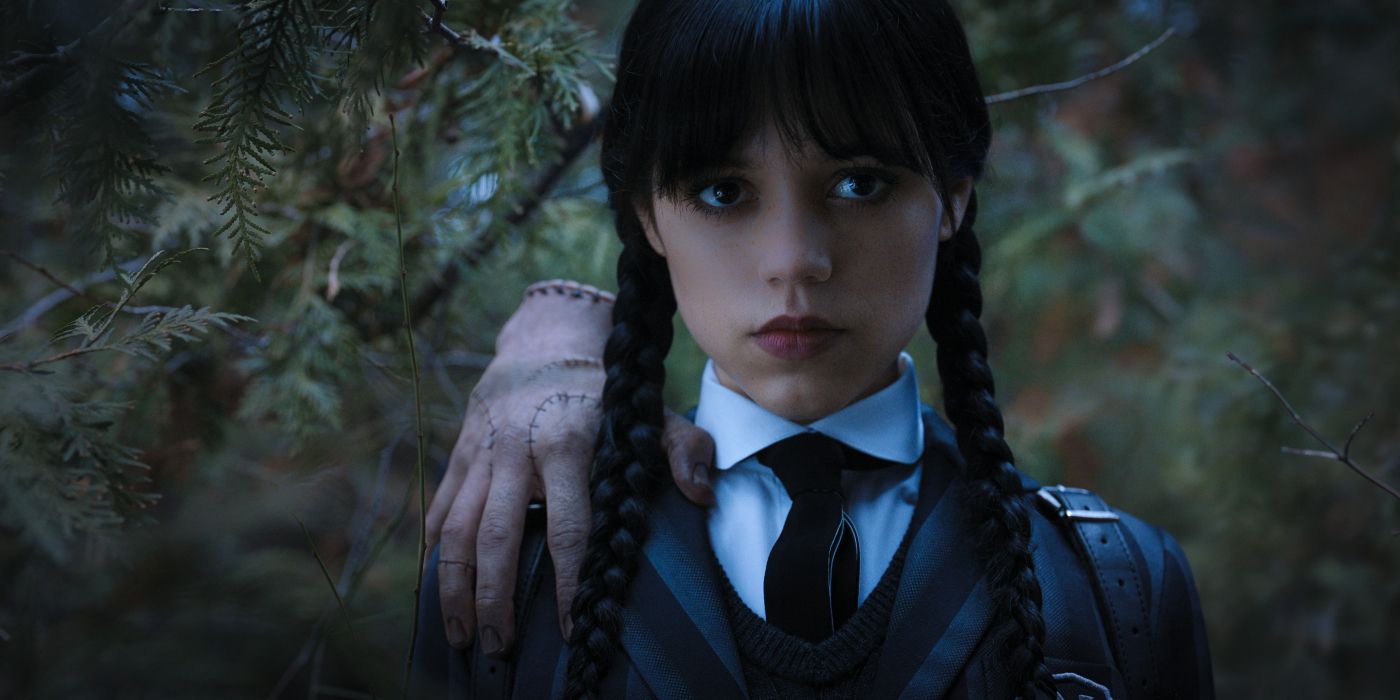 Beetlejuice's popularity has not waned at all in the 25 years since it became Netflix's first DVD rental, and has continued to serve as a great gateway film for new horror fans. Streaming services like Netflix have helped expose an even larger audience to Beetlejuice, and it's amusing that the film seems to be even more popular now than it was during its initial release. The success of Beetlejuice spawned an animated children's cartoon series, a 2018 musical adaptation that won several Tony Awards, and an upcoming sequel that will reunite a majority of the same cast. Beetlejuice 2 had long been a pipe dream, as its stars and director had only occasionally expressed interest over the years. After years of development, Beetlejuice 2 finally entered production with a tentative release date set for September 6, 2024, by Warner Bros. In addition to the return of Keaton, Ryder, and Catherine O'Hara, the upcoming sequel will also introduce Monica Belluci as Betelgeuse's wife, Jenna Ortega as Lydia's daughter, and new characters played by Willem Dafoe and Justin Theroux.
Hollywood has been intent on creating "legacy sequels" that serve as both a sendoff to cast members from an original film and a launching point for younger stars, and Beetlejuice 2 seems to be following this trend. While some films like Top Gun: Maverick and Star Wars: The Force Awakens have threaded this difficult line beautifully, others such as Terminator: Dark Fate and Independence Day: Resurgence have failed miserably. Beetlejuice 2 risks falling into the nostalgia traps, but its primary players are in a solid position to move forward with a new installment. Regardless of whether Beetlejuice 2 is a success or not, the original film has firmly established its cultural legacy, and has been referenced constantly within other works of fiction and inspired a generation of young directors and artists. Whether it's on Netflix's rental service or your own physical copy, there's never a bad reason to rewatch Beetlejuice.
Source: https://dominioncinemas.net
Category: MOVIE