What does it take to translate a graphic novel like American Born Chinese into a full television series? The 2009 Eisner Award-winning graphic novel by Gene Luen Yang underwent quite a transformation before its debut on Disney+. The television series American Born Chinese follows the story of Jin Wang (Ben Wang), a Chinese-American teenager who is struggling with his own identity. When he is introduced to Wei-Chen (Jimmy Liu), an exchange student, his life is turned upside down at the reveal that Wei-Chen is more than he appears.
Incorporating elements of Chinese mythology and cultural identity discussion, we talked with executive producers Melvin Mar and Gene Luen Yang about turning a 200-page graphic novel into a fully fledged TV series. We talked about what were Yang's must-haves when changing the series for television. We also discussed the change of the in-universe fictional character of Chin-Kee to Ke Huy Quan's Freddy Wong and the connection that character had to beloved, but complicated, stories by John Hughes. Mar and Yang talked about how they decided to expand the world of mythology and bringing in Eastern mythological characters. And they talk about what it takes to bring together an all-star cast of Asian and Asian American actors.
Read the full transcript of the interview below or watch the full interview video.
COLLIDER: I love the series. I've watched all of the episodes, totally enjoyed it. Gene, my first question is for you; the graphic novel was kind of a jumping-off point for this show, but the series itself is actually quite different. When it came to adapting the series, did you have any must-have scenes that you wanted in the TV show?
GENE LUEN YANG: I don't think I had any must-have scenes, I had must-have themes, you know? I did not want the the journey of the main character to be different, so the journey in the book is Jin is somebody who feels deeply uncomfortable with himself, right? He has this deep insecurity that's rooted in his own cultural identity, and throughout the story, it's kind of about how he makes peace with that by befriending this kid who's an immigrant, he's an immigrant from Asia, and later, it's revealed that he's actually an immigrant from mythological Asia as opposed to human Asia.
So that piece I wanted to be the same. I wanted that to be the spine, and as long as that spine was kept… I mean, it's just about trusting the people that you're working with, and I think we just really trusted Kelvin Yu to run with it. Now that I've really gotten to know him and gotten to see how he works, I've come to really admire him, both as a person and as a storyteller. I think he's just brilliant.
Yeah, for sure. I mean, I think one of the biggest changes that I noticed was the change of Ke Huy Quan's character, which is Freddy Wong now in the TV show. Melvin, I wanted to talk to you a little bit about that, and why you guys made that change, and the thought process behind that character.
MELVIN MAR: Well, I think the cousin character in the book, that Gene has, has always been a little bit controversial, right? And he can speak to this better, but it was his hesitation about adapting the thing was connected to that. So, in our conversations, the three of us, about the adaptation of this, one of the things was, early on we decided we're gonna move it into 2023 versus the vague '80s, '90s that the book took place in. And I think Kelvin found a really great way to do something that was really timely, as well as kind of brilliant in terms of encapsulating these stereotypes and tropes that Gene and I grew up watching.
It's been a big source of conflict for me. I'm a huge fan of John Hughes and John Hughes movies, but he's got Long Duck Dong, which is not great, right? If you culminate that with the cousin character, I just thought the really smart way is to attack it head on, you know? And putting it into the show as an actor, and someone who's had to play a problematic role because of the lack of roles, I think is really interesting. And that's something that I wish Kelvin were here because he could talk directly about that. The character we have in the show is called Freddy Wong, but he actually played a character called Freddy Gong in a show called Popular, that's where he drew it from. So it's a very sort of personal, and, I'll say it, brilliant, change to it for the show.
Yeah, I think it was a great. I mean, having Ke play that character, especially given his history and his career, I think it was a great sort of mind-meld moment. I also think this show does a really great thing by bringing in Chinese mythology. I'm pretty sure most American children did not grow up with the idea of, like, Sun Wukong, but I did, and getting to see Guanyin, and all the characters there, why did you guys choose to expand on that aspect of the story?
YANG: Well, we needed to fill out an eight-episode season. So the book is only 200 pages long, it has a beginning, middle, and end, and it's a finite story, right? And with television, it's open-ended, it's kind of like a superhero series. You know, a superhero monthly series is open-ended. So the television series is open-ended, and because of that we needed expanded worlds. The way Kelvin and his team did that on Earth was by shifting some of the focus onto Jin's parents, and the way they did it in heaven was by bringing in characters like Guanyin who are part of the original, original source material, right? They're part of the Journey to the West.
MAR: And, you know, I'll borrow something from Kelvin that he said before the strike happened, which was, Disney is sort of the great repository of mythological characters from the West, right? Whether it be Snow White or Cinderella, or just whatever the story may be, and it's also the place of superheroes, right? Marvel, you know, all that stuff. And we thought it would be a really good thing to do here at Disney to bring forward Eastern mythological characters.
You just said it, the three of us grew up with this; I grew up watching it at my grandmother's house and hearing them tell me stories about it. So it's really kind of a cool opportunity and an honor to sort of add Guanyin and Sun Wukong, and all these characters to the Disney repository of great mythological heroes for kids like my daughter and kids that are not Asian or Asian American. What I'd love to take away is, you know, some kid in the middle of the country is a big Sun Wukong fan, you know?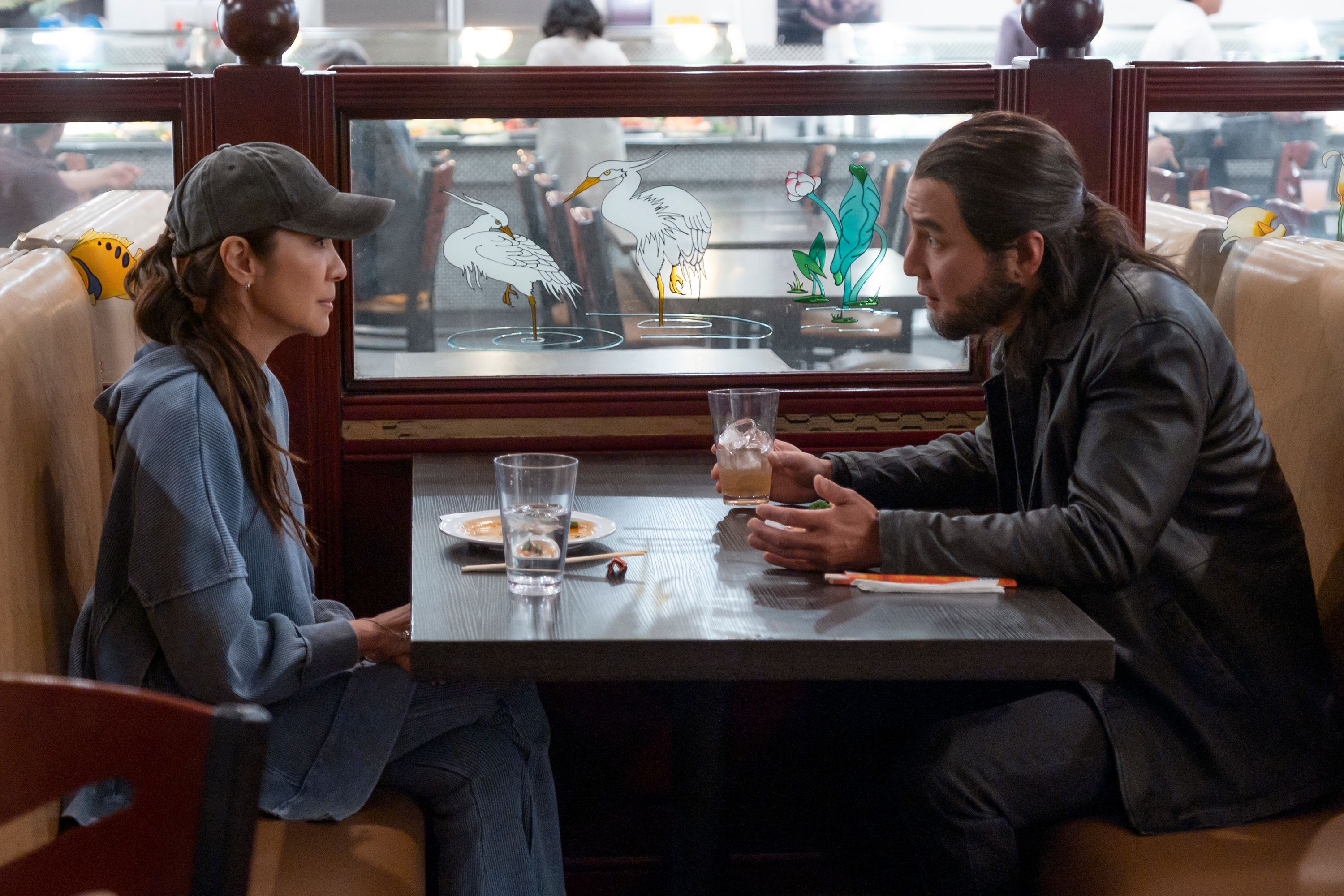 I mean, I have always been a big Sun Wukong fan because I was born in the year of the monkey, so I felt a connection with him. Touching on that, I also was surprised by how much Mandarin was spoken in this show. I was kind of expecting some peppered in, but it was very heavy Mandarin and I speak Mandarin, so I could understand it all fine, but I was surprised. Can you talk about that decision, and why you guys chose to do that?
see more : 'Kandahar' Director Ric Roman Waugh Talks Filming in Saudia Arabia, His Time as A Stuntman, & More in Exclusive Q&A
YANG: We had lots of discussions early on about language, and especially early on, Kelvin wanted to do an episode that was set in Chinese heaven, so what language do you use in Chinese heaven? And ultimately, you can't have Chinese heaven speak in English, that doesn't make sense at all. And I think a lot of that decision was driven by this hope that American audiences are ready for this. I think they are, right? When you look at the popularity of things like Squid Game, I think they are.
MAR: Yeah, that's right.
Yeah, for sure. I love that episode. I was definitely expecting it to be in English because everybody in that cast spoke English, but I'm glad that it wasn't. And I'm glad that everybody could speak understandable Mandarin, which is sometimes a problem when I watch TV shows and it's Cantonese and then it's Mandarin, and they just say blanket Chinese.
Touching on the cast of this show, there are some big names, not just Michelle [Yeoh], not just Ke Huy Quan, but like James Hong, you've got Stephanie Hsu, you've got Ronny Chieng coming in, and of course Chin Han as Jin's dad. Can you talk about how you guys got these people to sign on to this project? Was it just like a no-brainer for them — what was the dialogue?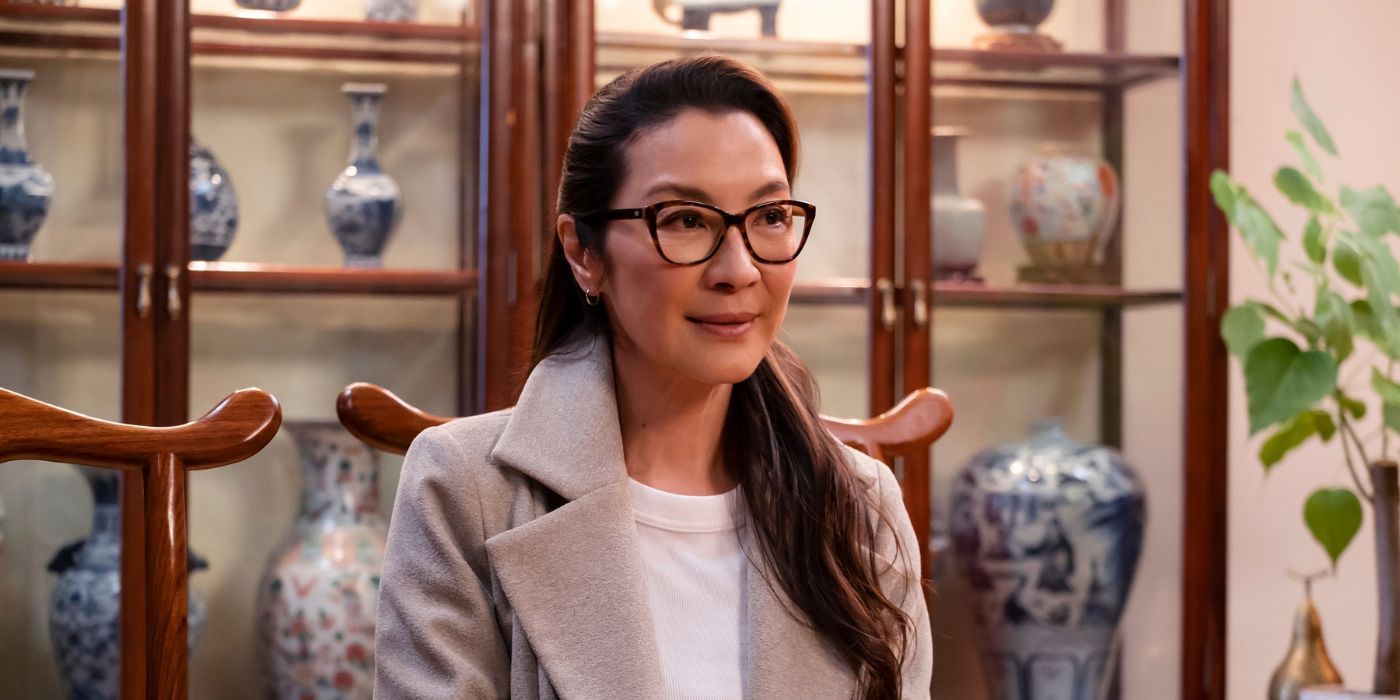 MAR: The endeavor was to sort of build the Asian American All-Star team, both behind and in front of the camera. And you know, it starts out with really good material, starting with Gene, then to Kelvin, and then you add Destin [Daniel Cretton] who just picks up the phone and calls Michelle. Then after that, I call Ke Huy Quan, and called Daniel Wu, and they all talk, and it's like dominos start falling. You call Ronny who is a good friend of mine, and you know, one after the other people show up when the material is good. So hats off to both Gene and Kelvin here.
YANG: Melvin's underselling his role. Melvin has this way of making things happen that I still have not quite figured out. He'll call me and be like, "Michelle Yeoh is part of it," and I'll be like, "What? What's going on?" And he'll be like, "Oh, I got Destin Cretton to read it. I think he's gonna sign on." "What?" Yeah, that happened over and over again for the last two years.
I would love to be able to pick up the phone and call [Michelle Yeoh] and just have her be a part of anything.
YANG: [laughs] That's right.
Source: https://dominioncinemas.net
Category: INTERVIEWS