Arnold Schwarzenegger is back – for his new action comedy series, FUBAR, with showrunner Nick Santora (Prison Break). The Netflix series, which is now streaming, brings explosive action and self-aware humor as it brings in-show Schwarzenegger out of retirement for a final mission. Collider's Steve Weintraub spoke with some of the lead's co-stars, Travis Van Winkle, Milan Carter, and Fortune Feimster, the brains behind the brawn, about their time on set, and what it was like working side-by-side with an action legend.
In the show, Schwarzenegger plays CIA operative, Luke Brunner, who's just completed his last mission and is ready to retire, when he's called back for one final assignment. When Luke finds out his daughter, Emma, played by Top Gun: Maverick's Monica Barbaro, is the rescue mission, the two clashing heads while trying work together brings all the intensity, while Luke's team of experts, Aldon (Van Winkle), Roo (Feimster), and Barry (Carter), bring the clever quips. The trailer is full of their side-eye moments and commentary as the trio do their best to assist Luke and Emma, but the jokes keep coming. FUBAR also stars Jay Baruchel, Fabiana Udenio, Adam Pally, and Gabriel Luna.
While discussing the show, Van Winkle, Carter, and Feimster talk about what it's like to work with such a Hollywood icon, and the relationship between fan versus peer, saying, "everybody's his peer… he treats everybody equally." They share their favorite Arnold movies, Van Winkle talks Han Solo action, and which scenes were the most challenging. Van Winkle also enthuses about living out his dreams while on the set for Doug Liman's Road House, with Jake Gyllenhaal. You can check out all of this and more in the video below, or read along with the full transcript.
COLLIDER: So, how long did it take for the three of you, when you got on set with Arnold, to literally start peppering him with questions about his career?
MILAN CARTER: Five seconds!
TRAVIS VAN WINKLE: Immediately?
CARTER: Immediately! "We don't even care to shake your hand. Sir, how did you do it? How do I become a success story like you?" But the cool thing is, sometimes you get nervous to ask people questions, and it's like you want to be his peer and not just a fan, but the thing about Arnold is, everybody's his peer. He treats everybody equally, and loves to support you, and he's like the grandfather you always wish you had, who's full of stories. You ask him one question, be prepared to sit there for at least 15 minutes to hear a story about something.
I'd be okay with that.
FORTUNE FEIMSTER: Yeah, right?
CARTER: 100%, 100%.
VAN WINKLE: 15 minutes well spent.
FEIMSTER: I was fascinated because we sat in the hallway right after our first scene, and he knew I did stand-up, so he started telling me all these stories about Milton Berle and all of the roasts that he would go to, and I mean these really iconic moments from that Hollywood history, you're just captivated by it.
No, completely. I've been asking this of everyone; do you have a favorite Arnold movie?
VAN WINKLE: Last Action Hero has always been mine. That was one that really stood out to me, and when I first met Arnold, I had to get that out of the way right out of the gate. I had to say, "Hey, I just have to praise you for a second," and I told him all my favorite movies and all the ways he's impacted my life. And then I was like, "Okay, now we can get to know each other." But I would say Last Action Hero was is my favorite.
FEIMSTER: I mean, I'm Kindergarten Cop because comedy is my thing, and that movie comes on now and I will stop and watch it.
CARTER: And I would have to say Jingle All the Way because every Christmas I definitely watch that movie, and it is a blast.
Jingle All the Way I've not heard before, I'm just gonna give you props. So jumping into FUBAR, the series is eight episodes, I've seen the first four; which is your favorite episode and why?
CARTER: Hands down Episode 7 is my favorite episode because that is when Barry opens up his romantic life to the world, and it doesn't go well for him, but at least he tries.
FEIMSTER: I think mine are the last two because I got to have an emotional arc and you learn a lot more about my background. I also get to act kind of ridiculous.
VAN WINKLE: [Laughs] That's seven.
FEIMSTER: Is that seven? I get to act ridiculous – I won't tell you why – and I mess up some things as a result. So I not only got to do a lot of the crazy comedy and that, but then I got to shift it into this emotional arc and have a little bit more serious moments.
VAN WINKLE: I would say Episode 3 was probably my favorite because I really got to start showing the underbelly of my character, but I got to do a lot of like Han Solo moments and have some really, really, really fun action scenes. And my character kind of comes onto the scene in that episode.
CARTER: He called himself Han Solo, gotta love that! I love that!
FEIMSTER: I know, we were both like, "Okay!"
VAN WINKLE: Straight from Nick Santora.
I love learning about the behind-the-scenes, the making of shows and movies, so for soon-to-be fans of the show, what do you think they would be surprised to learn about the actual making of the show?
CARTER: That there was no real train?
VAN WINKLE: I mean, the plane's not real.
FEIMSTER: They made all that stuff, but I mean, it was impressive what they made.
CARTER: Our set architect or designer, not sure what you call him, that man is par none. It is ridiculous, the things he was able to create, from the train, the plane, from even the silos that we get trapped in, I have to climb through. I have a scene where I have to go through a tunnel, and then he built a jail. How do you build a Turkish prison from nothing?
FEIMSTER: And he built that tunnel.
VAN WINKLE: And that bunker!
FEIMSTER: Everything was really well done.
VAN WINKLE: Maybe it would be surprising that they know that we filmed Episode 6 last. I wonder if you'd be able to tell that was filmed out of order?
CARTER: That was the last one, yep.
You probably can't tell. I've also spoken to people who redo the first episode at the end of the shoot because they have to do some reshoots. It's crazy how Hollywood works. What's a scene that you got on the first take, or what's a scene that you thought would be super easy and ended up taking forever?
CARTER: Oh, my goodness, I'll go first on this one. So, as you know, Mary Fitness is like – we're in the CIA, we gotta have our little secret lair – Mary Fitness is the cover that we have, and day one of shooting there, the way that it opens, our lair, we had a lot of technical difficulties. So even though there was only a few lines, it felt like it took forever to shoot that because we couldn't time the doors perfectly.
FEIMSTER: Mine was saying Boro's (Gabriel Luna) last name; I was trying to rhyme it with –
was it Polonia?
VAN WINKLE & CARTER: Bolonia and Polonia.
FEIMSTER: And, you know, I was like, "Oh, it's a simple rhyme." It took me, like, 30 minutes to get it right, and they kept stopping and being like, "That's not right."
CARTER: But then she finally got it right, and then she messed it up herself! She said, "Oh, we can't use that take!" Like, "No, that was the take!" [Laughs]
VAN WINKLE: She didn't trust that one.
FEIMSTER: It was a tongue twister. That, and I had to write equations on the board, but I couldn't write on the board,, they made the equation appear as I wrote and I had to match it as I was saying lines, and that took a lot more timing than I would have ever guessed.
VAN WINKLE: I would say for me, my character is a linguist and I had to speak Kazakh, and I would say that Episode 2, having to come in, the stakes are really high, the pace is so fast, and to have to get that dialect down there was definitely some stop and starts during that.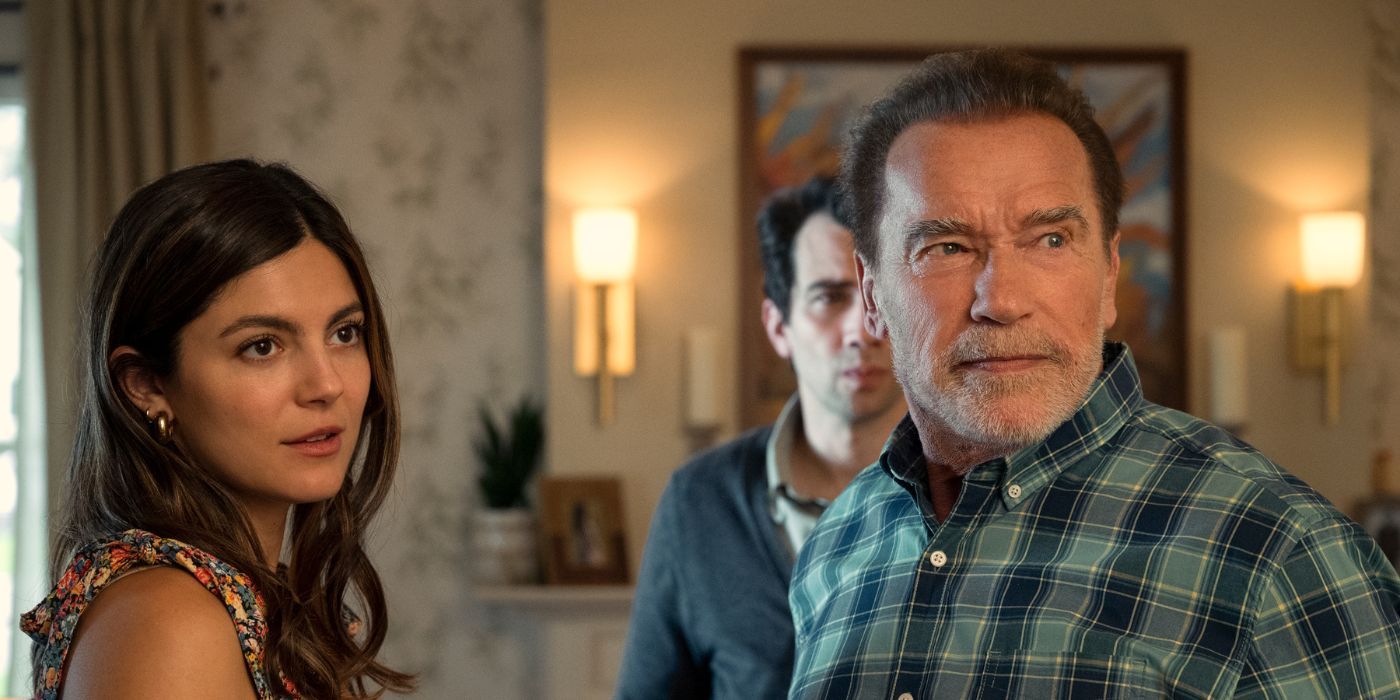 Travis, I'm a big fan of Doug Liman and I believe you are part of Road House. What was it like being part of that film, and what can you tease? How does it compare to the original?
VAN WINKLE: First of all, it's Doug Liman, so you know it's gonna be great. This man just knows how to make a film. It's Jake Gyllenhaal, getting to work with him– Talking about working with Schwarzenegger, that was a dream. Getting to work with Jake? That's another moment for me, that's just a highlight of my life so far in my profession. Also, I got to meet Conor McGregor, which was just another– It's not gonna be the exact same as the last Road House, I think it'll be an addition to it, but I think you guys are gonna like it. It's a pretty tight film.
FUBAR premieres on Netflix on May 25. You can watch our interview with Arnold Schwarzenegger and Monica Barbaro below.
Source: https://dominioncinemas.net
Category: INTERVIEWS