[Editor's note: The following contains spoilers through the Yellowjackets, Season 2 Finale, "Storytelling."]We've experienced a number of devastating deaths on Yellowjackets thus far, but none quite as crushing as losing Juliette Lewis' Natalie in Season 2, Episode 9, "Storytelling."
The Season 2 finale culminates in another card game. While waiting for medical professionals to arrive, the present-day Yellowjackets humor Lottie (Simone Kessell) by going along with another death roulette ritual. Unaware that Van (Lauren Ambrose) and Taissa (Tawny Cypress) have canceled the request for Lottie to be taken to a psychiatric facility, Natalie, Shauna (Melanie Lynskey), and Misty (Christina Ricci) proceed with the ritual assuming Lottie will be stopped in time.
With no help coming, things spiral to the point that Callie (Sarah Desjardins) shoots Lottie in the arm, and Lisa (Nicole Maines) pulls a shotgun on Natalie. In an effort to protect her best friend, Misty attempts to stop Lisa with a lethal dose of fentanyl, but Natalie shields Lisa and is hit with the syringe instead.
While succumbing to the drug, Natalie has a vision of sorts. She's alone on a plane until Javi (Luciano Leroux) appears and tells her, "There's nothing to be afraid of." Natalie insists, "I'm not supposed to be here," but that's when Sophie Thatcher's Natalie appears and says, "We both know that's not true. This is exactly where we belong. We've been here for years." Natalie's final visitor on the plane is Courtney Eaton's Lottie who explains, "It's not evil, just hungry, like us," and tells her to "just let it in." And then that's it. Natalie's gone.
What exactly do Lottie's final lines to Natalie mean? We discussed just that with Eaton on Collider Ladies Night.
We don't get much clarity on exactly what this airplane state is — a dream or some sort of transitional limbo — but given the fact that visions often involve characters seeing their own versions of other people rather than who they truly are, I asked Eaton if that might be the case here. How much of that Lottie is the true Lottie, and how much is the Lottie Natalie expects to see or needs to see at this very moment? Here's what Eaton said:
"That's a really good question. I think there is a slight shift, but I don't know if I am consciously thinking of that. But she is a softer — like the best version of Lottie that she could be talking to Juliette."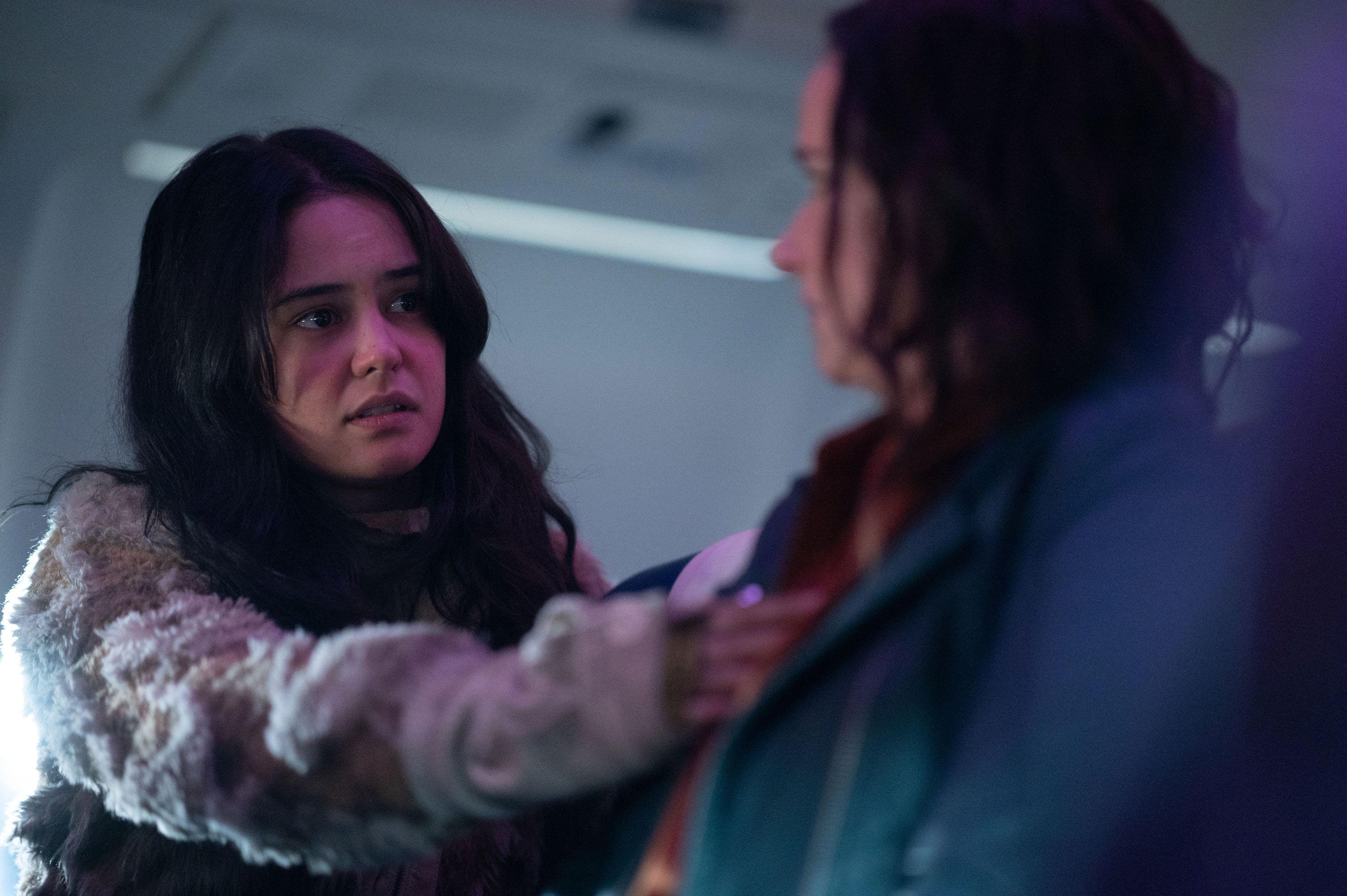 Eaton also took a moment to dig into the specifics of what Lottie tells Natalie to do — to "let it in" — and admitted that was a challenging line to tackle:
"I thought about this line a lot, and I had a bit of trouble with it when we were doing the scene because I was like, I don't know what I'm saying, and no one's gonna tell me what the meaning behind it is."
Eaton went on to emphasize the importance of prioritizing feeling over specifics while playing such a scene:
"I think with this show, you can't always try to figure out what the result is, and I kind of just go by what the feeling is in that moment, what that question might bring up in me more so than trying to figure it out. Because if you try to figure it out, you're gonna throw yourself too far left or right, and then you're gonna have to backpedal if you are wrong."
Looking for more from Eaton on the Yellowjackets Season 2 finale including her thoughts on her curious new dynamic between Lottie and Misty (Samantha Hanratty)? Check out the After Hours clip at the top of this article, and also be sure to watch Eaton's main episode of Collider Ladies Night below:
Source: https://dominioncinemas.net
Category: INTERVIEWS