Shooting Stars, from director Chris Robinson and based on the book by LeBron James and Buzz Bissinger, tells the inspiring story of how a young LeBron James (Marquis "Mookie" Cook) and his childhood best friends Lil Dru (Caleb McLaughlin), Willie McGee (Avery "AJ" Wills Jr.) and Sian Cotton (Khalil Everage) turned a love of basketball into a life-changing opportunity for themselves and their families. Becoming the #1 high school team in the country would lead to the launch of James' career as one of the biggest superstars in the NBA, and a lifelong connection that would turn friends into family.
During this interview with Collider, Wills Jr., Everage and Sterling "Scoot" Henderson (who plays Romeo Travis, the basketball player that turned the Fab Four into the Fab Five) talked about starting their bonding with a cast group chat, the challenges that come with playing basketball in a movie, what most impressed them about their real-life counterparts, and who they turn to when they need support.
Collider: One of the things that I love about a real-life story is learning something that I didn't know before. Obviously I know who LeBron James is, but I had no idea that he had these friends that were really like their own basketball team within the team they were on. What was it like for you guys to find together? Was that chemistry immediate?
AVERY "AJ" WILLS JR.: Once we all knew that we got the roles, Caleb [McLaughlin] took it upon himself to put us all in a group chat. He hit everybody up, before we even got to Ohio to sit down and meet each other. Once we got out there, we had a whole month that we got to spend with each other, before shooting. That connection, and just living next door to each other for that long, brought the chemistry and the friendship.
Scoot, as the one who comes into the picture a little bit later, after the Fab Four was already bonded, how did you approach figuring out where you fit in with that?
STERLING "SCOOT" HENDERSON: Honestly, sometimes I would have to stop smiling and have more of a straight face, just because, for a whole month straight, we were just chilling. We built the relationship where I got comfortable around the guys and we were always goofing around. So, there would be times when I had to really just lock in and be Romeo for a second.
Is it more nerve-wracking to star in a big movie, or to think about the NBA Draft?
HENDERSON: Maybe the movie. Basketball is gonna be basketball. That's my main thing. That's what I do, on an everyday basis. But starring a movie, playing somebody that's an actual person, I just wanted to portray him and let people perceive him the way that he wants to be perceived. That's where I'm at with it.
Khalil, you're part of another sports ensemble, with Cobra Kai. How did joining this ensemble compare to that ensemble?
see more : Why 'One Piece' Is the Show We Need Right Now, According to Director Marc Jobst
KHALIL EVERAGE: Basketball has been a part of my life, my whole life, versus karate, which is something I never did. Basketball was easy to just slide right into.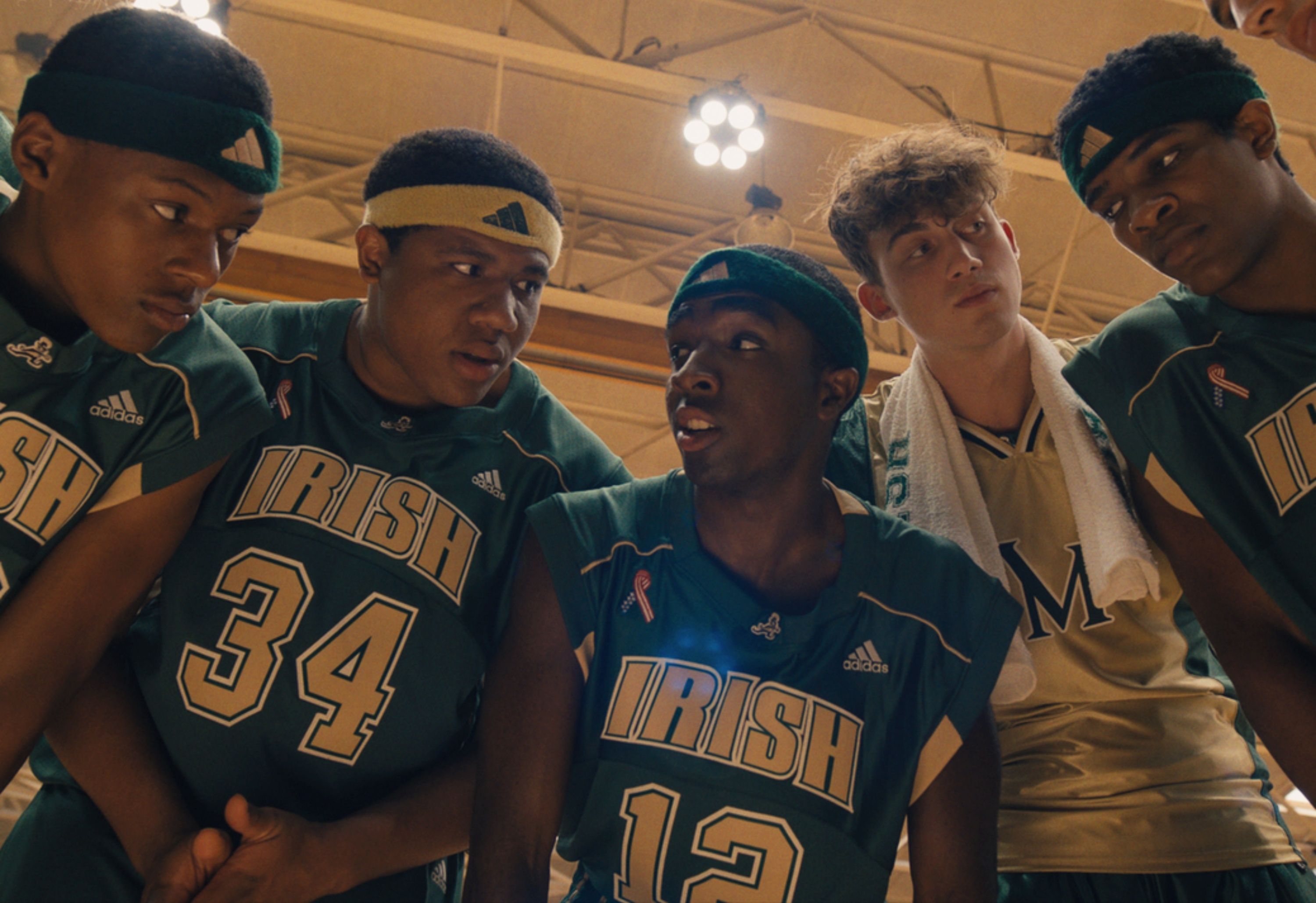 It's one thing to play basketball, but it's a very different thing to play basketball on film. What are the challenges that you guys found, with making it look good on film?
WILLS: One challenge is that, because of some of the camera angles they have to get of us, you can't just do the regular basketball motion. If they need me to bring the ball down and then fall out of bounds, they might not let you run fast enough because there's a camera right there, so you've gotta just throw your body into the camera. There are different obstacles.
EVERAGE: There was a play when I had to cover on defense and I got dunked on, and that would never happen in real life.
Was it nice to just go back to playing a regular basketball game again, once this was all done, that you didn't have to also shoot?
HENDERSON: Yeah, it was. It definitely was. Getting back to my regular routine of working out and stuff, it was easier.
What most impressed each of you about the real-life person that you played?
WILLS: For Willie, I would just have to say staying true to his community. I don't know if he still is, but he was the athletic director at Saint Vincent/Saint Mary. So, giving back to the youth and his school, all his knowledge and what he knows about the game, is a big part. I was impressed with his caring personality.
HENDERSON: Definitely Romeo going overseas and playing pro for a minute stood out to me. He had a real impact and love for basketball, and he impacted the community, as well. He's still doing seven-on-seven games. I keep up with him on Instagram. Seeing how much he's involved in the community, and with that school specifically, it's pretty crazy to think about.
EVERAGE: Just how much of a good person Sian is and how good of a friend he is. Sian played football, not basketball. He really just played basketball to be around his people, to be around his folks. I don't wanna call him a follower. I consider myself a follower.
HENDERSON: It's being a team player.
EVERAGE: Everything I've done in my life, low-key, has been because one of my friends did it. I'm a team player.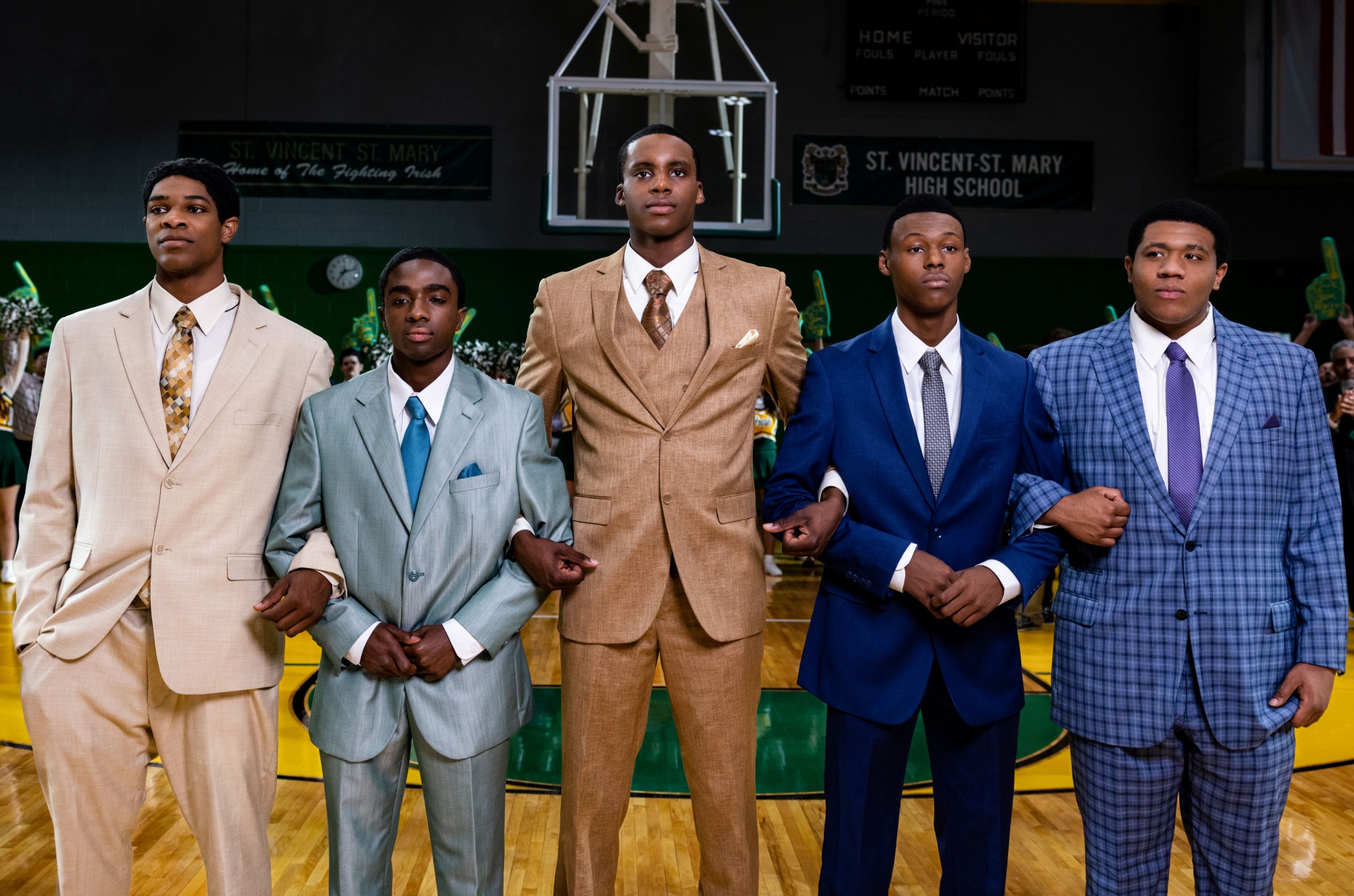 Did you also follow someone else into acting?
EVERAGE: My mom made me do this. But I'm very grateful that she made me do this.
This is a story of friends who uplift each other and help each other succeed. Who does that for you guys? Is there one person? Do you have your own group of people? Do you guys do that for each other?
WILLS: I've got my friend group back at home. My guys, there are five of us, just like the Fab Five. Those are my brothers. I love them. Believe it, my mom and my parents play that role for me, as well. They keep me in line and keep me straight. They make sure I'm doing the right thing, but that I'm also having a fun time.
HENDERSON: I've got a family of seven, so my siblings keep me level-headed. During this time, that's mandatory for me, for my mind. And my parents have always played that role of giving me confidence and making sure I'm good. I've also got a couple of friends back at home, as well.
EVERAGE: I've got a pretty small, core family, but we stick together. I grew up watching all my aunties help out and make sure that everybody was okay. And I've got a lot of friends, that I call little brothers, that I shout at, to make sure they're doing what they're supposed to be doing.
Shooting Stars is available to stream at Peacock.
Source: https://dominioncinemas.net
Category: INTERVIEWS