Jay Roach is a masterful director with a resume that includes everything from biographical dramas like Trumbo and Bombshell to more outlandish comedies such as Austin Powers: International Man of Mystery and Meet the Parents. That range of experience made him the perfect person to tackle High Desert, a new Apple TV+ series starring Patricia Arquette.
Though categorized as a dark comedy, High Desert feels real, with grounded emotions and characters who are as sympathetic as they are wacky. The show follows Peggy Newman (Arquette), a former addict attempting to start fresh after the death of her mother (Bernadette Peters). In order to do that, she decides to become a private detective, getting mixed up in everything from art forgeries to questionable tanning salons to Pioneertown.
I chatted with Roach about some of the show's most memorable shots, films that inspired the show's unique visual language and tone, and why he thinks comedy is better when it's shot like a drama.
COLLIDER: I want to talk first about that opening scene at the barbecue pool party because it's so masterful — it flows so well and really immerses us into that setting and tone right away. Can you talk about mapping and shooting that sequence?
JAY ROACH: You know, that was a big scene for us, and it originally was the cold opening of either episode four or five. I can't remember. I think it was five. But I so fell in love with how it introduces you to their world that we decided to move it up to open the pilot. It also gave us a way to get Matt Dillon into the show early because he was originally starting in episode three or something. But once he got in, I was like, "Oh, we have to put more in with them" because the chemistry between Matt and Patricia as a husband and wife was so delicious. We rehearsed that scene over and over. I was really inspired, obviously, by films like Boogie Nights or Goodfellas, where there are those great scenes where you're just trying to keep up. And that's the character that Patricia plays.
Peggy Newman is just a person who's always busily trying to inspire different people in her life and being the kind of queen bee buzzing around. And I wanted you to feel like, "Where is she going? What's next? What's the next thing?" And so the single take got you into her world. It introduces you to Matt Dillon, it introduces you to Bernadette Peters, who you suddenly go, "Oh my god, Bernard Peters is in this, too?" And Kier O'Donnell and Christine Taylor in this whole sort of Scarface drug dealer fancy house in Palm Springs. But you know, this show — if you've seen the marketing by then — you'll know that, oh no, there are all kinds of trouble and problems, but life is so good, to begin with. Whoops. Then it's not so good.
My favorite thing was the button of that scene, which is Bernadette Peters running down the hall carrying bricks of hash and marijuana and stuff, money flying off, the cops breaking the door behind her — this big glass door — with the glass flying and just freeze-frame on her face. That's the anxiety dream part — hopefully the comedic anxiety dream — that the show becomes.
You mentioned a little bit about the inspirations like Boogie Nights, and the show has such an interesting visual language. I'm curious what your other inspirations were and if there are any that people might be surprised by.
see more : 'One Piece' Director Emma Sullivan on Keeping the Adventure Series Grounded
ROACH: I bet you could predict the Coen brothers. I'm just always in awe of everything they do and their ability to have a wide range of tones in one show. Certainly in Fargo, to have so much danger and even death and violence but so much hope through Frances McDormand's character. Big Lebowski is even more of that, where it's a commitment to a sort of trippy reality in addition to the danger and dysfunction. I like characters that are so dysfunctional and so misguided in so many ways — even delusional — but also are so loving and optimistic and invincible.
One that might surprise you but probably is predictable, too, is Breaking Bad. I grew up in Albuquerque, New Mexico. I grew up in the high desert where Breaking Bad takes place. The commitment to place — again, that's Coen brothers' thing, too — but I thought they did a great job of that in Breaking Bad. It couldn't have been set anywhere else when you think about it, and that's how I hoped it would happen with High Desert.
Yeah, absolutely. It feels like its own character.
ROACH: The desert cactus flower, too. The cactus flower is the motif — the thorns but this beauty in the middle of it. That's Patricia's character.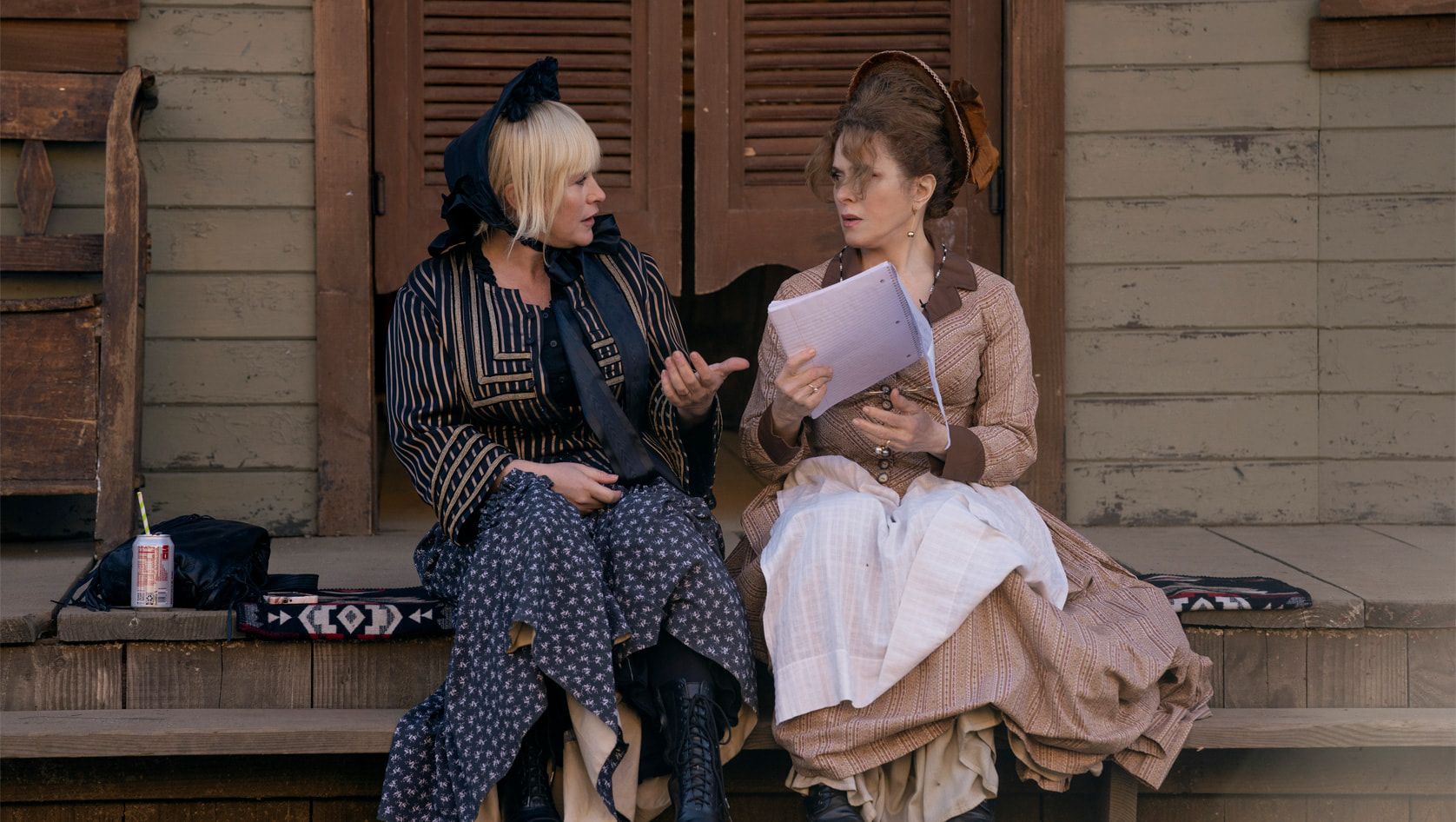 That's so true. I love that. I was reading the production notes, and your director of photography said something really interesting, which is that you and he agree that comedy is better when it looks like a drama. Can you elaborate a little bit on that?
ROACH: Well, you know, there's a certain way you can shoot comedy where you're using sort of wide lenses and staging everything, so it all fits in the frame, and the jokes are buttoned up. But I find that if the audience is caught up in the real essence of the character, you shoot more subjectively. You shoot to pull you into the character. In my case, you're also not always in the perfect privileged position where a lot of comedies put the camera — you're just trying to keep up. And that's how reality feels, particularly in Peggy's world. She cannot be followed. You don't know what choice she's gonna make next. Is she gonna work at a Pioneertown saloon dressed as a can-can girl and fly in on a chandelier and get in a bar fight? Yes, she is. Is she gonna decide that the best use of her time is solving a murder as a private investigator all of a sudden in the desert with Brad Garrett? Yes, she is.
So that's how I talked to Itai Ne'eman, this great DP that I got to work with for the first time, about exactly that. Have it filmed like any drama. And again, I'm inspired by the Coen brothers — how they always work with such great DPs, too — but also have it be that it's a subjective camera. It's a mind's eye view camera — not a kind of proscenium — which again, a lot of times you're tempted to do that in comedy to get it all in there.
There are so many really creative, playful shots. I think my favorite is when you have the guy in the tanning bed that kind of mirrors the painting above.
ROACH: [Laughs] I so appreciate you noticing that. That makes me so happy. The Gatchi brothers make me so happy. I love those characters. I love the actors that played them. That they run a tanning salon that is a front for a prostitution ring. It's so weirdly obvious but also so campy and strange, and yet those two actors just played them completely, 100% realistically. So I feel scared for Patricia and for Guru Bob, Rupert Friend, when they're in the presence of the brothers. But you can do a shot like that where there's a very deliberately staged visual joke as well.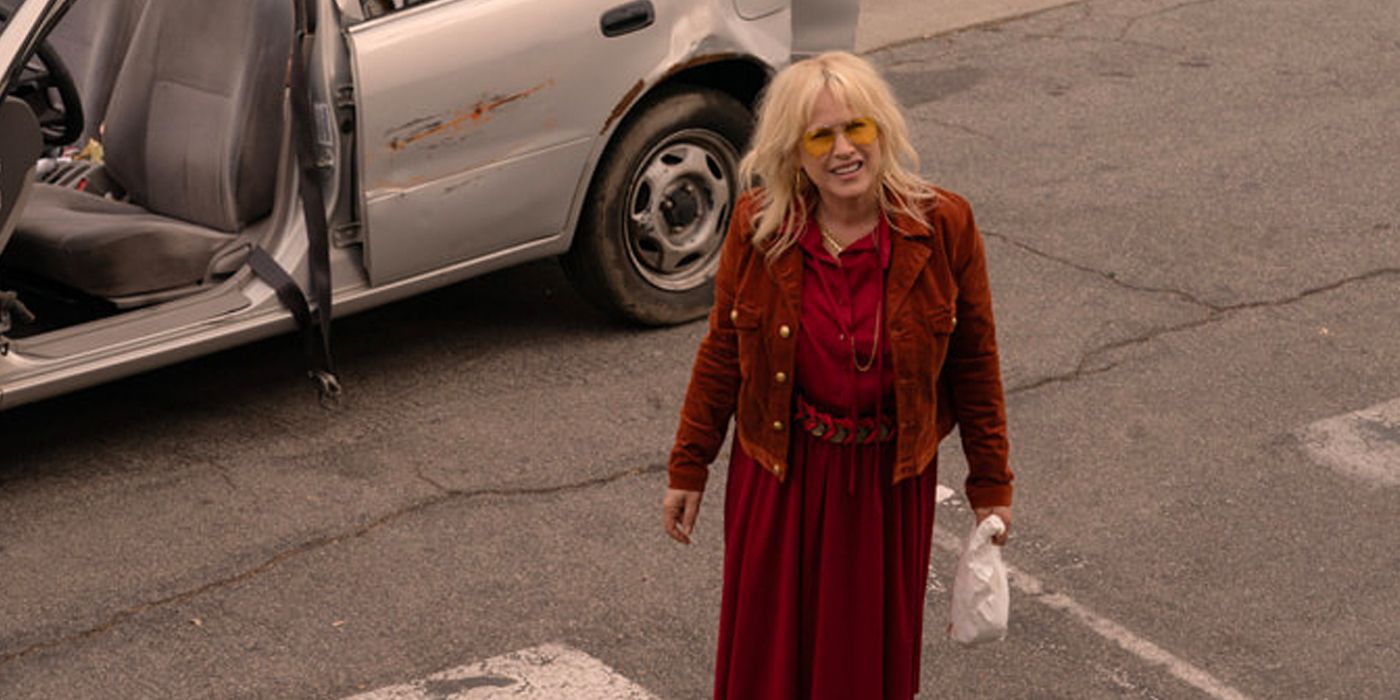 I was wondering if there were any more that you were very proud of. Because that was my personal favorite, but there are so many little moments like that throughout.
ROACH: I love the staging of some of the scenes. I really love, for the comedy thing that's also very grounded, is when Matt Dillon takes the dog — Judy is a stray dog that he's picked up — to see Guru Bob, and Patricia goes with him, and they're gonna surveil him and figure out what his illegal art dealings have to do with a murder. But the dog has a microphone wired into the collar that Matt Dillon puts in, and partway through the scene, the dog runs and jumps in the pool and destroys their ability to surveil.
The way Matt and Rupert — the way Guru Bob and Denny sort of spar — Matt has to watch Guru Bob frisk Patricia and pat her down, and then she decides to pat him down, and they're both just patting each other down. What would have been a sort of almost silent movie, visual comedy beat is actually very grounded. But it's funny because you're watching it from Matt Dillon's point of view going, "What the hell is going on with my wife and this crazy guru?"
I always get so much joy out of watching a great cast pull off a great moment. And, by the way, a great script, too. That was scripted. The mutual pat down was improvised, but the idea of patting him down was in the script. So hats off to our showrunners, who were amazing.
My last question I feel like I have to ask because one of your earlier movies is one of my favorite movies of all time, which is Meet the Parents. I'm curious if there's anything that you learned on that set in that process that you use and remember today.
ROACH: It's back to what I was just saying — there was something about making Meet the Parents that I so needed to relate 100% to the sort of anxiety dream that Ben Stiller went through in trying to win the approval of Robert De Niro. And that if you have a character who wants something so much — in that case, the approval of his future father-in-law to marry his daughter — the joy of creating the exact perfect obstacle and nemesis in that, if you want it that much, you might get sneaky and might bullshit your way through certain things. And the perfect person is a human lie detector opposite you, you know.
And so, in this case, the fact that Patricia wants to be a private investigator, the perfect foil for her is Brad Garrett, who's like Rockford in Rockford Files and thinks of himself like Rockford and has no patience for this sort of wannabe Angie Dickinson version of a private investigator. His inability to get her and her total commitment to having him get her — that's always good comedy. Because in both realities, both characters are kind of delusional about who they are and the gap between who they are and what the reality is. I should say the gap between what they think they're doing and what they're actually doing. That gap is always funny — that kind of delusional reality thing — particularly in a story like this. It's so trippy. The world according to Peggy couldn't be more delusional and enjoyable.
High Desert is available to stream on Apple TV+.
Source: https://dominioncinemas.net
Category: INTERVIEWS