Editor's Note: The below contains spoilers for the Season 5 finale of What We Do in the Shadows.What a season it has been for our favorite Staten Island vampires! Season 5 of FX's wonderfully absurd What We Do in the Shadows is not only as hilarious and sharp as ever (a true feat for any long-running show), but deals with its biggest storyline yet. Sure, Baby Colin Robin Robinson (Mark Proksch) in Season 4 was unpredictable, but did we ever really expect human familiar Guillermo (Harvey Guillén) to become a vampire? Like, for real? Guillermo's recurring hope became a reality of sorts early in the season, and its aftermath has had bizarre ripple effects in every episode. (Two words: Dog Guillermo.)
But the human familiar wasn't the only character to get into such shenanigans. Season 5 of What We Do in the Shadows has Nadja (Natasia Demetriou) getting in a fight at urgent care, helping a donut-addicted woman named Helen Johnson (Keri Kenney), and teaching college classes to her fellow Antipaxos community. Laszlo (Matt Berry) conducts largely unsuccessful experiments for Guillermo and wears a bucket hat, Colin Robinson runs for Staten Island Comptroller and gets run over by John Slattery, and Nandor (Kayvan Novak) goes to space and makes a friend at the gym. That friendship, however, didn't quite last…
None of these storylines can come to life without the immense talents of Yana Gorskaya, director, co-producer, and Emmy-nominated editor behind some of Season 5's best moments. Gorskaya is a long-time collaborator with Taika Waititi, having also worked on Jojo Rabbit, Thor: Ragnarok, Reservation Dogs, and the What We Do in the Shadows movie on which the show is based. During this 1-on-1 interview with Collider, Gorskaya spoke about what went into Nadja's fight scene in "Urgent Care," how they filmed the epic (and purposely boring) Energy Vampire Council Meeting in "Campaign," and whether Guillermo made the right decision in the Season 5 finale.
COLLIDER: I'm a massive fan of the show. I've recommended it to everybody. Thank you for taking the time to talk.
YANA GORSKAYA: That's lovely to hear! Thank you.
I'm going to start with a bombshell: Do you think Guillermo made the right decision in the finale?
GORSKAYA: I think he did. I think the potential loss of his family was a much bigger problem than he had imagined it to be, and he slowly came to terms with it over the course of the season, which was really beautiful. The writers did such an incredible job threading that growth and the thing you think you want. I think that Guillermo as a character, were he ever to choose the vampire life, would have to square certain parts of himself that he hadn't really squared, and I think that Nandor actually recognizes that in a beautiful way. It almost makes you wonder if that isn't a big part of the reason why he hasn't done it all these years.
When you get a script, and you're going to direct that episode, are there certain things you do right away when you're reading [it]? Do you have a routine?
GORSKAYA: Wow. I mean, mostly I'm just laughing and enjoying and being surprised like a fan my first time through, and then I'll read it through in a more technical way. "What do I need to research, start to wrap my head around? If it's a meta episode that deals with another format, "Who do I know in local news?" I start to create the challenges. And these final two episodes were directed by Tig Fong and Kyle Newacheck, who are very much a part of our team and I think have a similar diagnostic approach where every episode has its challenges, and the thing that's going to make it extra special, and so honing in on what that is and making sure that we have the time and the bandwidth to really stick the landings.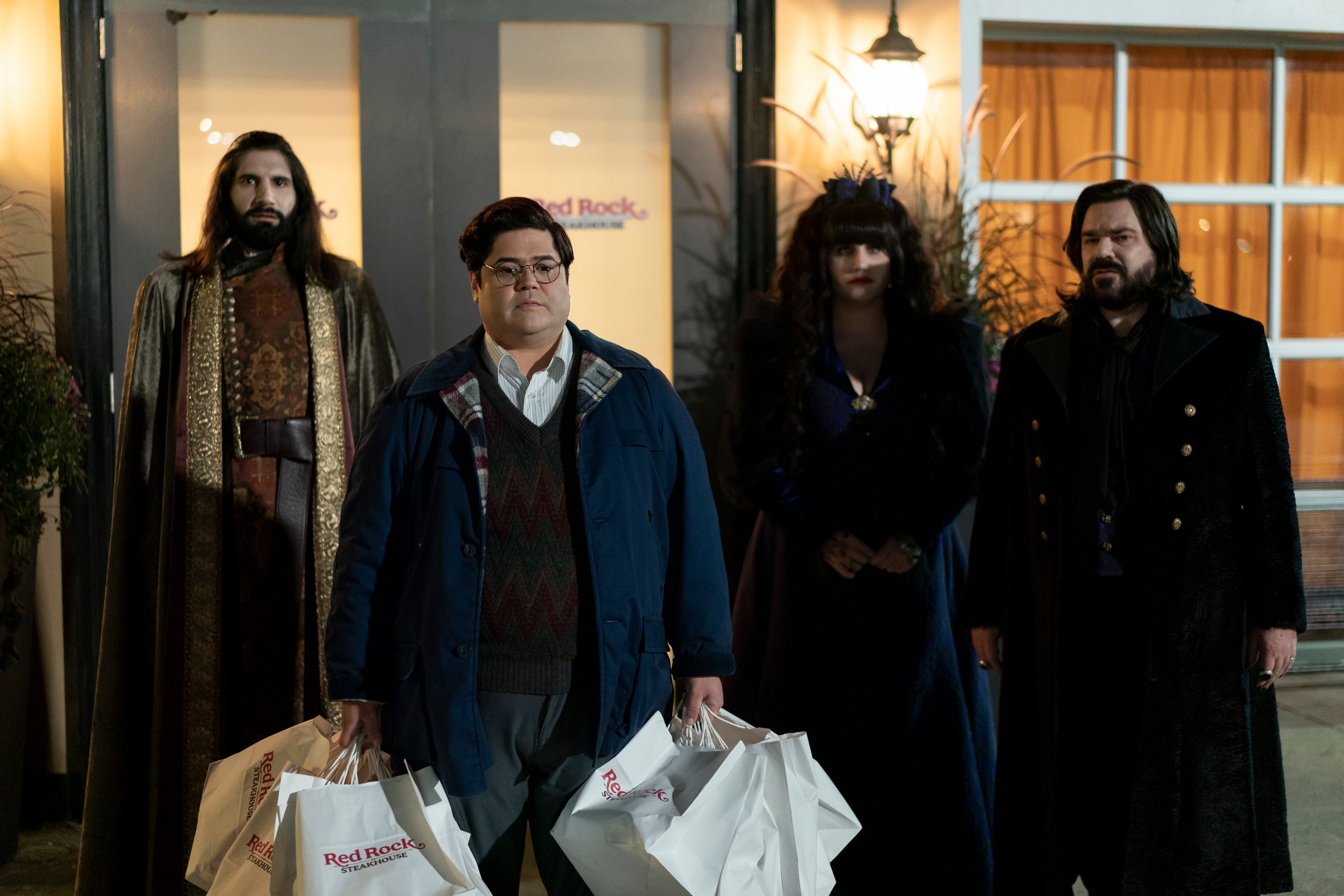 I love when they venture outside of the Staten Island mansion. I just know it's going to be chaos. You directed a lot of episodes that went outside of their comfort zone. "The Mall" in particular, I thought was such a great way to kick off the season. In that episode we saw the flashback of what happened with Guillermo [which] was… a mess, to say the least. How do you go about approaching directing that?
GORSKAYA: We have these concept meetings where we talk about "How much blood?" and I'm like "A lot!" It has to be comedically big, and really, it is the gory spectacular thing of that episode. So, we did a bunch of tests just because we knew we would have limited shots at it because it was going to be so messy. We were like, "more blood," [laughs] every time! And it needs to last for a really long time so that we can run it through a few times once it's going. So we had this massive pump of fake blood and all our camera guys got into hazmat suits so that they could protect themselves in some of their equipment. And Harvey and Chris Sandiford, who play Guillermo and Derek, did dry runs at it. Every time we did a take of that scene, we did it without the blood, so that they could really build up and work out what they were going to do and how they were going to interact with each other. Then we just turned on that hose and ran it a few times with just blood squirting everywhere, and they were so good, and they were so on it and so physical and funny, and it was everything we could imagine. We were prepared to do a reset, and completely clean up that room and Harvey and Chris would have taken showers, dried their hair, and had new costumes at the ready, but they nailed it. So we saved ourselves a two-hour reset, and just moved on and, finished early that day. It was fantastic. It's one of those moments where everything clicks and everyone just goes home with a giant grin on their face and with a little bit of sticky red stuff.
Another scene in the season that really went for it and was really long, and that was obviously done intentionally, was the Energy Vampire Council. I could watch those comedians just be deadpan all day.
GORSKAYA: Oh my God, and Emily, the stuff we left on the floor. I could have done a two-hour episode of them being hilariously dry and boring. They were all improv machines and so quick and really worked off each other beautifully. So, yeah, that was, that was just wonderful. That was just wonderfulness. [Laughs]
And Martha Kelly wasn't there [in person]?
GORSKAYA: No, we shot that scene in three chunks. So we had Vanessa Bayer and Mark, and so we shot their section, and I and some crew members read all the other parts and interacted with them and threw them some random stuff just in case because we knew there'd be improv, and we wanted Vanessa interacting and just let her riff. And then we brought in the bulk of the energy vampires. Hannibal Burress and Greg Turkington and Aparna Nancherla and Jo Firestone came in, and we had the full set and Mark, and a body double for Vanessa that we shot over. And then Martha, we shot in LA with a little piece of set, just the first back end and some green stuff, and then using our documentary style whips we made it feel like all of that was seamless and shot together and that is the magic of editing. All hail Dane McMaster, who edited that episode.
[Editing] is so important and I feel like a lot of people just don't even think of it unfortunately. Nadja, her season arc is so good. We got the doll, obviously, that was a hit, but the "Urgent Care" episode was so fun and it was just clever. [Natasia] is such a talent. What went into prepping for that fight? Did she bring any ideas to the table that you weren't expecting?
GORSKAYA: Definitely. Natasia is a really gifted physical performer, and I think this is the first season we really got to take advantage of that. It started with the doll, the Freaky Friday episode where she worked with the movement coach multiple times to figure out how a doll adjusting to a human [Laughs] like a ghost trapped in a doll body would adjust to being in a human body again. And just so many fun and floppy body bendy… that woman is crazy flexible. She's going down the wall and lifting, putting her leg up behind her head, so that was a gift. In the fight scene, we actually had a stunt double for her prepared to do what we thought was pretty intense choreography, it needed speed, it needed strength. But Natasia nailed it and then yes, did her own things and had her own ideas, and it was exhilarating!
Tig Fong, who's our stunt coordinator, and I, whenever we have a fight we think about how to make it different, how to make it special. So, that environment, like figuring out how to use the hospital, the elements, the gurney, the things that would fly in the telekinesis. How is it different from any other Shadows fight? And how does Nadja fight differently? She has that power with her voice. She has a different way of moving and her strengths are different and she definitely knows how to use them. It was so fun.
There's a recurring joke when the doctor would explain the whole thing [about the familiar] and then say, "so we'll just put him down."
GORSKAYA: [Laughs] That's Sam Johnson and Chris Marcil in that episode, and that's all them. They are so funny. Those guys are so fun. They've written everything that you've ever loved. They started on Beavis and Butthead and on Frasier. They're comedy legends and wonderful writers.
When [Nadja] dealt with Helen Johnson, it was the most bizarre thing, but it was my favorite part. Where did that idea come from?
GORSKAYA: Honestly, I don't know! The writers' brains. That's Rajat Suresh and Jeremy Levick, and they're new to the show this season, and they're wonderful like that. They just get it. But I have to think the writers do this incredible thing, and they'll just brainstorm all of these scenarios, and they have boards of index cards of different adventures, and it's sort of an endless well because vampires are out of touch and hundreds of years old. There's just a million ways they can get life wrong, and they're incredibly gifted at finding new ones.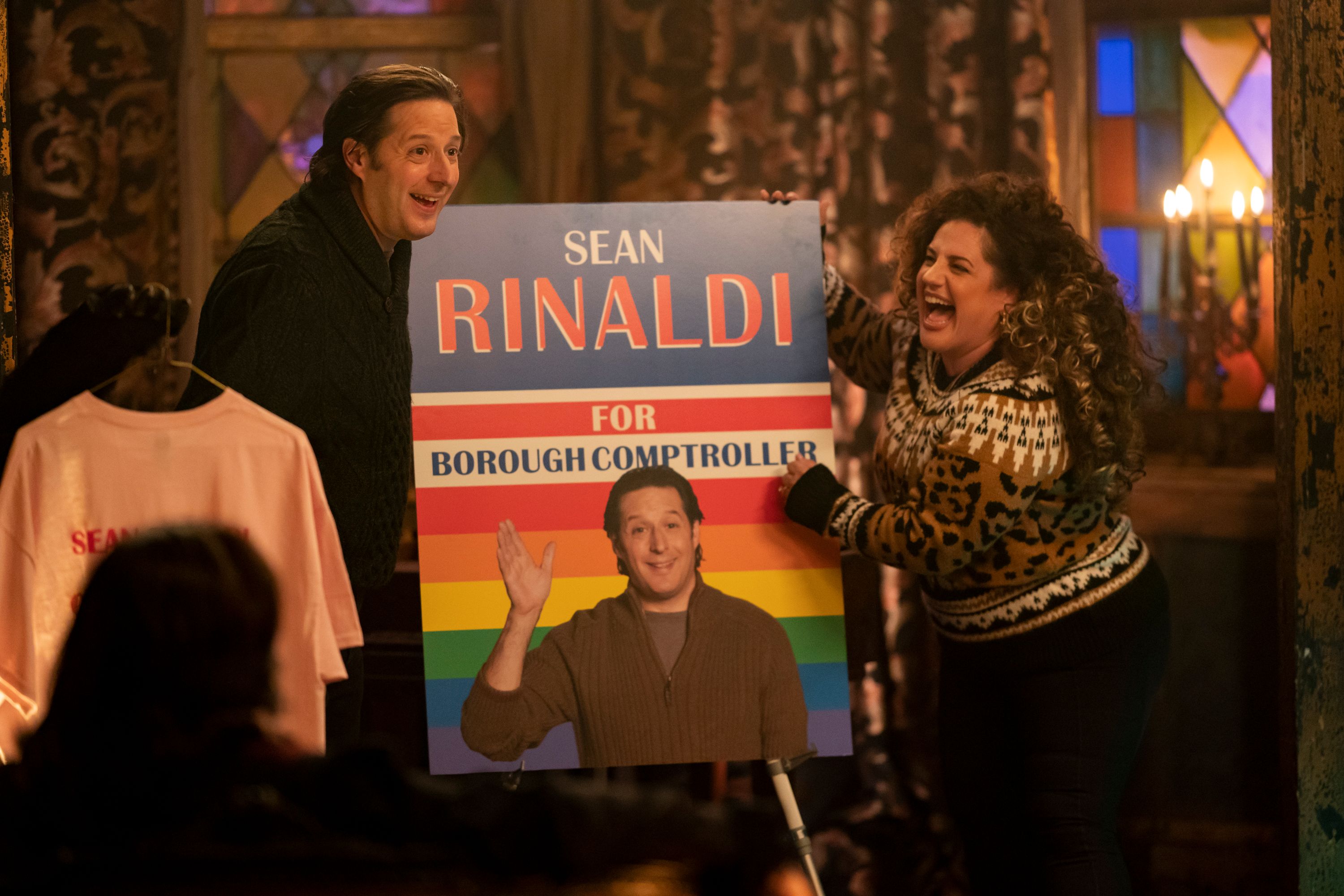 In "Pride Parade," when Sean (Anthony Atamanuik) was pitching the idea to them… I always love those sitting room scenes because they're so tricky to nail, but they nail it every time. When you direct a scene like that, a more intimate scene, do you approach it differently than when you direct the blood scene, or is it all the same process for you?
GORSKAYA: When you have all of them in a room, it is about just making sure that everyone is engaged and tracking what they're tracking, but they're so good at that. I love the group scenes. I think they're the heart of the show and usually the funniest things in any single episode and Anthony [who plays Sean] and Charmaine [who's played by Marissa Jarit Winokur] are just balls of light, everybody loves them. I don't know that I approach it differently. The scripts are so good, and they are our safety net of making sense of the story and also being funny and no matter what, if we only ever shot the scripts, the show would be great. But then off of that, we have incredible improvisers.
Matt Berry, I bet he improvises a lot.
GORSKAYA: They're all incredible at it. Letting them go and play and pitching them things, and whatever comes out of their crazy brains, is the next layer, and those group scenes are a lot of that. But that approach is true for Chris and Harvey with the blood spray too. [Laughs]
Is there an improvised moment that happened when you were directing when you were like, "Oh, we have to keep this in"?
GORSKAYA: There are so many good ones. It's the pain of making this show, that the scripts are wonderful. The improv is wonderful. Everything is long and over-long for a TV half-hour comedy. And so we have to make all of these really painful, "pick your cutest child" decisions in editorial, which is definitely better than, "Ugh, let's just make it work." [Laughs] It's hard, we leave a lot on the floor, but I think to the benefit of the show because too many sweet toppers topple the cake. You have to pick the best jokes, and we spend a lot of time in editorial trying and trying everything to figure that out. It's a good problem.
What's your favorite moment from the season? There are so many different crazy things that happened. Sweet things, Nandor went to space, Laszlo wore a bucket hat.
GORSKAYA: It's so hard to say! I had so many highlights, but I think one of them was maybe the pride parade, because everyone came out, all the writers came out, and the entire cast was there and it was just this super weird thing where, Natasia has Mark's head on the back of her head and Mark has Natasia, and Kayvan had a belly shirt, and everybody's playing "It's Raining Men." We were all just smiling. There was so much joy in shooting that.
Was there an unexpected obstacle that came up? You thought that something was going to be a breeze to film and then you're like, "I did not think of this!" or "This is a nightmare suddenly, how are we going to fix it?"
GORSKAYA: Ooh, God. I mean, every episode has something that doesn't quite work in the way that you hoped [Laughs] with all the preparation that we do, and it's all very well prepped. But something almost always doesn't quite work. And then, thankfully, we have an incredible VFX team that saves us, and an enormous amount of trust with each other and with the writers and the cast. So if something just isn't working, everybody kind of goes, "Hey, it's not working. What can we do?" And we fix it. That is the magic of Shadows. A bunch of people who really, really fucking care about the work and the show and doing something that we're proud of and care about. Even when there's a problem, everybody gives a shit, you know?
Seasons 1 through 5 of FX's What We Do in the Shadows are available to stream on Hulu, with Season 6 slated for release in 2024.
Source: https://dominioncinemas.net
Category: INTERVIEWS