The Paramount+ musical series Grease: Rise of the Pink Ladies is set in 1954, four years before the original Grease, at a time when four outcasts decide to band together and support each other, and even have super cool pink jackets to prove it. Jane (Marisa Davila), Olivia (Cheyenne Isabel Wells), Cynthia (Ari Notartomaso) and Nancy (Tricia Fukuhara) aim to change Rydell High, rule the school, and have a ton of fun along the way, all on their own terms.
During this interview with Collider, co-stars Notartomaso and Fukuhara talked about why they wanted to be a part of the Grease world, what they like most about their characters, their own meet cute as actors, pulling off the performance numbers, their favorite songs to do, and what it's like to get to wear the Pink Ladies jacket.
Collider: When the opportunity to be a part of something like this came your way, what was your first reaction? Were you immediately intrigued? Did you wonder why anyone would try to recreate this world?
TRICIA FUKUHARA: I was really excited about it. I grew up with Grease. I remember being excited and showing a friend, who I was working with, and was like, "Look what I got an audition for." And they were like, "Why are we doing this?" I was like, "Are you kidding? Why aren't we doing this? You haven't read the sides, and I can't show them to you, but it's good. There's a reason, and it's very important that we do this right now." So, yeah, absolutely, I was excited.
ARI NOTARTOMASO: One of the things that I love so much about our show and what made me the most excited about it is the fact that we look at characters that really didn't get a spot in the original Grease. We get to see different characters of marginalized identities in a way that we really haven't been able to see in this franchise before. It's the joy of the original Grease, which is so spectacular and why it's so well-loved, and hopefully we get to carry that through while also being able to tell these new stories for these new characters.
This could have been the biggest disaster, if it weren't the right people involved, but the right people are involved.
FUKUHARA: Yeah. (Show creator) Annabel [Oakes], herself, is a huge fan of Grease, so she was not about to make it bad. We don't want that. Nobody wants that. We don't want to do with the service to the original. We're not trying to recreate the wheel. We're not trying to reboot anything. We're just trying to make something brand new and give other people a chance to have their stories heard, which is so exciting.
Because this is a different time period, on the surface, it would seem like who you are in real life and who your characters are would be worlds apart. How would you say your most like your character, and what do you most like about them? Why would you be friends with your character?
NOTARTOMASO: I would have looked up to Cynthia, as a kid. When I grew up, I very much presented like a young woman. I tried really hard to conform to the expectations of young people like me. Cynthia can't. She doesn't really have the ability to conform, in that way. She can't really conform to following the gender rules and the expectations of her gender, as a young person, and I very much did. I gave into that and I didn't know how to break out of it. Cynthia, obviously as much as she can in the 1950s, without much representation or community in that area, does that. She still has a way to explore her sexuality and her gender, even when the world is doing everything it possibly can, hiding her from the reality that's a completely valid and beautiful thing to be.
FUKUHARA: I feel like Nancy and I both, from a young age, wanted so much more than we felt was attainable or could be offered to us, as small town girls trying to leave and go to the city of New York. That was literally what I wanted to do. She wants to be a fashion designer. I wanted to be in musicals. I definitely relate to that ambition, and the fact that she doesn't prioritize boys. That's been a theme, my whole life. At the same time, she also doesn't ask for help, and that's very much like me. I have a very difficult time admitting when I need help, or asking people to help me. She's very self-sufficient and independent. We are very similar in that way, but we're very different too. She really embraced being an outcast, from like the beginning. I feel like she was okay with that. She wanted friends, of course, and she wanted to feel accepted, but she embraced the things that made her weird. She saw that as a strength. She wants to stand out. That's her whole thing. She is unapologetically herself, and I'm trying to be more like that. She has a lot more confidence than I do. Every day, I'm trying to learn from Nancy, and I'm also hoping that Nancy learns from me, in certain ways. Maybe she can be a little bit more apathetic.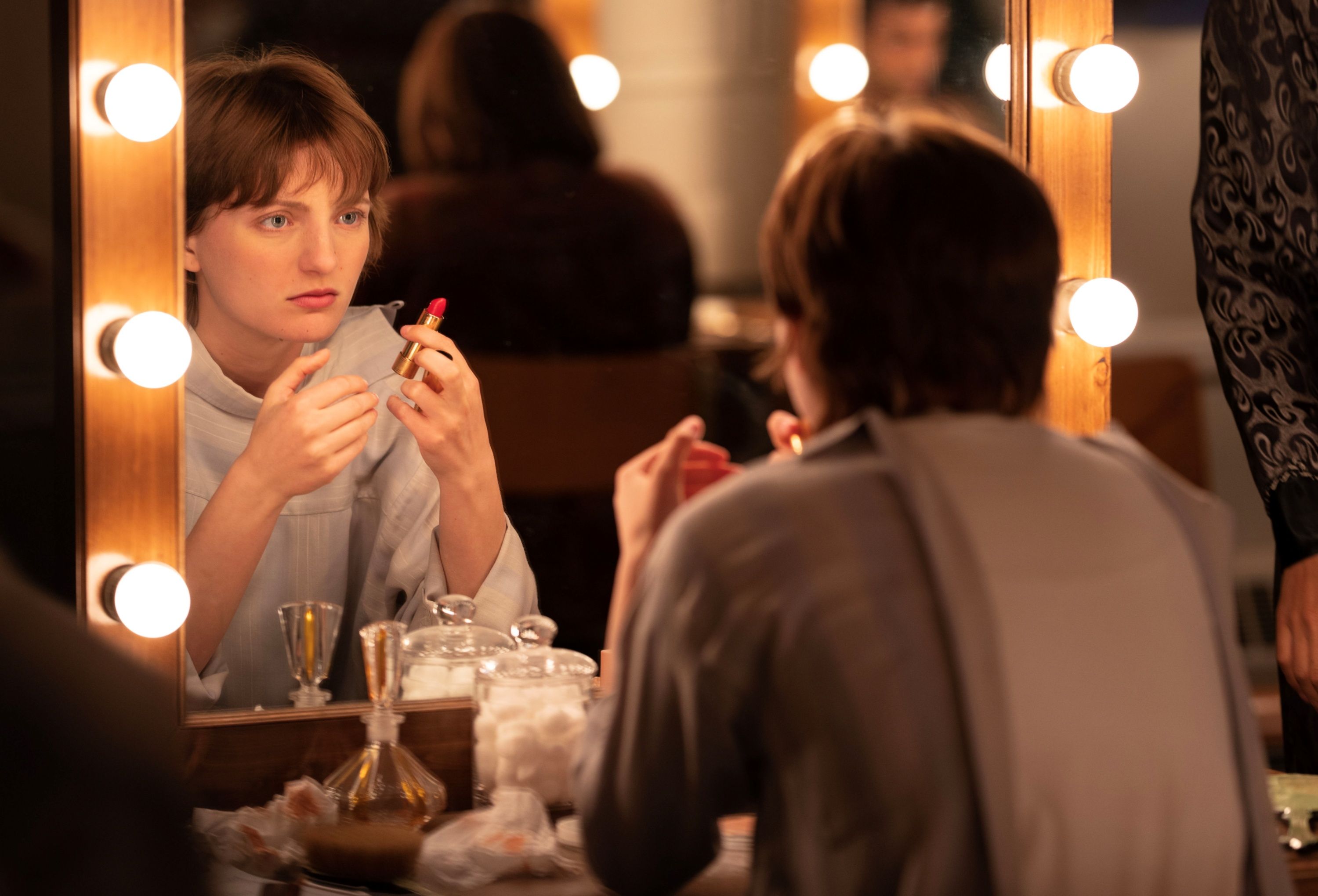 When did you guys all meet each other? Did you have any time prior to filming?
FUKUHARA: We met outside of the hotel. We were all staying in a hotel together, but separately. We hadn't met in person yet. We met on Zoom, but we still didn't really know who it was gonna be because we were in different groups. So, there was a fire alarm, and it was snowing, and I was on a high floor. We all went downstairs and outside. I'm not sure who said it first, but we were like, "Hey, do you happen to be part of Grease?" And so, we all found each other. We met outside the hotel, waiting for the fire department to fix whatever happened.
NOTARTOMASO: Everything was fine. It was a false alarm. There's a picture that I still have on my phone, where we all put our feet up, with as many cast members we could find. It's a very special memory. What a meet cute for all of us.
I knew this show was a musical, but I didn't expect just how full-on the performance numbers would be. What was all of that like to pull off? Do you feel like you knew what to expect, going into it? Was it more challenging than you expected?
NOTARTOMASO: It's spectacular to be a part of this show. Even just looking at the episodes now and watching back what we made, I still am in disbelief that we got to make this absolutely mind-bogglingly cool show. Each one of the musical numbers is so different. There are a million people who all collaborated to make these numbers what they are. To see them fully flushed out is a miracle. It's like magic, watching all these things come together. We all worked really hard. We were all challenged, but it looks seamless. You'd never know that it was as difficult as it was, but you can definitely tell how much fun we're having. That's not a lie, for sure.
FUKUHARA: I felt so inspired, every time we got to shoot a musical number. That was really the best time on set, those musical days, because you'd be with everybody – the dancers, the ensemble, the background, and the whole crew. It felt like a party. As a person who felt like dance was always my passion, I was so inspired by watching these dancers bring it, take after take after take. It could be really, really hot, or really, really cold, or really rainy, or really dusty, or 4am, and everyone was giving it 110%, whether they were dancing, or whether they were holding the camera and running around, hoping that they won't slip and having the person behind them spotting, so that they don't. It truly is magic. That's why we do it.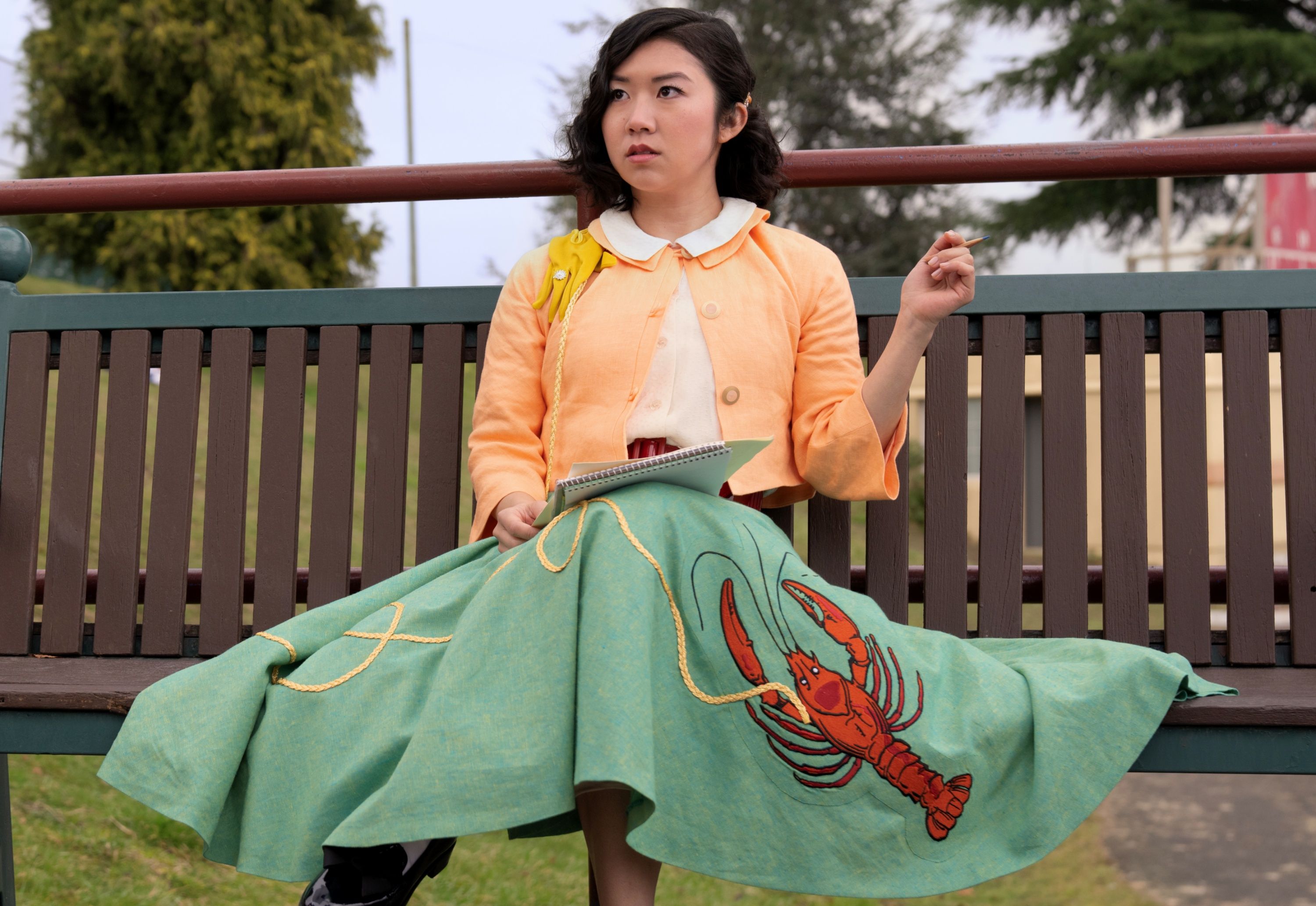 Do you guys have a favorite or most memorable performance in this series?
FUKUHARA: I really don't know how I pulled off "World Without Boys." We did it because everyone is incredible and the team is just insane. Everyone is super talented and hyper focused and technical, so that's how we did it, but I personally didn't think we could pull it off. We had people literally doing aerials and flips in front of me, as I tried to sting backwards at double time. I was like, "Good luck to me." But we really did have the support of everyone and the freedom to express ourselves. There was a moment where they actually just had me improvise. I was like, "Are you sure you want me to do that? Well, if you believe in me, I guess I can give you something." It really was collaboration. That's what made it so special.
see more : Peter Dinklage on 'Transformers: Rise of the Beasts,' the Merits of Voice Acting & Playing a Bot With An "Evil Streak"
NOTARTOMASO: For me, in college, I was never cast as a main character in any main stage production, so I was really daunted by leading a musical number. I had no idea what to expect. And then, we started rehearsing for "New Cool," and all the actors, the choreographer (Jamal Sims), and the whole team were all so supportive. Everyone was really encouraging. I was obviously very terrified to be a part of something that could be so iconic. We're holding up the name Grease, which is such an iconic, wonderful, beloved film. And the song "New Cool" is a reference to "Grease Lightning," which is such a wonderful, amazing, fun dance. To be able to do that with my cast and Jamal's choreography, but make it new and our own, was really daunting, but really fulfilling.
FUKUHARA: Things were changing constantly, too. Suddenly, you'd be dancing backwards when you weren't. Things were constantly moving. We were making things better, all the time. Music was changing and choreography was changing, and you wouldn't even know.
Tricia, you have the horse mascot costume and you have your Halloween party costume. What was it like to wear stuff like that?
FUKUHARA: All I could think was, "Maybe Nancy and I are so much more like than I originally thought." I actually have done a lot of mascot work in my life, particularly with a mouse company with castles and things. And I love Halloween. She actually says, "Halloween is my Christmas," and I'm pretty sure that I say that, every year. Halloween is the time when I start getting doe-eyed and I'm just in love with everything. Spooky season is the best time of year. I was so excited.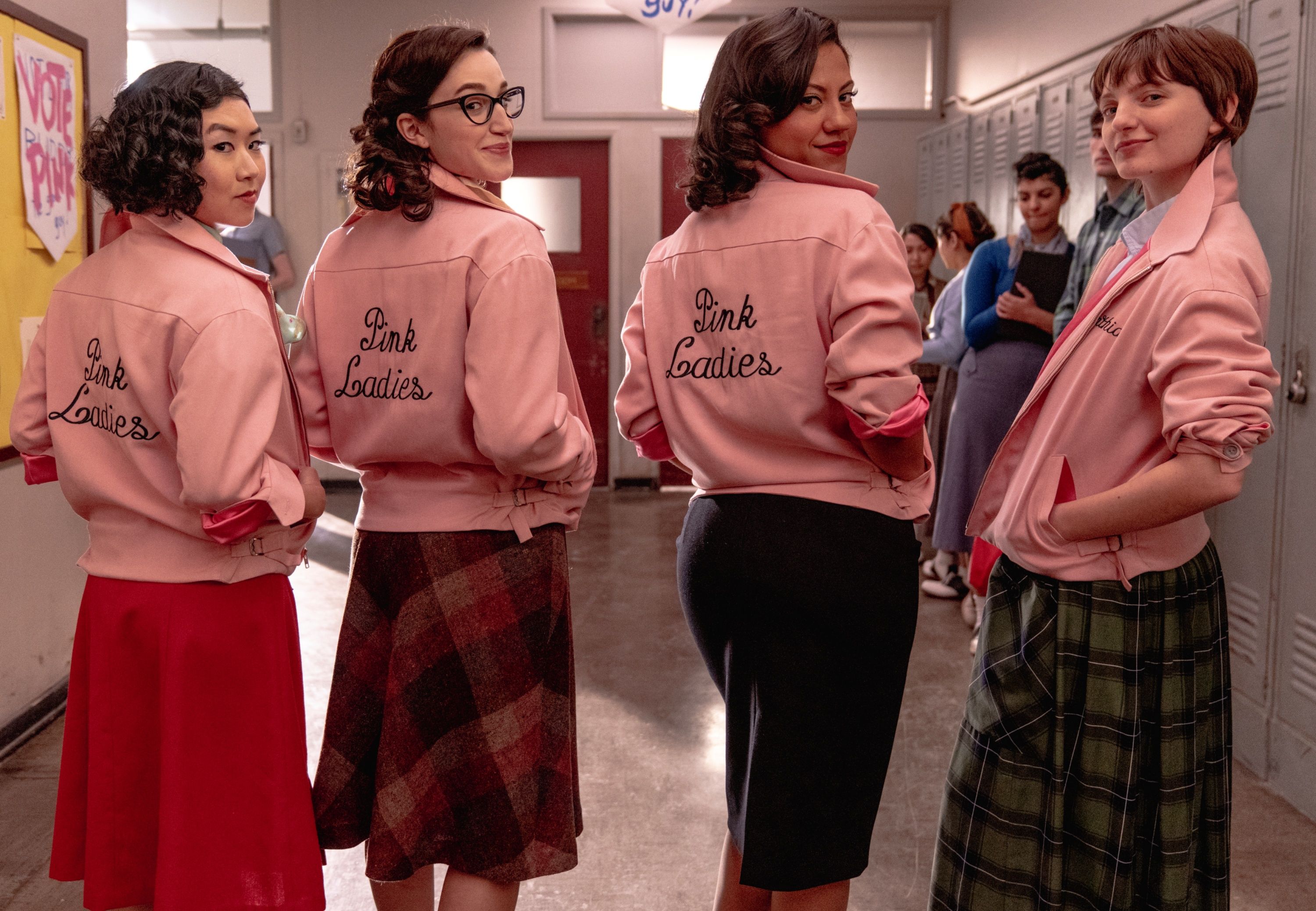 What was it like to put on the pink jackets, for the first time, and to get to wear them?
FUKUHARA: It was really special. It felt like there was an incredible bond between us already, and having that being representative of that unity, it was really special for the four of us, as humans, as our characters, as actors, and also filling the shoes. People ask, "Are you gonna fill the shoes of these other Pink Ladies who came before you?" Probably not. I have a size five foot, so absolutely not. But the first time I put on the jacket was actually on set. Because of all the cool costumes that Nancy has, we never got around to that particular fitting because there were so many other things that needed to be fit first. So, getting to wear that and being adjusted on set, so that it did fit me, was exciting, exhilarating, and so emotional. I was just trying so hard to push down those emotions, so that I could do the scene and not sob my face off. That's basically how I've been living my life, the past year.
Ari, is it especially meaningful for Cynthia, who has been wanting a jacket, but just couldn't get one before?
NOTARTOMASO: She's like, "Just give me a jacket, any jacket, at this point." When I first put on the Pink Ladies jacket, I cried. It wasn't even my jacket. It was Cheyenne [Isabel Wells]' jacket. I was in a fitting and they just needed to see me with pink on, and I'm like weeping because it's such an iconic thing. I don't think any of us ever thought that people like us could play these characters and be a part of this gang, so it was so special, for the first time, to really realize that we are a part of this franchise. We get to tell these stories and we get to be Pink Ladies. It's surreal. It's amazing, and it always will be. I don't think I'm ever gonna totally get used to it.
FUKUHARA: It's wild, seeing the Pink Ladies jacket hanging up next to your chair in the little garment bag. You're like, "How am I here right now? How do I get to wear that? Why me?" I just feel so grateful and lucky for everything. This incredible opportunity is just a dream come true. It's a dream that we never thought could come true. It's a dream that we would never even would have dreamt of having.
Grease: Rise of the Pink Ladies is available to stream at Paramount+.
Source: https://dominioncinemas.net
Category: INTERVIEWS