Father son relationships are already difficult, especially during the teenage years, but what happens when your dad is a mythological Monkey King? One of the storylines of American Born Chinese follows Wei-Chen (Jimmy Liu), the son of Sun WuKong (Daniel Wu), and his rebellion from his father. When Wei-Chen runs from his father and arrives on earth, he meets Jin Wang (Ben Wang), a Chinese-American teen who becomes his friend after they're introduced at school.
We spoke with Daniel Wu and Jimmy Liu about what it was like to play father and son, but also playing mythological characters. Wu's Sun Wukong is a legendary figure in Chinese literature, notable for his appearance in Journey to the West. The series is not only one of the first times this character is introduced to a Western audience, but also serves as a vehicle for Liu's first foray into American television. We discussed what it was like prepping for the multiple fight scenes in the series and the hours spent putting on the monkey prosthetics necessary to play the characters.
Read the full interview transcript below or check out the full interview video.
COLLIDER: I'm just going to jump right in; what has been like not just playing father and son, but also playing these two mythological characters in this series?
DANIEL WU: I thought it was awesome playing father and son. I think it was cool to see a new take on the Monkey King because I think most people know Monkey King from the Journey to the West story and his kind of journey from being a rambunctious, rebellious young monkey that's stubborn as hell, and then goes on this journey and becomes enlightened in the end. So what we're seeing now is the after-effects of that journey. It's much later now, it's like 4000 years later, he's a little bit older, he's a father now, and he's got this son who's acting a lot like he did when he was little, right? And so, he has had this internal struggle where it's like, "Do you control this kid and allow him to grow on his own, or do you try to protect him and keep him from making these mistakes?"
It was really cool to be working with Jimmy on this. You know, Jimmy's first time working on an American project reminded me of the first time I worked in Asia when my career first started and Chinese was not my first language, it was my second language there. And so, you know, struggling with the language… But Jimmy, this kid is smart, he's a fast learner. He learned the American ways really quickly, and I think by the second or third week he just fit right in.
Yeah, Jimmy, just speaking about this being your first American project, how has the experience been? Was it was the transition smooth?
JIMMY LIU: Well, I was super nervous when I first got here, and I couldn't even order in a restaurant, but I kind of got used to it after two or three weeks because I've been talking to everyone on set. They make me feel safe and like I can talk whenever I want, and don't be afraid to make mistakes, just talk and we'll learn.
WU: Yeah, he's incredible in the show because there's a lot of small, intricate comedic moments, and comedy is very hard to do in a second language, but he hits those beats really well. My favorite part is when he's talking about being a confident dude, that stuff, he just hits it, nails it on the head. It's amazing.
Yeah, I think the comedy hit really well in this. So Daniel just to speak with you about playing Sun Wukong, I mean, for non-Chinese people, this is like a huge mythological figure. But as an Asian American yourself, was there a point in the story where you felt like you could relate to more of the human characters, which I would say like Jin and his parents, was there more of a point of connection for you there?
WU: Oh yeah, absolutely because I think the relationship between Sun Wukong and Wei-Chen is very similar to Chin Han and Ben Wang's characters, right? They're both father/son, they're both struggling to communicate with their son and teach them the values that they believe in without being didactic about it, right? But at the same time, they're both fathers trying to figure out how to be dads, right? And so those relationships mirror each other and they're really so similar, but then on one side, they're mythological gods, and one side they're a Chinese immigrant family.
I think that's the beauty of the adaptation of this story because, in the graphic novel, it's like very three distinct storylines, right? You have what's going on with Jin's character, then you have Monkey King's character, and then you have [Chin-Kee] the kind of problematic '90s character, and they're not integrated in the book. And so, what Kelvin Yu did in this adaptation is really put those storylines in, bring them together in one overall tone, which is really, really hard to do, to make an intimate family moment, but then a Chinese mythological God situation, feel like it's the same thing. The team did an amazing job integrating that and making it work.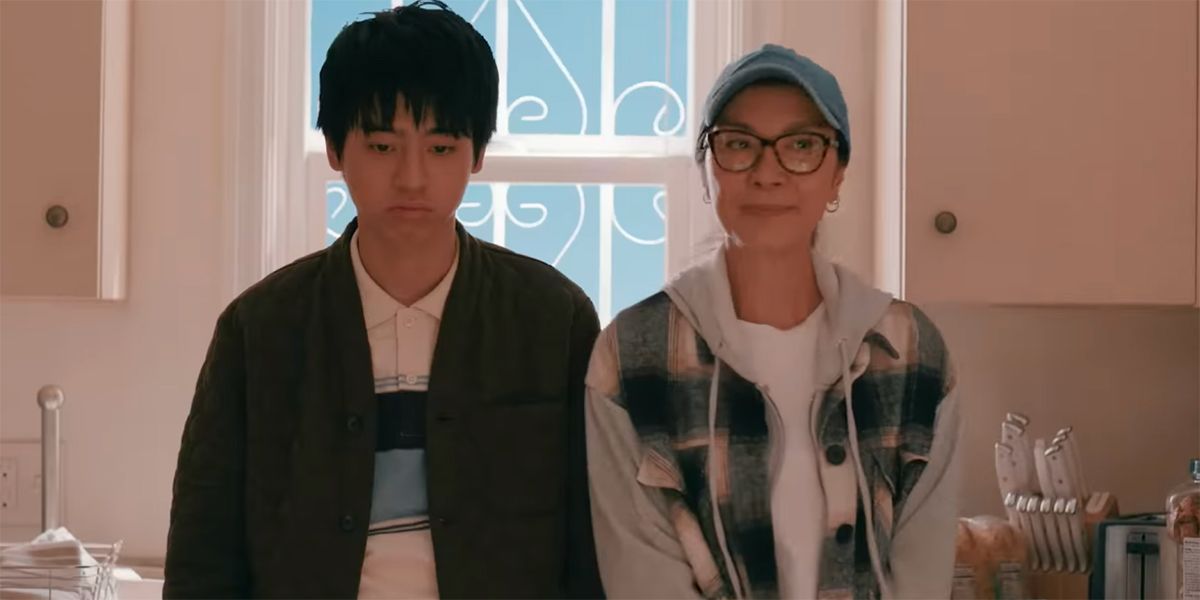 So I just want to talk a little bit about those fight scenes that we see in the show because there's one every episode basically, and I just want to talk about what you guys did to prep for it. And Jimmy, I would like to hear if you got any tips from Daniel, I know he's got some skills.
LIU: Well, I have a black belt in taekwondo.
Oh, okay!
LIU: And I learned taekwondo for, like, six years. So I kind of learned pretty fast on martial arts thing.
WU: Yeah, I think Jimmy is pretty physically talented because even though you might have a black belt in martial arts, on-screen fighting is very different. It doesn't take on a traditional form, and so you got to kind of do what's best for the screen movement, and Jimmy's a good mover. He's a good athlete, not just a good martial artist, and that's really integral to doing good on-screen fighting.
But you know, we had Peng Zhang who did the fight choreography for [Shang-Chi and the Legend of the Ten Rings]. And so we have that really high level, you know, Hong Kong-style, Wuxia-style element brought into this television show, and it was important that we spent a lot of time and effort on it and not just do typical television where you're like, "Okay, we'll just do a fight scene in one day, or half a day." We spent a lot of time. Like just that locker room fight scene, we spent a couple of days doing that fight scene. And so you see the results of that, and I think what's great about this show is you have everything from this crazy wirework action to really cool small intimate family moments between Jin and his mom and dad. They're all happening at one time, and I think it's a kind of amazing meld of all these genres together.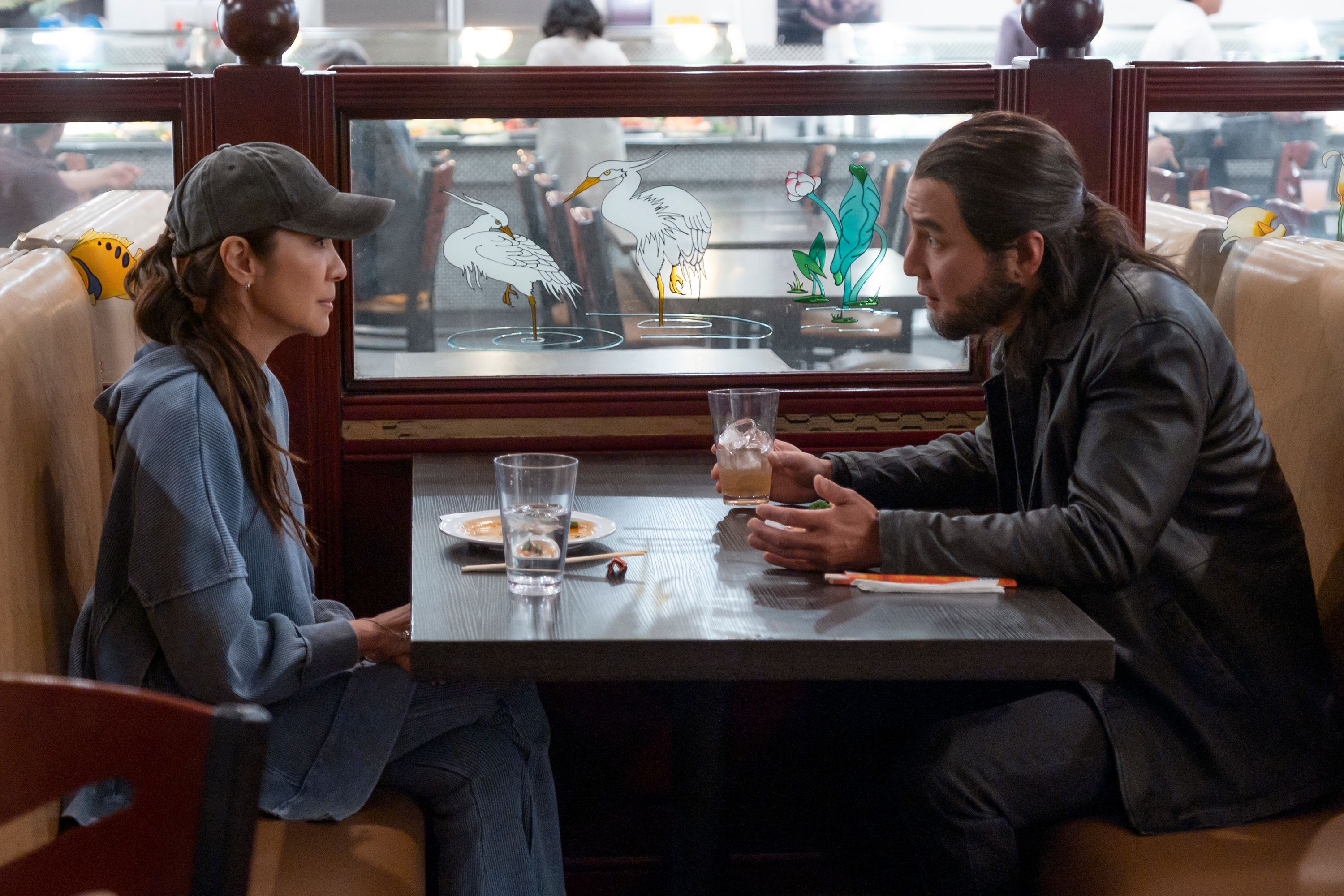 Yeah, I definitely like the way that they were kind of braided together in the show. I feel like it was very smooth.
WU: It doesn't seem out of place, right? You can have all these things going on at the same time and it works beautifully.
I read the book after I saw the show because I wanted to go into the show with no preconceived notions, but I thought it was a great way to present that story, and I want to talk about the special effects and the makeup a little bit because you guys both have a lot of prosthetics on your face in this show. Can you talk about that? Was that annoying putting it on? And how many hours did you have to sit in a makeup chair to get all that stuff on your face?
LIU: It's annoying. At the beginning, I thought it was pretty fun because I could be like a monkey and hairy, and I was always touching the hair, and it's pretty fun, but it started to get annoying because you have to sit there for three hours. You have to get to on set three hours early just to put the special makeup on, and you have to stay for another hour to take it off.
WU: Yeah, we had some painful call times with that prosthetic stuff. That's kind of the first time doing it for me, so when I agreed to do this role, I totally didn't think about that part of it, and I realized that was a lot of the work. Working on set with these guys was the fun part. The not-fun part was getting the makeup put on, and remember Jimmy, we had a 2:00 AM call time so that we could shoot by 6:00 AM? That scene in the first episode, in the first scene where I'm confronting him about getting my staff back, we had to shoot that at magic hour. So to do that, we had to be up by like 1:30 in the morning, and then in the makeup van by 2:00 AM so they could be camera-ready by six AM. It was a crazy couple of days doing that.
Oh my God, that is insane. Did you sleep that night?
WU: Yeah, I went to bed at like eight PM. Probably, Jimmy didn't sleep.
LIU: I didn't sleep.
WU: I went to bed at eight PM and then I woke up at like midnight, and then it was very disorienting and strange. The process sucked, but the way it looked was amazing, and the way it felt on your face, like it didn't feel like it was impinging on your acting in any way or any kind of expression, so the eyes still felt real. I was still able to move my face without feeling restricted, so that part was actually not as bad as I thought it was gonna be. It was just the process of getting it put on and then taken off at the end of the day when you really want to just go home.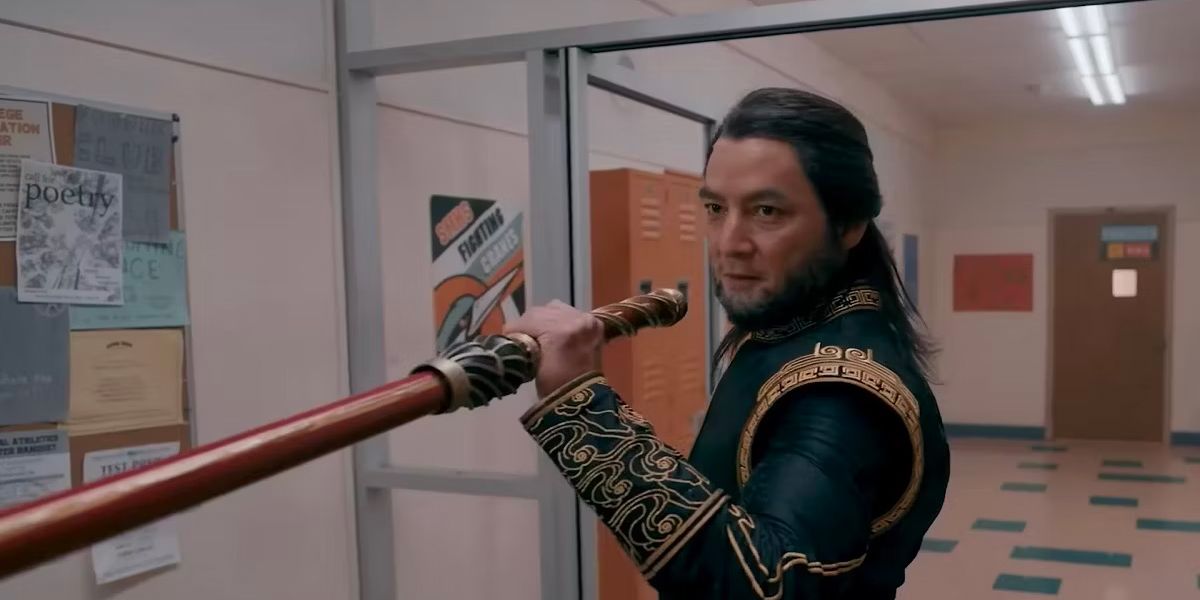 Yeah, I mean, it looked fantastic, so I just want to say it was a great look. I was surprised at how well it came out. My final question is going to be about the way Mandarin is used in this. I really enjoyed it because I can speak Mandarin myself, and getting to hear the parents speaking, and the lost-in-translation of you like, "Chăo yóu yú" the frying squid, which is getting fired. What was it like getting a script? Was it all in Mandarin? Were you reading it, or was it more improvisational? What was the process for that?
WU: The script came as you see it, so whatever was in Mandarin is written in Mandarin and then whatever is in English is in English. And I really think that that's what delivers the authentic experience of this show, right? It really does show the authenticity of the immigrant experience and what it's like to be second generation, and try to fit in where you have this dual language going on in your household, right? Your parents maybe speaking to you in one language, you speak back in English. And then, with the mythological characters, it made a lot of sense for when they're in heaven that they're speaking Chinese, but when they're down on Earth in America, they're speaking English because they're adaptable, they can do all that. So I think it's pretty seamless, and it makes a lot of sense.
I think nowadays, you know, it isn't like 15 years ago – I remember when [Crouching Tiger, Hidden Dragon] first came out, some people were like, "Oh, I don't read subtitles," right? But now, it's not a problem at all, and in fact, people prefer a subtitled version over a dub version any day now, whereas that wasn't the case 30, 40 years ago. And then all the kids going out watching anime now, they all prefer the original version over the dub version, so I think it's not going to be a problem. I think, again like I said, it delivers a more authentic experience of what it's like to be Asian American.
Source: https://dominioncinemas.net
Category: INTERVIEWS