After four seasons of Barry, it's hard to imagine Sarah Goldberg ever having any doubt in her craft whatsoever, but while on Collider Ladies Night, she did revisit the challenge of making the pivot from stage to screen.
After graduating from the London Academy of Music and Dramatic Art, Goldberg went on to flourish on stage. She worked opposite Adam Driver and Matthew Rhys in Sam Gold's off-Broadway revival of Look Back in Anger, she scored an Olivier Award nomination for her work in Clybourne Park at the Royal Court, and also performed it on Broadway. But, even with all that experience, scoring the role of Sally Reed in Barry came with challenges — challenges she was able to overcome through some personal reprocessing and also via Barry's highly collaborative cast and crew.
While celebrating the show's stellar final season, one that's rightfully a hot topic on this year's awards circuit, Goldberg took the time to look back on her experience going from theater kid to HBO star.
"I always knew where I was on a stage. Of course I get opening night nerves like anyone and all of that, but I understood where I was, I understood the wings, and the feel of it, and the moments before, and you're in the darkness and you can feel the audience coming in. I really got the rhythm of it. And the beauty about being on stage is it's a team sport. It's like, once you get on, no matter how nervous you are, as long as you put your focus into the story and all of your other actors on stage with you, you can completely forget yourself, and I love the theater because of that. It's like the whole world goes quiet. Everybody's phones are off and there's this tiny focal point in a world of chaos. There's just this quiet story going on somewhere in a dark room and everybody's agreeing somehow to this silent contract that we're just gonna sit and tell this story and listen to this story, and we're all gonna connect."
Film and television sets, however, are totally different environments, and for a period of time, those environments terrified Goldberg so much that she convinced herself that she just couldn't do it. "I was always so nervous going into auditions as soon as there was a machine in the room. It was like it punctured that thing I'm describing of everybody coming together." She added, "I really had to learn over the years to love the machine."
How exactly did she do that? By focusing on the person behind the machine, not the machine itself. Here's how she put it:
"The way I've sort of achieved that I think is understanding the person behind the machine and that they are very much a part of this collective, too. So like on Barry Seasons 3 and 4, we had the most incredible camera A operator, a guy called Don Devine. Lives up to the name. He shot all of Mad Men. He's like the best in the biz. And Don is there with this giant piece of machinery, but Don is as focused as I am on these tiny little minutiae moments of the story we're trying to tell. So as soon as I could put my focus into the fact that Don is as focused as I am and we're together trying to make sure this story gets told the same way you would do in a play, all those nerves kind of went away and I was able to enjoy being on camera."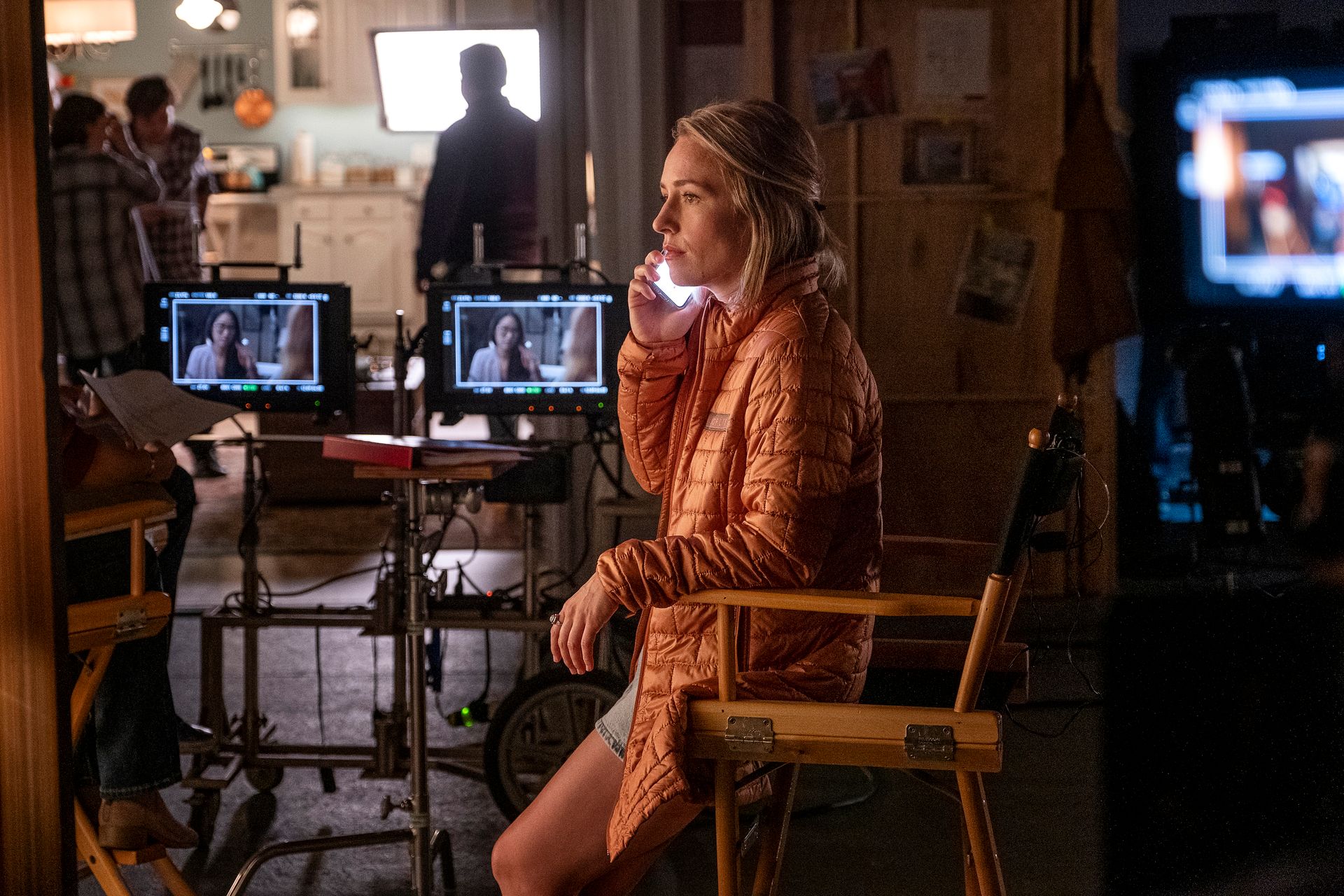 But, of course, before jumping to Seasons 3 and 4, we had to revisit Goldberg's early days working on the show, a period of time when she was still tackling her screen work with a stage mentality. She explained:
"I think in the beginning, I was more nervous. And I think also coming from theater, I always felt like I needed to be overly, overly prepared. And Bill [Hader] and I were like opposite ends of the spectrum. He'd come to set and not know his lines, and I'm like, 'Bill, I know you wrote it, but you gotta learn your lines. We can't get through the scene.' [Laughs] And I would come so hyper prepared, like for play, and he'd be like, 'You need to throw it away. Don't worry, you don't have to stick to the script.'"
Somewhere along the way, the two met in the middle, and it's an evolution that Goldberg's come to deeply value.
"I think it was really good for me to learn how to let go, essentially. I feel like the first couple of seasons I just really, really, really was overly prepared all the time. You know, A+ student. And I think acting isn't about being an A+ student, really. And I think that in the last couple of seasons, I felt this huge creative freedom set in once I realized, we're in this space that you can't fail. You can't embarrass yourself. I felt like you could try anything on that set. We were so supported by each other, by our crew, and so I felt a lot looser as a performer, and that was really liberating for me."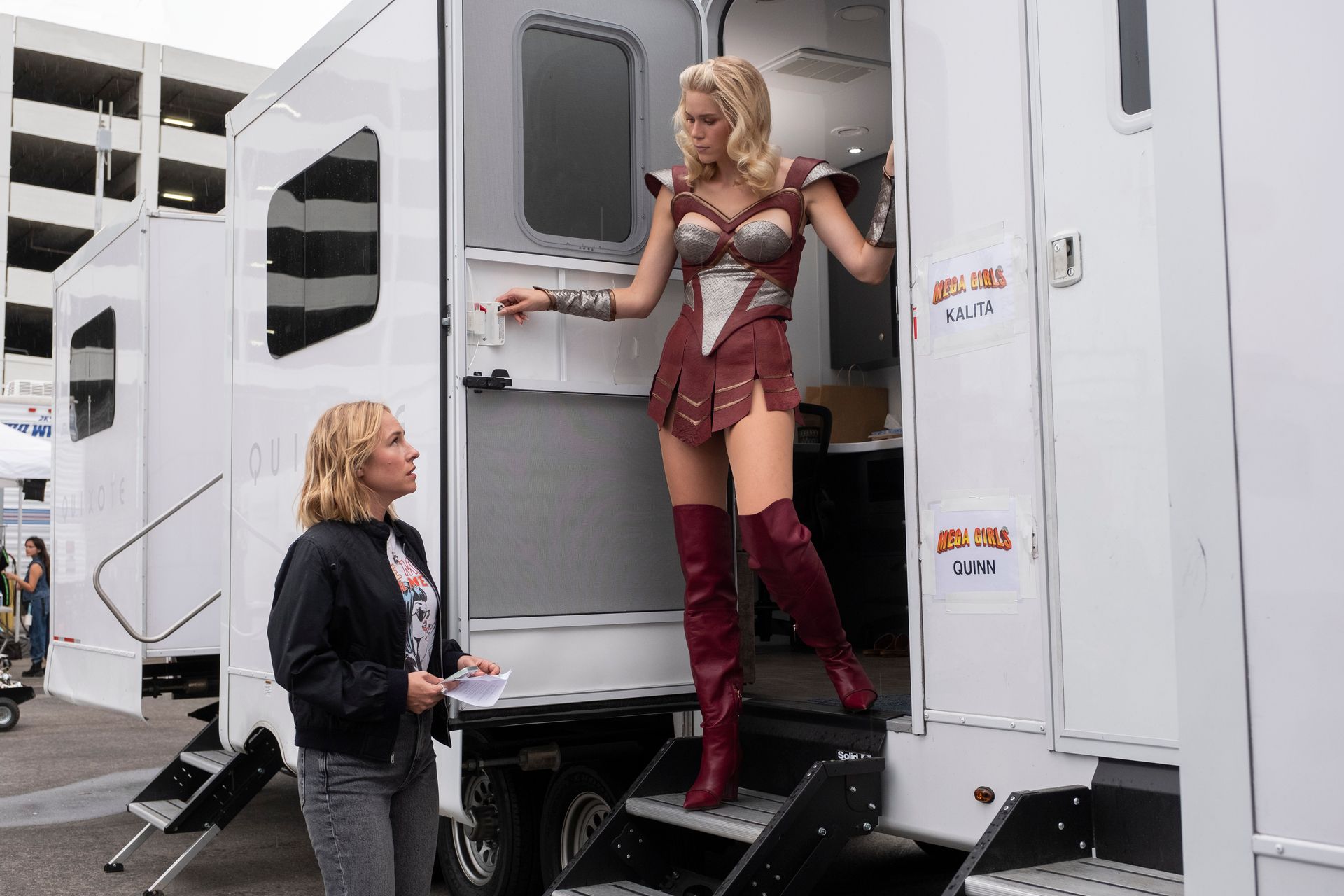 While that change in her approach to the work proved to be a change for the better, that doesn't mean Season 4 was without its challenges. In fact, Goldberg revealed that there's a Season 4 scene that she considers to be the toughest thing she shot the entire series. (And it turns out, it's one of the best scenes of the whole show.)
"The hardest thing to shoot was this season, Episode 4 when I'm on the set of Mega Girls and Sally has to turn this terrible speech, intentionally terrible — our writers did a beautiful job of writing a very piss poor speech that I then had to turn into something theatrically viable. I was trying to rehearse the text, but I did not know what to do with this. I was trying to treat it like a Shakespeare soliloquy and trying to give the words the same kind of emphasis and weight, but it was so tough. And I got to set and I was really like, 'Bill, I can't do this. I actually don't think I can do it.' He was very encouraging, and he was like, 'You can make something of this.' So that was the one. That was the hardest one. We don't do many takes on Barry and I can't remember, but I felt like I had to do that one again and again. And then in the shooting of it, Bill discovered the gag that as I turned to try to impress Sian Heder, if I just stepped a little bit to my right, I would totally eclipse Ellyn Jameson, the lovely Ellyn Jameson who played Kristen so brilliantly, even though she's about a foot taller than me, and especially in those boots like a foot and a half taller than me. But if I just stepped to the right, I would eclipse her in a pure Sally narcissistic grabbing her moment moment."
see more : 'Transformers: Rise of the Beasts' Producer on the Costs of CGI and Why He Bought 'Harry Potter' for WB
It's a downright brilliant character and performance beat that well reflects the many career ups and downs Sally's experienced, and also her insatiable drive to achieve her dreams in the industry. However, soon after that scene, we hit a major turning point for Sally. At the end of Episode 4, she agrees to leave everything behind and leave town with Barry. It's a choice that changes everything for Sally, but it's also a choice that's right in line with the path she's been on the entire series:
"She's an ordinary person who murdered someone, so she's the first character that we're seeing having to process that in real time, and Barry was the only witness to the crime, an accomplice you might say, and she knows now that this man was only pursuing her, or they only ended up in that horrible situation because of [Barry] and what he's previously done in his life. I think she felt like he's seen her most animal self, her most horrible side, the ugliest person she could be, and he's choosing to love her anyway. And I think sadly, it's a bit of a bear trap, but she needs that security, someone who's accepting her. Sally's whole arc in a lot of ways is about looking for a place of acceptance. She's, in many ways, such a tragic character, and I think she needs to be seen in that light, and he's the one who can offer that. So that's part of it, and then the other part of it is, sadly, I think because she's somebody who comes from an abusive relationship and she's played out that dynamic before, she's sadly not seeing the red flags and she's falling into the same kind of cycle, and she ends up in another abusive relationship, albeit a different type of abuse, a more psychological form of abuse than physical, but she's still very much in that with him."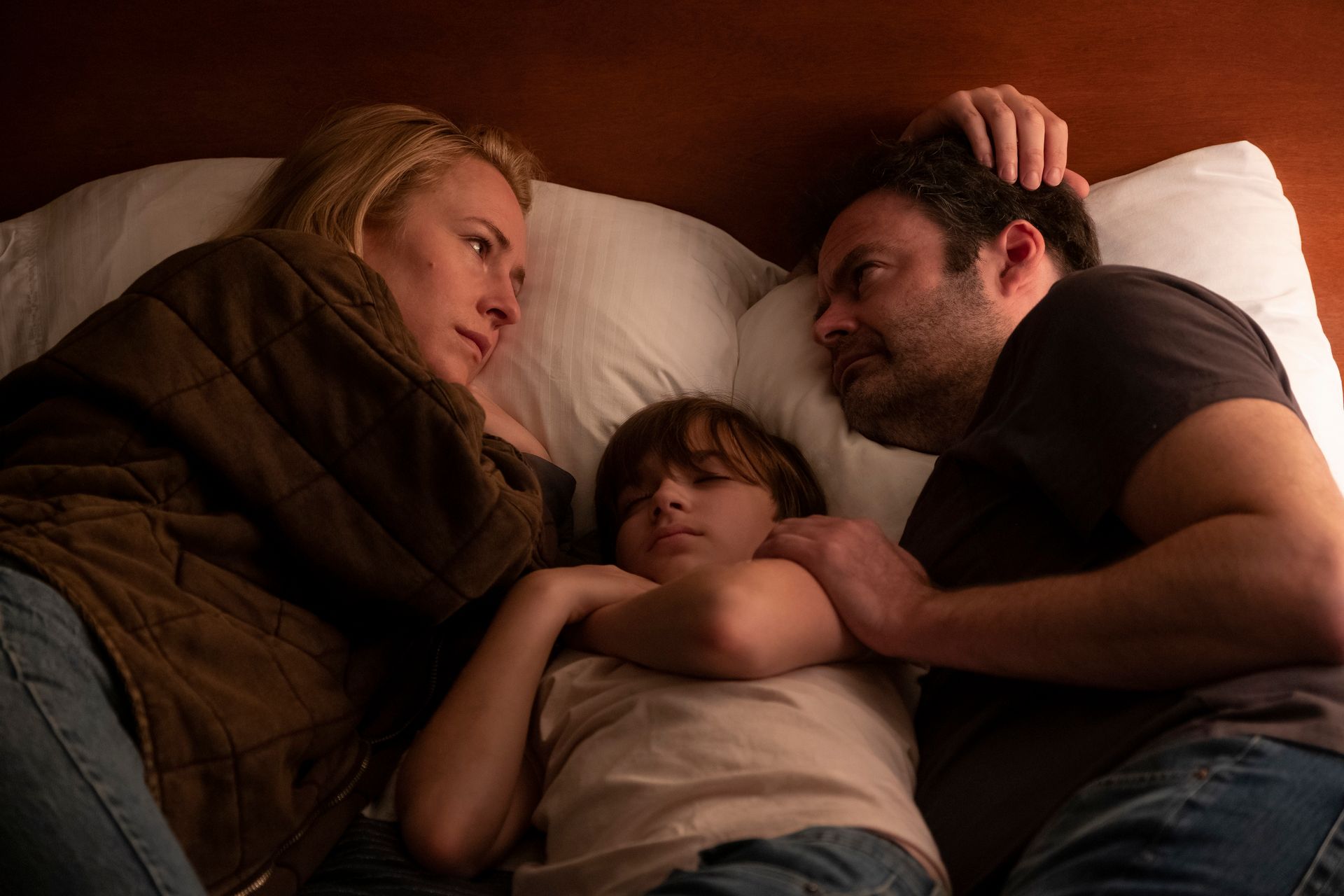 It takes 31 episodes, but finally, Sally begins to break free of her reliance on Barry's "safety" and her need to be accepted by others, and finally offers up a truthful assessment of what she's done and her current situation in the series finale when she tells John (Zachary Golinger) what she and Barry have done. Here's what Goldberg had to say when revisiting how Bill Hader chose how to capture that moment:
"I love on Barry that we shot so many scenes in oners. Sometimes that would be planned in the coverage and sometimes that would be something that would surprise us on the day and we would move away from coverage that was planned and shoot something in a oner. Very theatrically, you know? Like a play. I thought it was such a smart choice because it's the first time in the whole series, really, where Sally drops everything and is completely honest with herself, with her son, and she's having these realizations in real time as well about what kind of person she is, what kind of person this little boy is that she made who she has never even fully taken in. It was a very moving scene on the page and a big shift for her as a character, so it was a challenging scene and again, one that I didn't come in with a plan on because I thought, I can't overthink this. It's gotta be something that we find in the space with Zach."
Goldberg continued by offering additional insight into the way that scene way photographed, mostly from behind until Sally turns around to face her son and the camera.
"It went all the way back to my fear of cameras, which I've since overcome; it gave me this privacy, right? Sometimes you're shooting a really private moment and behind the camera there's 50 people and everybody's frozen in a funny position, and the big acting job is pretending not to see that. And so I didn't have anything to look at. I was in that room and I was looking at those boxes, and it offered me such privacy, such intimacy with the moment. And then the rest of the blocking, Bill was quite open to us organically finding when she turns and all of that. It was a lovely, lovely shoot. And I've got to thank our crew because it was a very tight room, so ultimately when I did turn around and I did see 40 people, bless them, they were so still. I don't think anyone was even breathing. They really gave me a frozen tableau for ultimate privacy, and I was so grateful for that because it's not easy to do if you're holding a boom or operating the camera. They were so focused and it was such a gift."
Looking for more from Goldberg on her Emmy nomination-worthy run on Barry? (One acting nomination for her work is just not enough!) Be sure to check out her episode of Collider Ladies Night at the top of this article or listen to the full 42-minute interview uncut in podcast form below:
Source: https://dominioncinemas.net
Category: INTERVIEWS