Leading up to the release of Antoine Fuqua's The Equalizer 3, the third and final in the Denzel Washington-led franchise, Collider's Steve Weintraub spoke with the movie's antagonist, Andrea Scarduzio, to find out more about the man behind the mafia. Throughout a career spanning over two decades, this summer showcased Scarduzio in two of his biggest blockbuster actions alongside some of Hollywood's biggest names, from Mission: Impossible – Dead Reckoning Part One to The Equalizer 3.
you are watching: Tom Cruise & Denzel Washington Inspired 'The Equalizer 3's Andrea Scarduzio's Journey From Busboy to Baddie
Scarduzio, a graduate of the Lee Strasberg Theatre & Film Insitute in Los Angeles, could not be further from the cold-blooded Vincent Quaranta he plays opposite Washington's Robert McCall. It's a role that he tells Weintraub "was nothing short of a dream" after COVID caused numerous setbacks with previous projects. Still, after working with Tom Cruise and Christopher McQuarrie on Dead Reckoning and Washington and Fuqua on Equalizer, creators that Scarduzio declares "the best," he's ready to move on from playing the baddies.
During their discussion, we learn more about the actor behind the antagonist, from how he earned a full-time scholarship to the Lee Strasberg Institute to which Hollywood icon inspired his path to the silver screen. Scarduzio shares what it's like to step onto a production as massive as Mission: Impossible on the first day, the realities of playing an action movie villain, and what surprised him most about working opposite Denzel Washington. The actor also opens up about his personal discussions with Cruise and how Washington impacted his life long before The Equalizer 3. For all of this and more, check out the full interview below.
COLLIDER: When did you know that you wanted to be an actor?
ANDREA SCARDUZIO: I was five, six. Very early, man. I watched Conan the Barbarian with my mom, and I was like, "Wow!" I wanted to be big like Arnold [Schwarzenegger], and I wanted to be an actor when my mom explained that there was a dude pretending and playing with a sword and all of that. I was so fascinated. I wanted to be huge. I was envisioning myself…
You wanted to look like me.
SCARDUZIO: I wanted to look like you. Then I realized the amount of work it would have taken, and I was like, "Maybe I'm gonna go for an Al Pacino kind of look." [Laughs]
You've done a number of things in your career, if someone has not seen anything you've done before, what is the first thing you'd like them to watch and why?
SCARDUZIO: I've got a film that I'm really fond of, that I really love. It's an Indian film called Roam Rome Mein, which is a play with words; it's like roaming around, getting lost in Rome, but it also means, in India, it means every inch of your being. It's about women's rights, seen through the perspective of a man. It's a beautiful film that was doing really well at the festivals before COVID. We got great reviews, even from the Hollywood Reporter, and it killed it at festivals, but it never came out because the production had seven movies coming out during COVID. So COVID, as you know, fucked up everything. So now they're scattering those seven films, trying not to compete with themselves. It's about to come out, but it's a beautiful film about women's rights, and I really like that film. That's one of the things I'm very proud of that nobody has seen.
It's also possible that it's in the not-so-distant future. So I read that you attended the Lee Strasberg Institute in Los Angeles, and not only did you attend, you got a full scholarship. How did you pull that off?
SCARDUZIO: [Laughs] Well, that's funny. At the time, I spoke broken English, I was waiting tables, and actually, I was a busboy, so I was cleaning tables, and trying to learn English. I dated this girl and she was going to Strasberg. She was a student there, and she asked me to do a scene for scene night, and we brought a Sea Change, [Ernest] Hemingway. Randomly enough, Anna Strasberg was sitting in the public. It was a very emotional scene; it's about a breakup, "She cheated on me with a woman, blah, blah, blah." Then, after the scene, I ran out of the school. I was crying, I was a mess. I was smoking a cigarette, and she came up to me—I didn't know who she was—and she took the cigarette. She hates smoking, so she took the cigarette, put it out on the floor, and then we chatted briefly, and she gave me a full-time scholarship. She said, "I won't allow you to study anywhere else." And I said, "I don't have the money to come here." She said, "You have a full-time scholarship." I will always be thankful to her.
So what do you get her on her birthdays?
SCARDUZIO: Nothing! [Laughs] Because I'm not in touch with her anymore. I know she's in New York. I actually went by the school yesterday. I wanted to say hi to people, and nobody I knew is there anymore. Everything changed; nobody was there. Yeah, I wanted to say hi to her son, David, but I didn't get to see them. But I am very thankful. At the time, she was kind of like my godmother here, you know.
She changed your life.
SCARDUZIO: Yeah, she gave me a scholarship. She allowed me to study in a great school, and at the time, she got me a visa to stay. I was still bussing tables, but I was going to class all day long, and then at night, I would run to Hollywood.
So you got to be part of Mission: Impossible – Dead Reckoning Part One. That was stepping foot on the first big production, or am I wrong?
SCARDUZIO: I did Genius: Picasso by Ron Howard and Brian Grazer, but that's TV.
Mission is a different level.
SCARDUZIO: It's a different level, absolutely.
What is it like stepping foot on a set like that for the first time, knowing this is a really big deal? How much are you in your head?
SCARDUZIO: They flew me to Abu Dhabi. Everything happened so quickly. I auditioned three times. I didn't even know what I was auditioning for. It was a secret, so I didn't know. And then they flew me to Abu Dhabi. I was there for about 20 days, so I didn't really know when I was going to shoot, and they didn't really have a schedule. They improvise a lot. It's amazing how they work. I didn't know a lot in advance when I was gonna shoot, so the night before, they said, "Oh, we're picking you up at five, and you're up tomorrow." [Laughs] I was like, "Okay," and then I showed up on set, and it was by far the biggest set I ever seen. It was huge – thousands of people, crew, extras, and production. It was massive.
I showed up on set, I saw Tom Cruise there—I'm a huge fan of his—so he was standing there looking at the setup and stuff, and then Christopher [McQuarrie], the director, is amazing. He spent a lot of time with me. I think he was trying to make me at ease and all, and then he just said, "Yeah, let's improvise and see what happens." I'm like, "Uhh…great." And Tom was looking at me like this, and this 1000 of people were staring like this. It was like, "Okay, go on." So, you know, you do have a little pressure showing up on the set like that. But I gotta say, everybody was great, and they really made me feel at ease. I love the way they work because they kind of discover– Obviously, they have a script. It's more kind of like a guideline sometimes, but they're very open to see what happens. They're very open. It's not set in stone. It's like, "We're here, let's try in different ways and see what happens and see what works and see how we feel about it."
see more : Julia Louis-Dreyfus, Tobias Menzies & Nicole Holofcener on 'You Hurt My Feelings' and Self-Criticism
The whole thing about trying to get the mask off, that wasn't scripted. We just went with it, and it was amazing. And Shea [Whigham], he said, "Hey, am I free to do anything?" I was like, "Go for it, buddy. Surprise me." So he shoved his hands in my mouth! So, that was all improvised and not rehearsed. It just came out in that moment, and they loved it.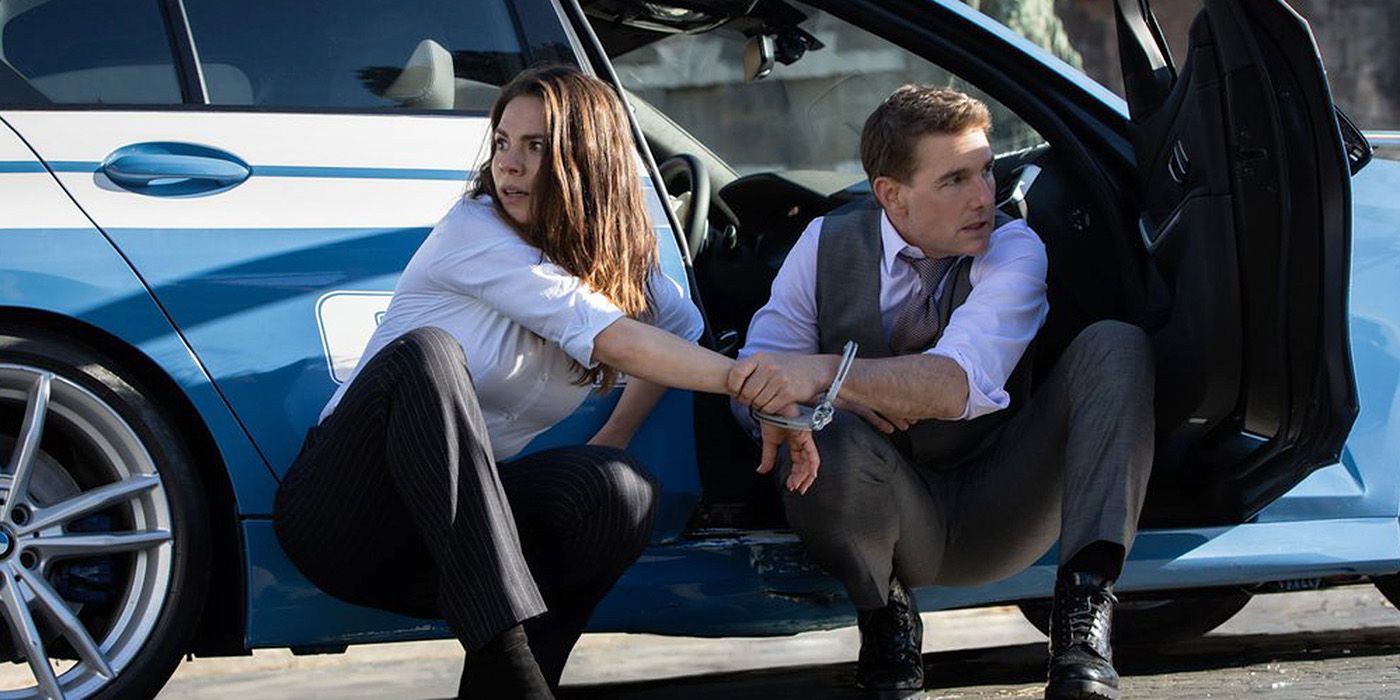 It made me laugh in the theater because of Shae's face doing all that. It's a great scene. I've spoken to Chris a number of times, and it's crazy how much they will reshoot things and go back to things, and there's very few filmmakers who have the ability to do what Tom and Chris can do.
SCARDUZIO: They're unbelievable. They're unbelievable. For me, meeting them, seeing people at that level, we're talking about the elite, you know, we're talking about the elite creative, incredibly talented and committed and kind human beings. And to get to know them a little bit during those days and to see, also, like, how they are as dudes, it was a hell of an experience. Even talking to Tom, I told him that 17 years ago, I saw him in Hollywood. I was waiting tables. I was coming off a shift, and I saw him, and I was staring at the guy. I wanted to talk to him, but I'm not a guy that goes out to people. I like privacy, and I respect that. But I remember saying to myself, and again, I was waiting tables, so I said, "One day I'm gonna be on set with him." And yeah, it took 17 years, but I managed. [Laughs] I told him that, and he loved it.
We had a chat about mindset, manifestation, how we truly create our reality, whether we're aware or not. The story we tell ourselves, and it's written in our subconscious, greatly affects the world we live in. And yeah, it was very inspiring talking to him and to see how interested he is about getting to know people genuinely.
I've spoken to him a few times. It is bananas how nice of a human being. It doesn't make sense.
SCARDUZIO: So nice and so humble and so interested and so caring. After a couple of hours that I was there, he would call me by name, he would check on me. We had other takes where I was getting thrown on the floor by the agents, and he would come and check on me, "Andrea, are you okay? How's your mouth? How's your face? How's this?" He was so nice. I remember there was an extra that stepped out of line a little, like he came on set and was like, "Hey, Tom, can you sign this?" He was super cool.
Until the extra got tackled.
SCARDUZIO: He was like, "Now is not the moment," but yeah, it was very inspiring. It was very inspiring to meet him, to see how in control he is. He's so present. The man is pure presence, which is a quality that defines a lot of great actors.
100%. He's on another level. Moving onto Equalizer, what was it like getting this role? This is like a meaty role in a Hollywood movie, you know what I mean? And it's a fun role getting to play a villain.
SCARDUZIO: It was nothing short of a dream. It was nothing short of a dream. You have to understand, we spoke about Tom, but Denzel has been, for many, many years, my inspiration not only as an actor but his motivational speeches, the speeches that he gave at universities and colleges and here and there throughout the years. Literally, part of his words have become part of my gratitude meditation at night. When he said, "I pray that when you go to sleep at night, you put your slippers under the bed, so when you wake up in the morning, you have to get down there to get it, and while you're down there, say thank you. Thank you for grace. Thank you for mercy. Thank you for patience. Thank you for parents. Thank you for prosperity. Say thank you in advance for what is already yours, and everything you want good, you can have. So claim it, work hard to get it, and when you get it, pull someone else up, each one, teach one." The man, he's the GOAT, you know? He's been in my life for a long time.
Going back to manifestation, the love and respect that I have for the men before the artist, it's humongous. And then the artist we all know is the GOAT, and him and Antoine, those two, I will love them forever. I mean, I will forever be in their debt. It's been a hell of a ride. These guys. Antoine, you know, the love, admiration, respect that I have for him is endless. He's a guy that, if you're lucky enough, one day he'll tell you a story out of his life and blow you away. His life experience is beyond belief, and his kindness, and you can see his strength, his courage. You can feel him when he shows up. But at the same time, he's kind, he's delicate, he's considerate. Those guys at that level, not only career-wise, I'm talking about the level as men, their greatness, and then to see how humble…It's so inspiring, man, so inspiring.
This was nothing short of a dream. When I got the role, I remember I cried for a few days. I didn't tell anybody for a month or two, not even my mom. I was kind of, like, nurturing the thing.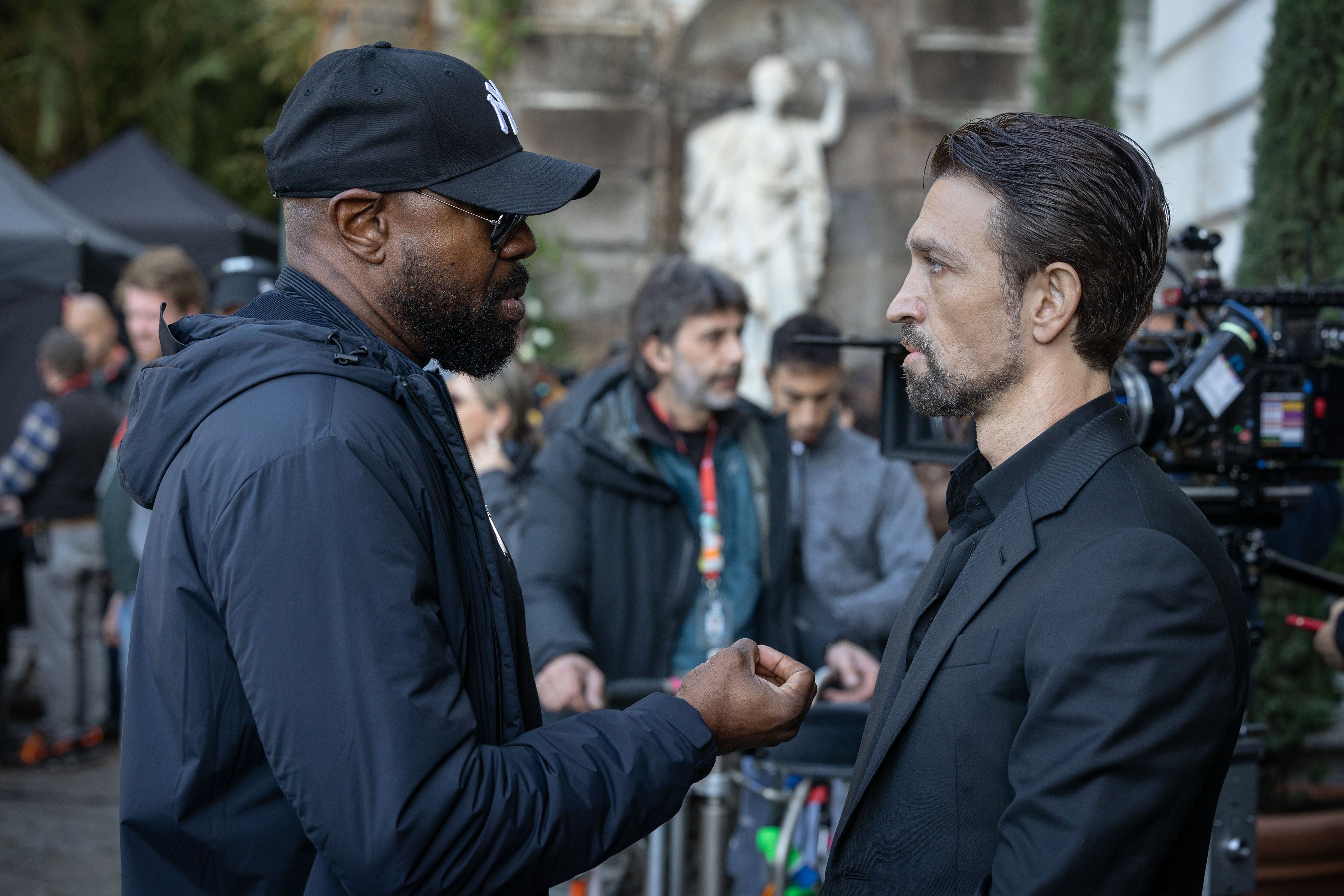 Did they tell you, "Don't say anything until we announce it?" Was it one of those kinds of things?
SCARDUZIO: No, no, no, no. I got the role, and I just kept it to myself. Over the years, I always hated my friends and colleagues that were bragging about, "Hey, I'm doing this, I'm doing this." I was like, "Just fucking do it, man. Just do it and let your work speak. You don't have to brag about it."
Sure, but there's also an element of you being like, "I'm in a movie with Denzel Washington." There has to be an element of, "Okay, I have to tell somebody."
SCARDUZIO: Yes…I didn't have a lot of that. It was more like– I've been acting for 22 years and is mostly been thin. For many years, I struggled a lot, especially as an Italian coming to LA. I didn't speak the language, broken English, I was waiting tables, then life – I had a lot of shit happening. I had an identity theft and a vanished wife and this and that and health issues that I was getting through. So I come from a long journey of thin and struggle mostly. So I don't know, man. When I got it, I wanted to keep it to myself for a while. I knew eventually the world was gonna know. It's not that I could hide it forever. It's out there. Honestly, I don't know. I don't like to brag. It was mine, you know? I held it.
As a fan of Denzel and knowing Denzel, what is it like doing a scene with him where it's you and him, and the way you like to work versus the way he likes to work, and finding it all on set? Talk a little bit about that collaboration, maybe what surprised you?
SCARDUZIO: You know, what surprised me is, well, obviously, [laughs] Denzel Washington. What surprised me was his willingness to take risks. You never knew what he was gonna do. He would come up with ideas and try them out. He wouldn't tell you, he would just do it. So you didn't know what he was gonna do. It forced you to be in the moment because you can't look at the script and be like, "Oh no, it wasn't this," you have to be real and fresh. It's kind of like a tennis game. He serves you, and you try to reply, obviously with the due distances. There is a universe between him and I, but for me, we bonded a bit during preparation. We got a chance to talk a lot, just him as Denzel and me as me.
But then, when the movie started, the thing was on. It was on, and it was on always, especially because of the nature of our roles. He was on. You can tell he is in character. That stays with him, that intensity, even when he's not shooting. Just sitting there, relaxing and waiting for shooting, you feel him, like his presence; his charisma is magnetic. He's sitting there, he's not doing anything, but maybe he's giving you a look, and you're like, "Whoa." [Laughs] But it was a masterclass. That's what it was.
Of the things you shot for this film, which is the day that you think you'll remember forever? Whether it be working with Denzel, whether it be filming a certain scene, whether it be a challenge you overcame, what's one of those memorable moments?
SCARDUZIO: Well, by far, definitely, no doubt, the final part of the death, when I'm crawling in the streets. It was very tough to shoot. It was full winter. We were shooting in December, and it was about five degrees out.
I couldn't tell when I was watching.
see more : AJ Wills Jr., Khalil Everage & Scoot Henderson on 'Shooting Stars' and Playing Basketball's Fab Five
SCARDUZIO: You couldn't tell?
[Laughs] No.
SCARDUZIO: Well, it was cold as fuck. It was raining, and we were shooting a lot of hours, and, you know, crawling on those cobblestones is not fun. Actually, I got scars on this leg here and here on my foot, I got scars because I was really bleeding, and deep cuts. [Laughs] It was very tough, and there was a moment that Denzel came near me and he said, "You're doing great. I mean it." And then he walked away.
Then the same night he came back, it was raining. You don't see that in the movie because sometimes it would pour rain, literally pouring rain, and then it would stop… So anyway, he came back, and he was looking at the stars, and he looked at me, and he looked at the stars, and he went, "What do they know? What do they know? They think it's all parties and the words and traveling and money and this and that. What do they know about the cold nights in full winter, crawling in the streets of Naples, bleeding, puking? What do they know?" And he walked away. I got goosebumps. That, for me, was him saying, "Alright, dude, respect."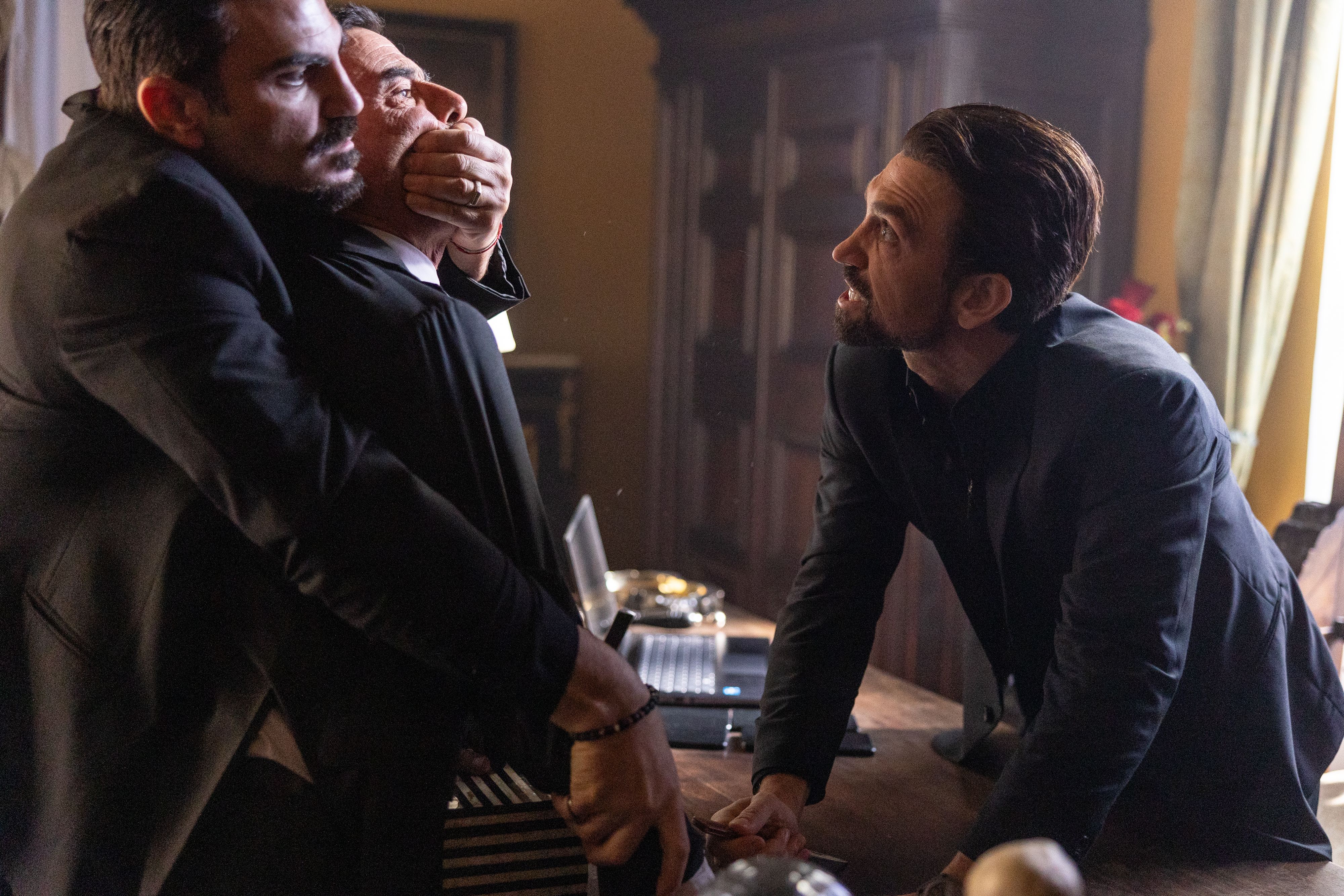 I've been on a number of sets of TV and movies, and the only thing I've learned is that I can't do it because it's long, long hours, and you need to be in the zone for, what, 60, 100, 120 days, whatever the shoot is. I just think people at home don't really realize what it takes to make a movie that has big action and big scope and scale.
SCARDUZIO: Absolutely. You're absolutely right. It's very demanding, mentally and physically. Especially because we had days– I remember we were doing night shoots, and I would get to the hotel at four, and I wouldn't be able to fall asleep until five or six because of the adrenaline. Then I would fall asleep for like half an hour because then we'd change schedule. We went from night shoots to day shoots and then night shoots again. So I would fall asleep at five, and my pick-up was like at 5:30. That scene—remember when the guy gets thrown out of the window, and I'm coming out and talking to my brother—that day, I went to bed the night before at 5 a.m., and I got picked up at 5:30. So, like half an of hour sleep.
Usually, those kinds of switchovers are done after the weekend. That's a rare switchover.
SCARDUZIO: Yeah, but anything can happen. You know, there are production necessities. When you're there, you're just a part of a bigger mechanism, and you're just a team player. We actors, you know, sometimes we get the credit– It's really a team effort, down to the last guy that brings me the coat or the umbrella or the hot tea. We're all important, and it wouldn't work without any of them, so it's tough. It can be tough. I mean, for me, the adrenaline and the happiness and the gratitude and the excitement, I could have gone days without sleeping, and I would have been okay, and bleeding and puking and whatever. I would have done anything! [Laughs]
That's the other thing, for a movie like this and to work with Denzel, it's like, "Whatever you need, just tell me what you need."
SCARDUZIO: Absolutely. I would jump off a building for Antoine and Denzel.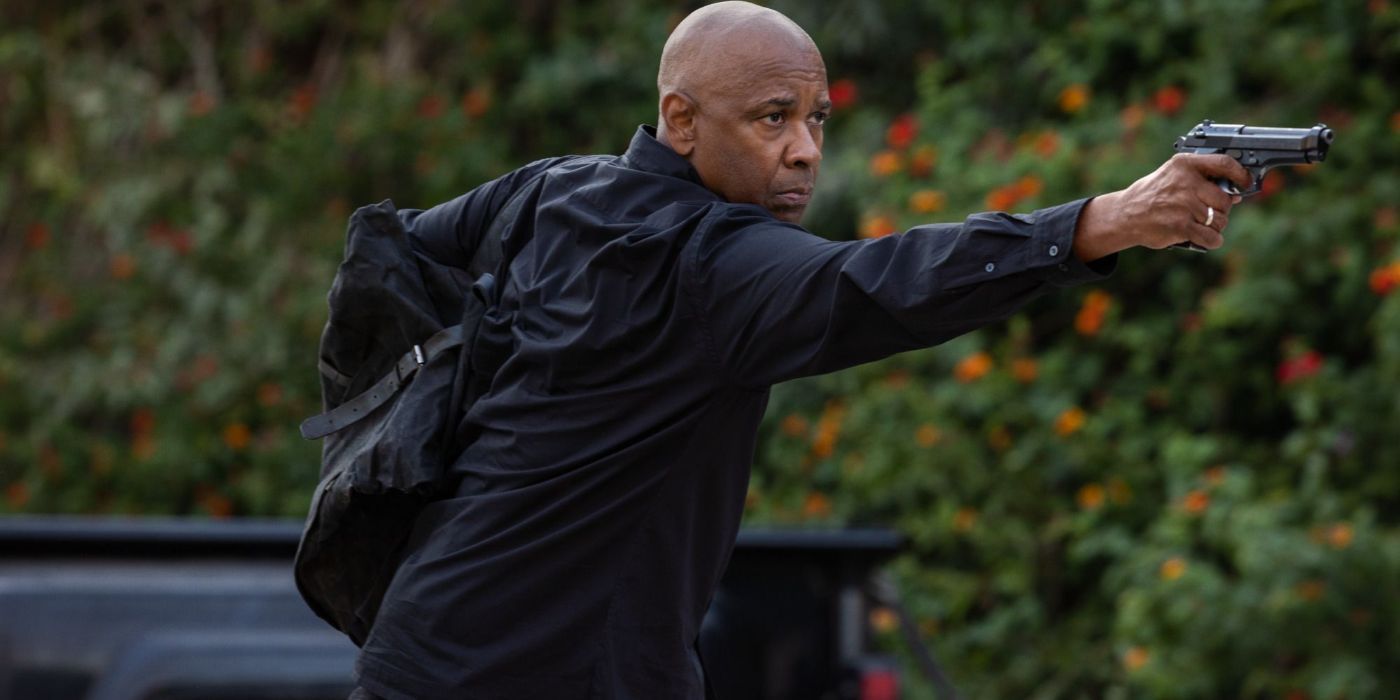 Exactly. So, maybe you shot this a little while ago, but this Walking to Paris, is that something you have coming up?
SCARDUZIO: No, Walking to Paris is a film by Peter Greenaway, which is a legendary British director. We shot that a long time ago, actually.
Is it one of those "when is it gonna come out" kind of situations?
SCARDUZIO: Yeah.
Got it. Did you shoot anything after Equalizer, or are you sort of figuring out what comes next?
SCARDUZIO: Yeah. No, I haven't shot anything after Equalizer. A couple of projects came in and possibly– but they were kind of on a similar note, like the bad guy, but I was thinking, "Why would I do the same thing I've just done with the best and now do the same thing, just five notches down?" Honestly, I was okay. I told my agent, I said, "Listen, unless something great comes in, something that really resonates with my heart or I really admire the people that are involved, I'm totally willing to wait for the movie to come out and then see what happens." Yeah, definitely. I would like to do the right thing.
I totally get it. Also, and I've had this conversation with so many actors, the best thing is when a movie like this comes out, all these casting people and all these other directors are gonna see this movie, and it's like all of a sudden, you're in front of all these people, and you don't have to do meetings, they're just watching your work.
SCARDUZIO: Yeah, absolutely. Look, I wanna work with great people, people that are better than me, so I can steal. [Laughs]
I understand that completely.
SCARDUZIO: So I can steal, and and I wanna work with projects that resonate. I was very interested in this little, tiny Italian project that I was actually gonna do, but then it fell apart. They're trying to get the money. Now it's gonna start at the end of the year. I don't know if I'm still gonna do it. It was a small movie, but it's a true story about this Italian professor that, during the Second World War, was hiding because Hitler had a list of Italian art that he wanted to steal and bring to his birthplace town and make the biggest museum in the world. So the SS had a list of stuff to steal, collect, and rob. So this guy literally hid 10,000 Italian pieces of art, mostly paintings, but we're talking…big stuff. He hid it in basements, some like literally digging underground and hiding them in wooden boxes. So he saved 10,000 pieces from being stolen by the Nazis, and it's an amazing story. You see what I'm saying?
That's a great story.
SCARDUZIO: Yeah, stuff like this, I really think it's worth telling. Maybe it's not a big movie, there isn't the budget, but it's something that resonates with me, especially because it took place near my birthplace. So I was really interested in that.
Check out Collider's interview with director Antoine Fuqua below, and be sure to grab your tickets, The Equalizer 3 is in theaters now.
Source: https://dominioncinemas.net
Category: INTERVIEWS