Based on the works of J.R.R. Tolkien, Prime Video's groundbreaking new series, The Lord of the Rings: The Rings of Power, is not only tapping into untouched material for the screen, but is pioneering new, innovative ways to do so. On top of an ensemble cast, including Morfydd Clark as Galadriel, Rings of Power is made possible by creatives working at the top of their game, and more importantly, by Tolkien fans. Collider's Steve Weintraub had the opportunity to speak with two of those minds behind the Middle-earth madness, producer Ron Ames and costume designer Kate Hawley, about what it took to adapt Tolkien's work to Prime Video's most-watched series ever.
The greatest challenge to bringing Rings of Power to life, for the crew, was the responsibility of building a beloved world that had never been seen. In Tolkien's texts, particularly The Silmarillion, the Second Age is introduced, but only goes in-depth on major events. It came down to individual's like Hawley to scour not only Tolkien's words, but his inspirations behind this universe, in order to imagine what the golden age of the Elves might have looked like. On the more technical side, Ames discusses how Rings of Power is a pioneer series in the future of filmmaking. According to the producer, the massive show's production was entirely cloud-based, which allowed for each department to better communicate with one another, and after Season 1, he proclaims he's a "true believer."
You can watch or read the full interview below to learn more about the challenges faced during production, how being cloud-based relieved some of those challenges, and why it was so important to pore over Tolkien's inspirations. Like the crew working diligently to create Second Age Middle-earth, Rings of Power also features an ensemble cast that did their own deep-dives, including Lenny Henry as Saddoc Burrows, Ismael Cruz Córdova as Arondir, Charlie Vickers as Halbrand, Owain Arthur as Prince Durin IV, Robert Aramayo as Elrond, Maxim Baldry as Isildur, and more.
COLLIDER: I love the series, and I'm really happy to get to talk to you guys about it. For anyone who's watched the series, they know this is essentially an eight-hour movie. I can't imagine the challenges you guys were both up against to try to make this thing happen. So for both of you, I know the obstacles were crazy, but what's one obstacle, for each of you, that you were like, "I don't know how we're gonna solve this?"
KATE HAWLEY: [Laughs] You start! I just see a wall of them when you ask that question!
RON AMES: The truth of it is, it was monumental. So, we started very early in prep while scripts were still being written. Visual effects started very early, and production, actually all of us started very early in the process. The writers' room was going, and we'd get pages, and we'd look at each other and go, "Oh my God. How do we do this?" I mean, seriously, every single aspect of it; how do you create a cave world? How do you create the scene on the ocean? And all of those things. So, it was truly a nuanced breakdown with overlying communication. It was the collaboration between production design, Kate's work, and visual effects, and all the departments working together, no silos. The walls were completely open. So, we worked together to come up with these possible solutions.
Do you want to add anything from costumes?
HAWLEY: Absolutely, I think it was because the nature was communication between departments, and there was a little element of a pandemic that actually became a good tool, out of that came good tools to be able to do that, sharing information and that. With the speed that we were going at, being able to share information across each other's departments was so important. There is that tendency to want to hit and run on your own, just to get it done, but you couldn't, you know, with the challenges that we were trying to work with, and issues like scale and creature work, and you had to collaborate. So it was a great exciting thing.
AMES: And to be specific and not avoid the question, I think scale is a really good one. So, we know that we have characters that are big and small in the same frame, we're going to have multiple actors playing the same character. How do those costumes work? What are the scales? How do we keep it consistent? It has to be scientific, you cannot cheat at scale. If you say this character is this height, the other character is that height, there's no fudging. It's not like, "Oh, if you're a couple of inches off…" It really looks wrong.
HAWLEY: We'd have these chats, lots of meetings like this, and Ron would come in with the whole pre-vis all the time.
AMES: Forced perspective only works if you're precise. So, it was all of those things, and the telltale giveaways of costume not being scaled properly, or set deck not making a piece of furniture or a cup, or something in the frame, not be exactly right, those were the things and those were the details that we hung on. And we made sure we're absolutely correct across the board.
Ron, I could be wrong, but I read this is the first show that was all like cloud-based, in terms of just everything: post-production, you name it, all cloud-based. Talk a little bit about making this happen, and do you think this is the future of every production?
AMES: Yes. The answer is yes to the last question. It is the future, and it is actually the present. It's already moving so rapidly. When we started, we were a Amazon show, so I asked Amazon, both Prime and [Amazon Web Services], could we be fully cloud-based? And they thought for a moment and said yes. So they allowed us to do it, and we started to build tools. It was transparent to everyone. No department really– it wasn't a big thing to each department, but underlyingly, the whole thing was built on a cloud-based platform. It made it possible to get the work done. To Kate and Ramsey [Avery], we just communicated all the time in ways that most shows can't because of the fact that we were cloud-based, and anything could be shared at any time, anywhere you were.
Yeah, I can't imagine, though, how scared you were if everything was in the cloud, and the redundancies that must have been needed to make sure things were not lost.
AMES: That is a fascinating question. That's what I thought! You should have seen, we went into it with that mindset, and we made multiples of everything; we had petabytes of data, and we realized we didn't need any of it at the end. We threw away a bunch of it because we didn't need the redundancy. It actually is safe, and it works beautifully. I became a true believer after it didn't break, not once.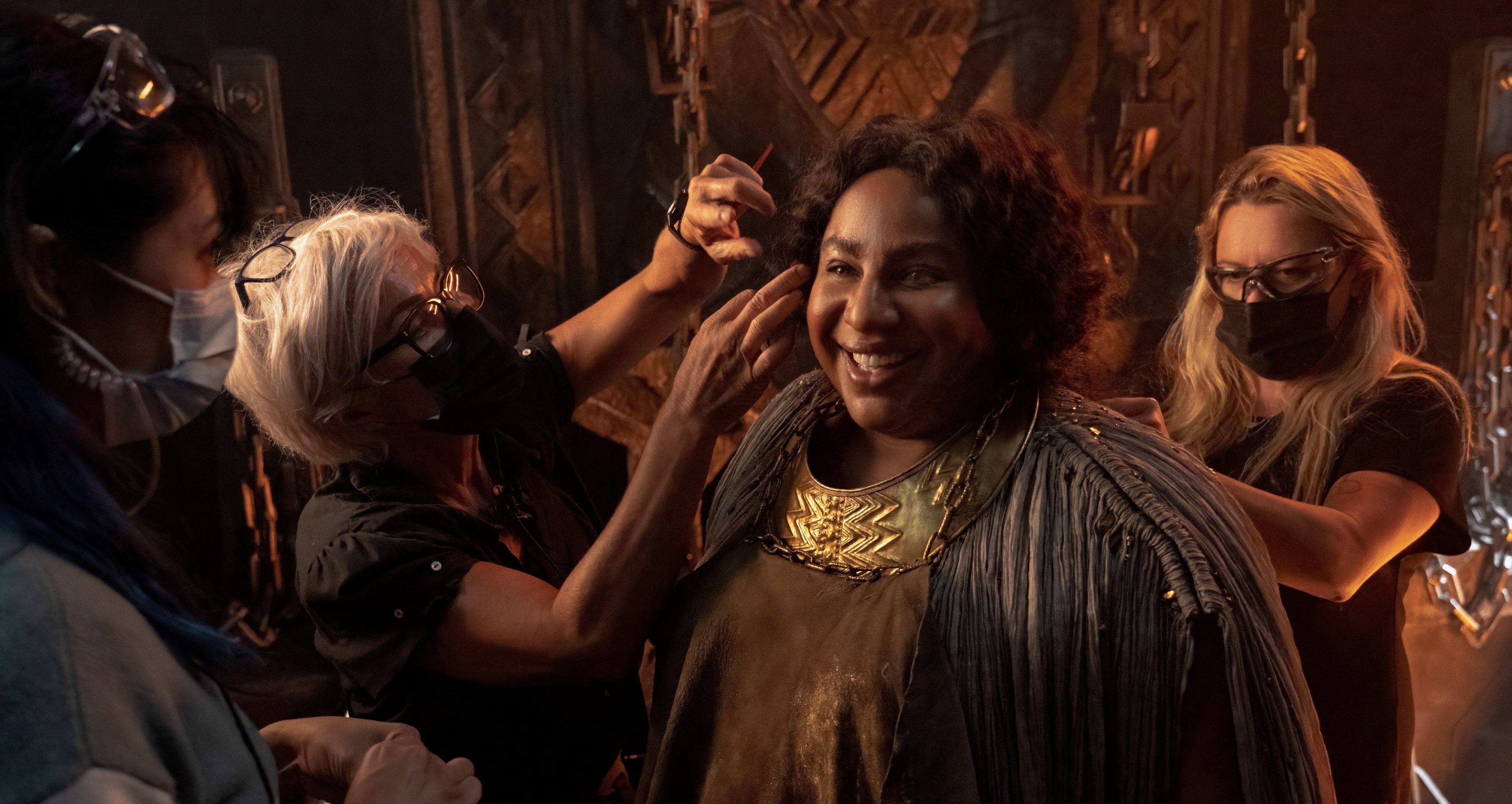 Kate, I can't imagine the challenges of trying to create costumes for essentially an eight-hour movie. You have so many characters, and each one comes from a different part of Middle-earth, and so can you sort of talk about, not only the practical problem of trying to design all these costumes, but then coming up with the looks of each of these costumes, and where do you find inspiration? What art movements are you pulling from? Everything is just a massive challenge.
HAWLEY: So, there's the whole arc of Middle-earth, and I had to start there, source material. I was very familiar already with Lord of the Rings and The Hobbit. I wasn't familiar with The Silmarillion until I started this job, so in fact, all my crew and my department became very familiar with all of the books. Understanding the text is the background to understand the different ages because there's such contrast between the First, Second, and Third Ages, and understanding where our characters start, and their creation, and where they end, both with Dwarves and Elves, and with individuals.
So we start with the text, but then also, I think in the natural process of research, and that you also look into the world of Tolkien himself and his influences, all the Nordic and Germanic mythologies, English folklore, his interest in Arthur and the Green Knight, all of that world, and also his own contemporaries, you know, there's the Pre-Raphaelites and Edward Burne-Jones, and all of those painters. So, we filled our rooms with all of this, and resoundingly, the thematic nature of elemental and each culture being imbued in a different set of elements… He describes the Elves being born on shores of pearl and a hero covered in the dust of diamonds, and his words evoke a lot of– We actually used to type out whole paragraphs from Tolkien's works, from any of those books, and put them up on the wall. Then gradually, we'd start big like that, big sweeps, and then we'd start defining each element and its relationship to nature and its environment, and that would inform materiality and color palette. So it's sort of starting with bigger elements, and then you get down and down, and more into the detail of each. It helps you put a sort of peg on each wall, and gives you a map, really. We had to have a big map, and then we'd sort of be able to create rules from that for each of the characters and for each of the cultures. But the commonality was that it was all based and embedded in nature.
AMES: And to be clear, Kate had a room, and we would go weekly to that room, and within it would be material, words, drawings, paintings, Kate's original art on the wall. We would come and go, and we'd all contribute – production design, visual effects – we'd all work together. So when Kate was talking about the words, of the diamonds and all of that, we brought into the visual effects as well. So the ice-climb has those elements, very specifically, that are also mirrored in subtly, but in the costumes, as well, and in the production design. So all of those things fit together somewhat seamlessly.
One of the things about this series is that going in, you knew that the world cared. This is a show that's gonna be watched all over the planet, it's the number-one show on Amazon on Prime Video. So, what is it like, actually, for both of you – because it's crazy hours you have to work — what is it like for both of you being part of a series like this that, literally, the entire planet is watching and cares about?
HAWLEY: Well, we cared, as well, very much. It can be a burden when you focus on that, but you can't really, you've got to go through the process and do your due diligence, which is familiarizing yourself as much with the material as you can, and understand the world. So we do the same process anyone would have, and the same as was done in Lord of the Rings. When you read about their research and process, you know, we're all looking and pulling out the same things. It's how you interpret it.
I think, for us, the Second Age, you know, where the trees give the light as opposed to taking the light in the Third Age, or at a time where magic, such as it is, is in its prime and it's the golden age of Elves and Dwarves, and in Lord of the Rings, magic is fading, as are the Elves in that world. So it's sort of understanding that, and we were very conscious of trying to, with some of these characters that we've never seen them before, but trying to always go back to Tolkien as a source if we had no other visual pathway, and working off those descriptions, really, to use as a base thing. There was endless discussion and endless research about elements, and we tried to bring in things from the past, from The Fall of Gondolin, and elements found their ways into costume, so anyone who knew the source material would recognize that maybe they knew some of these elements.
AMES: And I just want to add to that, that we took it as a great responsibility. We did not toss it off. Some people would like it and some people wouldn't like it, but what we were going to do was gonna do our very best to realize what Tolkien told us. So we always went back to Tolkien. It was the thing the showrunners did, we did, we took it extremely seriously, which sometimes becomes a conflict between creating drama and modern culture, and also staying true to the material, so that was a line that we walked. But fully, the answer that I would answer to your question is, we took it with a great deal of responsibility and care.
see more : Phil Lord & Chris Miller Break Down the Making of 'Spider-Man: Across the Spider-Verse' and How It Became Two Movies
HAWLEY: And a lot of people within my department, you know, Matt Appleton who was an armorer, and Daniel Falconer from Wētā, you know, we had a lot of people who had been involved, myself, in past films, but we're ready to look at the material in the new world. But all of them cared, and it was great because it was a debate all the time before we made certain decisions on things. You know, there was a debate about, "Was this true to character?" and that, so no one was allowed to get away with anything. You could still make a decision to do something, but there was no laziness involved in it.
AMES: We had people from all over the world, we had young artists who were inspired, and it's what brought them into either visual effects or into some of the craft that came to New Zealand with the hope of being on the show. And we had artists that had been on the original Lord of the Rings that wanted to come back to Middle-earth and look at it afresh, so it was fascinating and fun.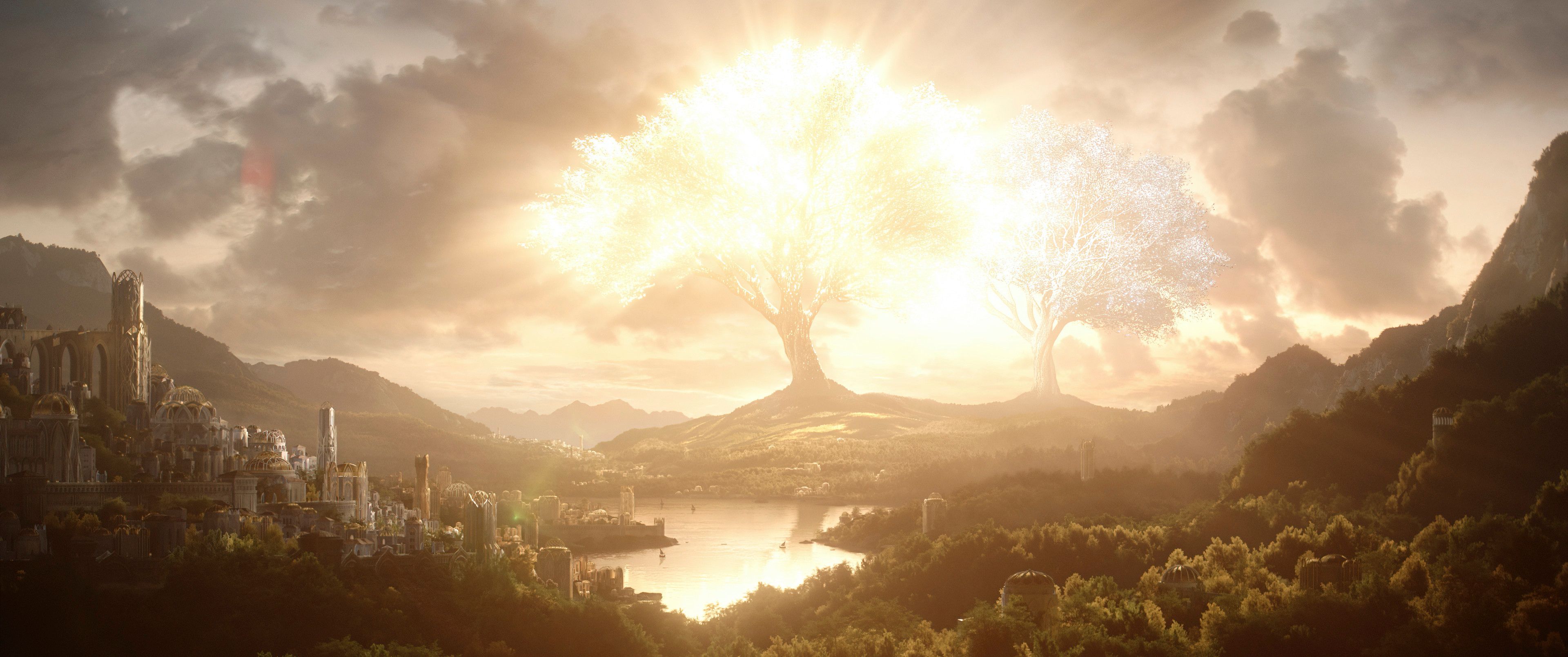 Yeah, I might be in the minority, but I personally know that a TV show needs to do what a TV show is gonna do, and the book will always be the book. But for each of you, if you could keep a costume that was made for the series, which costume would you keep and why? And the one that you're keeping, is it a one-off or were lots made?
HAWLEY: Well, I'm fascinated to see what Ron's gonna come up with there. I've got some ideas for Ron. But, I think for me, funny enough, it would be some of the chain mail that we created for Galadriel in the Northern Waste because it was something that Tolkien mentioned a lot, mail, and just bringing in the diamonds and the light, and sort of the world of Arda and Valinor. You know, for me, it just felt the right language for them, their interpretation of a familiar element, I suppose. And that also took a lot of work, many hands were bleeding at the end of that. But the chain mail is one of the first things that we did. I don't know, it's hard to have favorites, really. Sometimes they might be the berries we created, or some little element of the costume rather than the whole.
AMES: For me, personally, I would wear the Dwarf's costume when he comes in to the rock-breaking contest.
HAWLEY: [Laughs] The scale double?
AMES: No, when he comes in with a full regalia for the rock-breaking in Khazad-dûm.
HAWLEY: Did we not dress you up at all in the end?
AMES: No!
HAWLEY: Oh, I don't know how he got away with that!
AMES: That was fantastic, or for everyday wear, I would wear what the Harfeet wear.
HAWLEY: [Laughs] Everyday wear! I can't believe he wants an everyday look.
Season 1 of The Lord of the Rings: The Rings of Power is available to stream on Prime Video. Check out our interview with Peter Mullan, who plays Dwarven King Durin III, below.
Source: https://dominioncinemas.net
Category: INTERVIEWS