Shooting Stars, from director Chris Robinson and based on the book by LeBron James and Buzz Bissinger, tells the inspiring story of how a young LeBron James (Marquis "Mookie" Cook) and his childhood best friends Lil Dru (Caleb McLaughlin), Willie McGee (Avery "AJ" Wills Jr.) and Sian Cotton (Khalil Everage) turned a love of basketball into a life-changing opportunity for themselves and their families. Becoming the #1 high school team in the country would lead to the launch of James' career as one of the biggest superstars in the NBA, and a lifelong connection that would turn friends into family.
During this 1-on-1 interview with Collider, Robinson talked about how his career directing music videos has influenced his approach to feature films, what makes LeBron James so special, whether he ever got to meet him for this project, and the challenges of putting this cast together.
Collider: You've directed a ton of music videos with so many different types of artists, and the thing that I find so interesting about music videos, as a medium, is that you have to really convey a clear vision and feeling in five minutes or less. What were the most important filmmaking tricks or lessons you learned from directing music videos that have really helped shape you into the director you are today?
CHRIS ROBINSON: That's an interesting question. I think music videos are probably one of the most amazing art forms, in my opinion. With a music video, your script is the song, and you're dealing with artists who are huge international stars. They have something that they've conveyed, and you have to come together with a story or a visual that they dig and that they feel is right, and then a music video can inform what that is and how people receive it. That's what I learned, over the years doing music videos. Working with Alicia Keys, she's got a certain personality and a way she does her music. Working with Jay-Z is a totally different thing. What I always wanted to do was bring some authenticity to it, and as a filmmaker, I think the same way.
Especially with this film, we've heard this story before. We are actually watching this story, as it unfolds, because LeBron is still going. So, how can I tell a story that is authentic and that makes you care? You don't want the audience to be like, "I don't care. That was a great basketball shot. That's cool." You can't beat the NBA, in how your film looks, so I chose to really focus on what was authentic – his friends, his community, being in Akron, and being in the Midwest – and then always having that realization that, "Wow, this guy is really a superhero and icon in real life. That's crazy." That's how I approached it. I definitely had years and years of music videos to deal with big, iconic artists, as well as learning to communicate a story in that way.
To become one of these athletes that is known by just one name, whether it's Jordan or Kobe or LeBron, they have to be so much more than just a great one-of-a-kind player. What do you think it is that makes LeBron James so special, and what was it like to have him involved with this and to have him give this his blessing?
ROBINSON: This movie has been 13 years in the making. LeBron has been very involved in it, but here's a little secret., I have yet to meet him, personally. He's got a day job. He's a mogul. He's got many TV shows and other movies at Spring Hill to focus on. At the beginning of the process, I really wanted to meet him. But the more I spoke to his friends, who are still his friends, and his coaches, and the community, and the guy at the diner down the street who knew him, and his teachers, I started to really understand how this kid became this man. It's the story of King Arthur and how the boy would become king. It's all the small things and all the minutia, day after day, of keeping your grades up, going to school, when his mom was busy who would watch him, and his basketball training. He became this phenomenon through a lot of little inches forward. I'm amazed by it.
Just in everyday life, it's hard to maintain and be focused. But to have so much put upon you and to have the kind of personality, where you stay loyal to your friends when a lot of people are put tugging you in different ways, he's seemingly been able to decipher it all and have this kind of thought process, as a very young man. I think that has everything to do with how he was brought up and his IQ. Everybody talks about his basketball IQ and how amazing he is at understanding the game, but there's also this IQ to understanding, "Yeah, everybody wants to talk to me, in this moment, or wants to do business with me, but here are the people I love and care about, who were here when nobody was."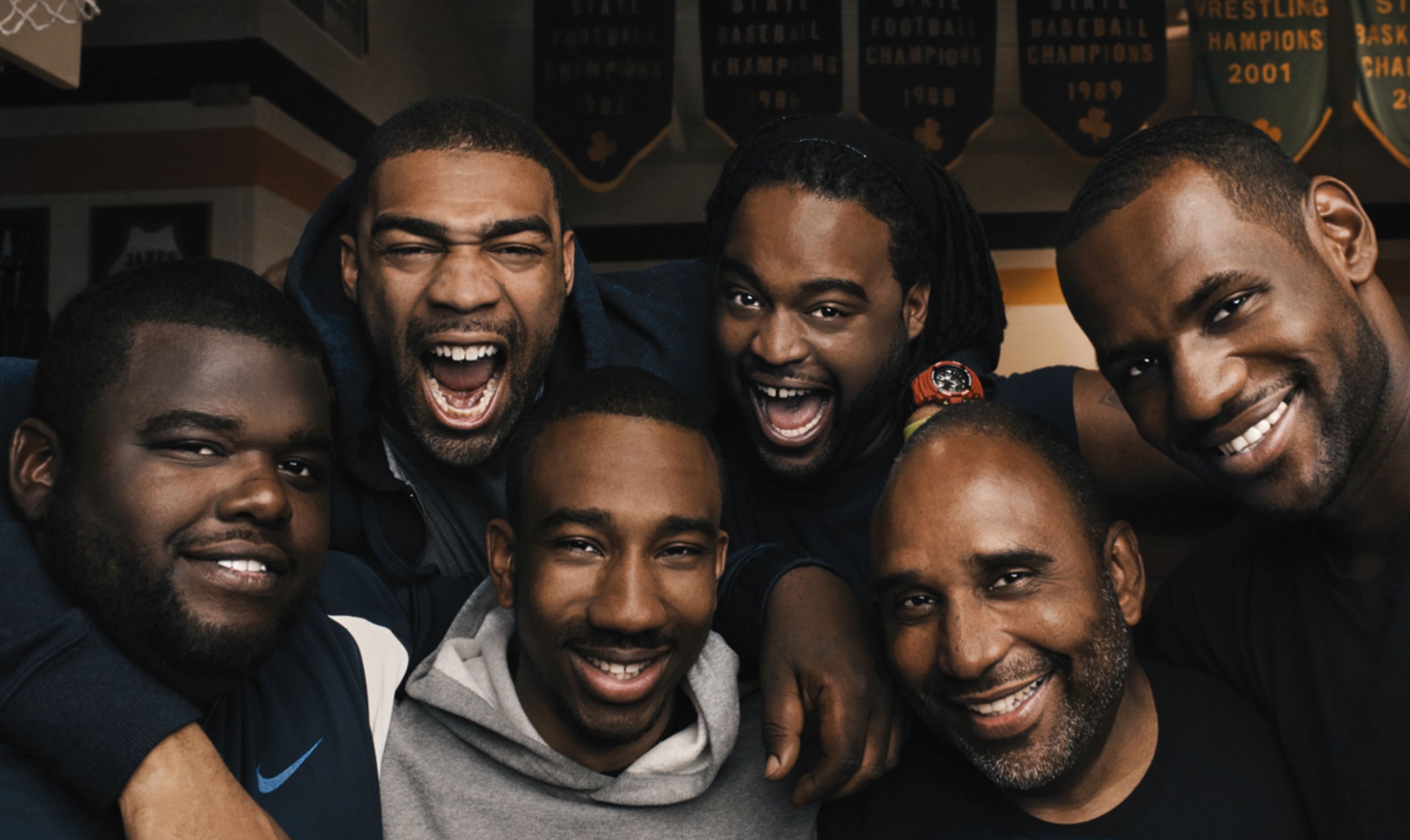 see more : 'Transformers: Rise of the Beasts' Producer on the Costs of CGI and Why He Bought 'Harry Potter' for WB
What was it like to put this cast together? You're not only putting a group of friends together and that chemistry has to be felt, but it also has to be felt on the court, and you have to find someone to embody LeBron James. What was the lowest point of the casting process, and what was the highest point?
ROBINSON: The lowest point was an initial casting call. We had a lot of guys come out. There are a lot of amazing actors in Hollywood, but the basketball skills were tough. That was the lowest point where we went, "Wait a minute, we've gotta find the most amazing basketball player in the world, when he was a teenager." So, we got on the road, went to a lot of AAU (Amateur Athletic Union) tournaments, up and down the east coast, and talked to different friends and were like, "Okay, who's great?" We went through the process because this isn't movie without finding a kid that can embody LeBron James. And then, we found Mookie Cook. He was in the middle of his practice, so he finished his practice, came onto Zoom, and as soon as he started talking, we were all silently screaming. We were like, "This is the guy. We found him." And Mookie had no aspirations to be an actor, whatsoever. He actually is going to University of Oregon. He just got a full ride scholarship to go there. He's amazing.
And then, the chips started to fall. We found Scoot Henderson at a tournament, and he's projected to go number three in the draft this year. It was a real process. I had worked with Caleb [McLaughlin] before. We did a project where he had to learn to dance, and he just really picked it up. When he came to the audition, he was already an amazing basketball player with crazy handles, and I had to pull him aside and go, "What have you been doing for the last three years that I haven't seen you?" He seemed like he was Division 1 material. We got really lucky that they were all the right age, they all played basketball, and they were all natural athletes. They had real focus when they had to do the choreography and when they would train. It was really grueling to go through this process for 36 days, and they were up for the task, so God bless those guys. We wouldn't have had a movie, if any of those things fell short.
Shooting Stars is available to stream at Peacock.
Source: https://dominioncinemas.net
Category: INTERVIEWS