Prey is a huge win for the Predator franchise for a multitude of reasons. It's an excellent new addition to a beloved long-running series that appealed to hardcore fans. It's also the perfect on-ramp for Predator newcomers, one that respects Predator lore but doesn't require viewers to know all the details before jumping in. And then, on top of that, it's a good movie, period. It's a wildly tense thrill powered by thematic heft, a dazzling lead performance from Amber Midthunder, and sky-high production value across the board. In fact, Prey is so good, it's done something that genre movies often struggle with — it broke into the awards season conversation.
Not only did Prey appear on many Top 10 lists at the end of 2022, including my own, but the movie also went on to score a number of significant award season nominations. It received a nomination for Outstanding Achievement in Sound Mixing for Non-Theatrical Motion Picture or Limited Series from the Cinema Audio Society, a nomination from the American Cinema Editors, and a nomination for Outstanding Producer of Televised or Streamed Motion Pictures at the PGA Awards.
That's a mighty impressive haul right there, but Prey's awards season run isn't over yet because Emmy season is upon us. With hopes high for a nomination in the TV Movie category, Prey director Dan Trachtenberg joined me for a chat to recap how he made a Predator movie for fans, newcomers, and for awards season.
Initially, Trachtenberg had hoped to be in production on Prey when Shane Black's Predator hit theaters in September 2018. He recalled:
"I had this idea, and they were making Shane's movie. It was either in prep or maybe in early stages of production, and my reps were like, 'Don't. They're making a movie.' And I was like, 'Yeah, but this idea, I can't keep it in.' I emailed an exec at 20th the pitch. I just emailed it to him and said, 'I know you're doing what's sure to be the start of a new trilogy. I get it. But maybe like Star Wars has 7, 8, 9 and then,' I don't even know if they were out at the time, 'Solo and Rogue One, so why don't we call this movie Prey and then you can do this other thing while you're doing that thing,' you know?"
In addition to identifying some fun marketing crossover ideas, Trachtenberg also saw great value in Black's movie taking a big, bonkers approach to the materia, and then his own movie veering in a more stripped-down direction. Here's how he put it:
see more : Guy Pearce and Julia Savage on 'The Clearing's "Extreme, Unusual" Cult

"The thing that we were relying on is, in success, Shane's movie was so — and really, we were working off of only having read the script for his movie, and there was a lot more going on. There's a lot. It was even more Shane Black-y than one could imagine. And [I] was like, 'So if this works,' it was just very kitchen sink. It's very going bonkers with it, so then it's still cool that we have this other back-to-basics stripped down take. And if it turns out that that doesn't work, when they eventually decide to make a Predator movie again, which has to happen at some point even though there was a couple of years where I felt like, 'Maybe they won't. This sucks,' but, when they do, this would be the move you make, right? You make the movie that is more stripped down."
While that mentality does make a good deal of sense, Trachtenberg's reps did suggest pursuing another path. He explained:
"Just to fill in the gap a little bit, my reps were like, because the script was so good, 'Maybe we take this out not as a Predator thing.' But, thinking about, 'Well, they gotta [make another Predator movie] eventually,' and also thematically I could not let go of that it is an antagonist whose main purpose is to find the Alpha, find the worthy, and she's out there trying to say, 'I am,' and it's saying, 'I don't see you.' It makes her movie better and she makes a Predator movie better. It's like, I can't not. We have to just wait. So thankfully they dug it out of the file cabinet."
It's a good thing Trachtenberg held tight to his original vision and that the powers that be believed in it because they wound up making a Predator movie that does something many franchises struggle with; they delivered a new installment that doesn't limit its viewership to Predator fans, but rather, broadens the franchise's audience. However, achieving that didn't come easy and it required some workshopping, test screening, and additional photography.
"To be candid, it was challenging. That was always the ambition, but the initial cut, we took for granted people's awareness or even ability to follow what the Predator's up to. And some of our reshoots or additional whatever you want to call it were — it used to be that the Predator was tracking her and she was tracking the Predator, and it was this weird circle that was very hard to follow. And then we realized, 'Oh, the move that we need to make is put them on parallel paths that then collide.'"
In addition to strengthening the narrative in that respect, Trachtenberg also had to come to terms with the fact that viewers who are unfamiliar with past Predator films might misread beats that seem obvious to longtime fans.
see more : Why David Dastmalchian Initially Said No to 'The Boogeyman'

"We had screened some friends and family stuff where we were like, 'What do you think the Predator …,' and someone's like, 'I think he's a vampire,' because the bear scene, they thought it was drinking the blood of the bear. I'm like, 'What?' But I get it, you know? I can't tell you how many times in early days, because when people are unaware of what they're seeing we got the like, 'Isn't the blood acid?' So many people said that and I was like, 'Oh, wrong …' I get why you think that. It's green. And you sort of, by proxy, are blending things, but the movie has to do a better job of saying exactly what we are."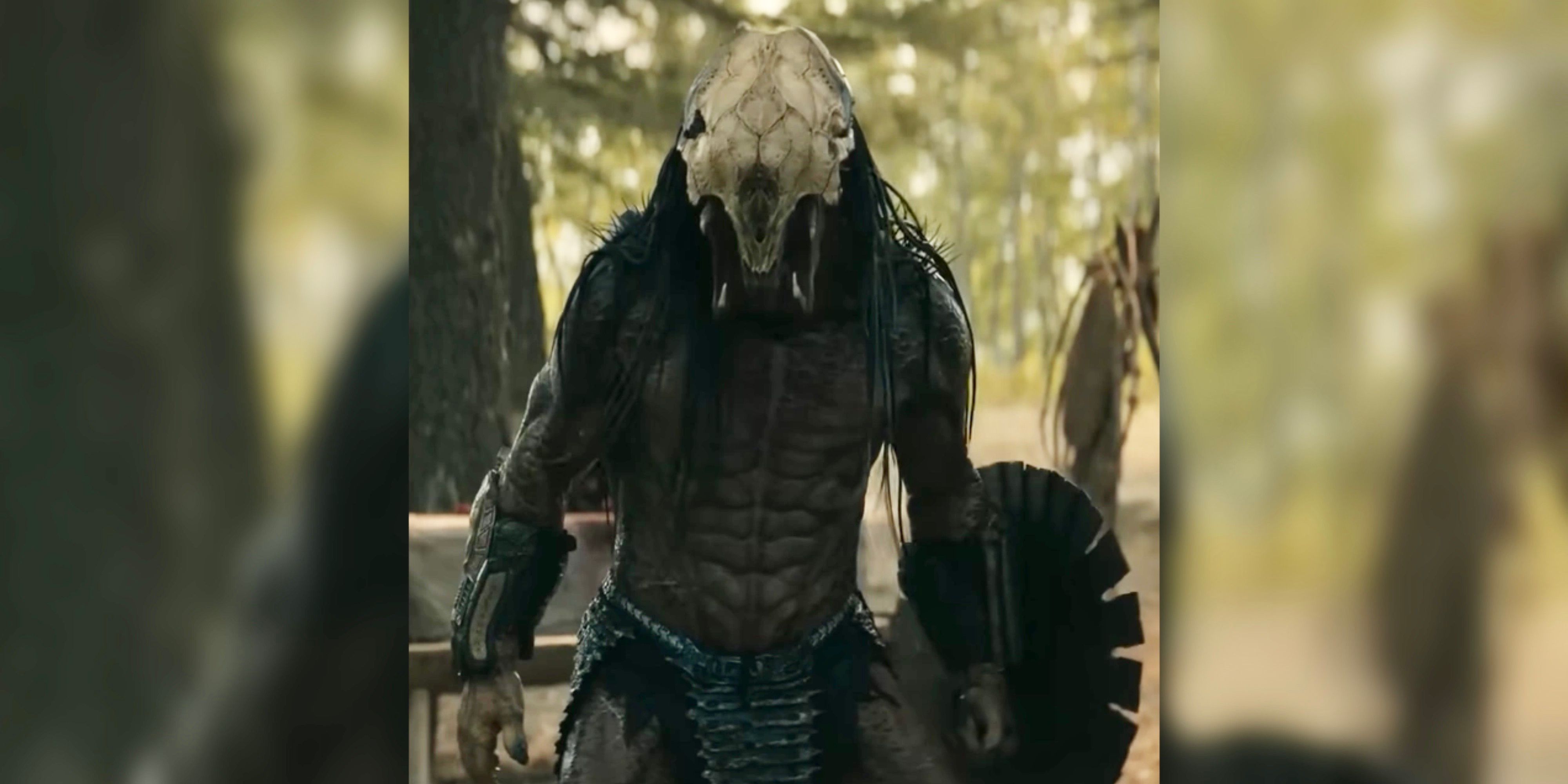 And that's exactly what Trachtenberg and the team did, and that additional work and attention to detail resulted in Prey landing on many best-of-the-year lists, scoring major industry nominations, and getting a 93% on the Tomatometer and a 73% audience score on Rotten Tomatoes.
Will it add Emmy nominations to that list as well? Personally, I'm betting on it. One, because I think it truly does have a very good chance of snagging a nomination in the TV Movie category, and also because I want to see it happen. I want to see it happen because it's a personal favorite film of the year, and also because of what it could mean for genre movies in the awards season space. Yes, some films have broken through over the years, but I'm a big believer there should be more. Here's what Trachtenberg said when asked how he feels about Prey bucking that trend:
"It's awesome. I share your sentiment. I can't tell you how many times in film school repeating, 'Raiders of the Lost Ark was not made for [the] Academy,' and I always felt like, 'Why that and then nothing else after?' And always thinking John Woo should have won. Nobody makes movies like that. That's as much of an auteur as Tarantino is an auteur. Why is that not being viewed that way? And the craft that goes into making sequences like he makes them. Don't get me started on stunts, and all that stuff. So I've always wanted to see that, but I will also say that I would never want there to be a genre film [category]. To me it's like, 'No, you want to make something that does fulfill the ultimate thing of, what a thrill ride and also people are finding it to be insightful and emotional and empowering,' that it's doing all the things that we want to award a movie for while also being thrilling. We were nominated for PGAs, which is amazing for Jhane [Myers] who was a producer, Comanche herself. That's [huge] in my mental thing, and all the other awards-y stuff. All that stuff has been awesome, and just being in the conversation when you make something like this, it's always a balance of medicine and ice cream, you know? And Barry Jenkins moderated one of our things, and he loved movie. It's just so, so cool, and also heartening having the interest that you and I have of like, it's just validating. Like, 'Oh yeah, we love the same things.' It's nice to find other people that like what you like."
Eager to hear more from Trachtenberg on the making of Prey? Check out our full 32-minute conversation in the video interview at the top of this article!
And if you're looking for more Emmy season FYC content, watch Christa Miller's episode of Collider Ladies Night in celebration of Shrinking below:
Source: https://dominioncinemas.net
Category: INTERVIEWS