[Editor's note: The following contains major spoilers for Season 4 of Never Have I Ever.]From show creators Lang Fisher and Mindy Kaling, the fourth and final season of the Netflix comedy series Never Have I Ever sees Devi Vishwakumar (Maitreyi Ramakrishnan) finishing her senior year in high school, figuring out her college plans, and sorting out her romantic life, with more than a few zig-zags along the way, but with her best friends and her family by her side. The series also stars Jaren Lewison, Darren Barnet, Poorna Jagannathan, Richa Moorjani, Lee Rodriguez, Ramona Young and John McEnroe, as himself/the narrator.
During this interview with Collider, co-stars Ramakrishnan, Lewison (who plays Ben Gross) and Barnet (who plays Paxton Hall-Yoshida) talked about which team they've been on (Team Ben, Team Paxton or Team Devi), shooting the wedding, getting to do the wedding dance, the very special guest star that Ben shared a scene with, Paxton's journey of self-discovery, and some wild speculation about where things might go next for these characters.
Collider: Maitreyi, do you think Devi will actually go on to become the first Supreme Court Justice who's also a hip-hop artist, like the end of the series declares? Can we trust her to follow through on that.
MAITREYI RAMAKRISHNAN: I believe in her to become a Supreme Court Justice, but I do not believe in her becoming any kind of performer, or any genre.
DARREN BARNET: Megan Thee Esquire.
JAREN LEWISON: You are on fire today!
RAMAKRISHNAN: Oh, my God! Wow. I don't know if I love that or hate that. Devi is not a performer. I don't think she has flow.
She's a good dancer.
RAMAKRISHNAN: That she is, but I don't think she has the vocals.
I feel like there have always been four possible teams to choose from, with this show. There's Team Paxton, Team Ben, Team Somebody Else, since there were always new options, and Team Devi. Were you always firmly in the corner of one team and it never wavered? Did you ever go back and forth? Were you each always firmly the captain of your own team?
RAMAKRISHNAN: These guys were always firmly captain of their own teams.
BARNET: Yeah. But I could see both sides.
RAMAKRISHNAN: [Jaren] was handing out Team Ben merch to the fans.
LEWISON: That's completely false.
RAMAKRISHNAN: You had straight up propaganda for Team Ben
LEWISON: These are literally just lies that she's spilling right now. Don't believe any of this. I don't even own a printer.
BARNET: I'll buy a t-shirt.
RAMAKRISHNAN: We'll support the cause. No. I've always been firmly team Devi. I still have team Devi, just because I love her. But I can also be in support of another team, on the side. I can say that I'm Team Paxton. Darren knows. I've told Jaren, too. I got the script for the time that Devi wrote, "I have a crush on Des," in Season 3, and I cried. I actually cried. I was like, "Wait, this is the end of Paxton?" I was so upset. I love Team Paxton. He's the best opposite foil for Devi. He drops the best wisdom, straight away from Season 1 with, "Who cares what other people think? You do you. All brown people do is care about what other people think." Devi needs to hear that. That's a good partner.
LEWISON: They should just get married.
RAMAKRISHNAN: Are the shirts not selling well?
Jaren, do you have something to say about all of this?
LEWISON: What can I say? Obviously, I respect Maitreyi's opinion, even if she's wrong.
RAMAKRISHNAN: Do you?
LEWISON: It hurts my heart, obviously. I know that she's been firmly Team Paxton, and it's hard to argue with that. She's said a lot of great things about Team Ben, too. She didn't just rag on us, so we can stay strong. At the end of the day, you've gotta respect the decision.
BARNET: You sound like you just lost the NBA title.
see more : 'The Wheel of Time's Ceara Coveney, Dónal Finn & Marcus Rutherford on the Season 2 Premiere
LEWISON: At the end of the day, the other team just outplayed us.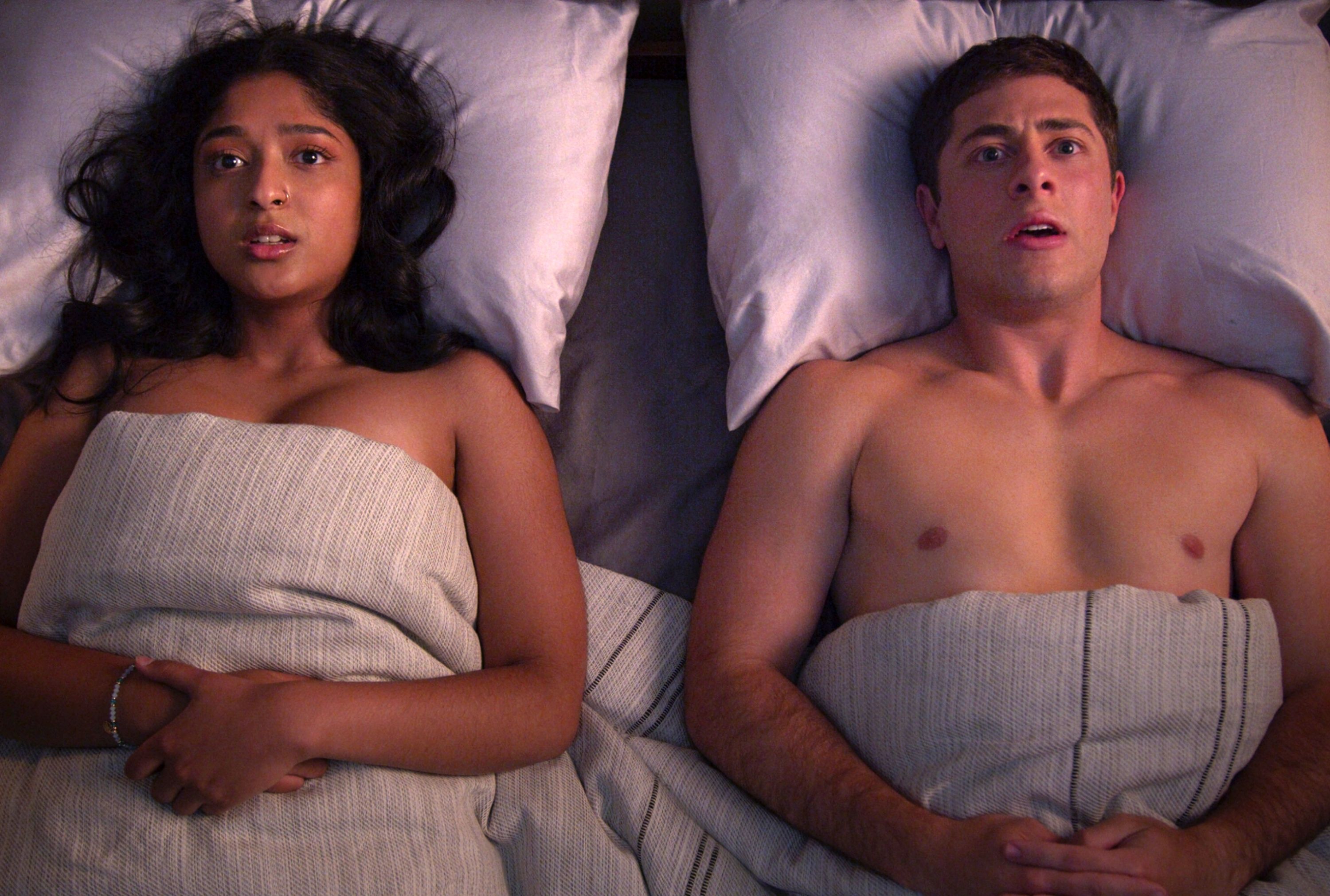 I love that we got a wedding in the final episode and just how beautiful all of that looked. And I love how it brought everybody together in one place. What was it like to be a part of that?
RAMAKRISHNAN: It was fun. I was wondering if they would figure out a way to get us all in one scene. But [Ben] got there, eventually. It was a very fun time, though. It looked gorgeous.
LEWISON: Yes, it was incredible set design.
RAMAKRISHNAN: Props and set dec and the crew killed it. It looked beautiful. It was like a real celebration. We all looked great. We had fancy outfits. It was a lovely time.
What was it like to do the dance at the wedding, with Devi and Kamala? How long did you have to prepare for that? Did you actually get to have fun doing it?
RAMAKRISHNAN: I had a lot of fun. Fun fact, the lead dancer in the Ganesh Puja episode in Season 1, was the person who choreographed the dance for Richa [Moorjani] and I to perform, as Devi and Kamala, at the wedding. It was a full circle moment for Devi's character arc, considering she was making fun of those girls, and now she gets to be one of those girls and have such a fun time. And I had 48 hours to learn it. It was two days because I was also swamped with learning the harp, for playing "Unchained Melody" while Nirmala and Len's first dance goes on, and also memorizing my monologue for the last prayer scene, and then my own regular scenes in between. My brain was mushy, but honestly, the crew, my cast members, and Richa really helped out with letting me practice with her, whenever I wanted. Even if it was just the hand movements in the hair and makeup trailer, we would run it down, and that was great. It was a beautiful, chaotic mess. Even though there was a lot going on for me, at that time, that's how I love to live my life. I like to have a million and one things going on, so it was a blast.
Jaren, could you ever have imagined that you'd share a scene with Dwight Howard on this show and that Ben would be asking him for sex advice? How does a moment like that happen?
LEWISON: No, that was not in my bingo card for Ben. When I first read it, I was like, "Oh, my God." I was astounded. We filmed a little bit out of order, based off his schedule, so I was like, "Until it happens, I'm gonna try to temper my expectations," because I knew that, when it finally did happen, I'd probably freak out a little bit. I was slightly nervous. I don't know why. I was like, "Wow, this is a professional athlete, and I've never really worked with one before. He's fantastic. He's a future Hall of Famer. I'm not even good at basketball. Is he gonna know?" But in reality, Dwight is one of the nicest, most gentle people. The term gentle giant is completely and utterly Dwight. He came in and was so kind. He shook everybody's hand and was talking to everyone, getting to know everybody. He was so positive and so energetic. The scene was awesome. His advice sucked, but to be fair, that was his written advice and it made for great TV, so I give Dwight a pass for that. I'm sure his advice in real life is so much better because he's a very nice guy. I was very lucky to work with him. It was super cool. Definitely a bucket list thing.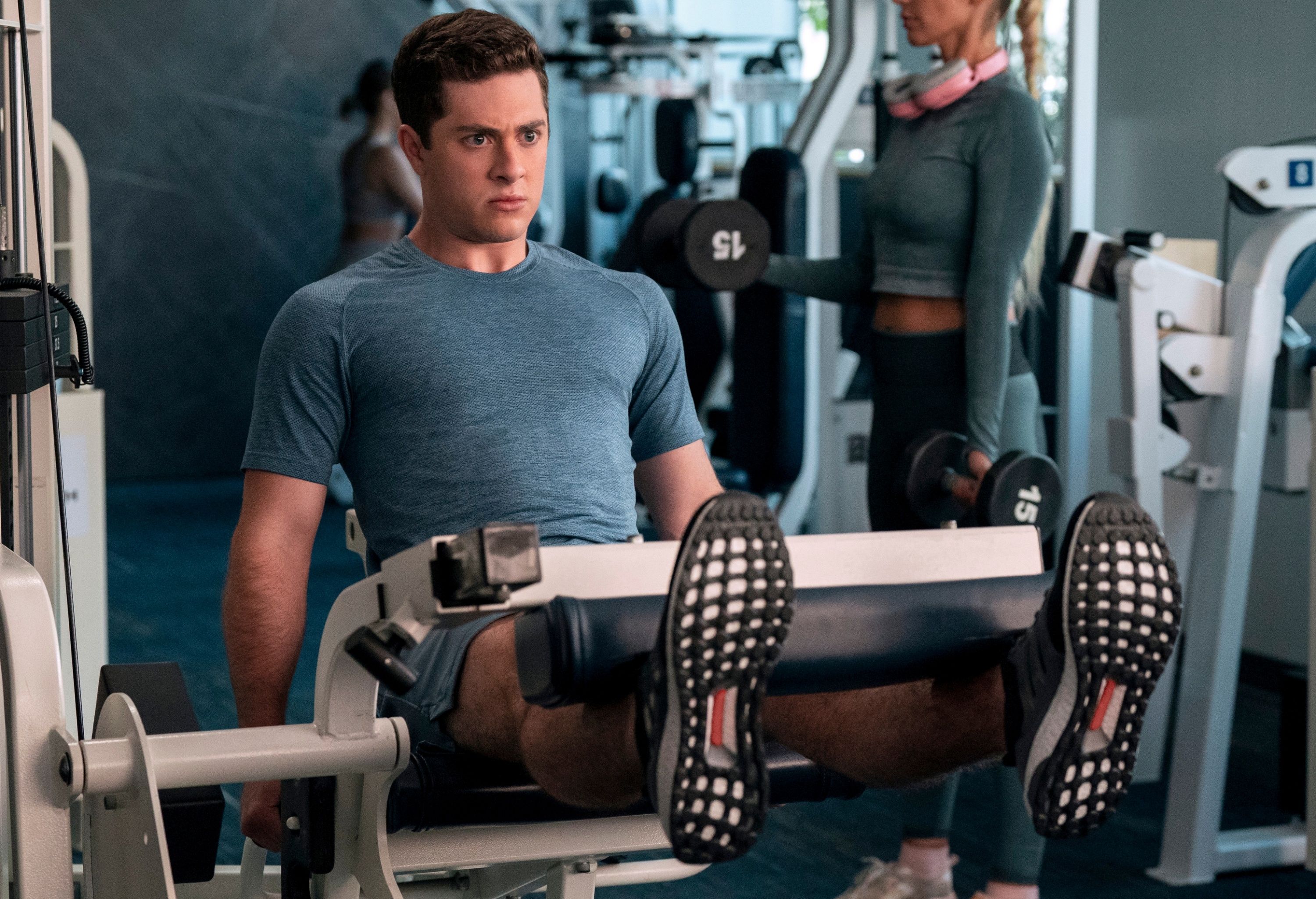 What was he like as a scene partner, and are you besties now? Do you text each other?
LEWISON: We don't text each other, but we did take a really cool picture and I sent it to him. I don't know if he'll post it, but I definitely will and I'll tag him, for sure. It was a secret for a long time. I actually stood on a step because he's so tall. I'm 5'7″, and he's very tall.
BARNET: He's like seven feet tall.
LEWISON: So, I stood on the curb, and I think he might have even bent down a little bit.
RAMAKRISHNAN: He's probably used to that, though. He's really tall.
LEWISON: He was also a very solid actor. He doesn't have a lot of experience, but he's got some natural talent. So, look out, maybe Dwight's gonna do a The Rock thing, or a John Cena thing. I don't know. A lot of professional athletes wind up being an actor. You never know. It's a possibility.
Darren, I actually really love that Paxton questions whether he's made the right decision in going to college and what he wants to do with his life. There's so much pressure put on young people to decide everything they want to be, by the time they go to college, that it's nice to see Paxton not be sure and to really take the season to figure that out. How did you feel about the way that played out for him? What do you hope young people get from seeing a storyline like that?
BARNET: I loved it because I am someone that's been through college, graduated, and thought everything was gonna be figured out. A lot of younger adults have that experience, when they graduate high school, and they need to know exactly what they're gonna major in because, if they don't choose that correctly and they don't graduate on time, it will lead them down a different path. If you have a plan and you wanna go to medical school, go for it. But there are so many different things that hit you in life. I've been saying lately, if you think you don't have yourself figured out now, wait for 10 years. Maybe you're still gonna be in the same place, or maybe you'll be a little bit worse, maybe you'll be a little bit better. Life is an ongoing game of figuring yourself out, learning about what you want, and seeing what fulfills you. Don't put all the pressure on top of you, if you haven't figured it out by 18 or 22.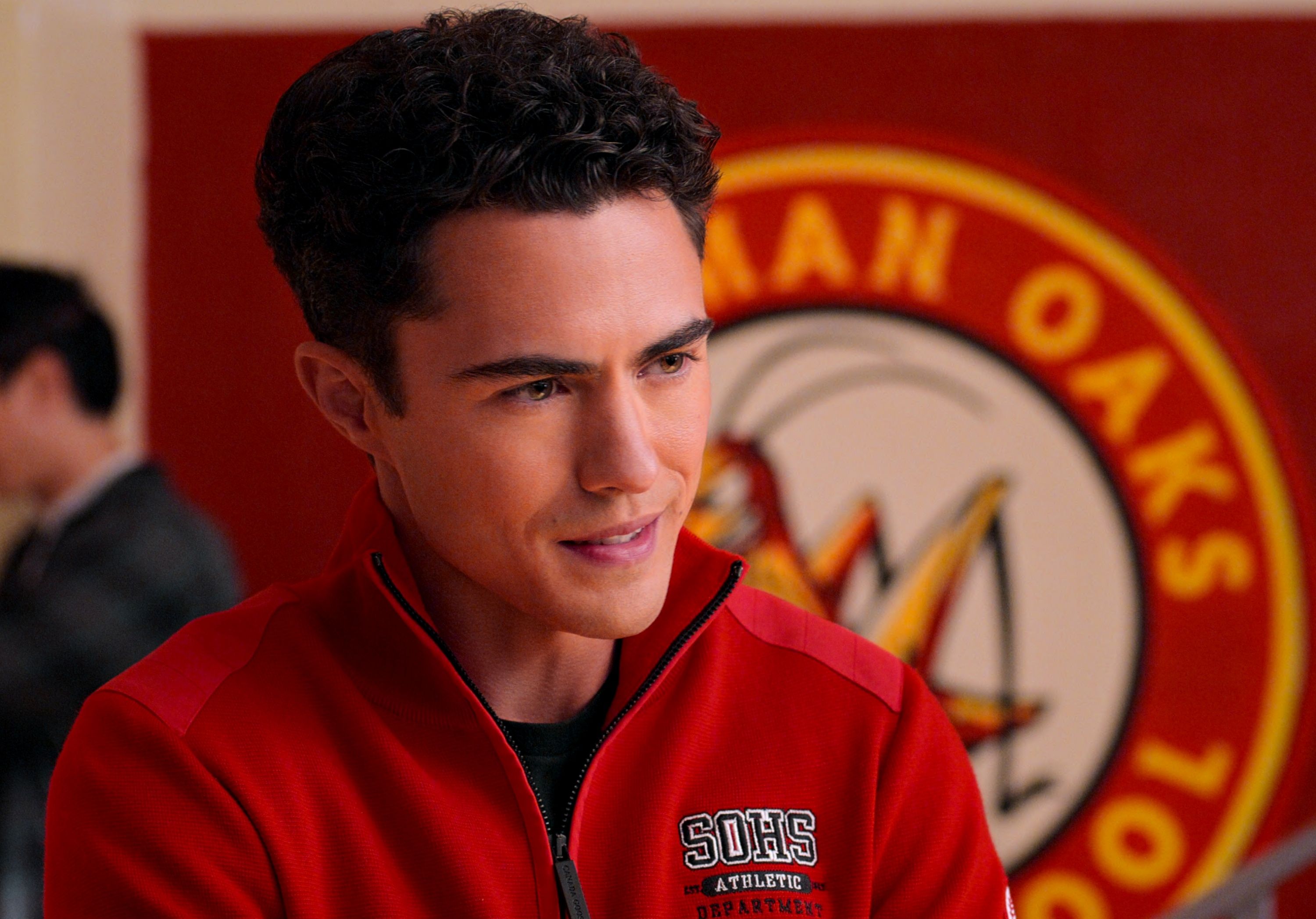 I love a show like this, where you spend these seasons caring about the characters, and then you can leave them in a place where it feels like they're all going to be okay. Do each of you feel like your character got their happy ending, even if they're not entirely sure what comes next?
RAMAKRISHNAN: The moment we cut to black on the show, let's pretend their lives continued on and all of their lives just went chaotic. It just seems like they're happy, but then everything takes a downhill turn. Kamala is eating ice cream with Kulkarni, but then the ice cream falls. It's all chaotic. Am I wrong?
LEWISON: Yes. Don't be so cynical.
RAMAKRISHNAN: It's not cynical. It would just be chaotic.
LEWISON: I'm team positive. Everybody has a happy ending and walks into the sunset.
RAMAKRISHNAN: That's not life, though.
LEWISON: For the next hour, they have good vibes. The ice cream doesn't fall. She finishes the ice cream and is happy, and she goes home slightly bloated and it's fine.
RAMAKRISHNAN: But then, an hour after that, she has food poisoning. Nalini and Andreas get into a fight at dinner.
LEWISON: Why would they get into a fight?
RAMAKRISHNAN: I don't know. There's trouble in paradise. Maybe they realize they're rushing into things.
LEWISON: No!
RAMAKRISHNAN: Paxton gets his next test back and it's a fail. It keeps going.
LEWISON: What happens to Ben and Devi?
RAMAKRISHNAN: A fire alarm gets pulled at the dorm by some rando kid, but it's a real fire.
BARNET: She serves him divorce papers, but they never got married and everyone's confused.
RAMAKRISHNAN: Yeah! A pregnancy scare could happen too. I'm so sorry. I had to say it!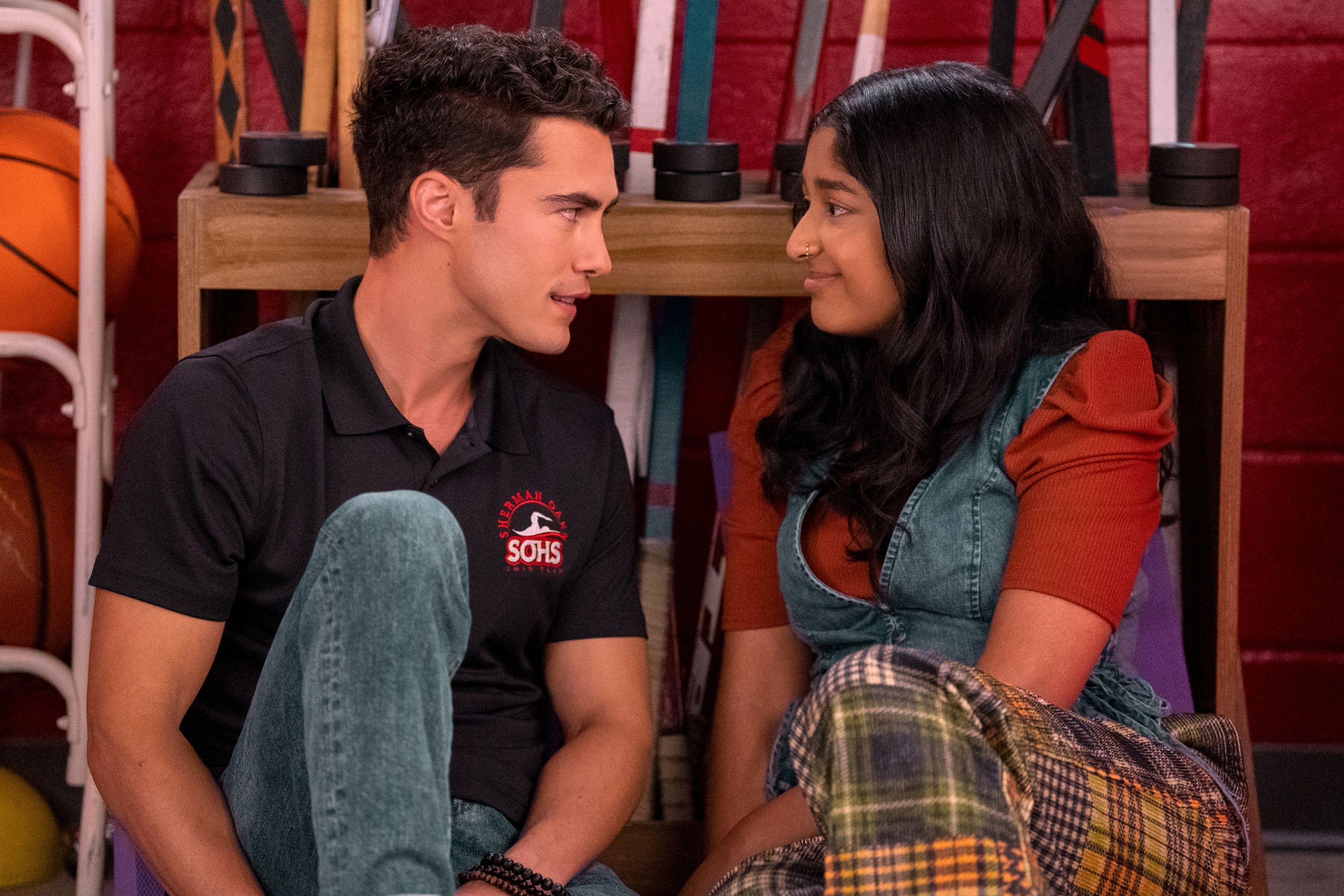 Were you just very disappointed when it seemed like things turned out well for everybody?
RAMAKRISHNAN: No. Hear me out, [John] McEnroe says, "For now," so I'm just saying. McEnroe knows more than the characters because he has God-like vision.
BARNET: So, right after it cuts, there's a Dahmer and Never Have I Ever crossover and things really get wild.
RAMAKRISHNAN: No, I didn't say that.
BARNET: If you're gonna go for it, then really go for it. Don't hold back.
RAMAKRISHNAN: Okay, well, there's committing to the bit, and now I'm scared.
LEWISON: I was never a part of this.
Things just went very dark.
RAMAKRISHNAN: They walk into the sunset.
LEWISON: Yes!
RAMAKRISHNAN: And then, the sun gets bigger and larger and closer. Because of global warming, the earth is burning.
LEWISON: No!
BARNET: This really took a turn, didn't it.
RAMAKRISHNAN: These are just ideas. This is a collaboration.
Never Have I Ever is available to stream at Netflix.
Source: https://dominioncinemas.net
Category: INTERVIEWS