Before The Flash hits theaters on June 16, Collider's Steve Weintraub spoke with the DC's current dynamic duo, director Andy Muschietti, and producer Barbara Muschietti, about the process of getting this final DC Extended Universe feature onto the screen to herald in the new DCU franchise under Peter Safran and James Gunn. Curious about whether there's an end-credits scene or how long the original cut was? You're in good company.
The Flash, starring Ezra Miller in the superhero's first standalone film, presents Barry Allen with an opportunity to experience an alternate reality by accessing the Multiverse. Fortunately in our reality, that allows for a total reset, opening up the DCU to a smooth transition into their slate of films and series. In the movie, when Barry travels in time to save his mother, he unintentionally exposes the Multiverse and finds himself going toe-to-toe with a very alive General Zod (Michael Shannon). Unlike the super villain, Henry Cavill's Superman is nowhere to be found, and instead, Barry enlists the help of this alternate reality's heroes, introducing Sasha Calle as Supergirl and seeing Michael Keaton reprise his role as Batman. The Flash also stars Ben Affleck, Kiersey Clemons, Temuera Morrison, Ron Livingston, Antje Traue, and likely many other surprises.
In their spoiler-free interview, which you can watch or read below, the Muschietti siblings don't discuss which cameos make it into the movie, but they do tell Weintraub they approached many people or estates affiliated with the brand to "honor the legacy of DC," and how many of them responded. In particular, they reveal which actor was a make-or-break element to their story, based on the Flashpoint comic, and they also discuss the original cut of the movie, if we'll be getting any deleted scenes, and what their "main matter of arguments" was during production.
COLLIDER: I mean this sincerely, you guys did such a great job with this movie. It's so good. I know fans are going to love it. I've seen it twice and both times there's no credits, no after-the-credits scene, and I'm just curious if when the movie gets released, will you guys be including an after-the-credit scene, or is it something that you thought about and it's not gonna happen?
ANDY MUSCHIETTI: If you see the movie on the 16th or after you'll notice that there's a couple of surprises there that we wanted to leave for the release of the movie, just to avoid any kind of possible leaks and stuff. So, there's a couple more surprises there.
I love talking about the editing room because it's where it all comes together. Can you talk about how the film changed in the editing room in maybe ways you guys weren't expecting?
ANDY: The first thing is, I like to shoot a lot and I like to have options, and depending on the actors I'm working with, we have more or less material. In the case of my work with Ezra, we had an impossibly long list of options because Ezra is a phenomenal actor, gives you a lot, and we did a lot of improvising that led to the scenes being longer than expected and ended up with a four-hour movie, basically.
The first part of the answer is, yeah, there was a lot of reshaping of the movie in terms of making it shorter, basically. But of course, the editing process is the place where things really take shape. It's one thing to have a script and be in love with a script, but then production and the execution take you to a different place where there's a lot of new things to consider, and the edit room is where it all comes to fall into place. And that requires a lot of work. Sometimes I wish I had a time-traveling machine to jump from day one of edit to six months of the edit to see where the movie ends and to basically not waste all of that time trying things. But the truth is that it's a process that you have to go through, and it's a trial and error, and a lot of different versions.
Yeah, I just want to say that I would love to see some of those deleted scenes, so hopefully they'll eventually be on the Blu-ray.
ANDY: You will!
I'm curious for the two of you, what would have happened if Michael Keaton had said no?
BARBARA MUSCHIETTI: We wouldn't have made this movie. We wouldn't have been able to make this movie as it is. We made it clear to him the first time we sat with him for lunch if he had said no, it would have been a completely different story.
ANDY: In the Multiverse, there's probably a version of this movie without Michael Keaton.
BARBARA: [Laughs] But we were not attached.
ANDY: Somewhere in the Multiverse.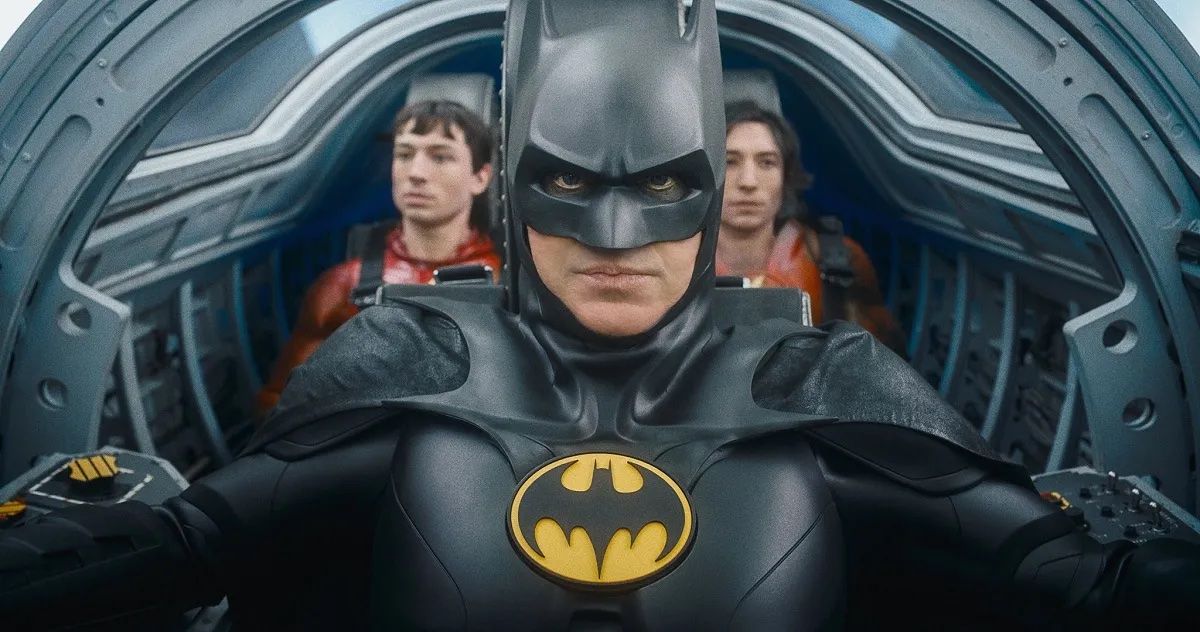 The third act has a lot of cool surprises for fans of DC, Flash, Superman; was there anything that you wanted to include that you actually couldn't due to any lawyers saying, "Yeah, that's not happening?"
BARBARA: No, we had a yes on absolutely everybody we reached out to. The issue was time. We wanted to give each of these cameos time for people to have the time to enjoy them. So we had to cut down the list, which was very long. But everybody we approached, their estates and the living people, they were game because they understood what we wanted to do, which was to honor the legacy of DC.
What was the biggest argument you guys had while making this, and who ended up winning?
ANDY: No, I think the argument happens every day when the shoot comes to an end and I wanna keep shooting, and Barbie is looking at the clock, and it's like, "We can't go into overtime," which is a historical problem, and not only in our working relationship but in all movies of history. The director wanted to do more, and the producer is looking into the clock. So that's our main matter of arguments.
BARBARA: It's boring, but that's the way it is, and he loves shooting more than anything. And also, he does not have an internal clock, so the man could shoot for 24 hours and go, "What, what? I don't have it yet, I don't have it." So I gotta tell him, "You have it, and we've got to go home."
ANDY: It's always true.
The Flash is in theaters on June 16. Check back with Collider for more from the movie's cast and crew.
Source: https://dominioncinemas.net
Category: INTERVIEWS