While the Michael Bay films of the Transformer franchise set a standard for outstanding visuals and VFX, they began to lose fans as the plot thinned in favor of flashy fight scenes. When Bumblebee recaptured the heart of the series, the film opened new doors for filmmakers and fans like Steven Caple Jr. (Creed II) to really flex in Transformers: Rise of the Beasts. We know this prequel to Bay's saga aims to thread the sensational action and heart more seamlessly, but in this interview with Collider's Steve Weintraub, Caple Jr. reveals how this brand-new angle came to be, and why fans of Transformers should be securing their seats when it hits theaters on June 9.
Rise of the Beasts takes us back to the '90s, to a part of Optimus Prime's (Peter Cullen) life that's been previously untapped by the live-action films, similar to what Bumblebee did for, well, Bumblebee. According to Caple Jr., the original idea was to do a straight sequel to that movie, but because he'd just come off of another franchise's sequel, the director declined. He was later approached again with a new offer: Paramount Pictures wanted to dig into Beast Wars: Transformers. "I know all about Beast Wars," he tells us, and his passion for the IP is undeniable in their discussion. While "nerd-talking," Caple Jr. goes into what he personally wanted to bring to the movie, as well as what he didn't bring in the hopes to continue these stories into the next "phase of this project."
In his interview, which you can watch or read below, Caple Jr. recalls which monumental moment during production the gravity of this job hit him, and shares the direction he wants to take Transformers going forward. He talks about the references to Transformers Generation One, Easter eggs for fans, and how Pete Davidson, who stars alongside Anthony Ramos, Dominique Fishback, Michelle Yeoh, and more, influenced parts of the script. We also learn that Caple Jr.'s original intro with Optimus Prime was actually much darker, why it was removed, and if we'll get to see it in the future.
COLLIDER: I want to start with congratulations on the movie, and I mean that sincerely. A million questions for you; if you could get the financing to make anything you want, what is that project and why?
STEVEN CAPLE JR: Well, that's a trick question [laughs]. Honestly, right now, oh my God, there's so many.
Well, usually it's like when someone has a script that they love that they're having a problem with, it's like putting it into the world, and wishing it to happen.
CAPLE JR: Yeah, there's a movie I have right now that I've been working on for – it's probably the longest amount – four years now, going on five maybe at Warner Brothers. It was initially called By All and now it's called The Untitled Stephen Caple Jr. Project, so now you know how many drafts it's gone through. Probably that one. It's set in a world where there's no cops and people police themselves, so it's kind of futuristic, kind of dystopian, but not all the way there, but in the tones of a modern Western – a futuristic western, I should say now. That's probably the one. It's really cool, Yahya [Abdul-Mateen II] is attached to it and we're trying to get that off the ground so I can make that.
I'm gonna say, I wish you nothing but the best on that project.
CAPLE JR: Thank you. Appreciate it.
You have never played in a playground this large, with all the CGI, with everything that went on. And the thing about it is, it's hard to get the keys to this kingdom to play in this budget, but once you do, you sort of get the keys to other things, do you know what I mean? So how did you get involved with Transformers? Was it your pitch? Was it the studio coming to you?
CAPLE JR: It was a little bit of both. I did Creed II, and the first time the studio ever knocked on my door, it was for Bumblebee 2, and I was like, "I just came off of Creed II, I don't want to do a sequel." And so a year had gone by, or maybe two, right before COVID, and they said "We found out the story we want to tackle, we want to bring in Beast Wars," and I was like, "I know all about Beast Wars, I'm down for Beast Wars." And so they developed the script on their own, they passed it to me in 2020, October 5, I remember the date, and I jumped right in, and I kind of did my own version of the pitch. I said, "I love where you guys are going. You guys want to do New York, you guys want to do the '90s, you wanna do Peru. But here's what I'll do with the character."
So I changed up Optimus Prime. I gave him a whole pitch on how I would start him with, like, not loving humans at first and not deciding Noah right off the rip, they're gonna have friction between the two, gave them a pitch for Optimus Primal where they start off in the top of the movie, and I gave them a new villain, which is Unicron and the Terrorcon squad. I just felt like, as a fan, we've been tip-toeing around Unicron, and all the other films kind of hinted towards him towards the end, and I just really want to expand the universe, and I felt like he was a perfect source to do so because he tells us there's another world out there, there's more Transformers out there, it's not just Autobots and Decepticons. And then, of course, the exosuit, that was my idea; it was an homage to the '80s cartoon. So it was a bit of that. I pitched it to them and they loved the heart, they loved where I was going, the direction of the characters, and, yeah, they kind of gave me the key to play.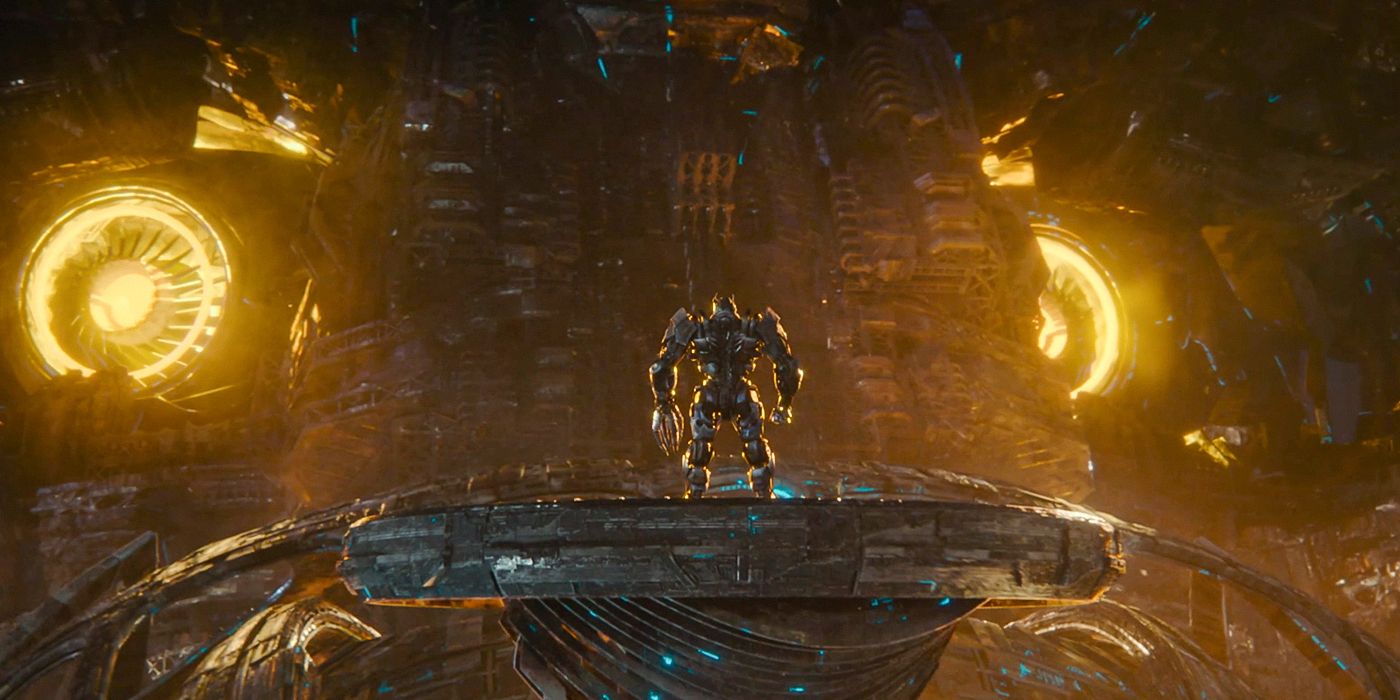 And I'm gonna use the term, "You nailed it." Because when you're watching it, it's clear a fan is making this, this is someone who knows the characters. I also appreciate the G1 stuff. Talk about that, if you don't mind.
CAPLE JR: Yeah, there was a lot of stuff I wanted to tap into G1 because I was a fan. There's some stuff I'm holding off from the G1 because I'm hoping to be in the next, you know, phase of this project. I can hear the fans, and I'm just also like, "I know, just wait for the next one." There's some pieces I want to bring back in the G1, in terms of weapons and things like that that we don't see in this particular film. Now, I'm just really nerd-talking here.
I appreciate that.
CAPLE JR: Yeah, there's some stuff that I know, and I'm just like, "I just want to get to it." But in this one, just setting up the fact that we are in that era, right? So it was like '80s/'90s, and I loved the designs that they had. It was a lot simpler. I felt like throughout the years we started to lose the car and the vehicles within the Autobots, and so for me, I'm like, if we simplify it like they did in Bumblebee, we get to keep that texture and that cool look, which makes them special, the fact that they can change from car to robot, and I just didn't want to lose those parts in those pieces. G1 is just cool to me.
What day on set did you have, like, a meltdown thinking, "Holy F, I'm directing a Transformer movie?"
CAPLE JR: Oh man, I know the exact moment because it's probably the only moment I've been able to actually take it in, like it still hasn't even kicked in now, post-making the film. But there's one day on Machu Picchu, we were shooting there, beautiful location, so you had that, the setting was nice, and it was high altitude, so Noah had a real tough time breathing – Anthony Ramos. He was running across a field, and next to him was a pole, like a production assistant running with a pole and a tennis ball, and we had just opened up the park – they call it a park, but Machu Picchu was closed for a whole year because of quarantine, so people started coming into the park and they were looking down at us as they were up on the ruins, as we were running across, and they were just so enthusiastic, they were like, "Run Optimus! Run! Run Anthony!" And there was just, like, a moment because Anthony was out of breath, we called cut, he's trying to catch his breath, and people were rooting and cheering for him. And it just motivated us all, like, "Let's do the other take," because we're trying to get it right.
It also was a reminder because you could hear the accents, and it was like people from all over the world standing on top of this one ruin speaking, and you're like, "Wow, these could be people from Peru, it could be people from wherever." You could just hear the different accents across the board, and it all, simultaneously, was rooting for the Autobots. And it just was a reminder of how big Prime is and the rest of the Transformers.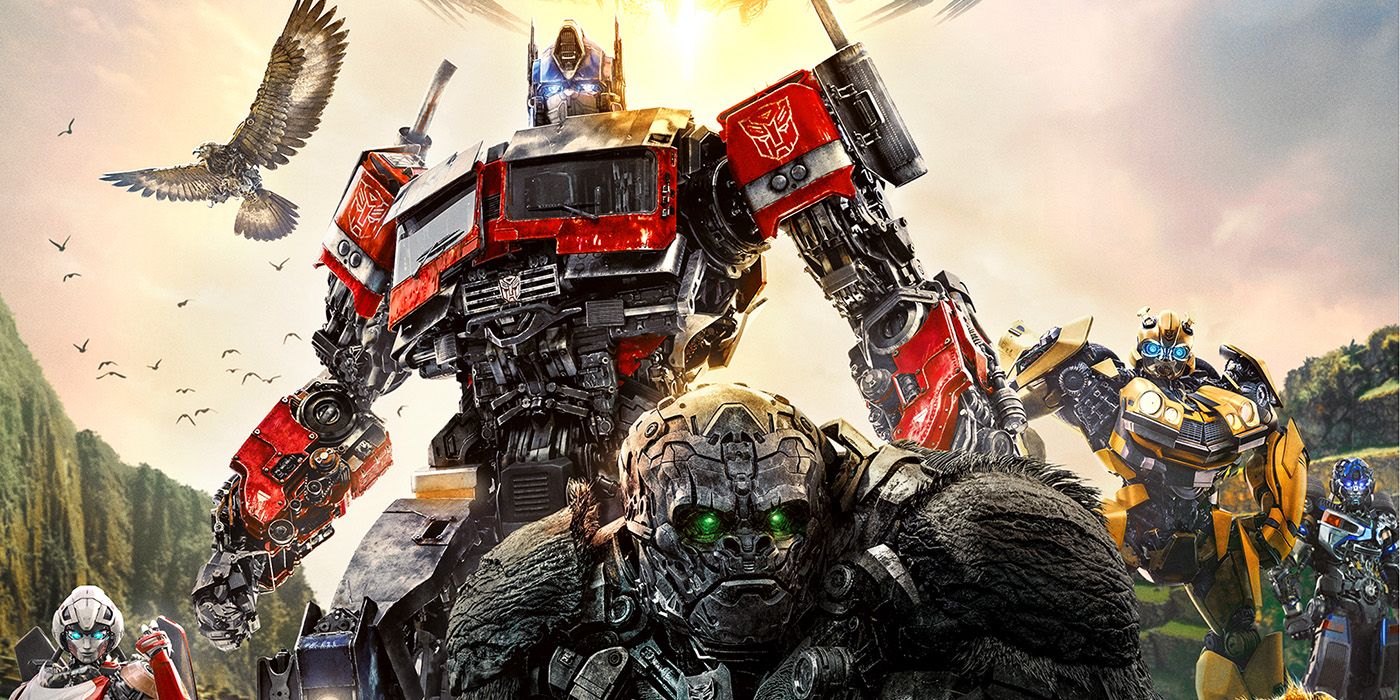 I'm obsessed with the editing room because it's where it all comes together, so how did the film change in the editing room in ways you didn't expect? Did you have a way longer first cut or director's cut?
CAPLE JR: No, I tend to keep my director's cut pretty tight. At least the one the studio saw was probably, like, 15 minutes longer than what we have now, but there's small scenes in there that just cause confusion. Like, one was this Decepticon scene; Transit that I've been talking about, because Optimus Prime fights Transit at the beginning of the movie, or at least he used to, and you find out that Optimus Prime wants to go home – that's all he wants to do – and that Cybertron is in deep trouble. And this guy, Transit, was telling him that like, "We're just here to kill you, a.k.a. Cybertron is already ours." It was a really epic fight scene, and then you saw Optimus Prime dump his body in the Hudson River, and all these Decepticons were dead and you saw that he's been hunting for the last few years.
see more : 'The Boogeyman': Sophie Thatcher & Vivien Lyra Blair Pick Their Real-Life Boogeyman-Fighting Partners
So when we screened it, people were like, "Damn, this is kind of dark." [Laughs] It was kind of dark, but I thought it was a movie I wanted to make, but then I started to realize it is dark, and it felt a little darker. So we pulled back on that, and then we started to dive a little bit more into the Maximal origin story because we were trying to play with the time travel, which is originally in the mythology for the Beast Wars. It got just confusing, and I was like, "How can I simplify it?" So a lot of the rewriting and editing and pulse became, "How can we sort of simplify the Maximal story so it doesn't confuse the audiences?"
Then one last thing was Mirage, his jokes. We were just trying to top the jokes. I didn't write for comedy, so it wasn't until Pete Davison got involved that we started to rewrite and change his face to match Pete Davison's sort of tone and demeanor.
With some of the stuff you cut, like Optimus killing Decepticons, were any VFX far along?
CAPLE JR: It was far along. Oh my God, some were like almost close to final. I think we're planning on releasing it for the fans.
That's what I wanna know.
CAPLE JR: I wanna release it. I won't release the Hudson River, him dropping the bodies, because that wasn't far along because that was totally CG, even the world, so we had a mixture of boards and a mixture of previs for that one. But the other stuff with him fighting the Decepticons, we had render shots. It was a really tough call, like the studio and us, it took us a couple of weeks to figure that one out because we all loved the scene and we were trying to make it work, but it's just slowing down the film. People already understood that he wanted to go back home, they didn't need that extra piece this movie had.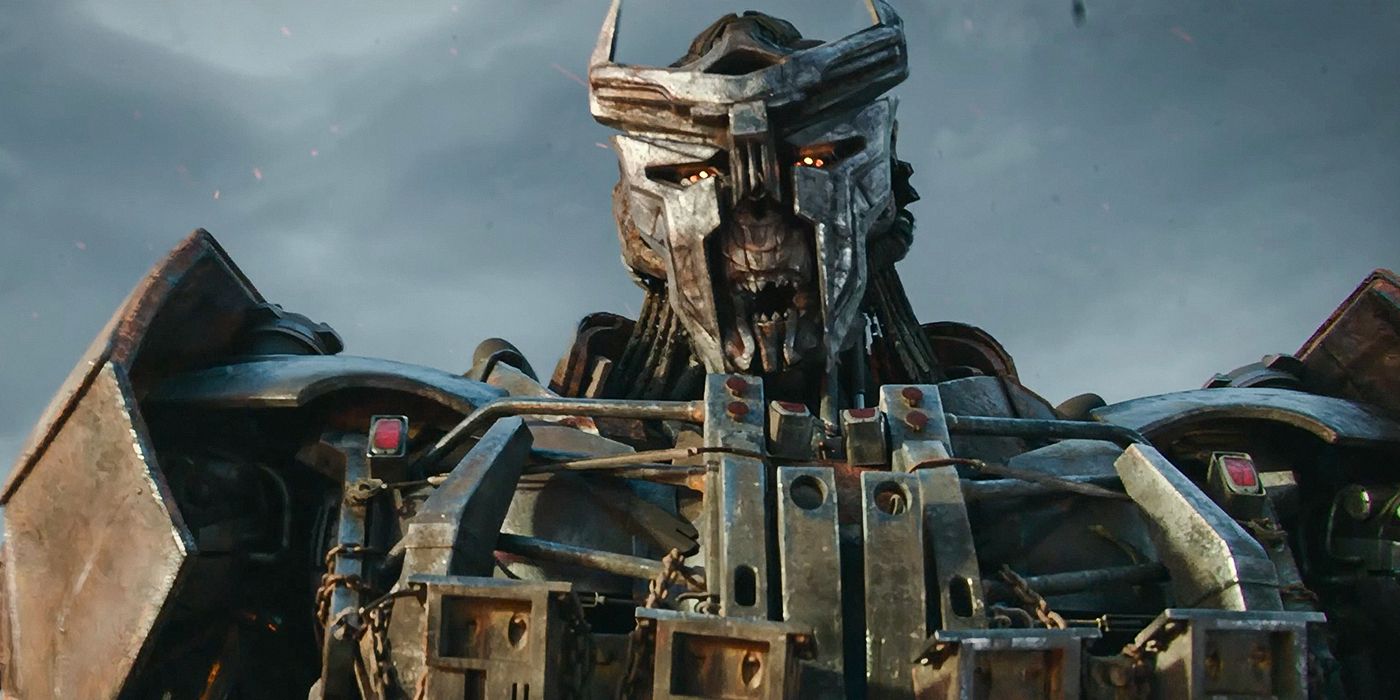 As a Transformers fan, what are you most looking forward to for other Transformers fans? Like Easter eggs and things that fans are going to really appreciate?
CAPLE JR: This is a good question. There's a moment in the film now where – I don't know who's gonna catch this – where Scourge is about to kill Prime. No spoiler alerts, and he lifts up his blade, and he's like, "Primus would be ashamed." And I feel like that's one of the first times we actually mentioned Primus in the storyline, and the fact that now we have the ability to open up the door and tap into where the Autobots actually came from, and who are they?
I feel like even when I'm talking to my mom, she's like, "I love Transformers, but what are talking robots and where are they from?" Now I feel like in the next films, there's Easter eggs in this film that we can set up to say, "Hey, we wanna go further into that direction and explain things like that." So that's probably an Easter egg only fans will probably get.
Would you ever debate having Prime say, "One shall stand, one shall fall," with Scourge, or was it like, "That's the animated movie, we can't touch that?"
CAPLE JR: You know, if we can carry it over. Lorenzo [di Bonaventura] is doing an animated movie, so if we could bring that over, that'd be great. But I think that'd be fun to play with, for sure. Especially in the next one to come.
Transformers: Rise of the Beasts hits theaters June 9. Grab your tickets so we can see where fans like Steven Caple Jr. can take this franchise.
Source: https://dominioncinemas.net
Category: INTERVIEWS