Editor's note: The following contains spoilers for Kandahar.
If you had to miss out on Collider's early screening and Q&A with director Ric Roman Waugh (Greenland) for Kandahar, then read on! Following the screening of his action thriller that reunited the director with lead Gerard Butler, Waugh stayed to hang out with Collider's Steve Weintraub and the audience to discuss all the aspects of production, including filming a Hollywood picture on location in Saudi Arabia for the first time in over 60 years, since Lawrence of Arabia. Kandahar is in theaters now for Memorial Day weekend, and be warned, there are spoilers ahead.
In his own words, Kandahar is "a modern day western," inspired by his love for the films he grew up watching, like John Ford's The Searchers, and his passion for telling stories with deep emotional cores and realistic action. Having began his career as a stuntman on movie classics like True Romance, Totall Recall, and tons more, Waugh is deliberate about the adrenaline-pumping sequences he puts onscreen, careful not to take advantage of "action for the sake of action." Instead, he aims to root the audience in their relationship with characters, like Butler's Tom Harris, an undercover CIA operative whose cover is blown, forcing him and his translator, Mo (Navid Negahban), into a race across hostile territory to make it to an extraction point in Kandahar.
During the Q&A, which you can read below, Waugh discusses his determination to film in Saudi Arabia, working with local technicians and crewmembers, and how they worked on using airport-shaking pyrotechnics. He talks about growing up in the business and going into stunt work, how that influenced the career he has today, and what big names had an impact on his creativity and how he views other filmmakers. From his challenging "Jaws in the Sky" sequence to ensuring the deaths in Kandahar were never "gratuitous or frivolous," Waugh dissects it all, crediting the final product to not only his partnership with Butler, but to the screenwriter, the cinematographer, and everyone that worked in front of and behind the camera. For Sylvester Stallone fans, he also answers questions about his Cliffhanger sequel, and other upcoming projects like Greenland 2.
COLLIDER: What I loved about the ending of this is hearing certain people get strong emotional reactions to seeing what's happening. I know you've been doing screenings all around the country, has it been like that in all of the theaters?
RIC ROMAN WAUGH: The most interesting one that we just did– So, the CIA is represented in this, obviously, that's who Gerard Butler's character is working with. But then, the Brits and the Americans work together all the time, they share assets. The army and the military has what's called the Defense Intelligence Agency, it's almost twice as big as the CIA, and we just screened for the entire DIA, their headquarters, classified, the whole thing. And yeah, I was crapping my pants because this is their world, it's what they do, and they flipped over it because what they felt was, it showed the humanity of what they know about going to the theater, that we all have a tendency to lock ourselves all into one group, whether it's a race, religion, where you're from, and this shows you that there are bad agents in every sector, but it doesn't mean that the people that are underneath those regimes are nefarious people too. They're all trying to get home to their families, and so forth. A lot of the bonds were found through that, all the people, the operators within that region, and that really meant a lot to me because that's why I think Mitch LaFortune, who wrote the script, that's the first thing that I got, like on page one, and I went, "This is a different point of view of the Middle East I've ever seen." And that's why I jumped in.
One of the things that I really enjoyed was you didn't portray people – and you're talking about it – in a black and white setting. We see everyone's kids or their families, and these are all people just doing their jobs on opposite sides of the issue.
WAUGH: I mean, if you know my movies, I don't really deal in black and white. I think we as a society, we're more gray. I don't like heroes that are 10 feet tall and bulletproof and impervious to pain. That's not who I am… I love characters that can be moral, that can have flaws, and have other issues, and what's great is, I think this movie tests boundaries in a way of, you're suddenly feeling empathy for people you never thought you'd feel empathy before, and I love that.
So before we get further into the movie, I don't know how many of you know about his history and what he did before he was a director. I did want to mention some of the movies you worked on when you were doing stunts, if you don't mind: Total Recall, Lethal Weapon 2, Tango & Cash, Road House, True Romance, They Live. Your resume for stunt stuff is insane. What are some of the things that you remember most from working on some of these that helped you become who you are?
WAUGH: Well, that was, yeah. When you went through the stunt business back then, one of my mentors was Tony Scott, and it doesn't get any better. Not only was he— You knew what a Tony Scott movie is, and he taught me to live or die by your own sword, meaning don't imitate others, try to be your own brand. And what was great about working in the stunt business, at that time, we were doing everything for real, there wasn't really visual effects yet, and you'd have a front row seat where you're in everything that's going on.
So my father, who was a legendary stuntman prior to me, he said, "Don't be the dummy sitting in the trailers making money, be on set, watch what's going on, and have your own point of view where you want to play in sandbox." And I never really good in front of the camera, I didn't like it, but when I started working with people like Tony, [I was] like, "That's what I wanna do." I really liked the storytelling aspect of it, and the writing and everything else came later. But I know I wouldn't even be close to the director I am without my stunt career because I had, literally, a front row seat, and I was in it, so that knowledge comes forth where the action you just saw in this, that's not VFX, that's all real.
Jumping into the film specifically – I was going to bring this up at the end, but I'll bring it up now; what is it like trying to set off explosions in Saudi Arabia in the desert for real?
WAUGH: Yeah, here's the good part and the bad part. So, this movie is the first major Hollywood motion picture shot since Lawrence of Arabia in Saudi Arabia in seventy years. So, we weren't just making the movie, we were also inventing the infrastructure and how to make the movie in the first place. And that's kind of the way I grew up. We used to go – what I call the circus coming to town – pitch our tents in a town and we'd build everything and go to work. Now we work in all these tax incentive areas and so forth, and that's great while the movies are happening, but we brought 450 people from 25 countries, all religions, both genders, you name it we were there, and it was like this big melting pot. But the biggest thing we had to come across was letting the Saudis understand what we did for a living and how we keep it safe, but also understanding they deal with real terrorism, right? So how do we keep them safe, and them understanding what we did.
So there was a whole thing about having to get the pyro and all of the explosive stuff that we did even into the country first, and then, too, to show them how we would do it. So we put off a little one first, and we even let one of their cops come over and hit the button, you know, just to kind of go, "Oh, this is kind of exciting!" They weren't ready for the airport one [laughs], we shook the airport and it was five kilometers away. Those are all real.
Did anyone pull you aside afterward and say, "Never again?"
WAUGH: Yeah, I don't think Kandahar 2 is gonna be in Saudi Arabia [laughs]. They said, "Bring a rom-com, you can do some romantic comedies here."
One of the sequences that's really good, and I heard the audience clap, is the helicopter sequence. Break down, if you don't mind, pulling that sequence off.
WAUGH: That was by far the most dangerous thing we did. I respect helicopters immensely. I've had people die, that I know, in helicopters. We were lucky to have [Frédéric] North. Fred North is the premier stunt pilot in the world, not only because of what he can do with a helicopter, but because he rehearses it, he takes safety serious. Flying at night in a helicopter, most pilots don't do it; it's very, very dangerous. You can't really get a depth perception of what's on the ground, especially when you're going from areas that are lit, like in a movie set area, but he'd be out on the pitch black. So imagine we turned all the lights off in this theater, it would take time for your eyes to adjust, and he was constantly having to adjust his eyes back and forth.
I also wanted… the different types of night vision, and I wanted that to be an artistic thing in the movie, and also, the whole thematic thread of this sequence was Jaws in the sky. So when I saw Jaws, it wasn't when I could see a shark, it was when I couldn't see a shark, and, "Where the hell is that thing?" We wanted the same motif with this, so we used the darkness to our advantage, but also, Gerard Butler's character had what's called fusion technology, which blends night vision with thermal imaging as well, and we can change the color using that, which is real. So I said, "Well, great, I'm showing you what the deserts look like during the day," during the night they're pitch black. So now I'm going to… make them black and white and make you understand what's going on. You can see the shark, and then take it away and give you that kind of energy.
But Fred North bringing a helicopter through those rocks and banging around people, and all of this stuff – obviously the only thing that was visual effects is the crash. We wanted Fred North to keep going to other movies, but everything from him banging the helicopter with fire underneath was all 100% real.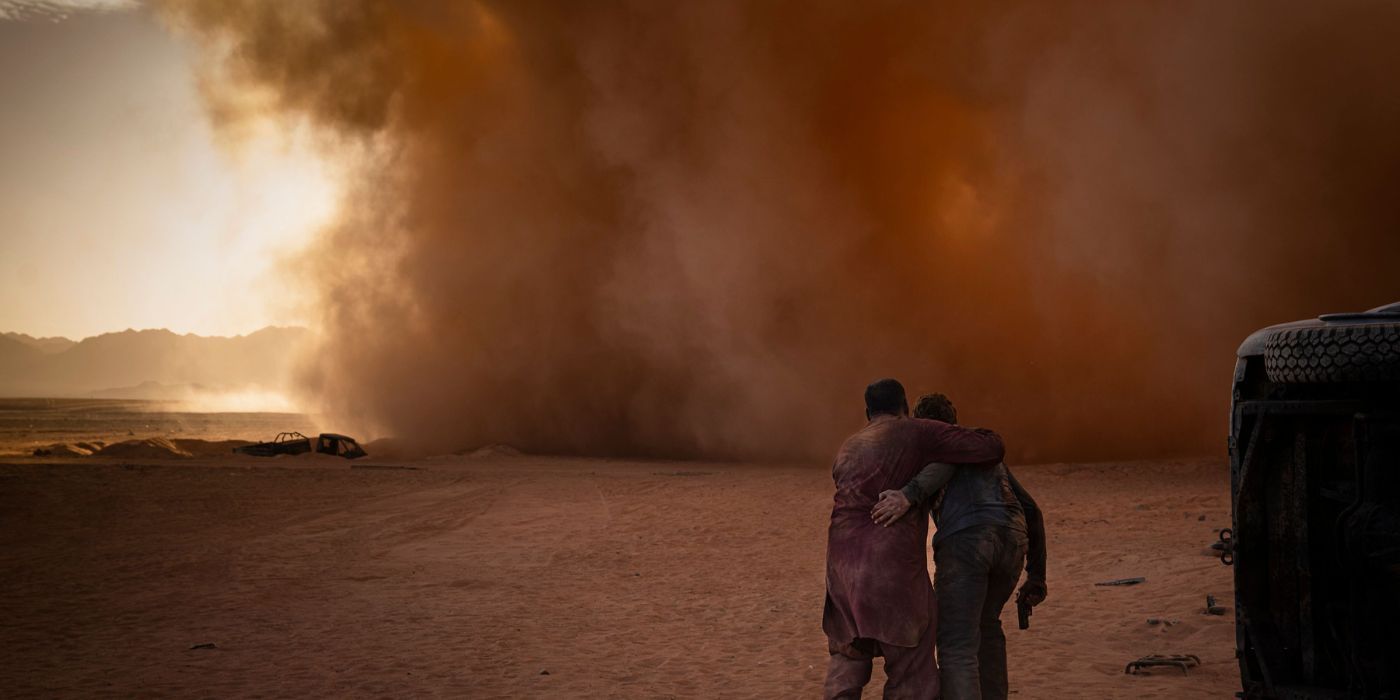 How long did that sequence take to film?
WAUGH: Five nights. Five nights and then there was some day stuff as well because we were doing some day-for-night stuff for certain things. We were doing the really kind of wide stuff that you're not lighting. I didn't want the movie to feel lit, I wanted it to feel like it would in real life.
If you don't mind me asking, how long did you have to actually shoot the movie?
WAUGH: It's kind of a blur. I want to say it was probably somewhere from 55 to 60 days because we were going to travel everywhere, and there was never a sound stage, everything was on location.
I was going to ask you how much did you let someone else do second unit, and how much were you like, "Oh no, that's me?"
WAUGH: No, the only person is Tyler. He definitely jumped in and helped out as well, and that's what I loved about this movie is that, again, we can go to these places with our passion, of like the Atlanta, Georgia's and the places where we make a lot of movies now, but a lot of locals, they're just going home, back to their families, God bless them, but you didn't go to Saudi Arabia for a tax incentive, you went for an experience, so everybody was stuck in.
Honestly, at the beginning of the shoot, I was like… people are gonna quit in the first week, and we didn't have one person who quit. One of our makeup girls got her appendix taken out in the middle of the Iranian desert and went right back to work two days later. I was like, "What the hell are you doing here?" And that was it. Everybody was very emotional, and I think that one of the things that I feel works in the movie, they translated from the crew working on it, was how nationalities came together. This movie is in six languages, and there were more than six languages on set. It was really amazing.
see more : Jay Roach on Being Inspired by the Coen Brothers While Directing 'High Desert'
One of the things about Gerard Butler is that he is someone who can help get financing around the world. He brings money. So how much freedom do you have when you have Gerard, in terms of the rest of the cast, to cast who you want? And how much is it still a financer saying, "Well, we want someone from India, a big star, we want another star here?"
WAUGH: No, that was part of the sell on this. So Basil [Iwanyk], who produced this movie, who made Sicario, the whole John Wick franchise, we did Greenland together as well. And he talked about this one, he was like, "If you and Gerry jump in, the movie's financed, we can just have fun with and do what we want to do, and not be under a studio's wing." How many movie stars – and this is one of the things I gotta give Gerard Butler props for – would have allowed so much of the other stories to take place? He was a staunch supporter of making sure all of the details and the nuances of the other characters weren't robbed. Most actors of his statue are like, "Put the camera right here, and forget everything else," and he's not that way. I think that's why we have the freedom to go, "Let's not put up all the usual suspects."
We knew we wanted Navid Negahban, he's just such a gifted actor to play Mo. He was always gonna be Mo, and there was never really another choice for me. But the rest of them, discovering Ali Fazal – we've seen him in some western movies from India, but we just found Bahador Foladi, and all these places, they were like big fish in small ponds of where they work in their regions. So it was fun to bring new faces to the group where you can experience them in a way, where you're like, "Oh there's a guy I've seen 10 times because he's always the Iranian guy," and, "There's always the Pakistani guy," and we want to really kind of mix it up.
I really think that the additional casting added so much to this movie, but I really want to emphasize what you just said about Gerard and allowing others to shine. I think we've all seen so many movies – [cough] Mark Wahlberg – I like Mark, but there's certain stars that pull all the paycheck, and will give out the pennies to other people. I don't know if Gerard's like that, Gerard obviously gets paid, but maybe there's still room to pay other people?
WAUGH: He takes my paycheck. [Laughs] No… the first cut was three hours, and it was very hard getting it down to where we had it because there was so much good material, but it was constantly fighting for keeping in stories of what Kahil was about– The thing that I think I contributed to, as a filmmaker, was I had all these amazing technicians around and people that had been in the military at that level, they were operators with the CIA, and so forth, so I let them do their thing to bring authenticity.
What's happening in the Middle East is really extraordinary, and it's this thing that's going on, it's these ultra-conservatives that don't want anything to change; they want work, prayer, and sleep, they don't want any culture. But in the kingdom of Saudi Arabia, in 2018, they started a thing called Vision 2030 which was bringing culture, and so that's why we were one of the first movies to be there. I kind of got a little bit off track there, but there was the way that we all went there to really do something extraordinary, I mean, it was a one-time thing, so it wasn't a big paycheck movie for anybody. It was more of a very big passion thing, of like, "We're only gonna get one shot doing this." And I mean, Saudi Arabia is on the map now, there's gonna be a lot more movies that happen there, but not like this, not what we did.
Did Saudi Arabia put in any money in the movie?
WAUGH: Yeah, so they did. We basically wrote in their first tax incentive, so they did a tax incentive there, and that's part of what they want to do. You'll see Dune 2 that's coming out shot in Jordan, [John Wick 3] was just shot in Morocco, so we've shot in the Middle East a lot in the UAE, but this is the first for Saudi Arabia.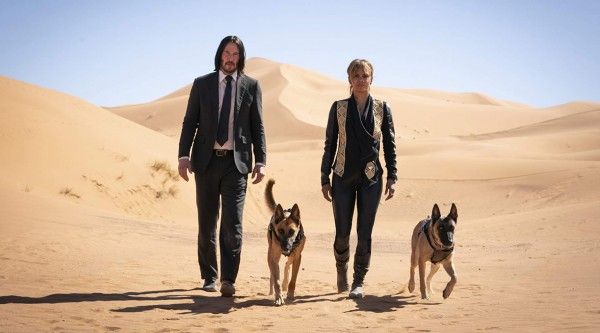 One of the things that I read about when it comes to this movie is, Gerard Butler's character, a lot of people who do this job in real life are addicted to the adrenaline of doing what he's doing, and the family sort of suffers. Can you talk about how this is based on real people, this is not made up stuff?
WAUGH: No, it's not, they're addicted, and it's something we have to recognize. Pre-9/11, post traumatic stress was a very different thing. Most people were running away from war, they were dealing with shell shock… and that's still a part of what's going on, but you're talking about one of the longest combat campaigns in American history. There are people that have been in war for 20 years. Think about that, 20 years, to the point that they have been in violence, in that adrenaline rush, so that they not only become addicted to it, it becomes their heroin, but they don't even know home because war has become home.
That's what we wanted to capture with his character. The war is over, the US withdrawal has happened… now it's just the land grab in Afghanistan, and he's trying to go home to his 18-year-old daughter's graduation, and he's looking at teddy bears at the airport because he has no idea what an 18-year-old girl wants because his whole life has been nothing but war. So we wanted to capture that. And also, what I've heard over and over and over from real warriors is, not only about their own experience, but that somebody like Mo, who's of like mind and like experience, could have more in common with somebody like Tom than each of their own families understand who they are.
Talk a little bit about Gerard and what he's actually like to work with in pre-production, on shoot.
WAUGH: So Gerry and I have known each other… he's super down to earth, he's a well-rounded guy, and a lot of fun to be around. He's a big kid… he's just got a good, humble humanity to him. I've known Gerard for years, and we were always saying we were going to find our The Searchers, right? Because he knows how much I love The Searchers. And he goes, "Well, I don't know if this is The Searchers, but would you like to be in a [Has Fallen] franchise?" But his take of what he wanted to do with the character, I loved. He was tired of shooting 50 people and not having anything inflicted on him at all, not even a bruise, and he wanted to play more of a real character, so we turned Mike Banning into a pill-popping secret service agent who's trying to live out his own mortality and not hang up the gun, which a lot of people – Tom Brady could be in sports, could be anybody that's trying to beat their own mortality, we thought it was a very relatable thing. And also, to make him relatable to us because he's flawed, he's fighting his own demons, and trying to overcome them.
Then when we did Greenland, it was great because we took all his special skillsets away and made him the moral man and all he has his heart, and his own integrity, and how far he pushes his own morality to save his family. Kandahar put it all together, and through that journey we became brothers, and brothers push each other. And that's the thing that I really appreciate about him is, sometimes he's a pain in the ass, and I can definitely be a pain in the ass, but neither of us want to rest on our laurels, so we're always pushing each other and being passionate about what the story is. So sometimes that abrasiveness, when we're trying to duke it out and argue it out, something magical comes out of it, and that's what I love. The last thing I want to do is work with someone who's phoning it in, so I found a great dance partner, you know? He's a lot of fun to be around. And to me – am I bias? Yeah, but I think this is his best performance.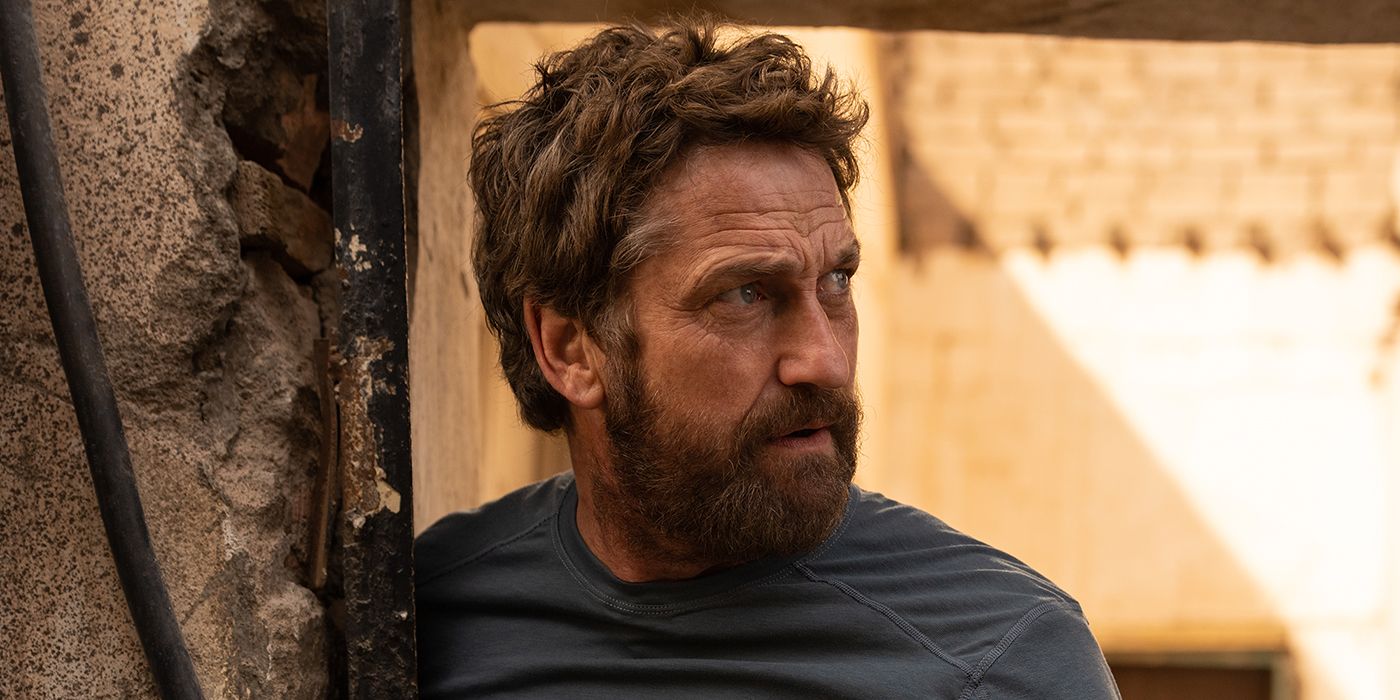 I'm curious, with each film you've made, I'm sure you learn a little bit about being a director, you must learn on every film. Do you think you could have made this film earlier in your career, or do you think this is a result of all the films that have come before it?
WAUGH: I could have made it earlier, but it would have been a different movie, right? Because I think our own experiences are what shape us. I mentor a lot of writers as well, and I talk a lot about, "You've got to bring your experiences, you've got to bring your pain, you gotta bring everything to it." Because the more life experience the more you can contribute to what your stories are. I think that's what it is for me now. Kandahar would not have been this in-depth earlier in my career because I don't think I was that in-depth yet. And I think that that journey becomes a part of the time and place that things happen, and this is it.
In the writing process/filming/editing, how did you decide who was going to live and who was going to die, and was it ever different than what the final result is?
WAUGH: Yeah, that's a funny one because– No, it was always written this way with who was gonna live and die. We didn't want it wrapped up in a neat little bow, or anything. It wasn't about trying to leave room for sequels. It was more or less about trying to be true, and also really playing with the parallels of one of my favorite characters, which is Kahil, because he's the mirror image of Tom. Like, today he's the hunter and Tom's the hunted, but tomorrow he could be hunted, just like that. And also, seeing that part of a guy that's addicted to war, and knowing he's just one step away from that rabbit hole, and this is his way out.
So I love the chess match with everybody, and I wanted to have death matter. Some people need to die, like fast, and you're okay with that and you appreciate when the bad guys are put down, but also, other people that you still have to feel empathy for, even though they are on the other side of the equation and could be called an antagonist. You feel empathy for them because you know, like Farzad… just trying to get back home to his family and keep his men safe. So I love the dynamics of everybody, but it was always kind of written the way it was with who lived and who didn't.
It's funny, I don't know how many of you know what he is working on next, but I'll just drop it. You're working on the sequel to Cliffhanger, you're working on the sequel to Greenland, and if this is a hit, you could work on the sequel to this. I mean, these are first world problems.
WAUGH: Yes. I get this question a lot; being a former stuntman, people call my action old-school. My thing is about authenticity. Like, I love movies, too, where a car can jump out of a plane at 30,000 feet, land on its wheels and keep going. In my movie, that guy dies, right? So the thing that I've always gotten asked about is, what makes my action different? And I don't think it's the action, per se. I used to get the question, what was it like to be doing stunts? What was the adrenaline rush about? So for me, that's what I'm trying to do of, develop characters and let you have an emotional thrust of what they're going through. The helicopter, right? If you didn't ride with these characters for a minute and relate to them, then action for the sake of action is just mindless, and my eyes glaze over. I don't know about yours, but I try to root my action, whether you're thrilled for somebody, you're scared beyond belief, it's the adrenaline running, whatever it is, you feel an emotional connection in action. Because that's what I felt when I was in action and being set on fire… going 200 miles an hour and crashing, your adrenaline is up, things are happening. So, hopefully I'm bringing some of that emotional core to it.
So that's what's gonna happen on the next ones, too, you know? Cliffhanger, it'll be a continuation, Sylvester Stallone will be in it – I'm really thrilled to work with him. And what I like about Sly is, he's not only probably one of the most prolific guys working today with legendary characters, but he's been great about passing the torch when it's time. So, the way Rocky passed the torch to Creed with Michael B. Jordan, that's where Cliffhanger's going. You'll find out he has a daughter now, and another guy that works for him, and all hell breaks loose in the Italian Alps, and carrying the lineage forward.
And Greenland I'm really excited about because the first, it was always gonna be two-parter where the first was up to the extinction event, and the second movie will be five years later of who survived, and how do they try to rebuild the earth when it was burned to the ground? So, it's all about the continuation of the same story.
I just want to point out there's this new website called IMDB, and it has someone's resume and he's done a lot more movies than the one that listed. I cherry-picked some, but of course the ones I picked are incredible–
WAUGH: You picked one of my favorites; True Romance was my last movie with Tony Scott, it'll always be dear to my heart, and that was one where nobody made money, everybody came– Brad Pitt came out for a couple of days to smoke weed with us, but like, it was fun. When you're a part of movies where people aren't there for paychecks, but they're there to be a part of something… it's really fun. Everybody gets excited about it.
And for people who have not seen True Romance, written by Quentin Tarantino, fantastic movie.
WAUGH: Oh man, and I remember the first time I read that script, and I was like, "This is what it's about." That script was phenomenal.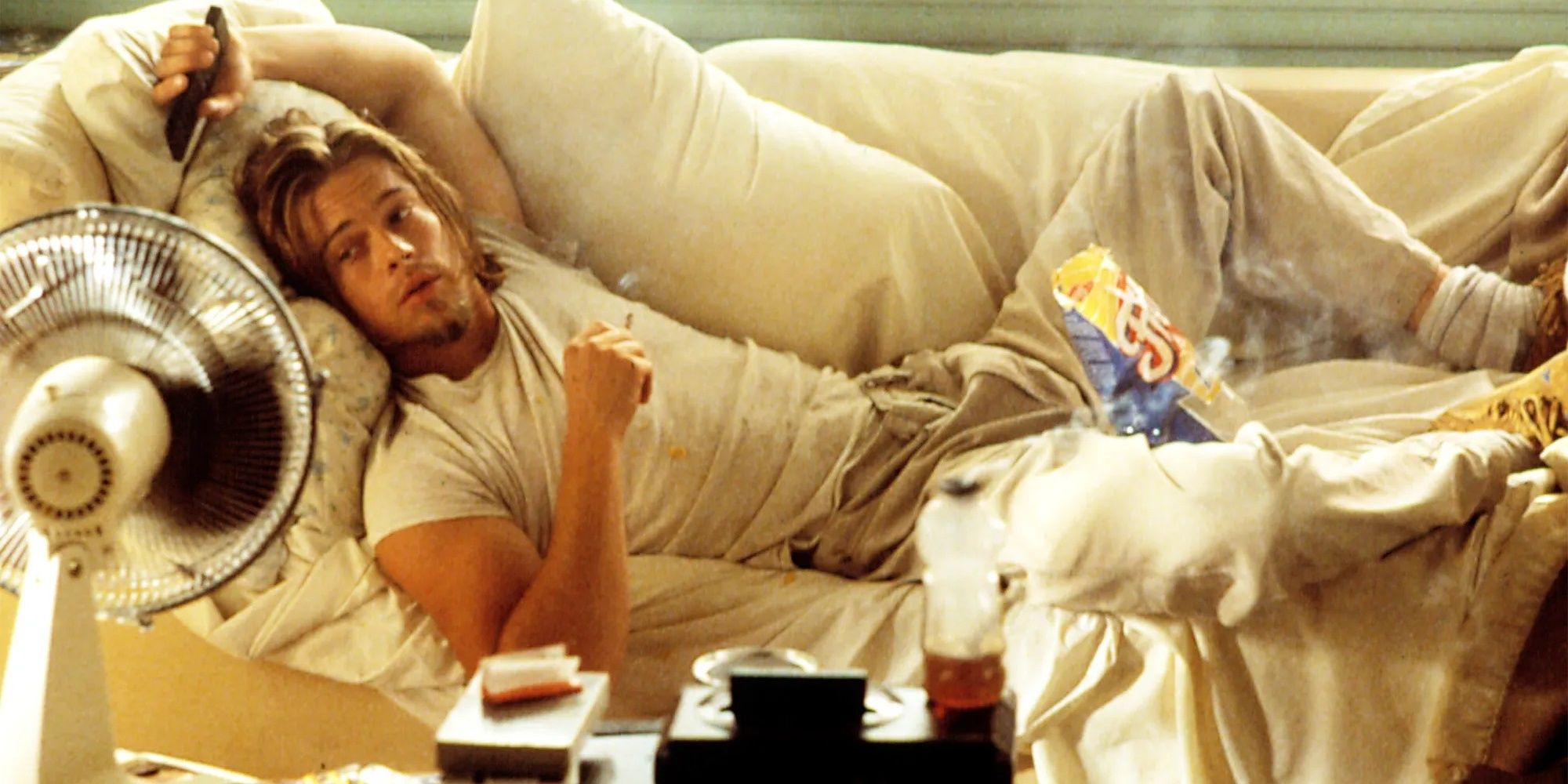 So obviously Gerry has to have a fight at the end, there's got to be something. So how did you figure out it was going to be a gun fight, if you will, in the desert with the two characters coming together?
WAUGH: I don't think it's hard to see that– You know, I grew up loving David Lee movies and loving John Ford, and when we first talked about doing Kandahar, I told Basil, I was like, "You're not sending me to Mexico, I'm going to the Middle East. I'm shooting this about the Middle East, it's gotta be real…" So we got there and we got to play in that, and it's a modern day western for me. It's the guy with the black horse, except this time he's on a KTM motorcycle, and it's the Indians coming over the ridge, except this time it's the Taliban… And it's playing in that modern day stuff like The Searchers, and all the movies that I grew up on, the Lawrence of Arabia's. And seeing where you have epic things going on. I mean, one of my favorite modern day movies, just so much fun, is Mad Max: Fury Road in the desert… And that's what it was about, it was about trying to bring a modern day western mentality to those moments.
Speaking of Fury Road, what was it like for another director watching something like that and seeing the action that George Miller managed to put it on screen?
WAUGH: This is a great lesson for everybody because it was a great lesson for me – and I'm only going to name drop because he means a lot to me – Jerry Bruckheimer has been a great mentor of mine for 30-plus years, and when I was a young buck trying, obviously, to impress him and probably trying to impress everybody else, we went to a theater one time and we all sat down and watched the movie. Afterwards, I just started slamming, like, "Aw, they didn't do this right," and he was like, "What are you talking about? It was great, it was a form of entertainment…" It was a great lesson about understanding that you can be in your own brand and your own craft, but you can appreciate others. So when I watched George Miller do his thing, I'm in the audience with a bucket of popcorn having a great time.
So when I see great filmmaking, and somebody can just take me into an experience, the way that Tony Scott did and I could just go on and on and on, those matter. I've always said that, by far my favorite movie is Apocalypse Now. You watch Apocalypse Now – don't watch Hearts of Darkness first, go back and watch Hearts of Darkness, which is the documentary, or the making of, and then go back and watch it again, and you'll understand what filmmaking is about, and the passion, and the journey. But when I can go into a world and disappear, like with Denis Villeneuve, the way he operates, there are [a lot of] filmmakers out there, and I'm just as much of a fan as the next person.
How much when you're watching something are you, as a director, looking at a scene and breaking it down in your mind, and how much are you able to not be the director when you're watching something?
WAUGH: That was the Bruckheimer lesson. I watched this man who's – I mean, come on, best movies, like prolific – and he just sat there with a smile, appreciating somebody else's work. So I really try to do that with movies, I don't try to sit there and try to break it down and decipher. I actually want to see how it makes it feel, and that's the first thing I do when I read a script, it's the first thing I do when I watch the editor's cut… Jumping around a little bit, one of my rules is I never let the editors on set. I don't want them to see me slave over a shot for four hours, and they're like, "Jesus, if I don't put this in he's gonna kill me." If it serves the story and it propels what's going on, it lives, and if it doesn't, get it out of the way.
So the first thing I do when I see the editor's cut is, I'm not even looking at the cut, I just wanna know how it makes me feel. How do I feel in the scenes? How do I feel on the journey? So that's movies to me. I'm always about just letting yourself go and not worrying about the technical aspect. Maybe earlier in my career I was like, "Wait, how did they do that?" and thinking about it, but now I'm just about the experience.
So how did you ultimately figure out where you wanted to end the film with the families and everything, and was it ever something else?
WAUGH: It was a discovery, and Colby Parker Jr. edited this movie, and, you know, Patriots Day Lone Survivor, Deepwater Horizon, Ant-Man, and it just goes on and on. He's just amazing editor. He knew that, when we talked early, I wanted death to matter, and I wanted to reflect on how nothing was going to be gratuitous or frivolous. It was Colby starting to put together how to do callbacks, and trying to find this way to come through. And then the composer, David Buckley, worked with the artist, great guy, and we came up with that whole thing about kind of bringing back on the journey so they had an epic feel. And again, Oliver's death, we're just like, "Forget Oliver," we really wanted to move on and reflect on this journey these men went on.
All of the warriors that I have met, that have been in battle and lost people, not one of them has ever talked about heroics. They talk about people they lost. And that's what I wanted it to be, that's what Colby and I talked about and he put that together, and it put tears in my eyes the first time I saw it because it was such a culmination of everything I wanted it to be. It was about two men that, literally, just about died, completely bleeding out, and yet, what's on their minds are the people that are not on the plane. It's not about them being on the plane, it's about who didn't make it on the plane. That was really important to me.
I'm curious how the movie changed in the editing room from test screenings, or friends and family screenings, when you said, "Oh shit, I need to fix this."
WAUGH: It's the pacing and how to get the movie down. I'm just not a fan of two-and-a-half, three-hour movies. There are some I can't wait to see, by the way, like the new Martin Scorsese picture, so I'll be there for three hours and not have a problem. But for me, getting it down to a manageable state, what it's about is the thrust of the pace where you can embrace character and get into the character, and make sure you're satisfying the action right, and hopefully this movie does that, where you're on the edge of your seat, but you're learning character. I try not to give my own opinion, I'm not trying to solve anything in the Middle East… so you come out and know a little bit more about the Middle East than you did before.
The other thing that was interesting is, there's always a balance, I find, being an entertainment director versus a documentarian. A documentary is all about diving deep into details, and our first cut had a lot more details trying to explain, and so we kept stripping back and stripping back and stripping back until we realized the audience was grasping everything. We weren't being heavy in exposition trying to explain, just enough that you understand. Many people in a lot of Q&A's didn't know the difference between the Taliban and ISIS, so you're trying to give it enough to understand who the players are, but you're also not trying to give a lesson the way a documentary does.
What's interesting is, I don't think you have any exposition dumps in this movie.
WAUGH: The three-hour version did because you're insecure, like, "Geez, they're never going to understand what's going on in this movie." There's six languages going on, who are all these people? So then you're insecure at first because you're trying to shore all of the logic. Then when you're doing family and friends' and you're doing early screenings, you get great feedback, and I learned that as a screenwriter. Listen to what they have to say. You might not agree… but when I'm doing family and friends screenings early on, and in my early test screenings, I'm always listening to what that feedback is and trying to get the flow, going, "Wow, they don't even need all this crap here… they're still getting the story."
So that's what it becomes, it becomes whittling it down to where it can still be the action thriller it needs to be, like Sicario hopefully, of the Middle East. That was always our motto, but doing it in a way where it wasn't beating itself to death trying to explain itself to you.
You've made a number of movies; how many have a ton of deleted scenes that are sitting on a laptop of yours somewhere that have never been seen?
WAUGH: Shot Caller has a few, for sure. I've been very fortunate that the cuts of my movies are pretty close to what my director's cut is… Gerard always has phenomenal notes and feedback, and things that he's feeling. We all work together to bring it to completion, so I'm always feeling really good about what the cut is. So I don't ever feel like going, "Here's the extended cut!" Because I've seen those movies and they're always a disaster to me; they ruin the pace, they ruin what the journey is.
So on this movie, on the Blu-ray or something, we might have some deleted scenes because there were some really great performance moments that we just could not put in the movie because of time that were fantastic, but we don't really have a lot of them. We've done it a couple of times with showing deleted scenes – I think Snitch with Dwayne "The Rock" Johnson was one we didn't put some of the scenes in. We took some scenes out and showed them afterwards.
Was there ever a point in production where you thought, "Man, we're going to have to do CGI because we're not going to get the pyro equipment?"
WAUGH: No. In fact, I halted the schedule. All the trucks were stuck and there were a lot of things, and it was great in a way that I was appreciative that everyone was there. Because I took the crew, and we sat down, and I said, "I'm going to push the entire production two weeks, we're not going to start on Monday. We need another two weeks because these things aren't in place yet, we don't have these things, we're doing it the right way. We didn't come here to do a little CG and do it the wrong way, we're doing it the right way." And everybody dug in and we're like, "Okay!" And it was great. But it was that kind of mentality that got this movie through.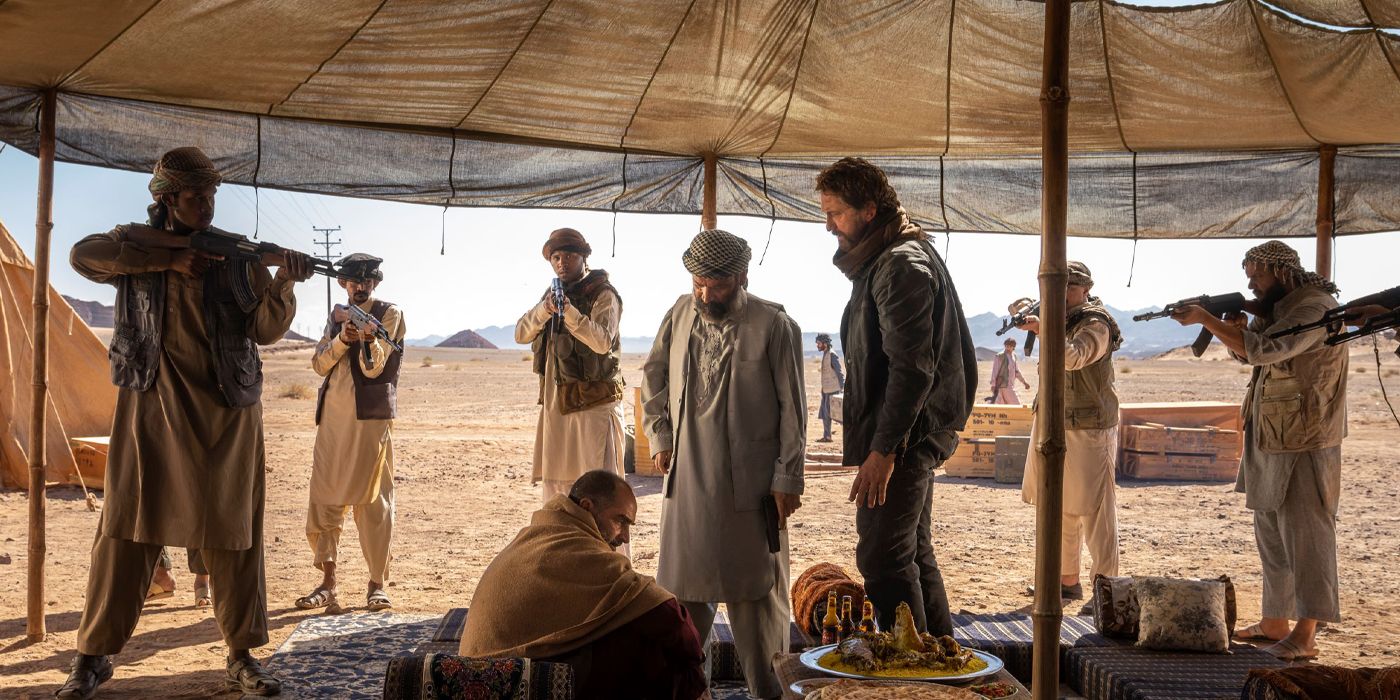 I'm curious about casting; I've spoken to a lot of directors, and they say that when someone walks in for a casting session, a lot of them know immediately if the person is right. Is that the same for you, or do you need to see the performance?
WAUGH: When I first walk in, and I haven't seen what they've done yet, I'm always wrong. I'm like, "They're gonna be good! …Nope, oh my God." But I do, when I'm in the audition and I see the chemistry working, it's there. I know for a fact, it's there, you know? And that happened on this movie. So for example, Bahador Foladi who plays Farzad, the Iranian who dies in the helicopter, he did a blind audition where he put himself on tape in Sweden where he lives. The minute I saw that there was never another Farzad for me. I knew it was him. So sometimes it does, it really strikes a chord where you just feel that connection, that they're a part of the story that you want to tell.
How amazing is that phone call when you're calling people to say, "You got the role?"
WAUGH: It's great! Until you say, "There's this thing called the pandemic, so you're going to have to wait a year. So just be ready in a year and we'll get back to you!"
Kandahar is in theaters now.
Source: https://dominioncinemas.net
Category: INTERVIEWS