Editor's note: The below interview contains spoilers for the first three episodes of The Wheel of Time Season 2.
When we last left off with The Wheel of Time, the culminating battle at the Eye of the World fractured our leading group of characters in more ways than one. Not only is this tight-knit band now scattered in vastly different directions, but they've been forever impacted by the fight against the Dark One's right hand (Fares Fares) — chief among them the Aes Sedai Moiraine (Rosamund Pike), who was viciously cut off from the One Power and thereby unable to reach for the source of her abilities. Rand (Josha Stradowski), who has now learned his true destiny as the Dragon Reborn, found himself touching the madness that men who can channel the One Power often experience — and as a result, decided to flee instead of reuniting with his friends, asking Moiraine to let everyone else believe he has died.
In the wake of last season's finale, Season 2 picks up with Rand living in the Foregate in relative anonymity. At the same time, Moiraine has adopted a different, more personal mission while reckoning with the break in her bond to her Warder, Lan (Daniel Henney). After demonstrating an impressive level of power at the Battle of Fal Dara, Egwene (Madeleine Madden) and Nynaeve (Zoë Robins) are now in Tar Valon training to be Aes Sedai, and Perrin (Marcus Rutherford) has undertaken the search for the missing Horn of Valere, currently in the custody of the Darkfriend Padan Fain (Johann Myers). Mat (Dónal Finn), however, may be in the last place anyone would expect to find him — locked in the White Tower under the watchful eye of Liandrin (Kate Fleetwood).
Ahead of the Season 2 premiere and the ongoing WGA/SAG-AFTRA strike, Collider had the opportunity to sit down with The Wheel of Time's cast, including Madden and Robins, to discuss the biggest moments of the opening episodes. Over the course of the interview, which you can read below, the two discuss the biggest difference between filming Seasons 1 and 2, how they learned special choreography for channeling the One Power, clashing with Liandrin in the White Tower, and more.
RELATED: Rosamund Pike to Narrate 'The Wheel of Time' Audiobooks of 'The Great Hunt' and 'The Dragon Reborn' [Exclusive]
COLLIDER: What felt like the biggest difference between filming Season 1 and filming Season 2?
ZOË ROBINS: That's a great question. For me, but I also think it might be something that we all felt, is that the show feels more grounded and more sure of itself. There's a more mature tone, especially for the characters as well. Obviously, they've gone through a lot, so where we meet them at the beginning of Season 2, they're still processing and dealing with everything that has happened and the crazy life-altering events that have just passed. So, yeah, we were all quite delighted to get these new scripts and just see how much change had happened energetically for the characters. They're more confident too.
MADELEINE MADDEN: Just to echo what Zoë said, it feels like we can sit with the characters a bit longer and sort of tap into how they're dealing with this isolation and loneliness that we find all of our heroes in. A lot of them are grieving the loss of the way things were — of innocence, of their friend Rand — and everyone's having a bit of an identity crisis and a bit of a struggle with where their fate will take them and what their destiny is. We really see the way people look within themselves to find an inner strength and the will to keep on going. So as an actor, it was really exciting to be able to flesh out those aspects of the character and find out what those nuances were. As Zoë said, it feels a lot more grounded, mature, and just the general tone is a lot darker, which always is quite exciting and fun.
The friendship between your characters deepens, but it's also tested at a lot of different points, even this early on in Season 2. What did you enjoy about getting to explore those dimensions? We've seen Egwene and Nynaeve together and bonded, but this is the beginning of seeing where they're more at odds at times.
MADDEN: Absolutely. In Season 1, because in The Wheel of Time, the world is so expansive, there's so much exposition that you need to lay down as a foundation, so our heroes were immediately on the move and trying to get back together. We barely saw each other last season, so it was really exciting to start this season off again together and play into this sort of sister relationship that they have, which of course, has its ups and downs and ebbs and flows. Zoë is just such a generous and incredible actor, so I always love doing scenes with her, just generally, but it was really exciting to feel the dynamic shift a bit with them.
When we pick up with these women, they're at the White Tower, they're learning, and Nynaeve is a bit more reluctant to lean into her power. Was there any special weaving choreography that the two of you got to learn for this season?
ROBINS: Kind of yes and no. We have an incredible movement coach, Scarlett [Mackmin], who is always on set and on stand-by, be it on phone or Zoom. She's just across all of it and really has been such a support for us because channeling is something that's quite vulnerable to do as an actor, because you really have to absolutely go for it; meanwhile, there is absolutely nothing happening around you. For Nynaeve, too, her channeling is very visceral, and it comes from deep inside of her. It's completely uncontrollable, so there isn't actually really much choreography, but the way I work with Scarlett is that it's a lot about connecting breath and physicality and emotions all together, and I do think that's similar for a lot of other people as well. Channeling is so much fun, but it takes from you, as well, in the way that I'm sure it does for the characters.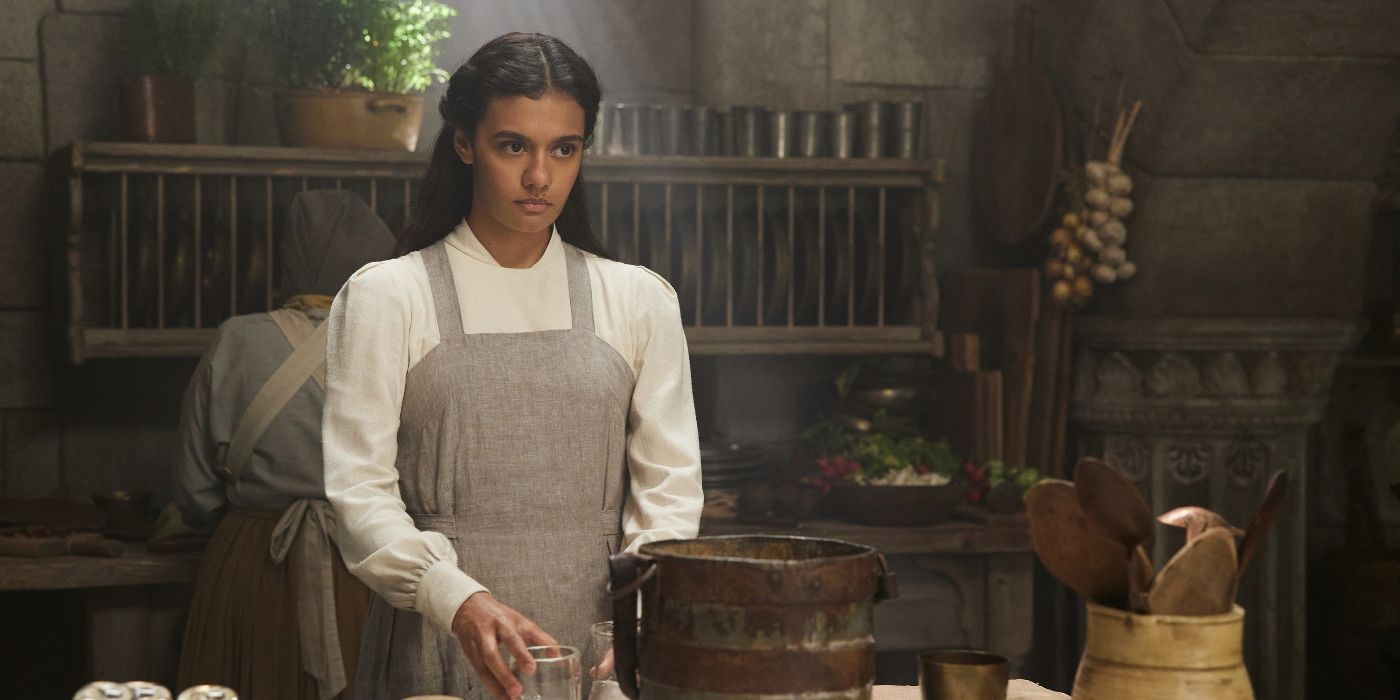 Madeleine, what about you? We get a hint of Egwene's power as well, and the hand movements feel very intricate and beautiful, in a way.
MADDEN: What's so interesting about channeling is each woman's relationship to channeling is very different. Nynaeve's is explosive and impulsive and emotional and powerful, [and] you see Moiraine's and everything she does is with such intention and such elegance. Egwene's trying to figure out where she fits in in all of this — what her style is, what her individuality is — and that's something that is explored throughout the season, but especially at the beginning of the season. She's just trying to please, she's trying to fit in, she's trying to get approval, she's desperate for it, so I think she's working away tirelessly at it to figure out what her style is and what she can be recognized for.
But like Zoë said, it does also take it out of you. The next day, you're like, "Oh, my shoulder is killing me!" I remember I saw my physio, and I was like, "Oh, I've got a really sore back," and they're like, "What happened?" I was like, "I can't even begin to tell you." So, you're definitely using parts of your body that you wouldn't usually use.
Both Nynaeve and Egwene have their run-ins with Liandrin. It's such an interesting and thorny, complicated relationship that both of them have to her, with lots of conflict and butting heads. Zoë, I know you got to do some scenes opposite Kate [Fleetwood] last season; Madeleine, what was that experience like of getting to clash with her on-screen?
MADDEN: It's funny because Kate is the complete opposite of Liandrin. She's so bubbly and so smiley and funny and cheeky and warm, and it's just amazing. She'll be cracking jokes when they're like, "Rolling," and then, "Action," and she's in it, and she's steely and so scary and intimidating. She's just a force to be reckoned with. Again, I think Egwene's anger and frustration at the loss of her sister drives her to confront Liandrin in a way that she probably wouldn't have. She's really trying to fit in and be the student that passes with flying colors, but she feels like she's lost everything, so she's like, "Screw it, I'm gonna go and confront this person." That's when we do see the line that Liandrin says, which I love: "It's not the most powerful women that write history, it's the ones that survive." That's my favorite line from Season 2 because it's so true, and that's a bit of foreshadowing for Egwene's journey. Working with Kate is just so electric. She gives you so much, and really, you just have to take her in. Giving it back is a little bit scary, but that's what Egwene does. She's a lot braver than I am.
New episodes of The Wheel of Time Season 2 premiere Friday on Prime Video.
Source: https://dominioncinemas.net
Category: INTERVIEWS