Merritt Wever has proven her range in a wide variety of roles, winning Emmys for both her comedic work in Nurse Jackie and her dramatic turn in Godless. She was also nominated for a Golden Globe for her exceptional performance in Unbelievable and lives rent-free in my head for the way she pronounces pecan in Marriage Story (picking up an Independent Spirit Award for it to boot). Wever is once again flexing her drama muscles in Midday Black Midnight Blue, where she plays Beth, who's mourning the death of her sister, Liv (Samantha Soule), and attempts to heal with Liv's partner Ian (Chris Stack), who's having his own unique struggles trying to overcome his grief.
I got a chance to speak with Wever about why this was the perfect project to ease herself back into acting after COVID shut everything down, her personal connection to some of the film's themes, parallels to another new project, Tiny Beautiful Things, and working on Severance Season 2.
COLLIDER: I'm curious, first of all, how you got involved in this project. I know you've worked previously with [director and star] Samantha [Soule], on Godless. I was wondering if that's how you got connected.
MERRITT WEVER: That's absolutely how we got connected. We did several — maybe more than several — months together in Santa Fe, in I think it was 2016, but it may have been 2017. So we certainly knew each other socially, and we knew each other professionally, and we had stayed in touch. We actually live in the same neighborhood. Then, I think it was mid-May 2021, I was sitting at home, where I tended to be at that time in the world, and I got this text from her. It's so funny. She didn't even call — she just texted. I remember the language of the text — it was like this thing that she was going to ask because why not, but surely it would never happen. She said something like, "I mean, there's no way that you happen to be free in a couple of weeks and would maybe like want to come to Seattle to play this part in something that I've written and am about to direct."
I happened to be preparing to leave for what I had thought was gonna be my first job, not post-COVID but post-March 2020, and that was already feeling kind of big and new and disorienting and scary because I had been living this very small, semi-isolated existence. So the idea that I was gonna maybe crisscross the country twice and do this thing that pre-2020 would have been no big deal already felt far-fetched.
And then I read it, and it was really, really good, and it was beautiful, and I really liked the idea of getting to show up for someone — show up for a friend. And I am also incredibly heartened by and interested in seeing anybody take on something new, but I think in particular when actors move into other aspects of this…creative process. I was gonna call it an industry, but suddenly that felt so ugly. That's very interesting to me. And so when I read it, and it was so good and happened to be about an experience that not only am I a bit painfully familiar with but also an experience that was feeling very present to me in my own life, it was something that I really wanted to find a way to go and be a part of. And they very generously rearranged their whole schedule so that I could kind of fit this in right before that other job that I knew I had ahead of me. It was a fast three days of shooting on my part.
But in retrospect though — this wasn't by design — it was a very apt, lovely reentry into the world for me. I didn't really realize it, but this is a job that gave me a lot more than I gave it. I feel very grateful that my first experience of moving back out into the world was on a beautiful island with a wonderful, supportive, kind group of people trying to tell the story of getting stuck in loss and painfully endeavoring to move forward out of that experience into the future together. That wasn't on my radar necessarily, but in retrospect, I feel lucky that was how I spent May 2021.
I think that authenticity and rawness really shine through in all the performances and dynamics. Can you talk a little bit about working with Sam and Daniel to develop that character and make those relationships feel so lived in?
WEVER: This isn't necessarily the answer to your question, but what I just thought of was, I wonder if this movie had been made in May 2019 or even May 2023, if it would have felt different. These are filmmakers that were not afraid to take their time and sit in the movie — they do not rush it. They trust that the people watching will come to it and will be willing to pay attention and spend time with it. Just now, I was wondering — we had all been very much so sitting with ourselves. Time was moving very slowly, and I know for me time was being spent in my head in the past a lot. This movie — not just what it's about, but I wonder if the shape that it took was influenced a bit by the last year and a half.
But when I got there, it was just this lovely group of people. I remember that we shot I think one of the last scenes in the movie on the very first day — the very first morning. I remember feeling an immense sense of responsibility and a little like, "Oh gosh — I hope I didn't show up for these people and then I'll fail them or let them down." I think maybe it felt good to get to release everything that that character was holding and maybe everything that I had been holding for the last however many months first up for many reasons but one of them so that I maybe could be a little more present with the other people making the film instead of knowing like, "Oh, that scene is coming up." You know, kind of holding it, carrying it. Putting it down first up meant that I could kind of take a deep breath and let my shoulders drop and look around into the faces of this wonderful group of people and enjoy being there as myself a little more than I think I'd have been able to if I knew that I had this big scene coming up. I had a feeling I would have stayed a little more private.
That makes a lot of sense. Something else I really love about this movie is I feel like the love between sisters is kind of the heart and the core of it, which I feel like we don't get in a lot of media. I wish we got it more. Can you talk about what made you want to explore that particular element of things?
WEVER: Oh gosh. Oh, the things that you may regret saying in an interview. Well, that's interesting that you're talking about the prizing of maybe hetero-romantic relationships over other kinds of bonds. I think I understood at that moment in time what it was like to lose someone that you had a sisterly relationship with. I had recently experienced that, too. So when I read it, I really understood personally and viscerally how painful it can be to lose someone that close to you. And how much that can mark you and color you moving on.
Yeah, definitely. I loved Tiny Beautiful Things, which obviously just came out as well, and I feel like that plays with a lot of similar themes of grief and overcoming that, but your characters are sort of on opposite ends. Can you talk a bit about what it was like to shoot those two projects, presumably pretty close together?
WEVER: You know, we didn't, oddly. They're coming out much more closely than we shot them. The job that I turned around and went to shoot five days later after wrapping this one was an episode of the anthology series Roar. But it's true. Now that I think of it, it is also about a person who is living with another being that isn't necessarily fully there in the way that they're relating to them, which is certainly something that's happening with Chris [Stack]'s character here.
Interesting. Yeah, in Tiny Beautiful Things, you're right — I'm on the other side of the table, but again, that is a relationship or a dynamic where someone is living with a ghost in their head for decades, and it is affecting their present and their inability to move on. Oh, that's so fascinating. Because I had been thinking that the job that I had done — the last one before this one, I think I finished shooting at the tail end of November 2019 — also has a very different flavor, but it was a show about two people who again had rattled around each other's psyches for a solid 15 years or so and then suddenly came face to face again. So that's a really interesting thread. I'm sure I'll wake up suddenly with a start tonight and be like, "Oh no, no, no — that's what it is! Oh shit. Oh fuck." You've suddenly rocked me to my core, by the way.
I'm honored that I could do that.
WEVER: Texting my therapist anon: "What does it mean?!" [Laughs]
I love that so much. I also really love the mantra that's repeated throughout this movie: Never let anyone tell you something's an ocean when it's a lake, which I'd never heard.
WEVER: I hadn't either, and it feels so personal to their lives.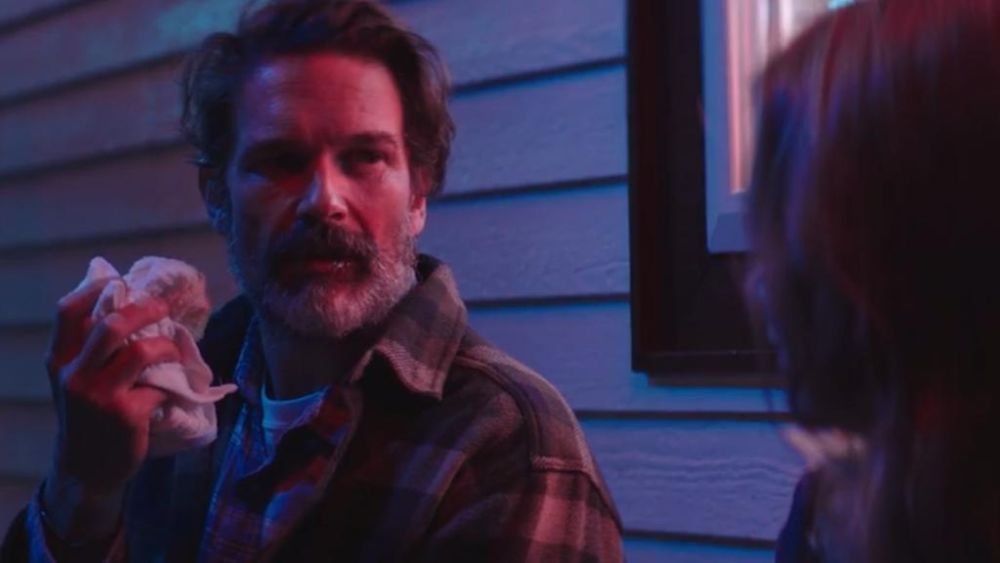 Absolutely. Do you have a motto or sort of life lesson that you find yourself coming back to a lot?
WEVER: Not off the top of my head, but I'm sure after I wake up with a start tonight about what your observation means in my life, I'll recall the manta I've had since I was six and would have been a perfect encapsulation of my entire life and a very flattering portrait to offer to the Collider readers.
I like the lake one — we can just steal that. Just one more thing that I can't leave without asking you: I'm so pumped to see you in Severance because that show is so good, and you're going to be so good in it. Is there anything at all that you can sort of tease about what we might see in relation to that?
WEVER: I absolutely have nothing that I would want to share only because I think there are so few shows that you can watch, and part of what's valuable or exciting or satisfying or fulfilling about watching is getting to really encounter it for the first time. And I wouldn't want to rob anyone of that. But I think so highly of the show, and I think so highly of the people making it, and I thought so highly of the first season and was skeptical. And I have only respect and two big thumbs up for you.
Midday Black Midnight Blue is now screening in select New York and Los Angeles theaters and will be available on demand on June 16th.
Source: https://dominioncinemas.net
Category: INTERVIEWS