Editor's note: The below interview contains spoilers for the first three episodes of The Wheel of Time Season 2.
When we last left off with The Wheel of Time, the culminating battle at the Eye of the World fractured our leading group of characters in more ways than one. Not only is this tight-knit band now scattered in vastly different directions, but they've been forever impacted by the fight against the Dark One's right hand (Fares Fares) — chief among them the Aes Sedai Moiraine (Rosamund Pike), who was viciously cut off from the One Power and thereby unable to reach for the source of her abilities. Rand (Josha Stradowski), who has now learned his true destiny as the Dragon Reborn, found himself touching the madness that men who can channel the One Power often experience — and as a result, decided to flee instead of reuniting with his friends, asking Moiraine to let everyone else believe he has died.
In the wake of last season's finale, Season 2 picks up with Rand living in the Foregate in relative anonymity. At the same time, Moiraine has adopted a different, more personal mission while reckoning with the break in her bond to her Warder, Lan (Daniel Henney). After demonstrating an impressive level of power at the Battle of Fal Dara, Egwene (Madeleine Madden) and Nynaeve (Zoë Robins) are now in Tar Valon training to be Aes Sedai, and Perrin (Marcus Rutherford) has undertaken the search for the missing Horn of Valere, currently in the custody of the Darkfriend Padan Fain (Johann Myers). Mat (Dónal Finn), however, may be in the last place anyone would expect to find him — locked in the White Tower under the watchful eye of Liandrin (Kate Fleetwood).
Ahead of the Season 2 premiere and the ongoing WGA/SAG-AFTRA strike, Collider had the opportunity to sit down with The Wheel of Time's cast, including Pike and Stradowski, to discuss the biggest moments of the opening episodes. Over the course of the interview, which you can read below, the two discuss the most significant difference between filming Seasons 1 and 2, how Moiraine is coping with losing the One Power, Rand's mysterious new relationship, how Season 2 delves into Moiraine's backstory, and more.
RELATED: 'The Wheel of Time' Season 2: Release Date, Trailer, Returning Cast, and Everything We Know So Far
COLLIDER: In terms of a broader scope, for both of you, what was the biggest difference between filming Season 1 and then filming Season 2?
JOSHA STRADOWSKI: We still had COVID… but we were slowly going out of it when we ended the shooting of Season 2 in Morocco, where we were for two months. But it was mostly different in terms of the story, for me at least.
ROSAMUND PIKE: And we were separate from our main group, when we were together almost every day of Season 1. We saw each other all the time, and in Season 2, we had very little idea of what one another was doing. Moiraine felt like she'd lost a limb when there was a parting of ways with Lan. We moved as a duo, we moved as a pair through the whole of Season 1, and I got very comfortable with that dynamic, so to have to sort of lose it, that was a big loss for me and Moiraine in the shooting of Season 2.
I spoke with Daniel [Henney], too, about it. It's really painful, the blocking of the bond, and then that conversation that happens.
PIKE: She's cut off from the One Power, the very thing that sealed their connection for the last 20 years and has been their substitute for communication because they can just feel what one another feels. They can almost sit in silence because the communication is so deep and profound. Suddenly without that, you have this massive disconnect, and it's a sort of shame between them that means that when you're feeling rotten, the person you lash out at is the person closest to you — and in Moiraine's case, it's Lan. So she is bitter, and she's cruel. Some people will understand why she's being so and that she's hurting, but other people will judge her, and that's fine. I admire her because she shows tremendous resilience. Even without the One Power, she still battles the same enemies that she's battled before, but this time without her weapon, her greatest weapon. So we see her early up in Season 2 battling a Fade in hand-to-hand combat without the One Power — and it's mighty brave, I'll say that for her.
I'm thinking also of the conversation that they have where she makes the decision to part ways. As painful as that is, is it actually the best decision that she could make for the two of them at that point, in terms of where they go on their respective journeys after?
PIKE: Moiraine does not want Lan to die in a useless attempt to defend her life. I think she feels weaker, and she feels that she's still got to commit to the promise that she's made to guide the Dragon Reborn towards the last battle. She will continue to do that because that is her oath, and she will stick by her oath forever, and she doesn't want him to be the collateral damage of that. She's happy for other people to be [laughs], but Lan, she wants better for him, ultimately. She doesn't express it very eloquently, and she's very abrupt in her decision. She seems cold, but it's that same thing — you need to be cold, you need to be absolute. She doesn't want to leave any room for doubt. She wants her "no" to be finite. She wants her "no" to be he can't argue against it, and you have to be firm and cruel to make that.
Josha, at the end of last season, Rand told Moiraine to let everyone believe that he had died. When we pick up with him at the beginning of Season 2, he's trying to live a life of obscurity, trying to pass under the radar as much as possible. Is there anything that's sustainable about that plan?
STRADOWSKI: [Laughs] It's quite naive, right? It's quite naive to try to live a life without getting close to anyone. We find him in a place where he can actually get close to so many. I feel like he made a friend, but in a more unusual place than you would expect. He's working at a place where he's taking care of people who struggle with their mental health, and he has a friend who he helps every day, and I feel like that's a place where he can be himself. That's where you see, "Oh, this is who he actually wants to be if we just forget about the Dragon Reborn." But then he goes out, and then he becomes a man who can channel again. He's tried to live a life anonymously, but living a life without love, for Rand, I don't think that's possible. But also because he's naive, he is the Dragon, and he has become a target now [that] we know who the Dragon is… without revealing anything else.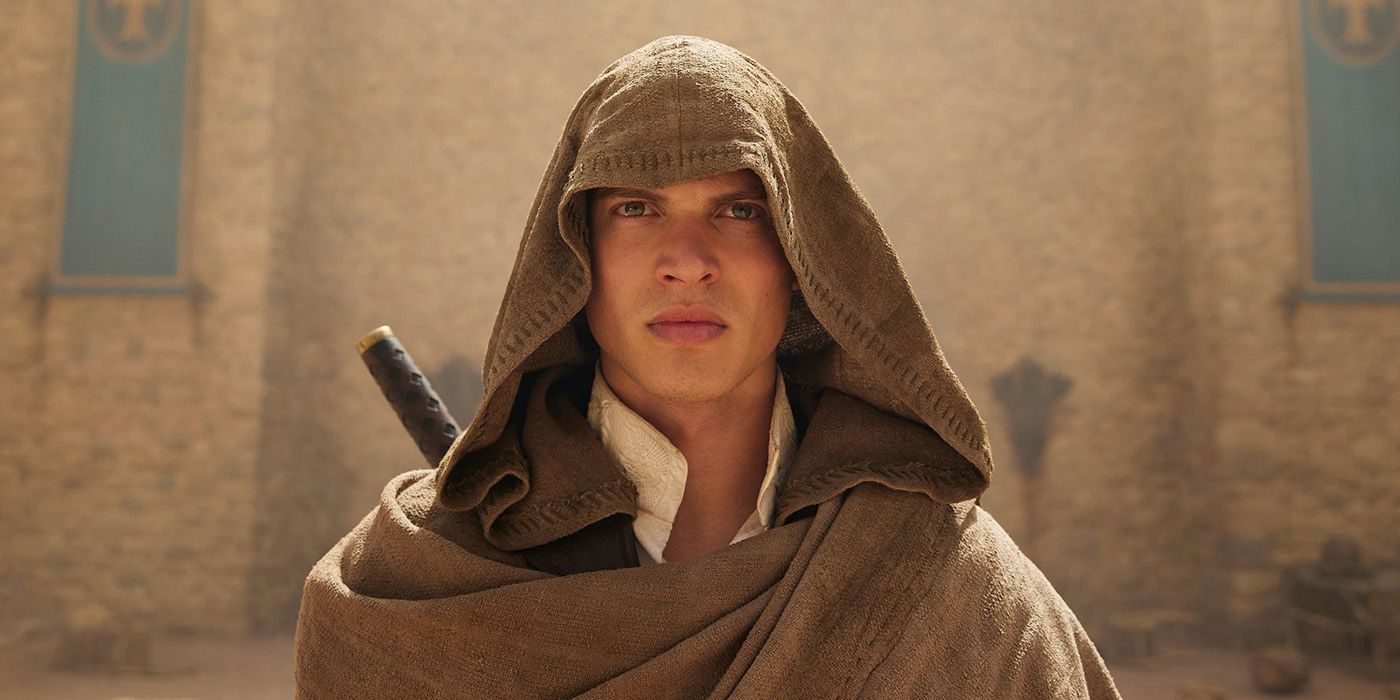 Rosamund, one of the things in the books that I think we never really get to see is how both the position and the downfall of Moiraine's family have shaped her. Is that an angle that we're going to see explored more in Season 2?
PIKE: That's really nice of you to say, and I agree with you that it's a very interesting part of making Moiraine who she is. We know some key pieces of information about Cairhien and the history of Cairhien from the books, but we don't go behind the Damodred front door, and I really enjoyed the chance to do that. Because we also see a glimpse of her as a child, we have a glimpse of her as a young woman. We see her bedroom, her childhood bedroom, with even her little roll-up cigarettes, [and] you think, "Oh, she was that person." She had a doll house. You see her reconnecting, with a kind of discomfort, and we see the customary dress of Cairhien and who she might have been had she had to perform in the performative way of that culture.
Of course, it's this culture where everybody lies and manipulates, and it's this very strategic game; it's called the Game of Houses. It's like a kind of class, a sense of one-upmanship. It's very political who you invite, who you don't invite; an omission of an invitation is a clear signal of something or other, and a request for some person to come to dinner at a certain point is a clear indication of something else, and you have to know to know. We see why Moiraine is as steadfast as she is because she wants to go against everything that her culture represents. She wants to be the person to live her truth and be somebody whose word you can stand by and rely on, unlike her family.
We also see through her sister, who's played by Lindsay Duncan, how lonely it is to be an Aes Sedai because Moiraine is the older sister, yet to our eyes, she appears the younger one. We understand this slow aging process of the Aes Sedai, and that Moiraine is likely in her seventies, and that eventually, as an Aes Sedai, you know that everybody you ever love will die, and you will outlive them all. That's true for other Aes Sedai that we encounter in this season. It's a theme that's explored with other characters — Liandrin, for instance, to great effect.
Going back to what you were saying about the houses, that's a world that we see Rand maybe not fully immerse himself in, but he tangles with that a bit, and that's in part due to this intriguing new relationship that he has with someone who's very mysterious. I'm curious as to what you can tease about the situation with Selene, Josha, and how that changes Rand, and what lessons he learns from her.
STRADOWSKI: That's a good question. Because he has this secret, he's trying not to get close to anyone, and Selene is actually someone who is trying to open Rand up. But for Rand, that seems like something impossible because he feels like he can't express himself, he can't say to her how he sees the world, he can't say to her how he feels because it's forbidden, and it's dangerous, as well. So it's very contradicting because he wants to open up in a way, but he just can't because that is the whole reason why his friends now think that he is dead. But bit by bit, I feel Selene does succeed. She is opening Rand up, and she is showing him again how to love, and then he learns again.
New episodes of The Wheel of Time Season 2 premiere Friday on Prime Video.
Source: https://dominioncinemas.net
Category: INTERVIEWS