Since the '90s Denise Richards has been an icon of pop culture. From starring in comedy classics like Drop Dead Gorgeous and Starship Troopers to dominating the small screen on The Bold and The Beautiful and The Real Housewives of Beverly Hills, Richards has been at the center of some of our favorite movies and TV shows for decades. Now, she's returning to our television screens for Paper Empire, a new drama series about one of the biggest Ponzi schemes of all time. The series follows Laurence Fintch (Robert Davi) after he's caught scamming his clients out of millions of dollars using cryptocurrency blockchain technology.
Richards plays Bentley Fintch, Laurence's wife who is not thrilled to have her lavish lifestyle upended by her husband's arrest. In addition to Richards and Davi, the series boasts a stacked cast that includes, Wesley Snipes, Kelsey Grammer, Anne Archer, Steve Guttenberg, Cuba Gooding Jr., Robert Knepper, Richard Greico, Carol Alt, and more. I recently had the opportunity to sit down with Richards to discuss her work on the series. During our conversation, she spoke about working with series creator Robert Gillings and the show's incredible cast, what it was like working without a script, why she wanted to bring warmth and humanity to her character, and why we'll either love to hate her or hate to love her. She also discussed some of her favorite moments on set, why she's excited to see the series when it comes out, having instant chemistry with Davi, and pulling inspiration from her own life.
COLLIDER: What would you say drew you to Paper Empire?
DENISE RICHARDS: I would have to say that what drew me to it was, it was such a different project for me, and I've never done a role – except when I would first start auditioning – where I was only given pages of the sides. I never saw a script at that point when I first started out. This was the first time since then that I ever did a project where I didn't have a script, and it was very interesting and intriguing to me to do something like this and to play a part where I didn't know what people were saying about the character, and I didn't know what was happening after and before. Sometimes in life, we don't know what's going on and how things are gonna turn out, so I found it very challenging, but I thought it would be fun.
Also, I really like Robert Davi. He's such a great actor, playing my husband, and I like the storyline. And Robert Gillings, the director and writer and creator, hearing him tell me about the project is what really drew me to it. And it was an interesting way of shooting. We would start shooting for a week or two, and then someone else would be shooting, and then we would shut down, and obviously, everyone dealt with the pandemic. Then, as it progressed, more and more actors, different people, were signing on, everyone from Wesley Snipes and then Carol Alt and then Kelsey Grammer, Anne Archer, and Cuba Gooding Jr., so it's evolved into a really fun cast, and a fun experience.
This is such a stacked cast, was there anyone in particular that you were super excited to work with?
RICHARDS: Oh, Wesley Snipes. He was so nice. He brought his wife and all of his kids, and he's so nice. He was so great to work with, and his whole family was there, and he was really fun to work with, so I was excited to work with him, and also Steve Guttenberg. I love him too. I was excited to work with him. One of the scenes I did see, which is pretty much outside of the trailer, Robert Gillings showed me a scene between him and Robert Davi, and he blew me away. Both of the two actors, but you know, Steve Guttenberg is more known for comedy, and to see him in such a dramatic role, he was so great, and great to work with and very, very kind. So, all the actors are, everyone was so lovely and kind and fun to work with.
Some of my favorite performances of yours are in comedy roles. In the trailer, it seemed like you have a few lines that are quite funny, so I was wondering how you approached blending that dramatic side with the humor in this role.
RICHARDS: Yeah, definitely. Well, my character, obviously, she loves the very lavish lifestyle, and it was taken away from her [laughs]. I think, also, any time there is drama, I personally like – and a lot of times when there is something dramatic in our life – you have to find some humor at times with that. And so I wanted to bring a little bit of that in, as well, as much as I could, and it was fun. Robert was so great, Robert Gillings was great in letting Robert Davi and I– we would do our scene, but he was wonderful in allowing us to be able to adlib and say some things that weren't on the page. He was very open to that, and I really love that about working with him.
Oh, that's awesome, it sounds like such a collaborative experience.
RICHARD: Robert Gillings was great in letting all of us add some things that we wanted to and trying to make it our own, and he was very open. He did not have an ego with us having ideas and doing scenes and playing around with it. He took the time to let us do that, and it was really great. So it was a very collaborative project. Also, Robert Davi and I, right away, we had great chemistry, and we became friends, he's friends with my husband now, so it's nice when you have that, especially when you meet someone, and right away you're playing like a romantic couple [laughs]. So it's nice to be able to have that chemistry, and respect for each other, and also be comfortable with each other playing certain types of scenes and in different roles.
What can you tell us about your character? What's she like? Are we rooting for her? Is she sort of on the villain side of things?
see more : 'Transformers: Rise of the Beasts' Anthony Ramos & Dominique Fishback Talk Filming on Machu Picchu in Peru
RICHARDS: Well, I always like when there's the villain that you love to hate them, or you hate to love them, either way, you know what I mean? So I think she goes both ways. You either love to hate her or hate to love her. But I didn't want to play the typical trophy wife that was just all about that. I tried to bring in a side of her that was really affected by this and how it affected their family and bring a little bit of humanity and warmth to her even though she does love her lavish lifestyle. So, I was doing my best to try to combine the two.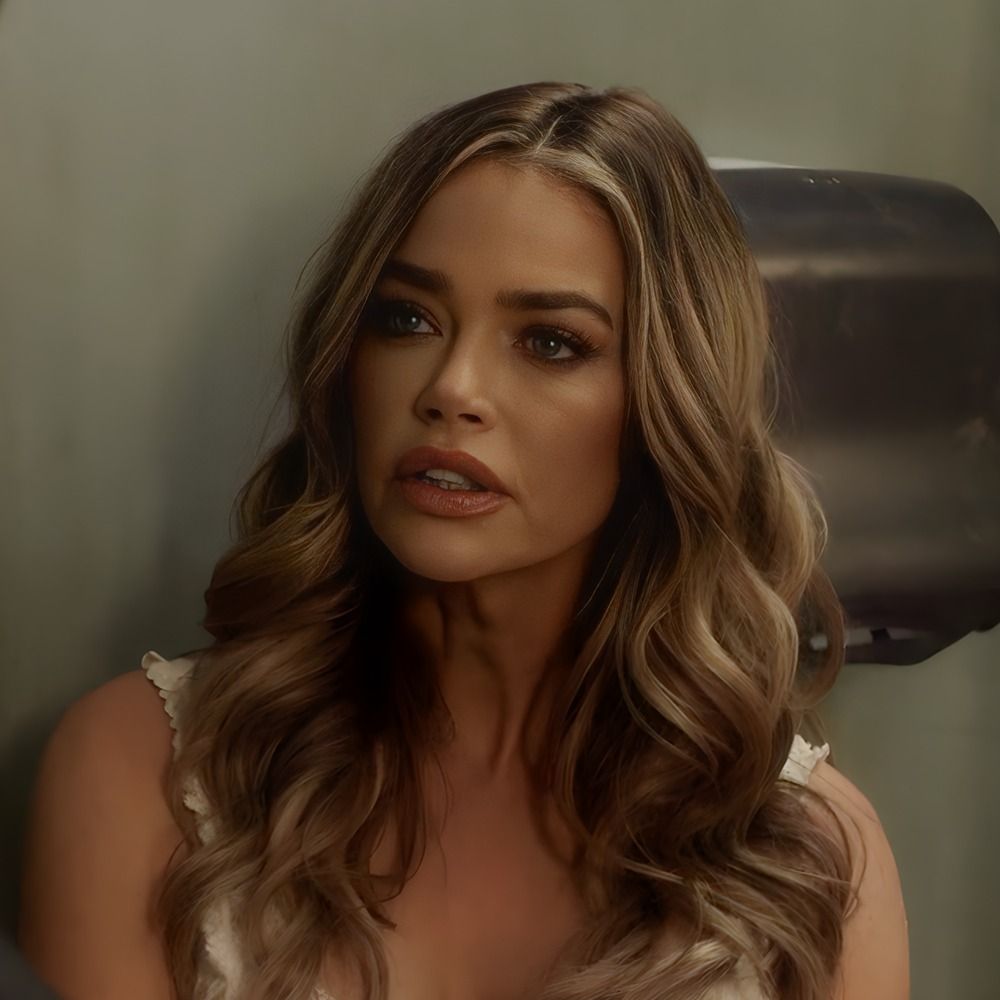 I love that. Do you have a playlist for your character or any songs that you played to get into character?
RICHARDS: I don't do a lot of playlists, I don't do playlists for the characters. I'll do just music and just zen out, and just kind of clear your head from things, [it's] why I like to sometimes watch mindless shows at night, just to clear your head. You don't have to think about things. So, I mean, I love music, but I like music that – especially if you have a call time at 6 AM – I want music that is more uplifting and feel-good. I love rock music, a lot of people know that, but then there are times I do like to put on classical stuff, too, just to keep things very clear and just block out the noise of whatever is going on in the makeup trailer or whatever, just to kind of clear my head. But I'm pretty easygoing, and I like to listen to everything. I think anything that makes you feel good, and you can listen to, then you're in a good space to work.
Yeah, I totally agree. For this role, did you pull inspiration from anything outside the script, like other performances or things you admire, to put into your performance?
RICHARDS: You know, a lot of people had asked me if this is similar to Bernie Madoff and his wife, and for me, I did not wanna do that. I wanted to play if this was a real situation, obviously, it's a woman who loves a very lavish lifestyle. I loved a lot of the sarcastic lines, and you can have fun with that. But for myself, I wanted to bring part of myself. No matter how much money you have or fame or whatever, some people may not relate to that, but they can relate to the loss of a family.
And so, when the situation happens where Robert Davi's character goes to prison, and my character is left alone with the kids, and really keep it grounded as a husband and wife and not about anything other than that. So obviously, being a mom, I can relate to that. And to lose, in a day, basically [have] your family broken apart out of nowhere, my character did not know what was going on, and to have all that happen and have her whole life crashing down, I can relate to having my family torn apart – different circumstances – so I was able to bring a lot of stuff that I've gone through, obviously as a woman and being a mom and being a wife, and then losing her husband, potentially, you know?
What would you say was the biggest challenge with working on Paper Empire?
RICHARDS: [Laughs] Not having a script, but I loved it. I actually liked that, and it was interesting to me, and I thought, "Okay, well, I haven't done this before," except when I did one or two lines on Saved by the Bell and Beverly Hills 90210. When I auditioned, I was never given a script. Eventually, I did get a script on those, though. But that was the challenge, and also, the timeline because we flash back and do different things. At times we were all over the place, and I thought, "You know what? I'm just gonna focus on each scene for what it is and not think about what happened before or after because I have no idea," because I was never given any script. So it was a very unique and challenging way for a lot of us to work.
I was going to ask if there were any scenes that changed dramatically from script to screen, but if you didn't have a script, I imagine…
RICHARDS: [Laughs] Yeah, no, we didn't. So it was a very interesting way of working, but I actually liked it because it was challenging. I had never done it before. I loved the concept so much, and Robert Gillings is so passionate, and when you work with people that are really passionate, and they love what they do, I was like, "I'm very excited about this! I can't wait to work on it." Like I said, though, we would work on it, and then we would shut down, and then start filming again. He would edit quickly and would show us just different clips of, like, mini trailers, and so it was inspiring and fun for us actors to see, "Oh, okay, well it is coming together," even though we didn't have scripts. I actually really liked that process. It was very different for me.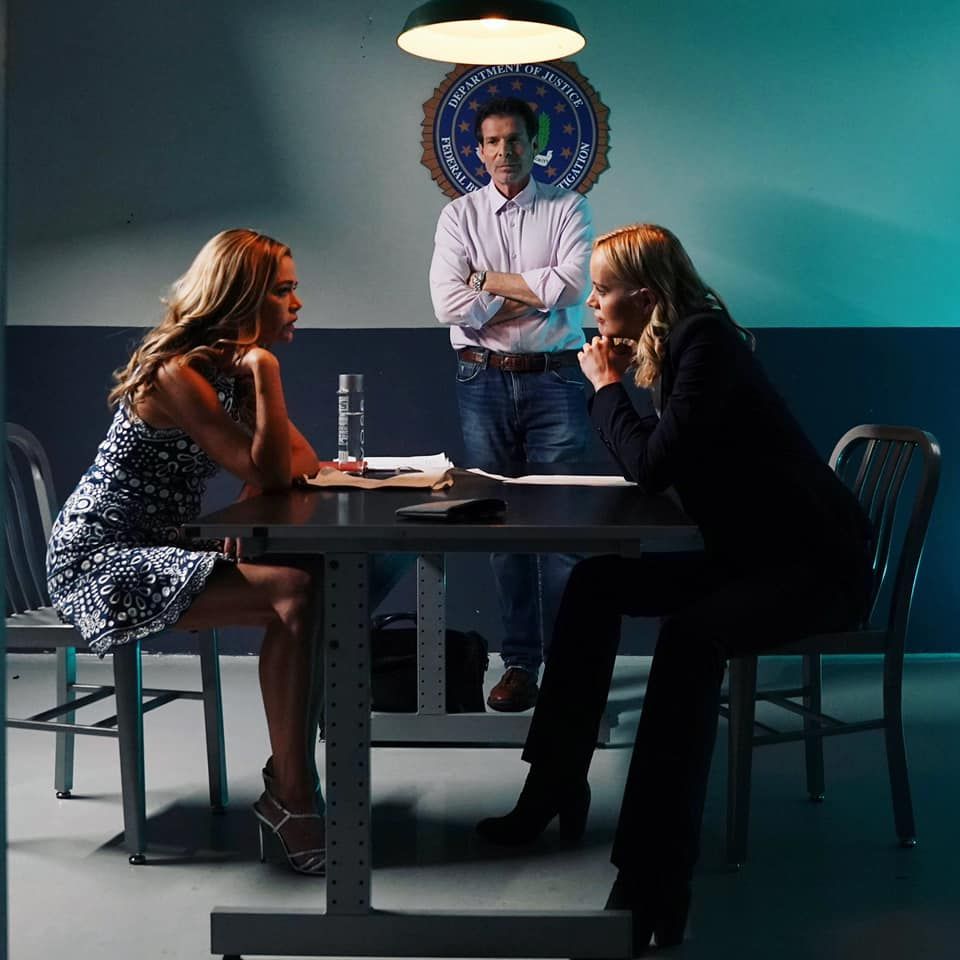 Was there a particular scene that was the most fun to film, or the weirdest to film that you can tease?
RICHARDS: I mean, like I said, I'm such a fan of Wesley Snipes. We did a scene on a private jet, and then we did a scene in the club. Then I met Robert Davi, and then our first scene is we're in bed together. I always remember what happens off-camera, quite frankly, and I remember off-camera, he and I were just talking, and his wife was pregnant at the time, and we're just talking about that, and then it's like, "Okay, here we go, let's roll!" And then we have to do what the scene is, and as soon as they say, cut, it's like, "Oh, well, where do you guys like to have dinner? Oh, my husband and I like to have…" It's those moments in between that I wish I captured because that's the stuff that I always remember, and that's what's memorable to me is meeting and working with these great actors.
I love that. Is there a particular episode from the season that you're excited for people to see?
RICHARDS: I haven't seen one episode.
Oh, no! [Laughs]
RICHARDS: I've only seen a trailer [laughs]. So I haven't seen any yet, he hasn't shown us. I think there are, like, 16, I believe, but I haven't seen one.
Is there anything you remember filming that you're particularly excited for people to see?
RICHARDS: I'm excited to see it all come together because, like I said, for all of us, we would hear another actor just signed on, then Kelsey Grammer comes on, and then Carol Alt now plays his wife, and I'm so excited to see it come together because I didn't have a script, so I have no idea. I have, obviously, a concept of what the show is about, but I don't know what each episode is about, and that's the first time in my career, since I started out, that I've been part of. So I'm really excited to see the episodes come together, and I don't watch my stuff. This is one that I do wanna see because I don't really know what's going on, and because there are so many great actors in this, and I'm fans of the actors that I wanna see too. I wanna see their scenes and what they did, and how the whole story comes together.
So without a script, how did you go about that in the day-to-day?
RICHARDS: I took each scene by scene, and in my particular situation — somebody like Kelsey, I'm sure, can do it in his sleep — I thought, "Alright, well, this is gonna be really great, or I'm gonna be a disaster [laughs]. So I'm just gonna do my best and do take each scene for what it is in that was in that moment, and just do what's in that moment." That's how I did it because I had nothing else to go off of.
Well, I can't wait to see it. From what was shown in the trailer, it looks like you did a great job.
RICHARDS: Oh, well, thank you.
Do you have any other upcoming projects that you're excited about or anything else you would like to tease?
RICHARDS: Well, right now I'm focused on this because we were just also in Cannes, and we have some more episodes that we're gonna be doing. So, I've been focusing on this, and I'm really excited about it coming out because there was a lot put into it with everyone, and I can't wait for people to see it.
Paper Empire does not yet have a release date. You can watch the trailer down below.
Source: https://dominioncinemas.net
Category: INTERVIEWS