With Netflix's exciting new pirate adventure series One Piece hitting the high seas of streaming, it seems only right that the highly-anticipated adaptation of Eiichiro Oda's Manga have a suitably exciting and adventurous soundtrack to accompany it. For the series' music producers, composers and songwriters Sonya Belousova and Giona Ostinelli, the undertaking in bringing the Straw Hat Pirates' musical identity to the screen was a massive one, but one the pair reflect on fondly.
you are watching: How the 'One Piece' Score Went From a 3-Minute Pitch to a Full-Fledged Soundtrack
In this new interview with Collider's Arezou Amin, Belousova and Ostinelli talk about how their three-minute pitch video turned into a full-fledged soundtrack fit for a pirate king. They also talk about the process of crafting themes for Luffy (Iñaki Godoy), Zoro (Mackenyu), Nami (Emily Rudd), Usopp (Jacob Romero), and Sanji (Taz Skylar) and beyond, the inspirations behind the instruments they use, and the hidden musical messages in the soundtrack.
COLLIDER: What was it about this project that called to the two of you?
SONYA BELOUSOVA: Kind of everything because here's what happened: Giona and I were big fans of the anime…
GIONA OSTINELLI: Still are.
BELOUSOVA: And still are, because it's ongoing, big fans of the anime and manga. So, we finished The Witcher, and that was a fantastic project. There was "Toss a Coin to Your Witcher," which was crazy because one day we woke up and then "Toss a Coin to Your Witcher" [was] number one on Billboard, not just on the soundtrack charts but on the hot top rock songs chart, which was completely unbelievable because that was the summer when Panic! At the Disco released their "High Hopes." "You gotta have high, high hopes for living," I love that song. Sorry guys, we love you, Panic! At the Disco, but they were number two, we were number one. That was incredible.
We had such a joy and such an adventure with The Witcher, so we were looking for the next project for us because we love world-building. We love music world-building, so the projects that require a very elaborate, very particular, and unique world-building. These types of projects are always the ones on our radar, and as soon as we learned about One Piece…
OSTINELLI: The live-action adaptation.
BELOUSOVA: …the live-action adaptation, we knew that that was the project for us to get involved.
OSTINELLI: And that was about two years ago, 2021.
BELOUSOVA: Yeah, it was like November/December 2021. So, we got excited. We got creative. And what happens when we get excited and get creative? We actually shot a video. It was a very quick video, it was like three minutes, maybe 3.5, in which we outlined the whole concept behind the One Piece live-action music universe – all the themes that we would create and assign to each one of our characters, each one of our Straw Hats, each instrument that we would assign which one of the Straw Hats and how all of that would get glued together within Luffy's theme because Luffy, being our captain, he really serves as the glue of our crew, hence the glue of our music soundscape. All the concepts and all the themes that we came up with for that video of two years ago, because we played different instruments in the video, and then at the end, all of that got combined within Luffy's theme. So now that we're done with the project—the Season 1 soundtrack is about to be out, the show is coming out next week—all those concepts have remained 100% true. All the things that we had outlined two years ago in that short three-minute video, that's exactly what's going to happen right now when the show is out.
I was going to ask how much of that initial concept made it into the final, but it sounds like most of it did!
BELOUSOVA: 100%. Not most of it, 100%!
OSTINELLI: All of it, and it served as a perfect foundation because we already had all of the most crucial themes and instrumentation for each character. It was just a perfect place to build on.
BELOUSOVA: Because let's take our Straw Hats, right? The cool thing about this show, in general, is that there's so much diversity within the show, which presented a perfect opportunity for us to make this score incredibly diverse, right? We can go anywhere from epic swashbuckling orchestra to songs featuring artists, for example, such as Aurora. We are releasing "My Sails Are Set" featuring Aurora, and Aurora is just brilliant. That song is Nami's theme song and represents the emotional arc of the season. Then we go to virtuosic flamenco guitar, featuring guitar virtuoso, Marcin [Patrzałek]. He's absolutely brilliant, and he embodies the character of Mihawk, for example. From virtuoso flamenco guitar, we go to hip hop and rap, then we go to circus because hey, there's a character, there's a certain pirate who is asking for circus music in the show. Then we go to folk, and then, of course, there is big band jazz-funk fusion. So, there are so many different genres.
Then within that genre variety, it was very important for us to establish very strong themes and instruments for our five crew members because these are our main characters. They're all so different and so badass and so unique, so they really deserved unique themes and instrumentation. And we have Luffy; Luffy is represented by a hurdy-gurdy because what kind of pirate show is there without a hurdy-gurdy? Hurdy-gurdy, for us, we love calling it the iconic musical Jolly Roger because it's just such a…Jolly Roger, really! That's what it is for pirates.
I feel like that's what people think of when they think of pirate music, even if they don't know what the instrument is called.
BELOUSOVA: Absolutely. We love hurdy-gurdy. We explored a lot of hurdy-gurdy on The Witcher. Anything from its traditional Medieval usage because hurdy-gurdy was initially established around 12th/13th Century to accompany dances, and we did a lot of that within The Witcher universe. But now that we're in the One Piece universe, we needed a different usage of hurdy-gurdy, and that was just a perfect opportunity to explore with that sound. And the instrument, even though it's been around, it's such a versatile instrument. You can do so much. And again, with pirates, it was perfect for Luffy.
Then we have Nami, which for Nami, we mainly use flute. Nami's character was great because she gave us so many opportunities to work with, whereas, for example, with "Toss a Coin to Your Witcher" in Witcher, we introduced the theme of the song at the beginning of the episode, and then the song comes in at the very, very end of the episode. With "My Sails Are Set," which serves as Nami's theme song, we introduce the theme literally as soon as we meet Nami in Episode 1, played by a flute. Then we really give the audience the opportunity to dive into the theme throughout the whole season and really explore different shapes and forms of that theme before arriving in Episode 8 into its most powerful song rendition performed by Aurora. Oh man, Aurora did such a fantastic job. She's so brilliant. We knew right away that she was the artist to embody Nami's character and perform her theme song.
OSTINELLI: Then we have Zoro.
BELOUSOVA: We have Zoro, I love Zoro! He's so good.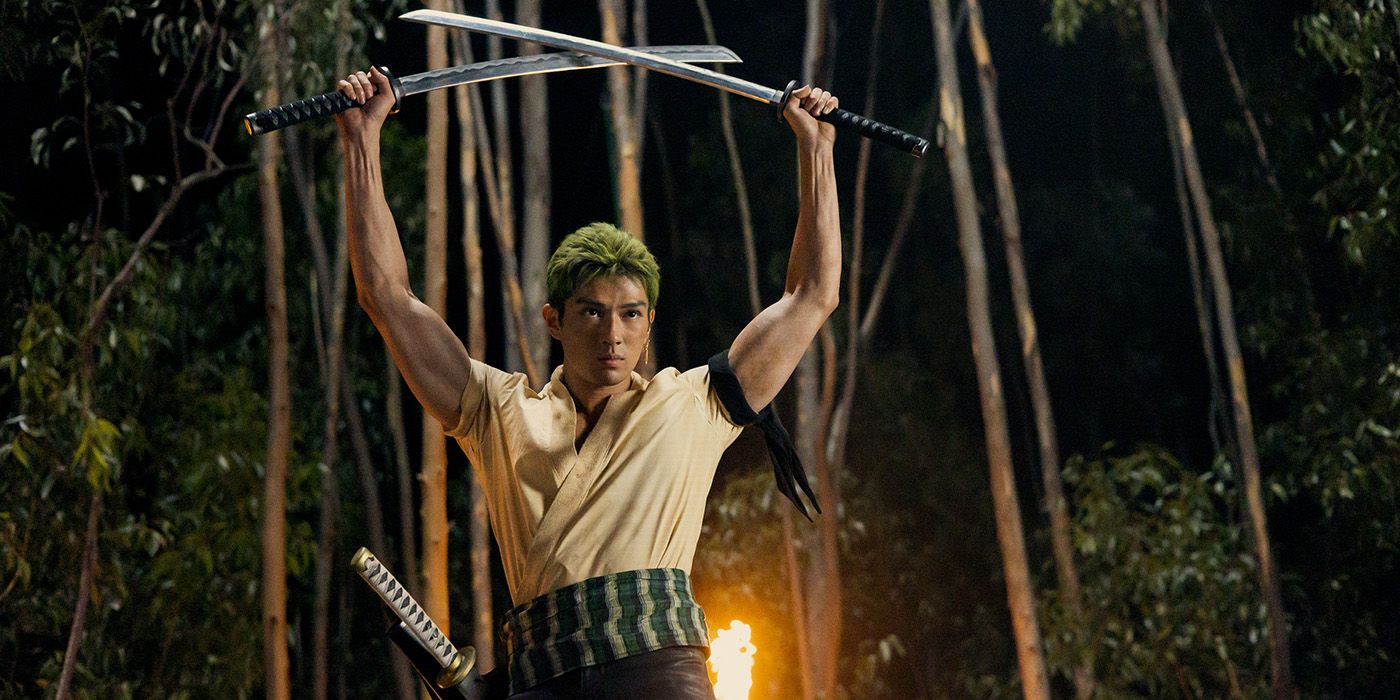 He's my favorite character. Ever since I was 11 years old, Zoro was my favorite character.
BELOUSOVA: So the deal with Zoro is, because his fighting style involves three swords, the idea that we brought up back in that video…
OSTINELLI: Was to have one instrument representing each sword. So, for example, one sword is represented by the bansuri, it's an Indian flute, it's very long, and it does look like a sword, so we were like, "Hmm, that one is perfect!"
BELOUSOVA: It literally looks like a sword, and beyond the fact that it looks like a sword, you can create very sharp, accentuating, even beat-boxy type of breath– How would I phrase it?
OSTINELLI: Bursts of breath.
BELOUSOVA: Yeah, bursts of breath. They would have a lot of sharp punctuation, and that really sounds like and feels like a sword, like Zoro's blading technique. So, bansuri was just the perfect instrument for that. Then there is frame drum because it has such a powerful sound, and we have like a 42-inch frame drum here in the studio—we have a couple, but that was the biggest one. That was just the perfect instrument for Zoro. Lastly, because he has this famous Wado Ichimonji sword, which is a sword with a very important history overall, and specifically for Zoro there's a lot of personal history with that sword, he only uses it on rare occasions, right? So we needed a very rare and specific sound for that sword, and here comes in duduk, which is originally an Armenian instrument, but it has a very, specific kind of mystical, sacred color to it, which was just a perfect representation of that important sword.
OSTINELLI: Then we're going to Sanji with his sleek, jazzy look.
BELOUSOVA: He looks jazzy to us. As soon as we started talking about character, jazz is something that comes in naturally, but it couldn't be just a straightforward jazz. Obviously, we had to give it a twist. So we have the big band jazz-funk fusion ensemble performing Sanji's theme.
OSTINELLI: And we thought, with Sanji, his fighting style is his kicks, so we're like, what's more appropriate to represent his fighting style than having a really cool drum group, like jazzy drum group, following his kicks?
BELOUSOVA: Now imagine there is Sanji, kicking left and right, kicking all the Fish-men, and then accompanied by Giona's masterful drum-playing.
OSTINELLI: Yeah, it's cool!
BELOUSOVA: I love it. Perfect combination. Then we have Usopp, who wants to be the bravest pirate out there, just like his father, because he really looks up to his father, but he's not there quite yet because, as of right now, he's still lacking the inner confidence. He still has to find that. So as of right now, his sound is represented by an ukulele, and on top of that, it's a bluesy ukulele. There is no such thing, but there is this thing now; it's a bluesy ukulele. He's kind of quirky, maybe a little uncoordinated in some places, so bluesy ukulele really delivers that quirkiness to accompany his performance. And then as he's going to grow as a character, a little bit in this season, but much more in further seasons—hopefully, we're gonna get there—then his instrument is also going to grow in size. And from ukulele, we're gonna grow bigger, bigger, bigger, bigger, bigger. And hopefully, eventually, we're gonna get to something like a 12-string guitar.
OSTINELLI: Or even bigger, and we'll do a contest on creating a new big guitar for Usopp, and something very unique for One Piece.
BELOUSOVA: And involve the fans. So that's, very quickly, about our main characters because all of them are just so diverse and so badass, so they all needed their themes and instrumentation to carry us through the season musically.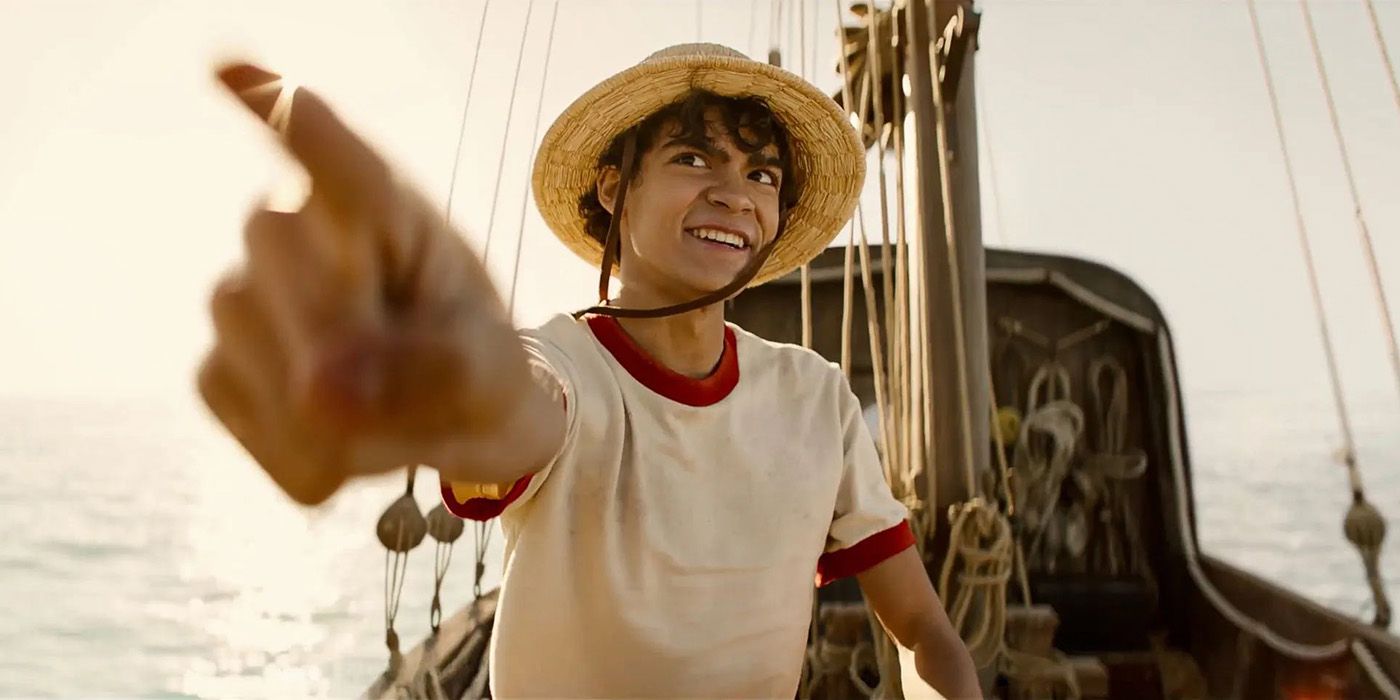 You mentioned that all of their themes kind of bleed together into Luffy's theme because he's the captain, he's the leader of this little band. One of the things I thought was really cool when "Wealth Fame Power" came out—the first track off the soundtrack—is that the two of you had mentioned that Luffy's theme is Gol D. Roger's theme reversed. I love musical references like that, so I wonder if you can go more into the decision to do that.
BELOUSOVA: So, at that point when we were working on that scene, and this is the very, very opening of the season, "Wealth Fame Power," that's also how the anime starts. "Wealth, fame, power," that's what Roger says, that he found it all, and everything else this world has to offer.
OSTINELLI: Our train of thought, you know, we had Luffy's theme, and we're like, "Look, Luffy and Gol D. Roger are connected." Gol D. Roger's One Piece is the treasure that Luffy is after.
BELOUSOVA: Luffy, to some degree, wants to be like Gol D. Roger, right? He has the same aspirations. So, there's so many character traits that absolutely match up between the two characters. We already had Luffy's theme at that point, so when we were working on this scene, we were like, "How about we reverse it so that there is that connection between the two characters, but then there is also a musical connection between these characters?" The cool thing about reversing the theme is that in Roger's case, it goes down, it's all about the descending motion because he's about to be executed. That's it for Roger, that's it for his character and for his storyline because he's about to die.
Now for Luffy, the theme goes up because it's all about the ascending motion. He's just beginning his journey towards this great adventure, towards becoming the king of the pirates, towards eventually, hopefully, finding the One Piece treasure. So, there is that parallel with Roger's descending motion, but then Luffy's ascending motion. We are ending one storyline, but we are immediately beginning another storyline.
I love that so, so much. I just love when music does that. You two basically make it sound like you—and I know this is not what happened, and I know you two worked very hard over the last years—you make it sound like you kind of came with all of this ready to go. What is the biggest challenge in composing something to this scale with this many characters and this many themes, and you have to essentially build out this world in a whole new medium now?
BELOUSOVA: The challenge is finding some time to sleep. [Laughs]
OSTINELLI: No, I think the challenge is, because there are so many different styles of music in it, so many different instruments and everything, it's how to make it all feel organically one thing, but at the same time…
BELOUSOVA: One piece.
OSTINELLI: One piece, but at the same time different, but not making it sound– I think it's very simple to just put it together and sound just a mess, and you don't want that. So, the challenge is how you combine all these different elements, how you combine these different styles of music, and instruments in a way that feels very organic and natural…
BELOUSOVA: The same part of the same universe.
OSTINELLI: Correct, correct.
BELOUSOVA: The way to do it is to start out with a plan, and we had a plan, which we outlined in that little video. And it's just crazy to think that, literally, that was the road map. Then from there on, when you know what you need to do, it's very easy to kind of start figuring out the steps.
What also helped is that the show was never approached episodically. The whole show was approached basically as one giant blockbuster because they were working on all the episodes at the same time, and we were also working on the score for all episodes at the same time. The episodes were never locked. Normally, if we're talking about TV, you do Episode 1, you move on to Episode 2, and you kind of work your way chronologically. This was approached as one giant movie because everything was being worked on at the same time, which is a ton of work, obviously, but what's great about that is that really gives us a very good idea to kind of start putting all the pieces of the puzzle together and start planting the seeds.
Let's take a particular theme, let's even talk about Nami's theme, right? We started in the very beginning, we know what that theme has to go through and where it will eventually arrive, so by working on all of this together at the same time, you're really able to think this through, and that would be the process for every single one of those themes. So then, as an end result, it all sounds very cohesive and unified rather than a lot of things thrown in together at the same time.
OSTINELLI: It also gives you a big opportunity to play around. For example, in Episode 8, there is Zoro fighting the Fish-man, and the Fish-men are winning at a certain point the fight with Zoro. We feature more of the sound and the themes of the Fish-men, but still with elements of Zoro's music or instrumentation in it a little bit because Zoro is fighting them. Then when Zoro starts winning and takes over the fight, well, that music also switches, and the Fish-men music starts decreasing, diminishing, and Zoro's music instrumentation theme takes over. So, it gives us this opportunity to play around with it, and that's why it was so important for us to have themes and specific instruments for not just the main characters but also for each villain and each island because it gives such a good road map.
BELOUSOVA: One of my favorite scenes—I mean, all of the scenes are my favorite scenes, but I'm gonna bring up one scene [and] I'm 100% biased—there is a scene at the very end of Episode 3. It's a very long scene, it's about eight or nine minutes, which is a lot, and we keep jumping between the characters. So first, we have a dialogue between Nami and Kaya in Kaya's mansion, so we have that, and then we jump to Usopp having a dialogue with Luffy and Zoro, so we have that section, and then we kind of keep switching back and forth right between Nami/Kaya, Usopp and Luffy. So what's happening musically is just as on-screen our characters are having dialogue, the same thing is happening musically, we're having the same music dialogue. So Nami, there is her flute as her main instrument, for Kaya, we are using oboe because oboe has such a beautiful, elegant sound, and Kaya is so classy and so elegant, it was just the perfect sound for that character. So as Nami and Kaya are talking, their flute and oboe are also talking between each other musically, then we switch to Usopp with his ukelele talking to Luffy with his hurdy-gurdy, that's what's also happening in the music, right? So those two instruments are talking between each other. Then we go back to Nami and Kaya, and their instruments resurface. So basically, just as there is a storyline happening on screen, there is the same parallel storyline happening with the music.
It almost makes me think if you were to watch these episodes with everything but the music cut out, you'd still be able to follow the narrative.
BELOUSOVA: Absolutely. For a project like that, at least for us, it's so essential to be able to create a strong thematic foundation because there is so much happening in a show like that. There is a lot. I mean, we have five main characters, we have so many villains, so many different islands. It's a lot of information that's happening at the same time, so having that solid thematic foundation is the key to approaching a project like that.
I know this is kind of like asking someone to pick their favorite child, but if you have the one musical scene, you are most eager for everybody to experience, is it that back-and-forth scene at Kaya's, is it something else?
BELOUSOVA: That's a great question. For me, I don't think I have a specific scene because the score is just too diverse, I think, to select a specific scene. I think when it comes to characters, obviously, we have our five Straw Hats, and all of them have their own moments where their music material is being featured; then we have villains, and all those villains are also so diverse. For example, let's take Buggy the Clown, he's an unhinged clown, but also such a powerful villain at the same time, so obviously, there's a lot of circus vibe going on for Buggy, but we also decided to get creative. Because Buggy has the Chop Chop power, he can chop his body into multiple parts, the idea was, "Why don't we incorporate exactly that musically?" So what we did was we actually recorded the words "Chop, chop, chop," like this very, very, very fast, and Buggy's theme features this really fast-paced riff that happens every single time we see the character on screen. If you pay very close attention, you're actually going to hear it, "Chop, chop, chop…"
Or, for example, let's say Kuro and the Black Cat Pirates, which is another incredible villain. So for Kuro and the Black Cat Pirates, we recorded shrieking dulcimers and hurdy-gurdys, creating such a sonority that it actually sounds like cats meowing. Remember when we sent the track?
OSTINELLI: Yeah, the showrunners and Netflix were like, "Wait, did you record a cat for Kuro?" We were like, "Nah, even better!" [Laughs]
BELOUSOVA: They're like, "Do you have a cat in the studio?" We're like, "No." But that didn't stop us, and we decided to do something else for Kuro because Kuro's signature look is all about his claws, right? They're just a general part of his look, so we're thinking, "How do we incorporate that musically?" So we brought in some knives, like kitchen knives, to the studio, and we decided to record the sound of the knives being sharpened.
OSTINELLI: Which was tricky at first trying to figure out how to sharpen them and record them without cutting up the microphone or without cutting ourselves up. But we're here, we survived.
BELOUSOVA: We survived. We made it through. No composers were hurt in the process of creating chorus music.
OSTINELLI: And no microphones.
BELOUSOVA: And no microphones, more importantly! [Laughs]
OSTINELLI: But I think each episode has such cool scenes.
BELOUSOVA: Oh, Mihawk, for example. So Mihawk, the look of his character, he kind of has a flamenco vibe about him because he has this long black cape, the black hat, he has this huge sword with the diamonds. When we saw him on screen in the live-action adaptation for the first time, we immediately got a Spanish flamenco vibe, but more than that, so we were thinking of how to incorporate that musically. Marcin, who is a Polish guitar virtuoso, he's such a wunderkind when it comes to guitar playing because he has a prominent flamenco background, but he was able to expand on it. We love calling his style orchestra in one guitar, and it's truly that. Take Mihawk, with his ultimate precision and technique, and there's so much class and elegance to him, but at the same time, there's also so much fire and passion, and his blade technique. So Marcin captured exactly that with his guitar. As he strikes a chord, the room just goes on fire every single time. So for me, he's the perfect Mihawk And we were able to craft some really cool songs with Marcin for Mihawk.
OSTINELLI: And to me, also, for example, in Episode 1, when there is the whole courtyard fight towards the end. It's the first fight where Luffy, Nami, and Zoro fight together against Axe-Hand Morgan. It's so much fun musically because it's the first time when we play around with their themes and their sonorities.
BELOUSOVA: It's such a musical dance. Whenever there is someone on screen, their music theme or instrument is featured in the score, then the next character, the next instrument. So it's a constant dance.
OSTINELLI: Or in Episode 6, when there's the big flashback to when Zeff and young Sanji were trapped on this lonely island. It's such an amazing scene, and music gives such an opportunity to explore, in-depth, Sanji's theme and Zeff's theme and their relationship.
BELOUSOVA: And how those themes work and interact between them. I keep going back to Nami's song, but for me it's so important because that's really the emotional arc of the season, and being able to develop these songs throughout the whole season and then arrive to that powerful rendition at the very, very end, to me, it's just such a gratifying arc to Nami's storyline. Every single time I hear it in Episode 8, it really gives me goosebumps. We're releasing it tomorrow. I hope fans will experience the same goosebumps because I have them every single time I hear Aurora singing.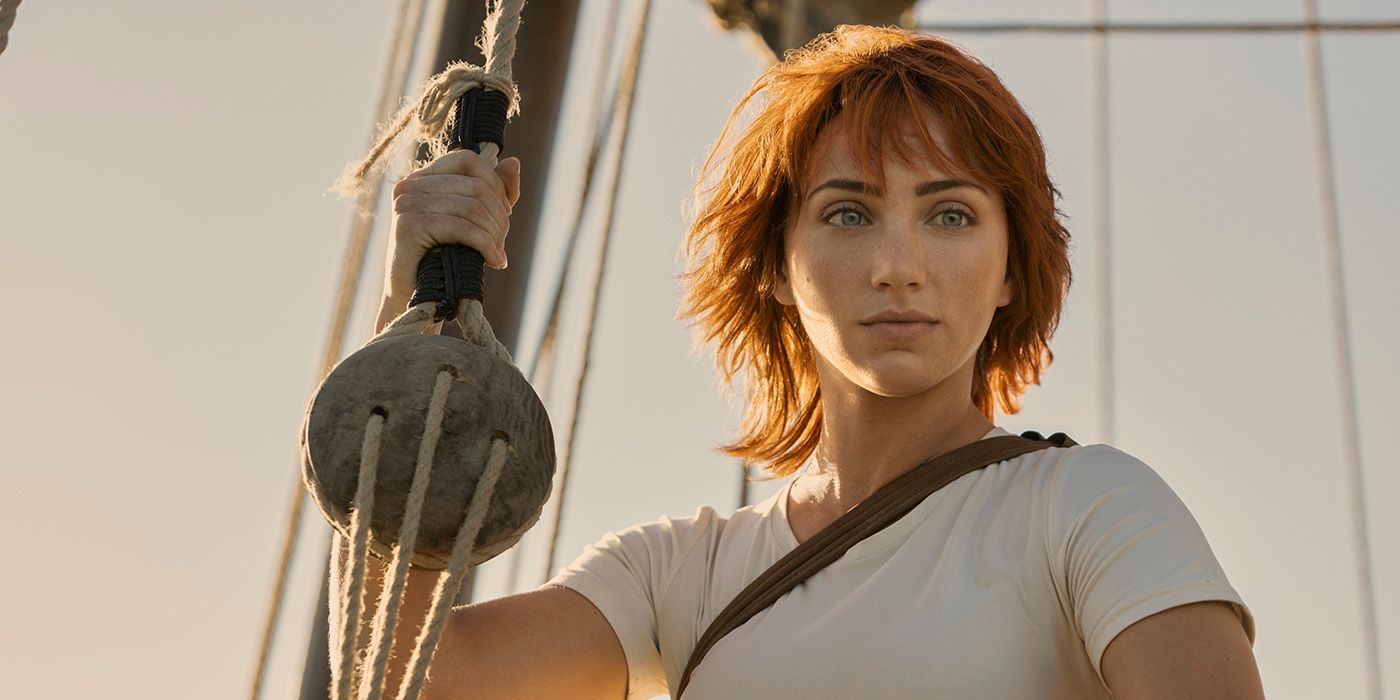 OSTINELLI: You were asking for a specific, and there's so many. Each episode, it's so different because we meet each character, and each character is so different. We meet new villains, new locations…
BELOUSOVA: We gradually meet Straw Hats because we don't meet them all at the same time.
OSTINELLI: Yeah, so I think each episode has iconic scenes that are our favorite, [where] you're like, "Oh my gosh, it's so cool."
BELOUSOVA: But it's also because musically, all these characters provided such a fantastic opportunity for us to create something very unique and very particular and very elaborate. And also to collaborate with artists such as Aurora or Marcin, it's something that we absolutely love, and that's why we thought One Piece would be the perfect project for us to get involved in, and it proved to be that and so much more than that.
I know I asked for a specific scene, but that answer was so much better, I think, than anything I could have anticipated.
BELOUSOVA: It's just so hard to narrow it down to a specific scene because, normally, in a film or in a show, there is a certain storyline that leads you to a certain conclusion. Here is so much more than that.
OSTINELLI: There are so many side stories.
BELOUSOVA: They're equally important, and they're equally a part of that grand adventure. So, that's the best we can narrow it down. [Laughs]
One Piece is now streaming on Netflix. Listen to "Wealth Fame Power" below:
Source: https://dominioncinemas.net
Category: INTERVIEWS