Apple TV's new miniseries, The Crowded Room, is an atmospheric psychological drama fans of shows like Mindhunter won't want to miss when it premieres on June 9. Adapted and executive produced by Akiva Goldsman, it follows the story of a young man named Danny Sullivan and unfolds through a series of interviews after he's been arrested. Spider-Man: No Way Home's Tom Holland stars as well as produces for the show, opposite names like Amanda Seyfried and Emmy Rossum, who plays Danny's mother, Candy. In an interview with Collider's Steve Weintraub, Rossum shares what it was like to "explore that darkness" with Holland and why tackling "Shakespearean-level tragedy" was her biggest draw.
The Crowded Room takes place in New York in the 1970s after Danny is placed under arrest for crimes he insists he never committed. To get to the bottom of this mystery, investigator Rya Goodwin (Seyfried) sits down with Danny to dig into the events leading up to his alleged involvement in a shooting. Their conversations lead to revelations about his past that may shed light on "his childhood and his past, and what might have led to this crime" in a life-altering discovery.
While discussing the series, Rossum explains why she was so moved by her character, why difficult roles appeal to her, and how she ultimately lets off steam after the pressure of said performances. She also talks about her relationship with her in-show son, as well as what it's like to share a scene with Holland and Seyfried, and the importance of handling violence, physically and emotionally, in a responsible manner on set. Check out all of this and more in the video or transcript below.
COLLIDER: I've seen the entire series, and I want to say congrats. I'm not going to do any spoilers, but I like throwing a curve at the beginning. You've done a lot of stuff, if someone has actually never seen anything you've done before, what is the first thing you'd like them to watch and why?
EMMY ROSSUM: Comet because it's a movie where I met my husband and fell in love.
Okay, yeah, that's kind of the perfect answer.
ROSSUM: Thanks. That was the first one that came to mind.
see more : Chris Messina Compares Making 'The Boogeyman' and 2010's 'Devil'
So, what was it about this project that said, "Oh, I have to do this?"
ROSSUM: Any time something terrifies me and I don't know if I can pull it off, I kind of run towards it, which is probably something I should look at. I thought the opportunity to play this character over the span of 10 years changed so drastically, from being a very young 25-year-old single mom, bartender, nurse, a caretaker in every way, who's really trying her best, but ultimately, the family secrets and the ways in which she tries to survive – what she refers to in a later episode as "the world is a cruel place" – ultimately, those decisions end up kind of shattering the bond with her son that is the most important in her life. It's kind of a Shakespearean-level tragedy. I was quite moved by the idea and challenge of playing an imperfect mother, especially as a young mom of now two, I think it brings up a lot.
Do you enjoy playing a character who is doing things that you probably really disagree with? Is it more fun, is it more challenging? What is it like getting in that headspace?
ROSSUM: I think the joy of playing pretend is getting to experiment and live through sometimes the things that we fear the most. I think the ways in which these characters, as mother and son, are able to survive, the idea that they're both living in these deep states of denial, which is either a learned or inherited trait, it was fascinating to me. I think there is kind of a catharsis in getting to explore parts of yourself that are scary through the safe parameters of a story where you know how it starts, and you know how it ends. I have always found that there is some kind of emotional truth that you'll learn about yourself through acting out other people's lives, and I don't know, there's something, I just really enjoy this job.
When you're playing a character like this, how much at the end of the day can you shut it off and go back to who you are, and how much are you sort of leaving a piece close to the surface so you can just inhabit as soon as you can step back on set?
ROSSUM: You know, I've often played characters whose emotions are quite explosive and who leave a lot on the field, and with this character, there is so much kind of violence and trauma around her, and there's quite an implosion into herself, almost like a self-violence that happens. I had a lot of anxiety while shooting this show leading up to some of the more challenging scenes, so by the time we got to shooting them, I was fully armed, having worked with a social worker and a psychologist to inform me, and spoken with a woman who had had a similar life experience. I felt like I really wanted to bring empathy and do these moments justice, and so by the time I finished the scene, I was so relieved that that experience was over, that I was just glad to go home and, like, watch Top Chef, to be perfectly honest [laughs].
You have some great scenes with Tom, and I'm not going to get into any of the specifics, but obviously, he really gave himself to this role and just went for it. What is it like working with a scene partner who is clearly giving his all to the role?
ROSSUM: I think it's so terrific to have an actor who is also your producer, who's in it with you. To have actors like Tom and Amanda who are so incredibly unafraid to go to those depths and to explore that darkness, especially under the guidance of terrific direction like Kornél Mundruczó, it was just a joy.
I remember after a particularly challenging scene, Tom just came over and kind of threw his arms around me, and we just kind of stood silently hugging each other. I think that connection is so lovely, especially when you've really lived through these real moments, emotionally, as characters who are so disconnected and who are so desperate to connect to each other, but are kind of afraid of and for each other. It's really nice to have a scene partner that is in it with you.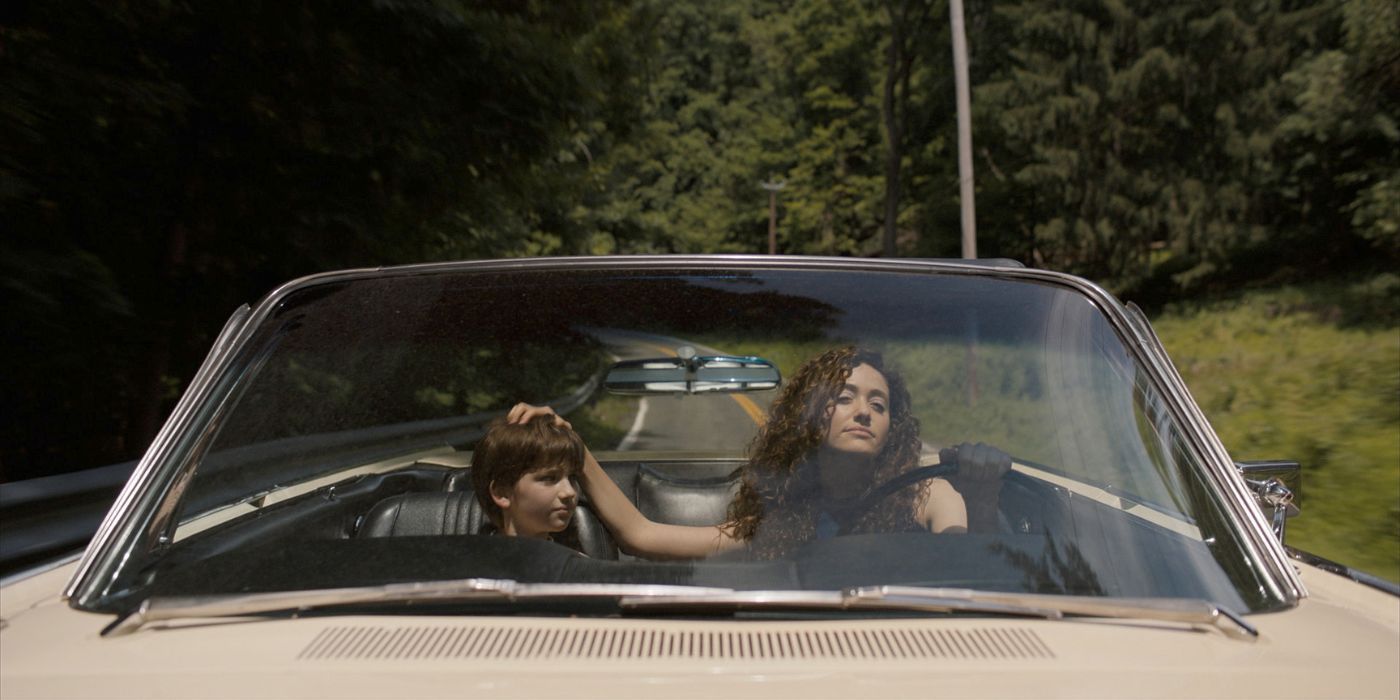 I'm so curious, how have you been describing this series to friends and family without giving things away?
ROSSUM: I would say The Crowded Room is a psychological thriller that unfolds through a series of interviews with Amanda Seyfried's character as she is tasked with uncovering the mysterious past of a young man, played by Tom Holland, who is arrested after a shooting in 1979. And as the mystery unfolds, we learn more and more about his childhood and his past, and what might have led to this crime.
That was very good. So you're not in this scene, but I just want to talk about it really quick; I was so blown away by the scale of what they did in New York City outside Radio City, and just shooting in New York City and recreating it was like movie-level, except it's a TV show.
ROSSUM: The show opens with this kind of catalyst event, this shooting in Rockefeller Center in 1979, and I think that there's a lot to be said about violence, and the importance of depicting violence and survival from violence is incredibly important. And I also am very happy and proud that our crew did it in a responsible way with not real guns, green plastic ones that got replaced in post. I think the importance of safety, emotionally and otherwise, on set is paramount.
The Crowded Room premieres on Apple TV on June 9. Check out Collider's interview with Tom Holland below.
Source: https://dominioncinemas.net
Category: INTERVIEWS