Editor's Note: The following contains spoilers for the Season 1 finale of Fatal Attraction.
It feels like every other new title, whether it be a show or a movie, is a reboot, remake, or revival of some kind. Grease: Rise of the Pink Ladies is an origin story of sorts for the fan-favorite Pink Ladies from the classic film Grease. The cult favorite comedy series Party Down just returned for a Season 3 after over a decade of being off the air. So when Paramount+ announced a series called Fatal Attraction, it was certainly not a surprise. But what is surprising (and refreshing) is how the series makes a deliberate effort to be very different from and expand upon the iconic film on which it is based.
This reimagining of Glenn Close and Michael Douglas' 1987 psychological thriller of the same name, which was executive produced by Alexandra Cunningham (Dirty John, Physical) not only modernizes the dynamic and storylines between its leads but importantly tells the story from the perspectives of multiple characters. The 8-episode first season follows Joshua Jackson's Dan Gallagher, a well-liked lawyer in the federal crimes bureau who meets and has an affair with Alexandra Forrest (Lizzy Caplan), a new addition to the company advocating for victims in criminal cases. Though Dan tries to end the extramarital relations, Alex refuses to be ignored, turning their already-problematic relationship into one that has deadly consequences in both the past and the present.
During this interview with Collider, Toby Huss (who plays Mike Gerard, the DA's chief of investigations and confidant of Dan), Reno Wilson (LAPD officer and Detective Earl Booker), and Brian Goodman (who plays Arthur Tomlinson, business partner and best friend of Dan's wife Beth played by Amanda Peet), showed off their chemistry and comfortable nature with each other on and off-screen through their constant teasing and joking around, as well as what they thought about Season 1's very bold and unpredictable finale.
COLLIDER: It's so great to meet you! This is actually my first ever interview, so thank you.
RENO WILSON: No way! Fortunate for you it's us.
TOBY HUSS: Oh, you shouldn't have said that [Emily].
[Laughs] I know, I know, that was either a really good decision or a really bad decision.
WILSON: It's good, it's good. Congratulations!
Thank you! Yeah, I'm excited. I really loved the show, and I actually have a general question first for you three because I know you've been acting for a while, so do you remember what was the first role that got you your SAG card?
WILSON: Wow!
HUSS: We've collectively been acting for 400 years if you add up our careers.
WILSON: [Laughs] You're not wrong.
HUSS: My first SAG? Yeah, I think it might've been…To get that first SAG, it might've been The Adventures of Pete & Pete, the show I did on Nickelodeon years ago in New York. It could have been that.
WILSON: Oh, interesting.
HUSS: Or no, it was— Yeah, it could have been that.
WILSON: See? That's what happens.
HUSS: Or this picture, Handgun, I did, this independent film in New York.
WILSON: I know exactly where I got my SAG card. It was a National Coast commercial
HUSS: Nice.
WILSON: And they Taft-Hartley'd me in. That means they wanted me for the job, and so they're like, "We'll waive your initiation fees, do the job," and then I was in.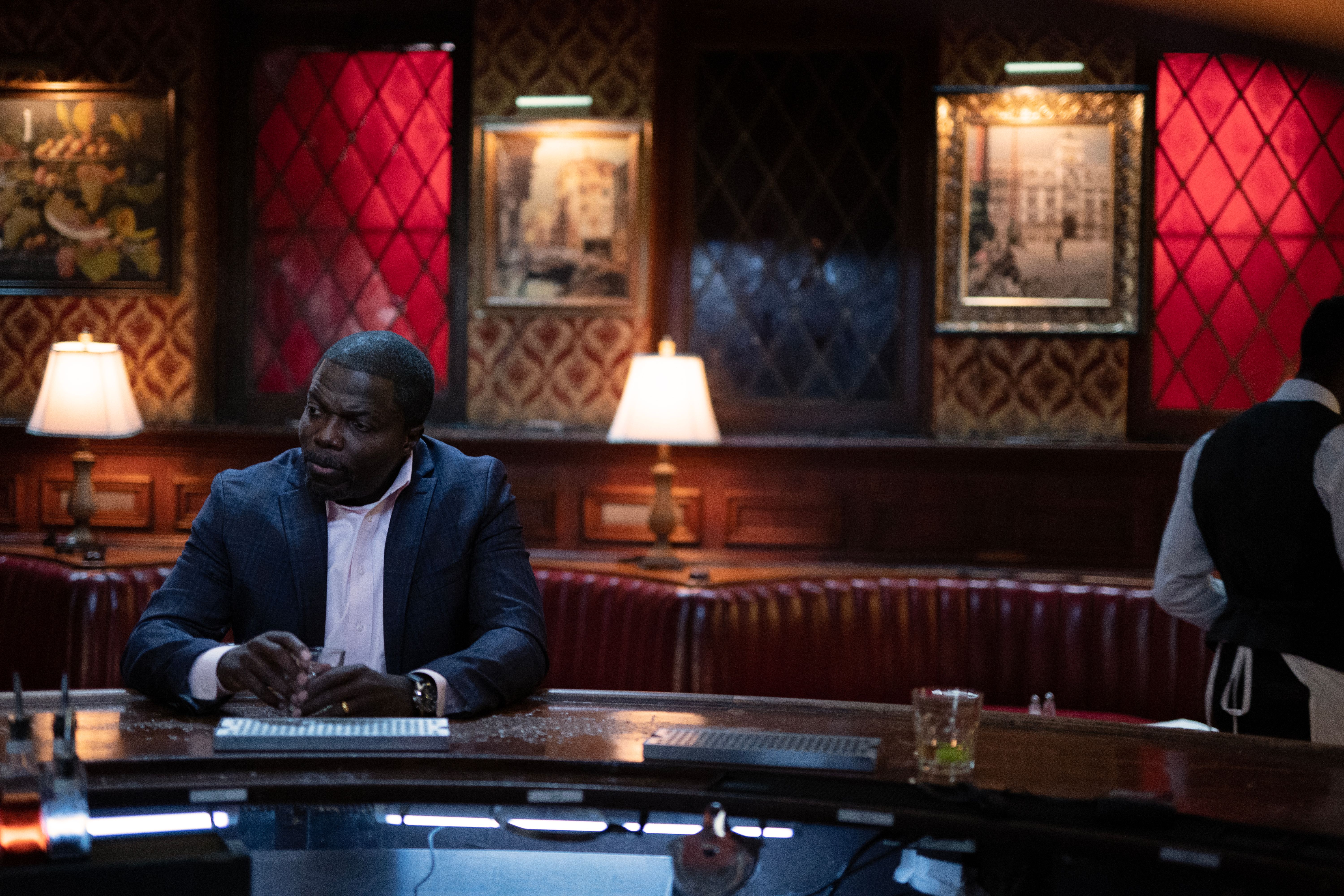 Brian?
BRIAN GOODMAN: I think it's like your second job when you get your card, right?
HUSS: I think something like that, yeah.
GOODMAN: Yeah, so I was closer to 40 than not when Ted Demme was doing a movie in Boston, and that was it, called Monument Ave.
HUSS: But that wasn't a talkie, was it?
WILSON: [Laughs].
GOODMAN: A what?
HUSS: [Laughs] I just said you were older than me! That's all I said, I said, "It wasn't a talkie though, was it?" He goes back to the…nevermind. Your first interview, huh? On a scale of one to ten, so far about a four?
[Laughs] I was going to say 11!
HUSS: Oh, just wait.
So obviously this is based on the iconic movie of the same name. I actually had never seen the movie–
WILSON: That's because you weren't born.
Sure, yeah [laughs]. I was like, "Do I want to watch this going into the series?" I decided not to because I didn't want to compare both a ton, so I went in totally cold to this, but I'm curious if you three had a relationship with the movie. Do you remember seeing it? Did you rewatch it before you started filming?
HUSS: Actually, in '87 I had an affair with the movie. [Laughs] See there what I did? That's gonna be a portion you cut from your interview. You'll learn about editing. Wait, did you watch the movie after the series?
WILSON: She hasn't seen the movie yet.
GOODMAN: What did you think of the series? Did you like it?
I did, I liked it a lot, yeah.
WILSON: I'm curious to speak to you after you've seen the movie.
HUSS: Oh yeah, that'd be interesting.
WILSON: I was 18 when the movie came out. It's vastly different from this series, is all I will say for you.
HUSS: I saw when I was around probably 22 or something, and yeah, I didn't want to watch it again before we did the series. I wanted to have my experience with that movie just sit there, and maybe I'll go reinvestigate the movie. But from what I remember, it was such a great movie, and so well acted by Michael Douglas and Glenn Close and the cast.
WILSON: It still holds up, too.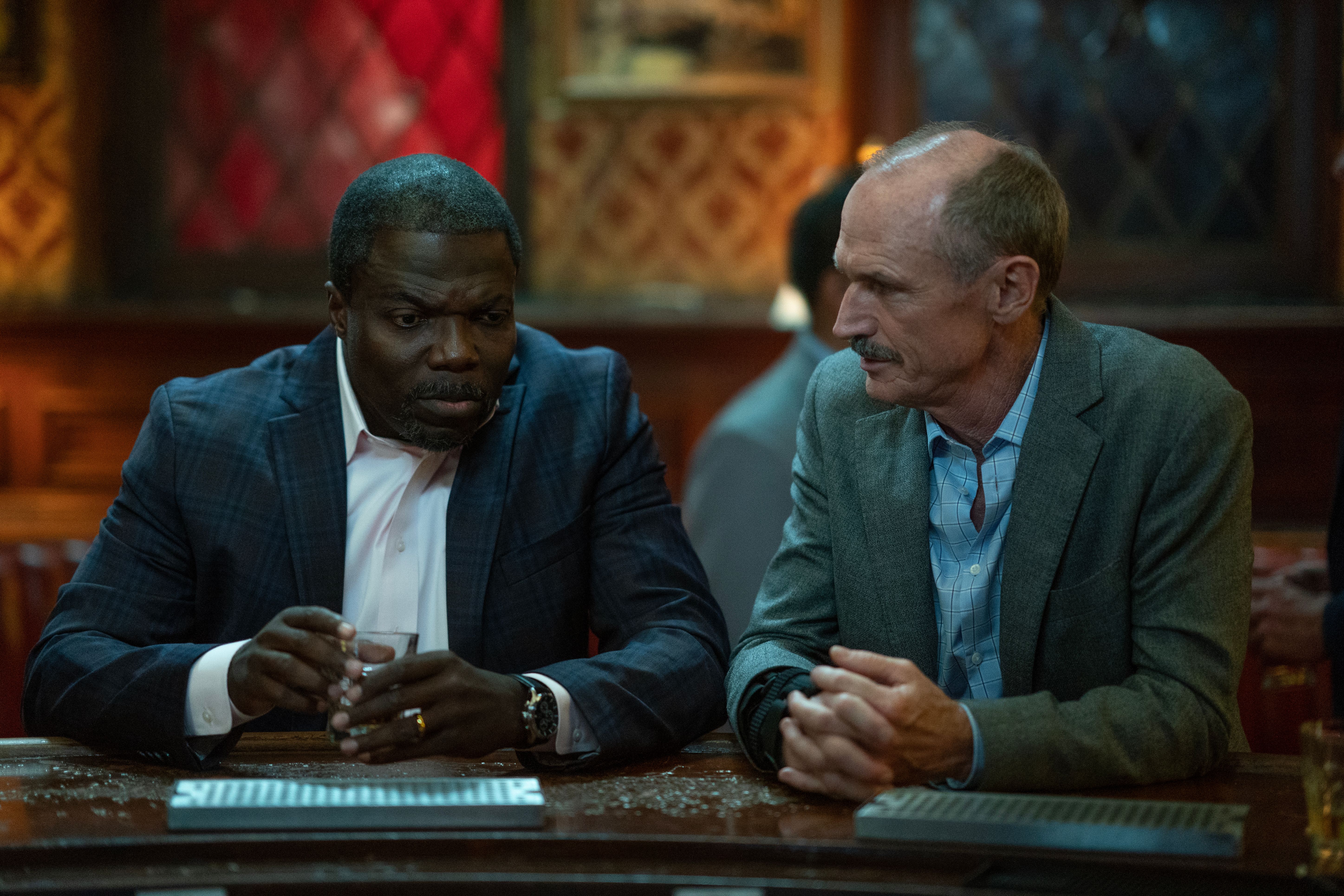 Yeah, I'm excited to check it out, but I just didn't want to compare.
GOODMAN: That was a good idea on your part because I wish I could have done that.
I like the way the story starts at the end. I thought that was really bold, and I thought it paid off seeing all the character motivations unfold. Did you three know the ending when you started? Because I know sometimes actors don't get all the scripts at once.
HUSS: No, I didn't know the ending when we started.
WILSON: Nope!
GOODMAN: Well, fortunately for me, it was kind of a heads-up because, you know, it's a choice to make, right? Do you wanna play that guy? So I immediately made a joke right off the bat, and said, "Oh, so I get to be the hero?" Then I started reading it, and said, "Ah, this could be… not well-received," you know? Then we had discussions, and fortunately Alex was a step ahead of me of showing a side of Arthur that lent to it, and things that were happening to his dear friend. You know, some people will say, "I'd do the same thing," and some people will say, "How could you?" So it's gonna create that, and I was all in.
That kind of goes into my other question; I feel like a lot of people are going to have very strong opinions both ways of all these characters, and I'm curious if you have any strong opinions? Do you think Dan or Alex are villains, or do you think they're pretty gray characters?
WILSON: I mean, they're human, they're human characters. We all make choices sometimes, and there's fallout from those choices that we make, and I think this is an example of one of those things, you know? It's a human story.
GOODMAN: Yeah, hurt people hurt people, right? We've all heard that, and that's an expression that lands a lot. You know, the truth is, Alex is a killer. She's not only a woman who's in a lot of pain and confusion and everything, but she literally could watch the mother of somebody she's never even met die, you know, at her own hands. And then to affect a child's life, with no turning back, by taking her. I mean, imagine a stranger taking somebody, right? Your child, regardless if she returned her in safety? The girl's afflicted and affected for the rest of her life. So I'm not saying it warrants murder, but if somebody's gonna get killed, it might as well be that, you know?
WILSON: The gauntlet dropped.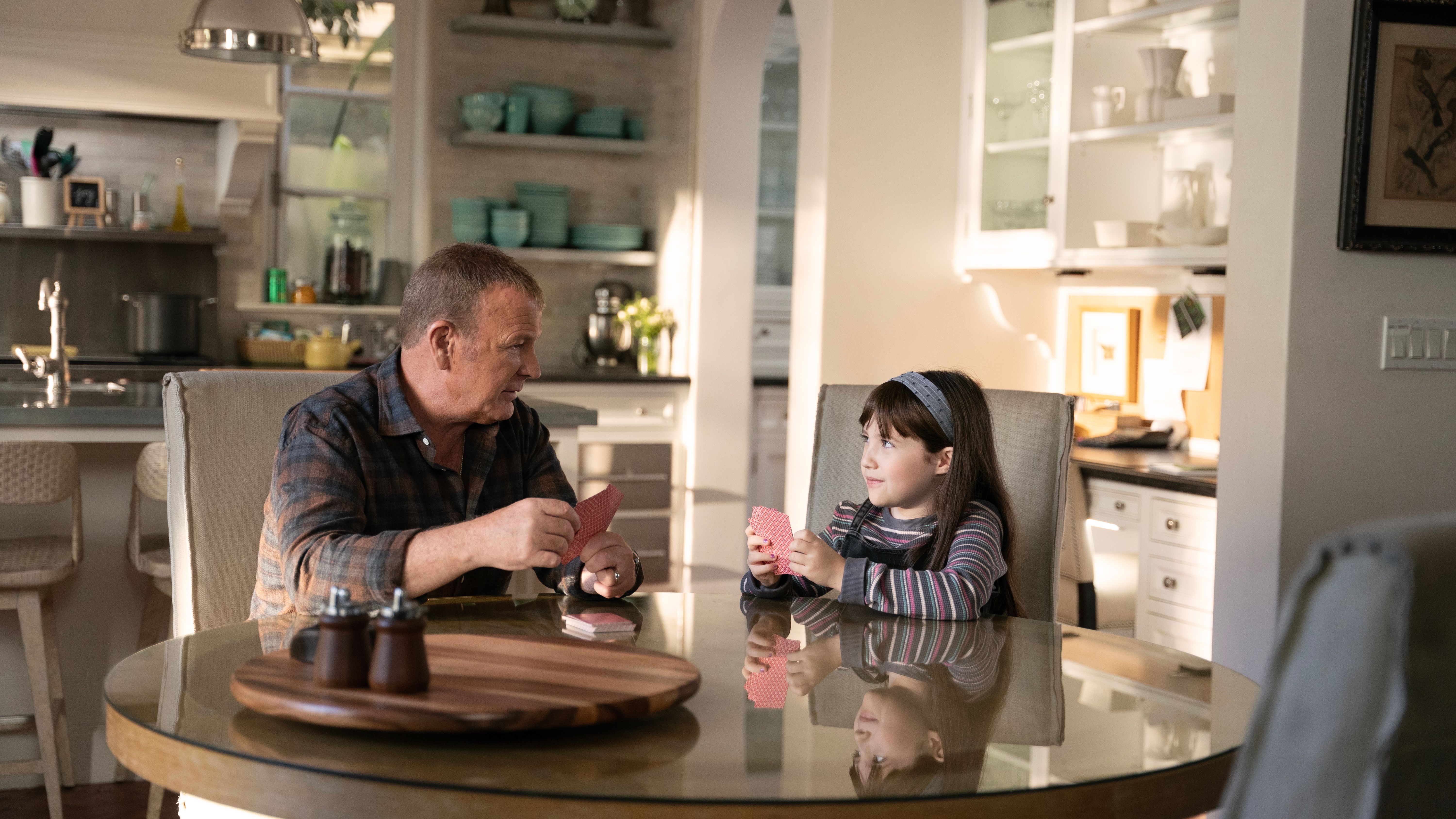 My goodness!
GOODMAN: Did you hate Arthur at the end?
No, I was more just surprised, just taking it all in and then playing it all back in my head and trying to piece it all together. The series does so many things so well, and the twists, even with the daughter, too, I just can't wait for people to watch it because I know it's going to be one that people are going to want to talk about all the time. Toby, you've been in so many different things. I know you were recently in Dickinson, which was a huge hit, and you're going to be in White House Plumbers. Do you still get surprised–
WILSON: White Ass Plumbers?
HUSS: [Laughs] Yeah, it's about Nixon and his whiteness, and the Oval Office – it's a long story. You'll get it. Pardon me, what was the question?
[Laughs] I'm assuming you still get excited coming to projects, but was there something about this project in particular that surprised you?
HUSS: Yeah, that Reno got better as an actor.
WILSON: It was bound to happen.
HUSS: I was surprised! We first worked together like 20 years ago doing a little pilot. But, you know, it was a really well-written script and it was really smart, and you could see it unraveling, and you could see the slow roll of it, and it was a really great dive into the psychology, the psychopathology, of these characters. It was really fun.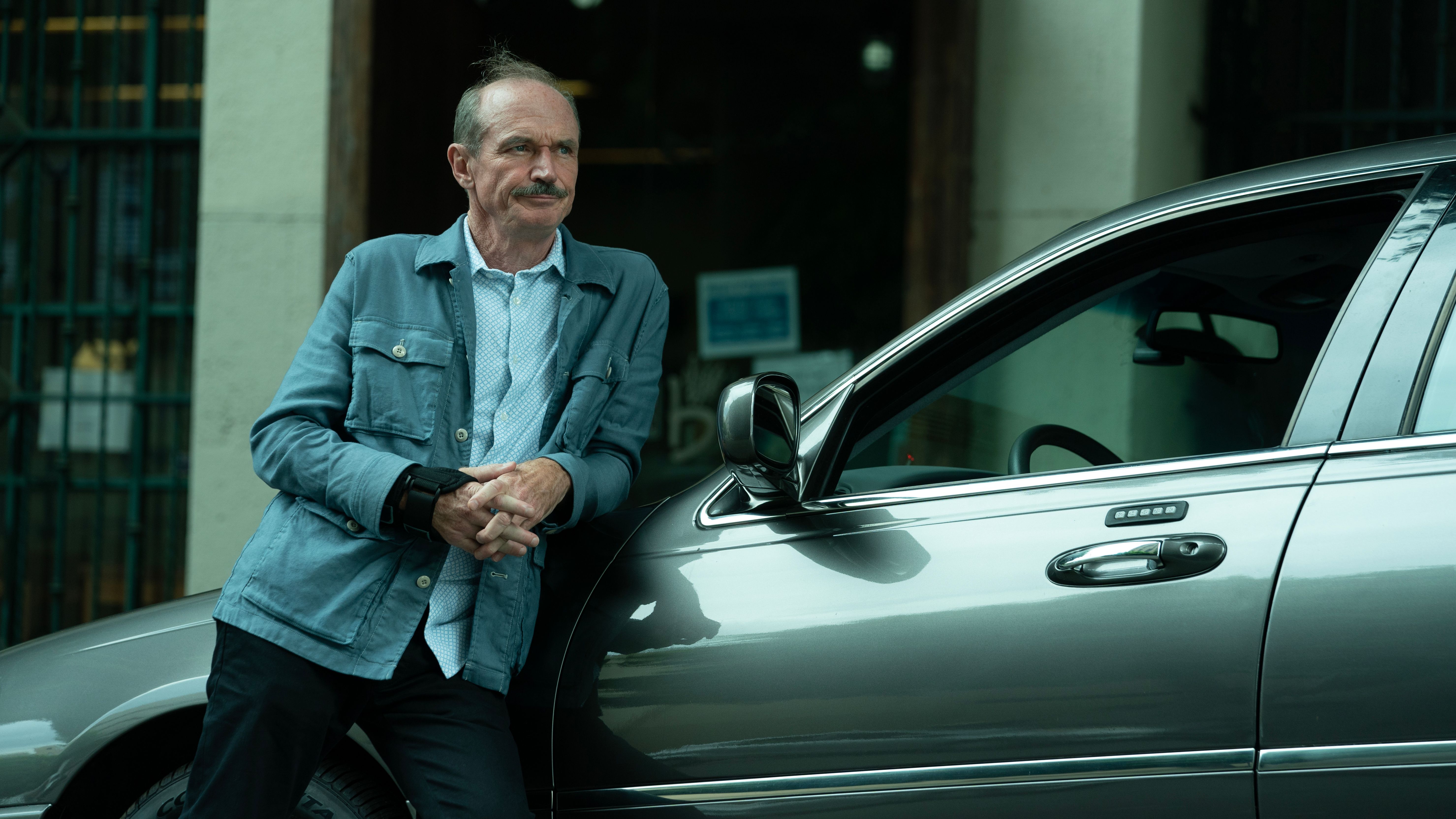 Well, it was a fun watch. I already have to wrap up, but thank you so much for being my guinea pig with this.
GOODMAN: Can I just say, you did great!
HUSS: Yeah! You're great, come on! Nicely done.
GOODMAN: You really did.
HUSS: You know what? Do more of them!
Season 1 of Fatal Attraction is available to stream on Paramount+.
Source: https://dominioncinemas.net
Category: INTERVIEWS