Reality dating shows are among folks' favorites with new ones popping up all the time and getting reality tv lovers and others, alike, hooked on the gossip and goings-on within the relationships sparking on screen. With the saturation of popular reality dating shows amidst all the streaming services, it's difficult not to feel that many of the shows, their premises, and the drama they're surrounding can get redundant, which is why new, fresh concepts like those explored in Love is Blind and The Ultimatum are always so welcome. Yet, a few shows have entered the reality dating show space that have much more to offer than the typical series. Not only are series like Showtime's Couples Therapy and MTV's Couples Retreat a bit of a departure from the monotony of the world of reality dating shows while still giving us a taste of the spectacle and melodrama we love. They also offer us insight and understanding of how to achieve mental health and healthy relationships that can help us, rather than just entertain us.
RELATED:
Is It Time to Break Up With 'Love Is Blind'?
The Reality TV World Needs More Reality and Less Toxicity
As much as we love the drama involved with the myriad reality dating shows out there, sometimes the plots inevitably start to repeat themselves. Viewers who catch every season of The Bachelor, binge-watch all the versions of Love Island, and are front and center for each new drop of Love is Blind episodes have certainly seen the same fights, breakups, and romances countless times among different cast members. Certainly, this formula works, but it does create a space that craves something new and more positive, while still feeling equally real.
It's easy for viewers to see themselves in the cast members of typical reality dating shows as they navigate realistic relationship issues. Ultimately, though, the issues are either worked through or they aren't, and the vast majority of relationships born on dating shows crumble once they're no longer in front of the cameras. This is something that even dating show fanatics have come to expect. The next step for the world of reality TV should be a step toward more constructive and hopeful takes on relationships, and there are some shows that prove that television may just be taking this step in that direction.
'Couples Therapy' and 'Couples Retreat' Mark a New Beginning for Reality Dating Shows
Showtime's Couples Therapy is like nothing else on television. This series follows psychologist, Orna Guralnik, as she provides couples therapy sessions for real clients. The same clients return over the course of the season, and viewers have the privilege of watching and learning about actual couples therapy, which is something that can benefit everyone. This series provides the relationship drama that we all love to watch, while also teaching us new things about different dynamics, psychology, and how to make relationships work.
Couples Therapy is slower and less fiery and over-the-top than many reality shows we're used to seeing. Yet, it still gives its audience intriguing relationship dynamics to observe and cast members to get invested in. This series does so in a way that shows the audience and cast members how issues can be worked through in healthy ways. As mental health, therapy, and healthy coping mechanisms become more and more understood and sought after among the public, series that can help viewers learn about these things from a professional are more than welcome. Still, Couples Therapy manages to be more than a therapy-centric docuseries. It's also just as binge-able and entertaining as other reality dating shows, which gives us the best of both worlds when it comes to both reality and television.
As each season progresses, viewers watch real couples work through their problems with Orna, and it's easy to look on and form your own opinions about their relationships and how therapy is benefiting them. Viewers see the couples in their last session with Orna before each season ends, and some have done a lot of healing while others have decided to go their separate ways or haven't benefited as much from their sessions. Not only is this refreshing to watch because of how uniquely realistic these endings are, but it's unlike other reality dating shows, where problems go largely unresolved, and there isn't much insight into the actual meat of couples' problems; instead, reality TV viewers are used to just seeing fights at face value.
MTV's Couples Retreat is very different both in tone and content from Couples Therapy, and it's likely to appeal more to the diehard reality TV crowd who follows The Real Housewives franchises closely or lives for new seasons of Too Hot To Handle. Couples Retreat harnesses Couples Therapy's unique focus on real, existing couples hoping to work on their relationships, but it does so in a way that's closer to a classic reality dating show. Life coach and actress, AJ Johnson, helms the series, and typically has a male therapist counterpart to create balance. A couple from the previous season will also attend the retreat and serve as a mentor of sorts as ones who've gone through the rigorous work and come out on the other side. The series provides struggling couples with a couples retreat getaway where they can work on their relationships as a group, but in this case, all of the couples featured are celebrities or popular influencers. This helps the series to continue to have the feel of other popular reality shows, while still doing positive work to help these couples improve their lives and relationships in real ways.
This show is heavy on drama and set up in the vein of shows we've seen before, like the honeymoon episodes on Love is Blind or Bachelor in Paradise, which likely makes it more appealing to folks looking for content that fits in among other reality dating show but has a more positive and growth-oriented focus. In the same way that Couples Therapy mirrors what real couples therapy is like, Couples Retreat has many elements of a real couples retreat. The couples undergo therapy as well as participate in bonding activities. They also often delve into the myriad stressors that being in the public eye puts on relationships, which is an issue that's very real. But folks outside of Hollywood seldom hear honest conversations about it. In the end, the couple decide whether they stay together or go their separate ways.
The Place Where Reality Dating Shows and Docuseries Meet is a Genre We Need More of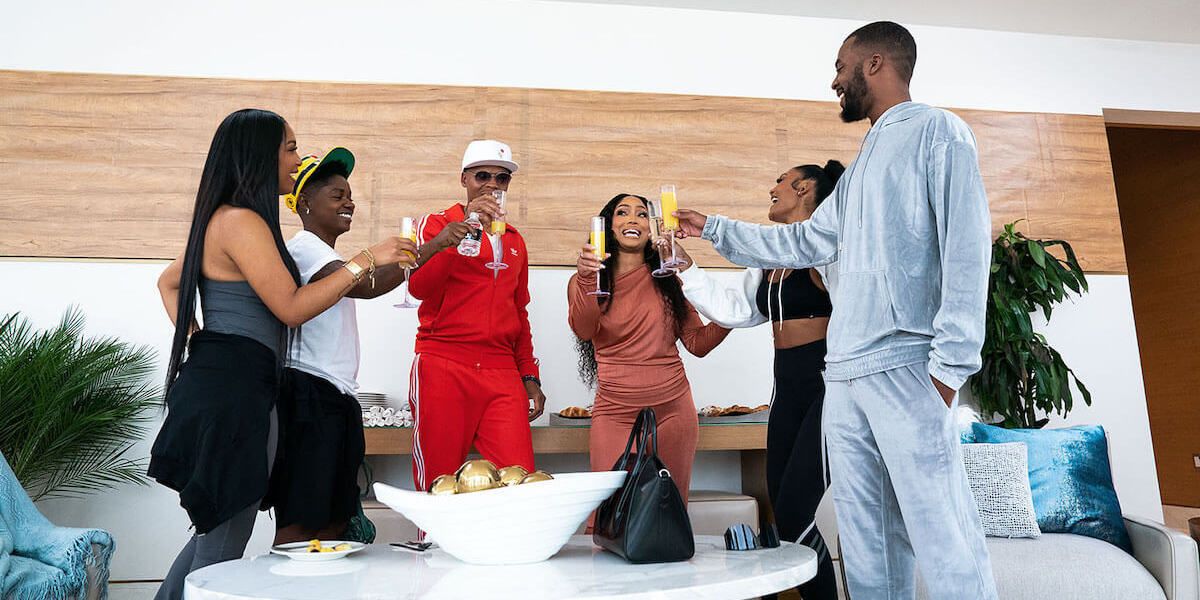 The reality TV world is always changing and expanding, and it's difficult to know what reality show lovers will gravitate toward next. Yet, when it comes to reality dating shows, series like Couples Therapy and Couples Retreat should be a major focus of reality TV's future. There's an expansive group of viewers that wants to learn about coping mechanisms and positive tools for building healthy relationships, and what better genre to give this group what it's seeking than the world of reality TV?
Series all about fighting, toxicity, and melodrama like Jerry Springer defined reality television as we know it. Today, there are many popular reality dating shows that still thrive on the gossip among viewers that surrounds the trials and tribulations of the series' couples. Yet, series like Couples Therapy and Couples Retreat prove not only that there's room for reality dating shows that focus on healthy and successful relationships, but that they are more than welcome and can still give us our fix of entertainment and binge-ability. In addition to a more overall beneficial viewing experience for reality TV fans, a step in this direction is also sure to provide more successful relationships born out of reality dating shows. And, healthy dating in series focused on real people dating seems like a major step in the right direction for reality television.
Source: https://dominioncinemas.net
Category: REALITY TV