Michael J. Fox was the king of the 1980s thanks to his Emmy-winning role as Alex P. Keaton in the sitcom Family Ties, followed by his transition to movies as Marty McFly in the pop culture-changing Back to the Future. The success of that movie led to two sequels being filmed back-to-back. Back to the Future Part II took Marty and Doc Brown (Christopher Lloyd) thirty years into their future, to a 2015 where cars finally flew. (What a disappointment it was when the real 2015 came and our cars stayed on the asphalt.) The franchise concluded in 1990 with Back to the Future Part III, a fitting end to the trilogy that sent our heroes back a hundred years to 1885. The third film mixed in the great DeLorean moments while also being a love letter to Western movies of the past. But it almost never came to be. During one dangerous stunt, which Michael J. Fox did himself, the actor almost died when it went wrong. If not for director Robert Zemeckis' quick thinking, Fox's life could have come to a tragic end.
you are watching: This Back to the Future Part Stunt Almost Killed Michael J. Fox
In 'Back to the Future Part III,' Buford Tannen Hangs Marty McFly
Marty McFly's nemesis in the first two Back to the Future films is Biff Tannen (Thomas F. Wilson), the dimwitted bully twice Marty's size. In Back to the Future, Marty has to fight him off while at the same time trying to get his eventual parents back together so he can be born. In Back to the Future Part II, Marty has to deal with a future Biff who gets rich after his younger self steals Marty's sports almanac and makes himself a millionaire. Back to the Future Part III couldn't have Biff back when it's going one hundred years in the past, so instead, the villain is now Biff's great-grandfather, a man named Buford Tannen, also played by Wilson. The previous film's ending saw the DeLorean struck by lightning and Doc Brown accidentally sent back to 1885.
Marty is now out to rescue his old friend, and then he meets the evil Tannen and his gang. They attack McFly and drag him by their horses through the street, arriving at the courthouse which is still in the process of being built. There they string McFly up for a public hanging. Marty looks done for, grasping at the noose around his neck and gasping for breath, when his savior appears in the form of Doc Brown. Doc uses the scope of his rifle to shoot the rope and free Marty from certain death. In reality, Marty's life was truly in the balance during these moments, and it was up to Robert Zemeckis to save his life.
Robert Zemeckis Noticed Michael J. Fox Was Struggling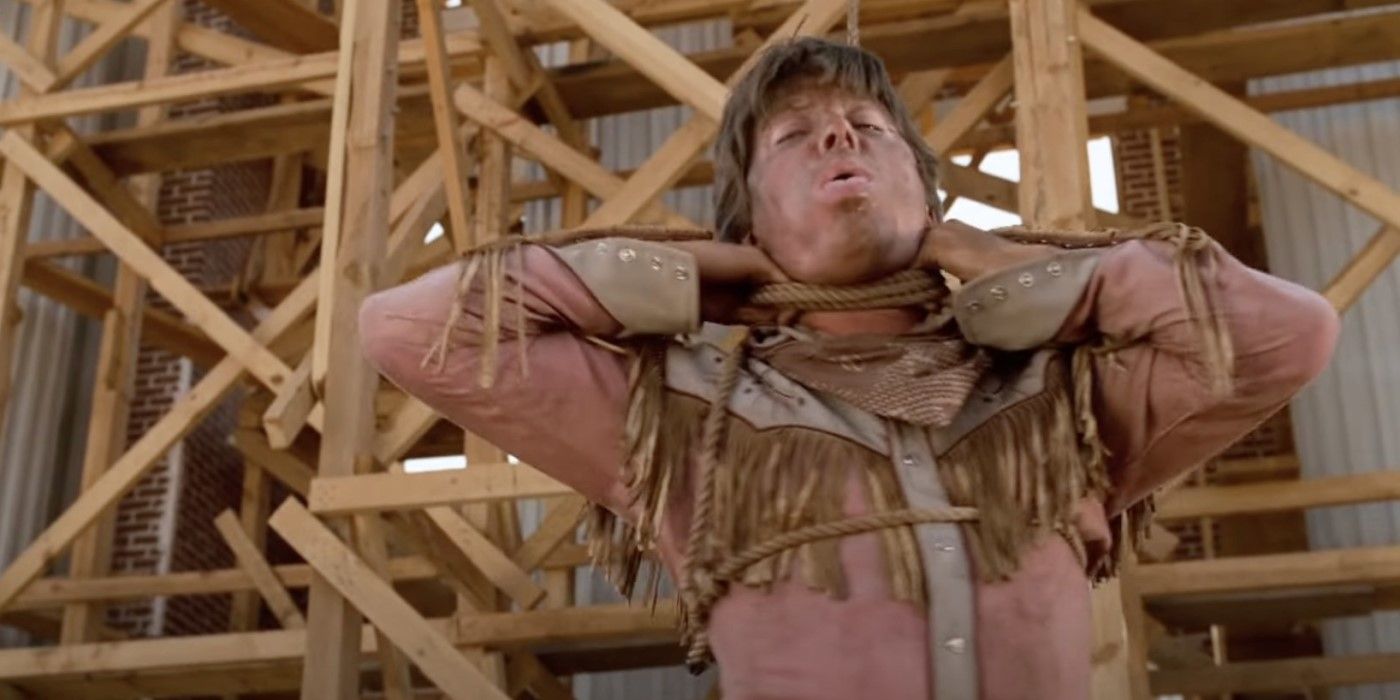 In his 2002 book, Lucky Man, Michael J. Fox talked about that scene and how a stunt gone wrong almost killed him. The wide shots of Marty McFly hanging from the gallows in Back to the Future Part III are not Fox. It didn't need to be. It was far enough away that you couldn't see his face, and with the danger involved, a stuntman was used instead. Then came the closeup shots, where Fox had to be involved. To be safe, the crew had Fox standing on a box. The scene was shot from the waist up because we didn't need to see Fox dangling. The plan was for him to just wiggle his feet around on the box to make it look like he was swinging from a rope. The problem was that it didn't look right on screen.
In the scene, the only thing saving Marty McFly is that he's able to get his hands up and between the rope and his neck, giving him just enough space to breathe. Michael J. Fox then offered to just do that himself. He'd take the box out and hang there with his hands between the rope. It's hard to believe something like this would be allowed, but the stunt was given the greenlight. "This worked well for the next couple of takes," Fox wrote, "but on the third I miscalculated the positioning of my hand. Noose around my neck, dangling from the gallows pole, my carotid artery was blocked, causing me briefly to pass out."
RELATED: 'Back to the Future's Time-Travel Device Wasn't Always a DeLorean
It sounds like a scene from a horror film, an actor filming a hanging stunt only to hang himself for real and die. Fox didn't die, thanks to one man paying close attention. "I swung, unconscious, at the end of the rope for several seconds before Bob Zemeckis, fan of mine though he was, realized even I wasn't that good an actor." Zemeckis quickly had Fox taken down, thus saving his life. If he had waited any longer, even if Michael J. Fox hadn't died, the actor could have suffered a serious brain injury. Thankfully that wasn't the case, but less than a year later, there would be a moment where he wondered if he had been traumatically hurt that day.
Did This 'Back to the Future Part III' Stunt Lead To His Parkinson's Disease?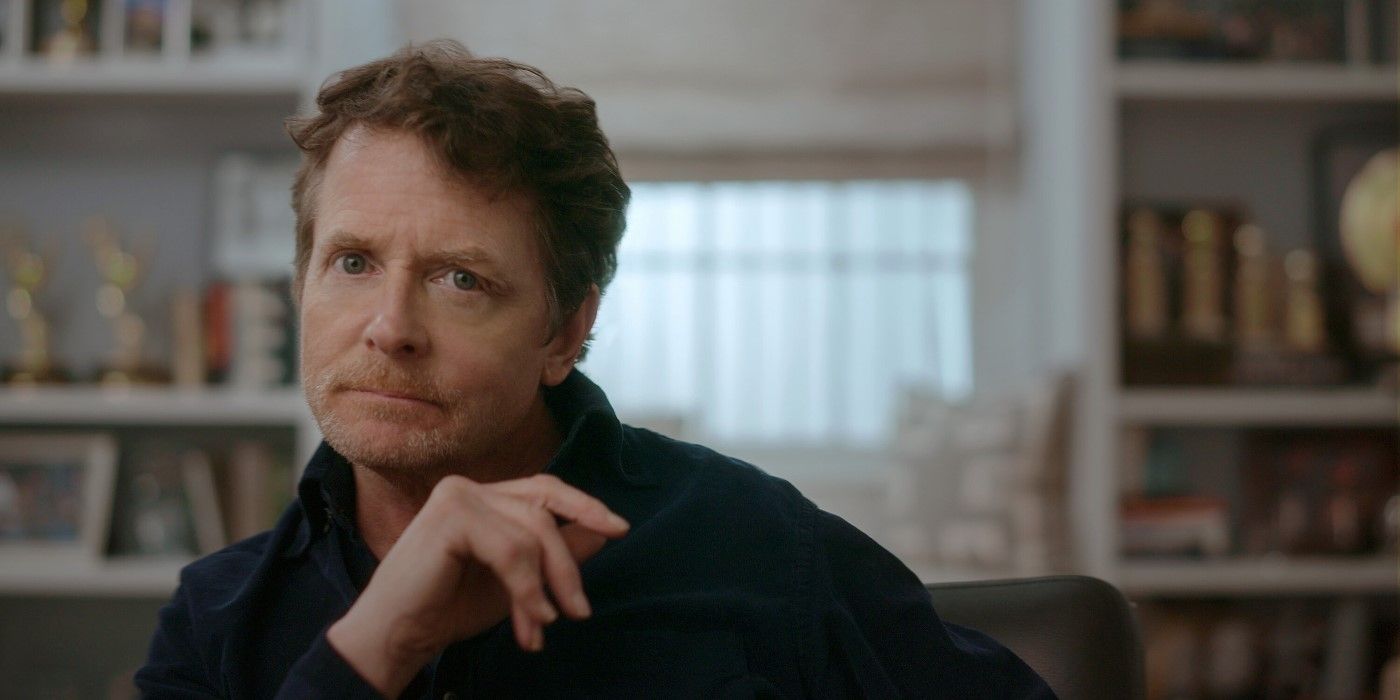 Michael J. Fox was diagnosed with Parkinson's disease in 1991 at just the age of 29. He kept it a secret for years, continuing to work for another decade, most notably on the TV series Spin City, for which he won another Emmy, and later coming back for other roles, including The Michael J. Fox Show. Now he focuses on his family and his philanthropist work for The Michael J. Fox Foundation. He's a hero to millions, one who used to play one but now truly is in real life.
In Lucky Man, Fox wrote about his early Parkinson's symptoms being the rapid movement of the pinkie finger on his left hand. It moved on its own, and it wouldn't go away. After some coaxing, he went to see a doctor. Parkinson's wasn't on his mind at all, because that was an old person's disease to him. The doctor came up with a variety of reasons for why Fox's pinkie was twitching. Fox had been a heavy drinker, perhaps that played a part. There was always the chance that he'd had a stroke or brain aneurysm. Even worse, what if he had a brain tumor? The most likely reasoning though was some kind of trauma. The doctor "asked if I'd had any recent episodes of physical trauma. With so many to choose from, I ran through a few of my greatest hits, so to speak, and one incident in particular intrigued him."
Fox then went on to tell the doctor about the botched Back to the Future Part III stunt. The doctor saw a possible connection between the two events. He told Fox he needed to see a neurologist, and he did, but that doctor could find nothing wrong. A year later, in 1991, the twitching in his finger persisted. Other fingers twitched, and other muscles on his left side stiffened and ached. Fox wrote, "I was convinced now that my problem was physiological, and not neurological, probably related to the Back to the Future hanging." More doctor visits would finally give Fox answers. The Back to the Future Part III stunt hadn't caused this, but rather, the had Parkinson's. Michael J. Fox detailed in his Apple TV+ documentary Still: A Michael J. Fox Movie what he's willing to do in the face of such a brutal disease. While it doesn't compare, one day over three decades ago proved how dedicated he was to his craft.
Source: https://dominioncinemas.net
Category: MOVIE