The Nun II is the ninth film in The Conjuring Universe. With each new installment, it gets tougher and tougher to keep things fresh and deliver creative scares unlike anything we've seen before. But, director Michael Chaves is clearly up for the challenge because The Nun II boasts some stellar scare scenes, one of which almost "broke" the three-time Conjuring-verse director.
you are watching: The 'Nun II' Scene That Almost Broke Director Michael Chaves
The Nun II begins four years after the events of The Nun. It's 1956 and Taissa Farmiga's Sister Irene is doing her best to keep the past in the past. However, as we know from the end of the first Nun movie, Valak was never vanquished. Instead, the demon is using Maurice (Jonas Bloquet), aka Frenchie, as a vessel. When a priest is murdered and it becomes evident that evil is spreading, Sister Irene is summoned to investigate. With a young novitiate by her side, Storm Reid's Sister Debra, Sister Irene follows a trail of horror and death that leads straight to Maurice's location, an all-girls boarding school.
With The Nun II hitting theaters nationwide on September 8th, I got the chance to catch up with Chaves for an interview about his experience tackling his third Conjuring-verse film after making his feature directorial debut with 2019's The Curse of La Llorona and then directing the third installment of the main Conjuring series, 2021's The Conjuring: The Devil Made Me Do It.
Check out the video at the top of this article or the transcript below to hear all about Chaves' collaboration with a soaring voice in the genre, screenwriter Akela Cooper, how he found the right balance between real Frenchie and Valak, which scare scene was a "beast" to tackle and loads more!
PERRI NEMIROFF: Can you give me an example of something you accomplished in The Nun II that you know you have to credit to doing La Llorona and The Conjuring 3 first? Something where, if the filmmaking order had changed, you wouldn't have been able to accomplish that thing on this movie?
MICHAEL CHAVES: Well, the whole movie, honestly. [Laughs] I think the newsstand sequence was probably the biggest one. With the scares, you're always trying to come up with something that's unique and memorable, and it was one of the earliest ideas that I had as we first started developing the movie. And literally, it was the longest, hardest journey to get that thing pulled off. Basically, I was working on that until the end. It was like the first thing I was working on and the last thing I was working on. That was 100% a beast, and really it almost broke me. [Laughs] I didn't know one scene could break someone, but it was a beast.
Oh, so many follow-up questions. Specifically for the magazine stand sequence, what was it that took so long? Is there a particular element of crafting something like that that requires that amount of time?
CHAVES: It was everything, even in how it would be conceived. I was looking at all this street photography from France in the '50s, and there was, I think it was René Maltête, he's a French photographer, and he'd do this visual kind of trickery with his photos, but it was all in camera, and I just thought it would be cool if the Nun was manifesting in the environment. And then I would see these old newsstands, and so I had this idea. I was like, "I want the Nun to appear within a newsstand." And I was thinking, "Maybe it's like a flip book. Maybe it's like each magazine is like a flip book, and then it's a collage, and they're all kind of coming together." Everybody was like, "How are we gonna do that?" I thought, "Well, we should just do it all in camera. We should print all these magazines and then mechanically rig them all to turn, and we blow some with wind, and then some of them are a little bit more controlled." And that got us, like, 50% of the way there. But then some of the mechanical rigging would break, and we were shooting at night. It was like the whole thing was falling apart. It's like, "This will never work!" So there was some visual effects supplementing it in the end. But it was really a beast. I mean, just from how it would manifest. It was trickier than it looks. [Laughs]
see more : 'Muppets Mayhem': The Electric Mayhem Spread Wisdom on Their New Album and Its "Melodious Confection" of Tunes
I'm surprised even that much of that sequence was done practically in camera! Job very, very well done with that part.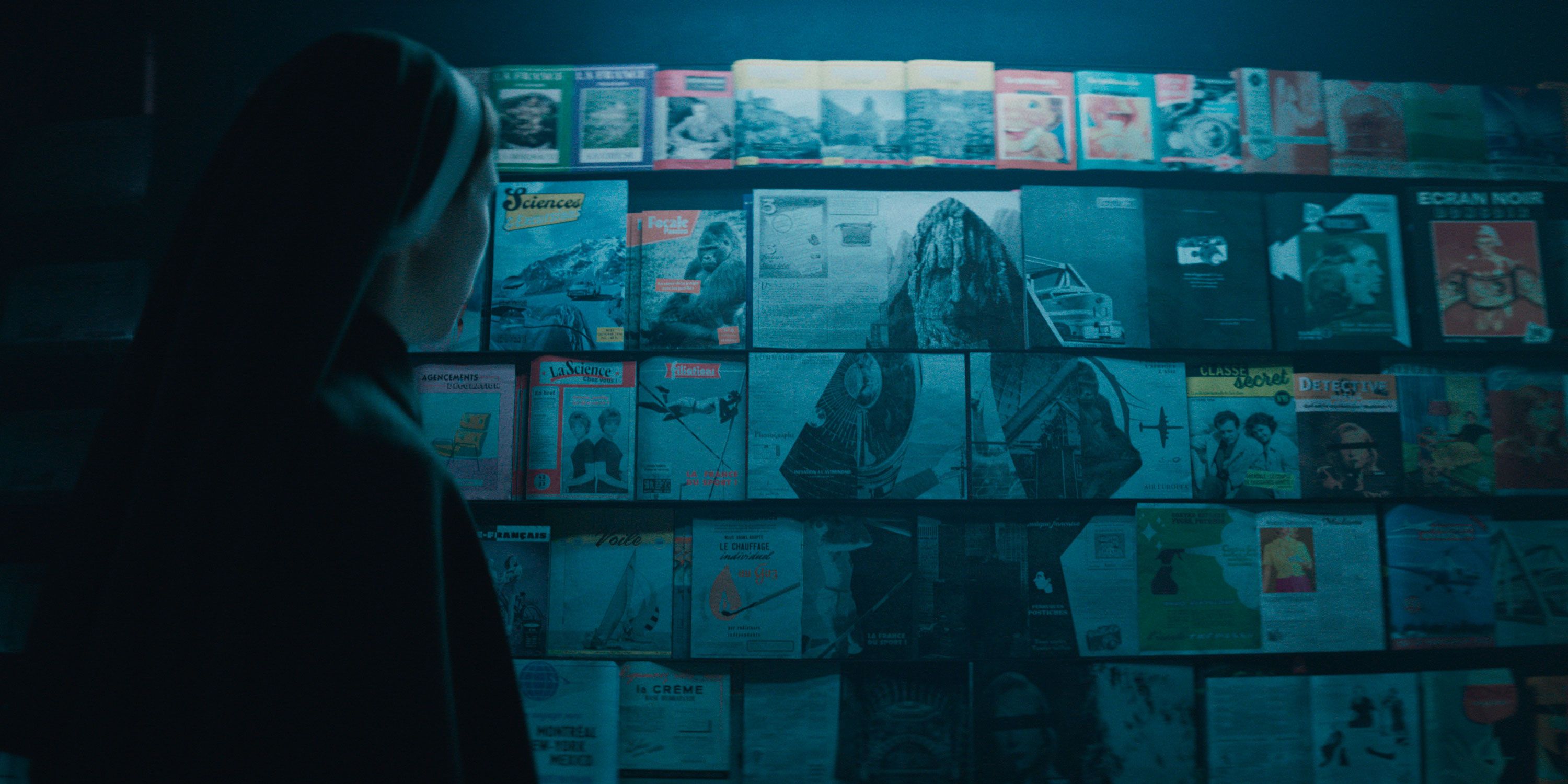 When it comes to visual scare tactics, can you give me an example of a trick you thought was really scary when you first started making movies, but along the way with all of your experience realized, "Actually, if I do it this way, it's far more terrifying?"
CHAVES: I think great scares are really patient. I think having the confidence. Also I think great horror movies, great movies have a great relationship with the audience, but especially a great horror movie, and giving them room to breathe. It's almost like a stand-up comedian, like a really good comedian, someone who's really good on stage interacts with the audience, and it's hard to do that. It's hard to do that when you're making your first movie because you don't know what the audience is thinking. You're just there scrambling to make your day. [Laughs] You don't know. You've got kids that you're gonna lose in, like, a couple of minutes.
What I've come to realize is that relationship with the audience, giving them room to be engaged. An audience comes in with so much energy. They're excited to see the movie. They have their own fears, they're bringing their own fears into these spaces, and it's kind of like giving them that space and giving them the room to lean in. I think that that's something that I've come to appreciate more in other filmmakers. I'm always striving for more, and it's just building that relationship.
As a member of that audience, I appreciate that answer quite a bit.
I've got to talk about Akela Cooper because she's becoming one of the most exciting voices in horror right now. Can you specify something that she brought to this story, or maybe The Conjuring-verse overall, that is unique to her and wound up being especially creatively fulfilling for you to execute in the film?
CHAVES: What she did bring is the core story, [which] was always there. First of all, I always loved the characters of Irene and Maurice from the first film. I love their relationship, a little bit of their flirtation, I love how he was a little bit of a dog, and she was a nun in training. There was that kind of chemistry there and that friendship. In the first film, you know, he saves her life, and there's that life debt there. The core emotional throughline of her script, which really stayed through the end is the idea of this life debt, the idea that she owed him. And now that he was the one who needed saving, she goes on this mission, and she's facing her fear. She's going back into hell on this journey to save her friend. The idea of that, I was like, "That is so emotionally powerful." I was like, "I love that. I love these characters." I also love the actors so much. They're so great. I just thought that this is really compelling. That's the first thing she brought. The other thing is Sister Debra. I love how there's a lot of these great reversals in the film where in the first film Irene is the junior recruit. She's being brought in for her special powers by the older priest, and then in this one, she's the senior member. She's the top dog and she's not recruiting, but you have a young noviciate who's tagging along with her. I thought the role reversal there was so fun, and I really gravitated to that.
Those core elements, right off the bat. I think she has a great sense of story and she also loves horror movies. I think we just geeked out about that all the time. We're big Ridley Scott fans, we're big Alien fans, and there's lots of nods in that. Some of them, I don't know if they made it into the final cut, but she has Ridley Scott Easter eggs in the movie. [Laughs]
Oh, I am so eager to give it a rewatch and try to find some of them.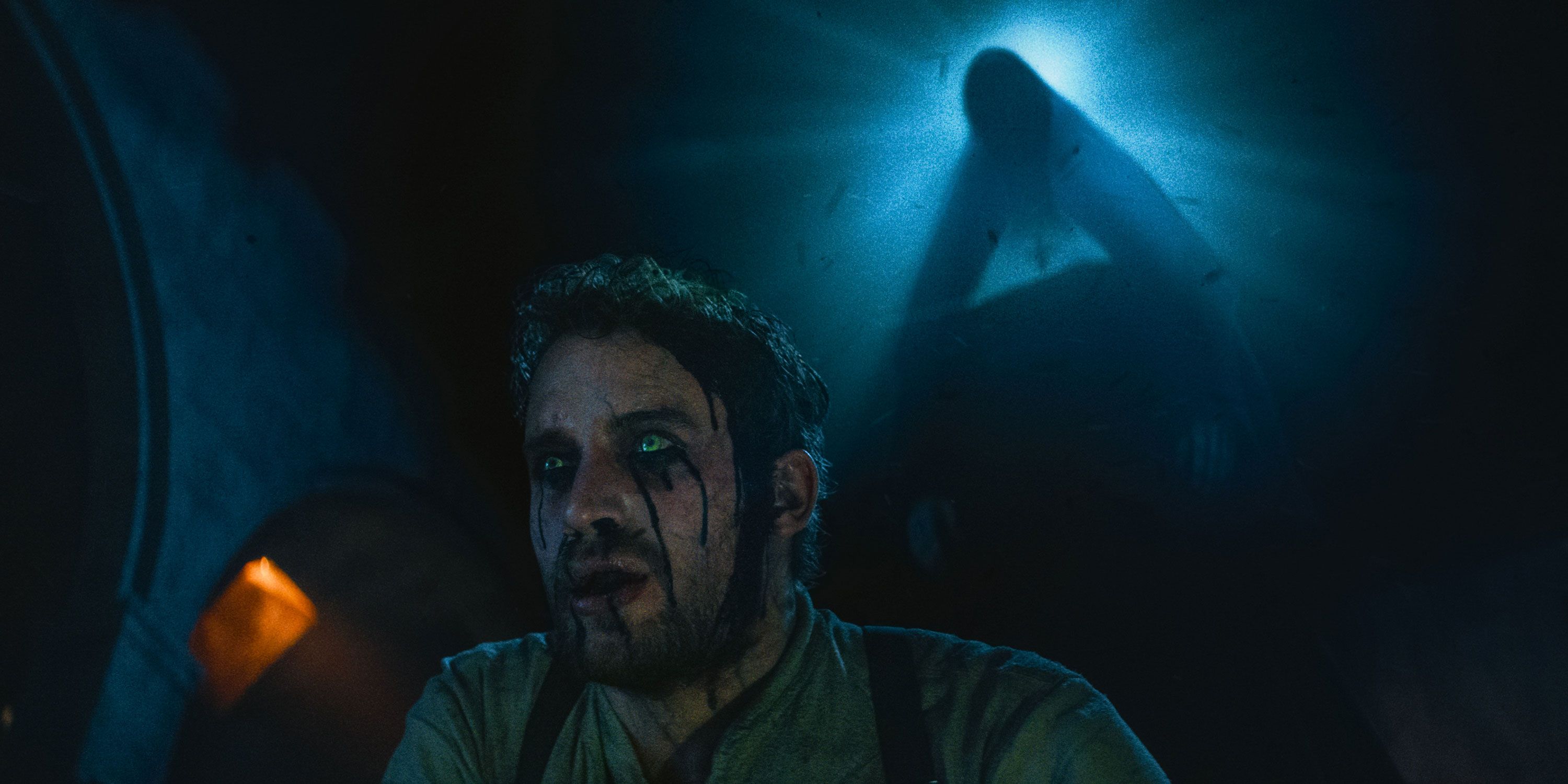 see more : 'Transformers: Rise of the Beasts' Anthony Ramos & Dominique Fishback Talk Filming on Machu Picchu in Peru
Before we switch to spoiler territory, because you brought up Jonas, I'll go specifically to him. Can you walk us through some of the conversations you two had or some of the notes you gave him when it came to figuring out how much of him was actually Frenchie and how much of him was Valak?
CHAVES: It was always a discussion. I think one of the big things is we wanted him to be – the relationship that he's having with everyone at the school needs to be Frenchie. We need to establish someone that we love and is worth saving. And that's one of the tricks of the movie, and a little bit of a magic trick or rule-bending is he needs to have a relationship with Sophie, with our young girl, he needs to have a relationship with Kate , the teacher, and you need to believe in these relationships and care about them even though we come to realize that Valak is within him, using him as a vessel. That needed to be the true OG Frenchie, and it couldn't be some Valak manipulation because I think if you thought that Valak was just becoming friends with Sophie to manipulate a situation, then everything was kind of thrown out the window. So that needed to be valid and you needed to feel like that was a relationship that was worth fighting for.
This feels safe for the non-spoiler part of our interview because it's mentioned in the first act of the movie. Frenchie and Sister Irene make it from film one to two, but there is one character that didn't and it was making me wonder, was there ever a version of this movie where you brought back Demián Bichir's Father Burke?
CHAVES: As a zombie, yes!
[Laughs] I would watch that! You're joking, but I'm serious. I want to see that now.
CHAVES: I mean, that was an idea! You know what? I thought …
Wait. It was a legitimate idea?
CHAVES: I pitch a lot of crazy ideas. [Laughs] It was one of many ideas, so I don't know how far it was. I think I probably killed it while I was still in the crib. But at the end of the movie, you want it to be a funhouse of scares, and you want Valak to be throwing everything it has at our characters, so that was in consideration. But I don't know if we could have brought back Father Burke just to be a zombie.
There were so many great characters out of the first film. I think we really wanted to introduce Storm. I think that we wanted to introduce another nun, and so it became a balance of, "How big does this team get? How many storylines can we carry?" And, you know, Father Burke, unfortunately – well, you'll see in the film.
The Nun II arrives in theaters on Friday, September 8th. Stay tuned for the spoiler portion of this interview coming soon!
Source: https://dominioncinemas.net
Category: INTERVIEWS