[Editor's note: The following contains major spoilers for The Full Monty.]From co-creators Simon Beaufoy (who wrote the 1997 film) and Alice Nutter, the new eight-party original series The Full Monty checks in with the same group of former steelworkers in Sheffield, England, 25 years later. While the years have passed, not much has changed in a world where profit often ranks above humanity and where lifelong friendships are of utmost importance in keeping you grounded when you could otherwise be forgotten.
During this 1-on-1 interview with Collider, Mark Addy (who plays Dave, a school caretaker that loves his wife Jean, but also can't seem to be able to communicate with her anymore) talked about how this cast ended up returning to the world of The Full Monty, wanted Beaufoy wanted to explore with this story, how easy it was to find this character again, digging into the Dave and Jean dynamic, some of the season's most memorable moments, reuniting with Robert Carlyle (who plays Gaz), and saying goodbye to a character. He also talked about the special experience he had making A Knight's Tale, and how he got the role because of The Full Monty movie.
Collider: For those of us who are fans of this movie, the existence of this TV series is a very nice surprise. When you did the movie, all those years ago, had you always hoped you'd get to return to this character, at some point, or were you surprised that this series happened?
MARK ADDY: Completely surprised. It was a no-brainer, really. When Simon Beaufoy sent a little email around saying, "I'm trying to work on a piece about the state of the nation, and felt that a good way of looking at it is through the eyes of these characters that we discovered, a quarter of a century ago, to see where they are now," it made total sense to me. The fact that he managed to get everybody on board was a testament to him and his skill, as a writer. It's great to see where these characters are now, but also what has happened to them, in the interim. Some have kids, some have grandkids, some don't. It reflects all aspects of society, certainly in communities that have been struggling. When you think about, 25 years later, what's improved in our society and what benefits we've seen, that's thin on the ground for a lot of people. Some of the issues that they were facing then, they're still facing now, and in some cases, they're even worse off now than they were then. It's a sad indictment of the people in charge that have allowed this to happen, for us to be in the state that we're in right now. It's almost like we've come full circle.
The beauty of the series is that, rather than having 90 minutes to tell a story, you have eight hours in which it gives you the luxury of taking your time to discover more about these characters and how their lives have unfolded, and some of the issues involved there. Obviously, Dave and Jean, who were a little beacon of hope in the original film, have reached a point of crisis in their relationship through the inability of being able to communicate with each other about the seriousness of the tragic loss of their child and inability to have kids, subsequently. We meet them at a point where everything is coming to a head. It could have been dealt with, had Dave been willing to listen and willing to talk. Quite often, men like Dave will do the same thing and say, "I don't wanna hear it. I've got more important things to be getting on with in my shed." It's sad to see them in the state that they're in, but it's something that a lot of people will understand, if not through their own experience, through the knowledge others going through the same kind of situation.
What was it like to find the Dave and Jean dynamic now, with Lesley Sharp? How was it to really dig into that dynamic with her?
ADDY: She's such a joy to work with, back then and more recently. When you know that you're sharing the screen with somebody that you trust and that has trust in you – we've got each other's back and we love each other – it makes the job much more straightforward than it could be. We'd bumped into each other in the interim, but this is the first time we've worked together again, so it was quite a long gap in working experience, but it was just as straightforward and easy as the first time around. She's so clever and kind and funny, and just a joy to work with. When we got onto the set, Dave and Jean's bedroom was a little bit like that of a student, with posters up on the wall and the stuff that they had put in, and Lesley was quite right in saying, "Nah, this should be a place designed for intimacy. The lighting should be right. You can almost hear the soft music playing. But there's no intimacy happening. It couldn't be more inviting, but it ain't happening." She's great with stuff like that. They remade it sumptuous and the kind of place that things should be happening in. Similarly, we brought in photographs of ourselves. Quite often the art department wants them for some history for the characters, and you get in there and you go, "Hang on, who has photos of themselves? You have photos of your kids everywhere, but they haven't got those, so it should be the dog. There shouldn't be photos of us." It's the little things like that, that help create the feel of a world that these guys live in.
see more : 'The Rings of Power' Cast and Creatives on Bringing Middle-Earth's Second Age to Life [Exclusive]
One of my absolute favorite visuals in the series is the moment when you're sitting on the floor eating out of a bag of potato chips and your dog is walking on the treadmill. What was it like to sit there with that going on? How did you feel about the dog? Was the dog a worthy co-star, or was the dog a total diva?
ADDY: These dogs get way more attention than the actors, and probably quite rightly so. They were great. Both dogs involved in the series were terrific. They always say, "Never work with children or animals," and I managed to cover both bases on that one and they were equally great. Dogs will do what they're trained to do, generally. Kids are a little bit different. It was great that they managed to find a little lad, Aiden [Cook], who plays Twiglet, who had no pretension and just got on with it, which is what we do. That was terrific.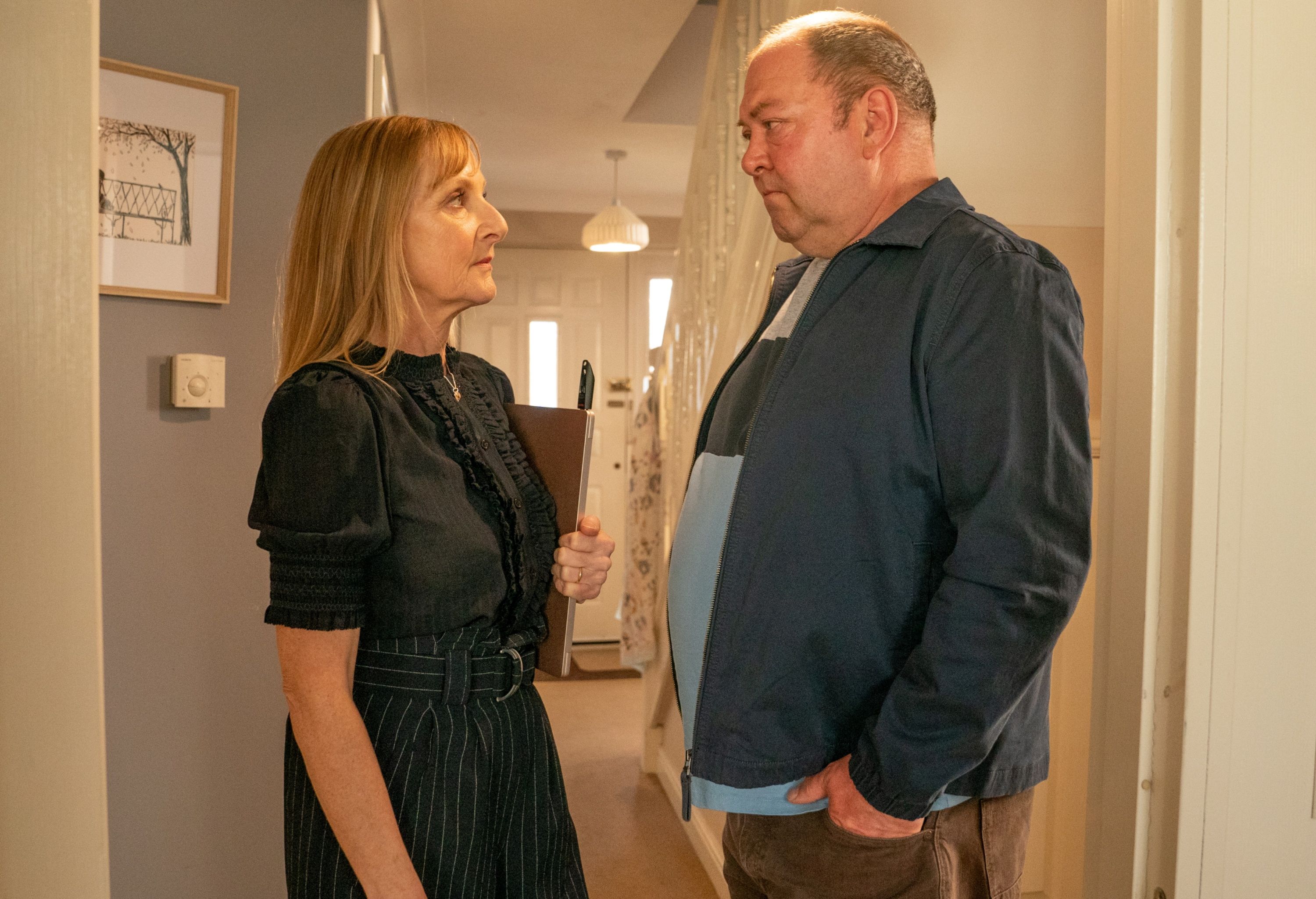 Another favorite moment of mine was when you guys were dancing and polishing the gym floor together. What was that like to do? How long did you have to do that?
ADDY: It was a good day's work. They had a drone in there, flying around inside the school. And we did have a choreographer. When we had our choreographer for the movie, she showed the director the routine that we'd been taught and he went, "It's too good. I don't want it to look polished. These are guys who are making it up, as they go along, so be less good," which is an unusual note, but a worthwhile one. He was quite right. These are unemployed blokes who had just picked up what they'd learned from each other and were doing it to the best of their ability. It also worked for that little moment. That's a sequence that shows a little friendship developing, out of mutual respect between two odd characters.
What was it like to actually walk on set and return to this character? Did everything immediately fall back into place, or did it take some time to find him again?
ADDY: It really fell into place, and I put that down to the writing, from Simon and Alice Nutter, who co-wrote it with him. Obviously, Simon knows these characters, inside out. He's lived with them for the last 25 years, in the same way that we have and he knew what he wanted to explore with them, each in their own individual ways. It's unusual, in that there isn't your traditional antagonist in this. There isn't a bad guy. The bad guy is the state that's allowed people to be having to visit food banks in Britain in 2023. It's shocking. It shows a complete ignorance of people's plight, in certain parts of the country. It's not everywhere, but there are huge pockets of people in real need, and they're not necessarily unemployed people. These are people who are working and still can't afford to feed their families because everything has gone haywire. There are widespread effects on how much help the people in charge choose to give the people that are struggling, and it seems like they're not willing to give that help, so communities have to try to make the best of it by helping each other and caring for each other, in the knowledge that nobody else is gonna look after you. They have to work together to try to see each other through, and fingers crossed that there will be a brighter future. That's a similar theme to the movie, itself. The guys take their clothes off, at the end, but the following day, nothing has changed in their lives. It wasn't a miracle cure. In fact, their lives probably got worse because people were gonna be pointing and laughing, as they walked down the street. They've achieved an empiric victory, if you like, but there's nothing material or societal that they've changed. You hope that, just by doing something, they formed a bond and have become a better community because of what they've been through, and a lot of those elements ring out in the series, as well, just with the addition of amazing characters, like some of the youngsters, who are just terrific. Their stories are equally fascinating, with what's led them to feel the way they do. It's a great mix that Simon has put together, and it all works.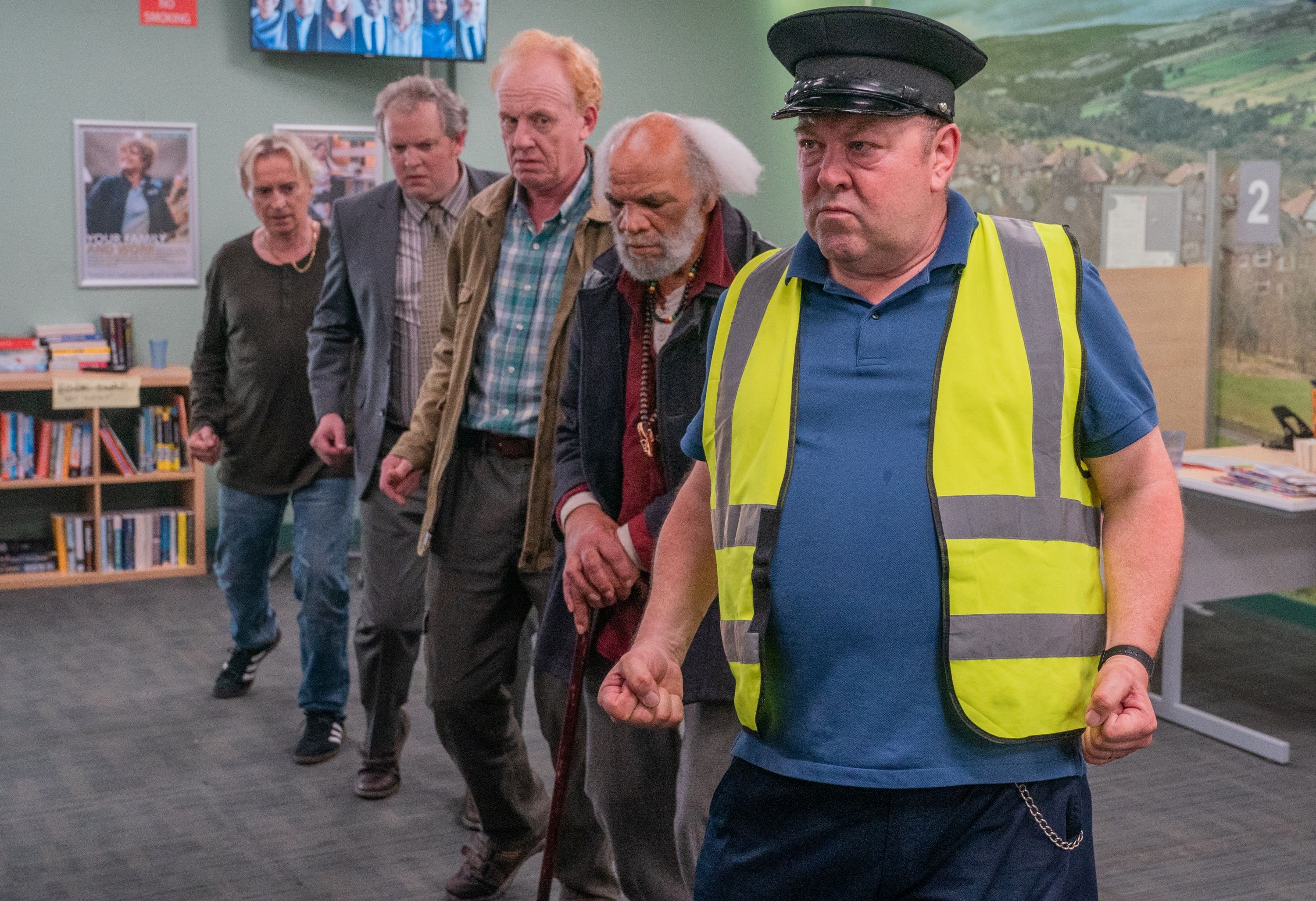 Did you always know that you'd be saying goodbye to one of the characters, by the end of the season? Was that something you were aware of, from the beginning? What was that like to shoot?
see more : Guy Pearce and Julia Savage on 'The Clearing's "Extreme, Unusual" Cult
ADDY: It was very sad. Simon let Paul [Barber] know, fairly early on. It's terrible. Characters that are known and loved are very sad to lose, but it makes for a very poignant moment. Also, for an audience, it will raise questions about, how has this been allowed to happen to a senior member of society that has nothing. It was as poignant, shooting those scenes, as it will be for an audience watching them, hopefully. It's always sad to lose one of the team like that, but it makes for a great episode.
He definitely gets a memorable send-off, and there's also humor to it, which just feels like the perfect balance.
ADDY: That's the writing. Is it possible to write a character out like that, in a series that also has humor in it. It's a fine balance, and Simon did that with the film, as well as throughout the series. Death is part of life. We shouldn't shy away from that when we're dramatizing things. I think it was handled really beautifully. It's nicely done.
What was it like to figure out the dynamic with Robert Carlyle again? Dave and Gaz are not on the best of terms, throughout most of the season. It takes them a while to actually even communicate with each other. What was that like to explore with him?
ADDY: It was great. Bobby has been living in Vancouver for quite a number of years, so we've not seen each other for more than 15 years, I would think. But the characters are so well drawn that you're immediately back in their world. It was tougher for Robert than me. Dave is a much more taciturn character. Gaz is constantly on the front foot. The energy is way up, and he's got ideas popping. I think Bobby took a little bit of time to figure out where to go to play Gaz again. It's clearly the same guy from all those years ago, with his madcap schemes and money-making ideas that he's dragged Dave into too many times. But it was easy. It was great to work with Robert again. I learned so much from him. I'd not done a movie before The Full Monty. I'd done a lot of theater and a bit of TV, so it was a massive learning experience for me, and he's a master of his craft. It was a great opportunity for me to just learn all that I could. I appreciate him for that, as much as anything. It was great. We were back in the zone with these characters.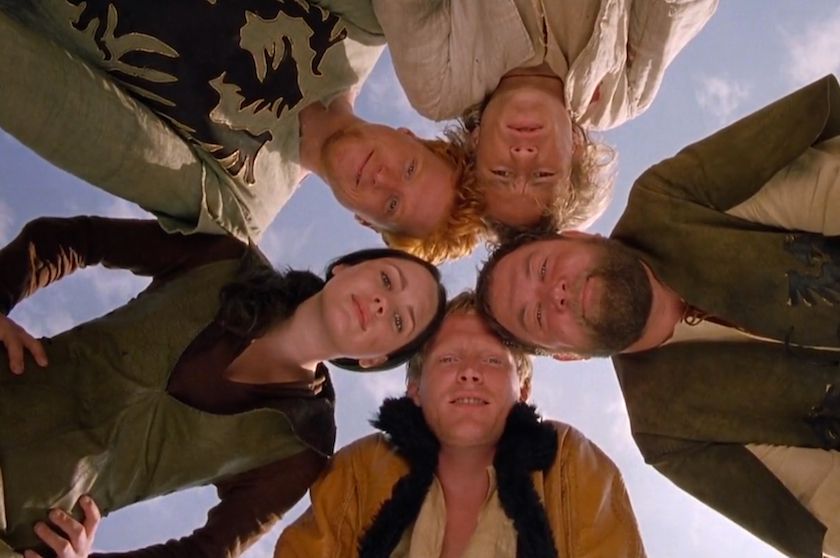 I've loved so much of the work you've done, across all sorts of genres, and in film and TV, but A Knight's Tale holds a special place in my heart. I've seen that movie many times and it always delights me. How did you feel about that experience, at the time that you shot it? Does it hold a special place in your heart? Are you surprised that movie still is so special for people?
ADDY: I'm delighted that it's special for people. It was a very special time for me. It was an amazing group of people to work with. We had five and a half months in Prague, in the Czech Republic, shooting this crazy, quite brilliant story that, on its theatrical release, really had very little interest. It was only when it came out on DVD that people started going, "Wow, why didn't we see this on the big screen?" I'm very pleased that it's got a nice cult following that appreciates its quirks and what Brian [Helgeland], the writer/director, was trying to achieve with it. It amused me, at the time, when people were criticizing that they didn't have rock music in medieval times. It was a really happy time, with a great cast and crew, and a brilliant writer/director. You can't wish for more than that. It has very fond memories for me. I've been lucky. The reason I got A Knight's Tale was because Brian had seen The Full Monty and went, "I want that guy." Everything is interconnected. For 20 years after The Full Monty came out, all the work I got was as a result of The Full Monty, which is extraordinary, really, but that's the nature of the beast. Because The Full Monty cost a tiny amount and took huge figures at the box office, everybody in Hollywood had to see it, in order to try to figure out what the secret was and what they should be doing. That means you've auditioned for a lot of important people, in one fell swoop, which is a bonus that you can never imagine.
The Full Monty is available to stream at Hulu.
Source: https://dominioncinemas.net
Category: INTERVIEWS