It wouldn't be a stretch to say that the latest season of The Real Housewives of New Jersey was a real snooze. With new ladies, Danielle Cabral and Rachel Fuda joining the long-existing lineup of Teresa Giudice, Melissa Gorga, Margaret Josephs, Dolores Catania, and Jennifer Aydin, the storylines did little to keep audiences engaged week after week. Known for its over-the-top table-flipping antics, it was mind-numbing to watch the gals have lackluster arguments over Josephs's "arsenal" of information and embark on an unmemorable trip to Ireland. Even Nonno's pajamas couldn't save this season. The beating heart of Jersey has always been found within the family dynamics – particularly the strained relationship between Teresa Giudice and her brother and sister-in-law, Joe and Melissa Gorga. And, while there were bits and pieces of that, it didn't come anywhere close to delivering the same quotable moments that we've seen in the past its dedicated reality tv fanbase is used to.
After duking it out for over 10 years, the steam is beginning to slow down between the Giudices and the Gorgas, with this season making it more obvious than ever that maybe it's time to try something different. The final episode saw a huge blowout between the Gorgas, Giudice, and Giudice's now-husband, Louie Ruelas, a conflict that would put the final nail in the coffin of the Gorgas skipping out on Teresa and Louie's nuptials. While viewers will get to see Teresa and Louie's big day during her spinoff special Teresa Gets Married on May 23rd (with no Gorgas in sight), questions are beginning to surface on what we can expect from the next season of New Jersey, as production is at a standstill.
It's a Fresh Start in 'The Real Housewives of New York City' Season 14 Trailer
What's Slowing Season 14 of 'RHONJ' Down?
The cameras are in position and ready to get underway, but, according to Entertainment Tonight, filming has been put on hold due to "cast conflicts". Now, the folks holding it all together are taking a step back to give themselves a chance to "assess and figure it all out," leaving more questions than answers when it comes to what's going on behind the scenes. However, after such a turbulent season, all signs are pointing to the Giudice and Gorga drama with many speculating that one of the ladies won't be invited back.
Who Could Be Axed From the Series?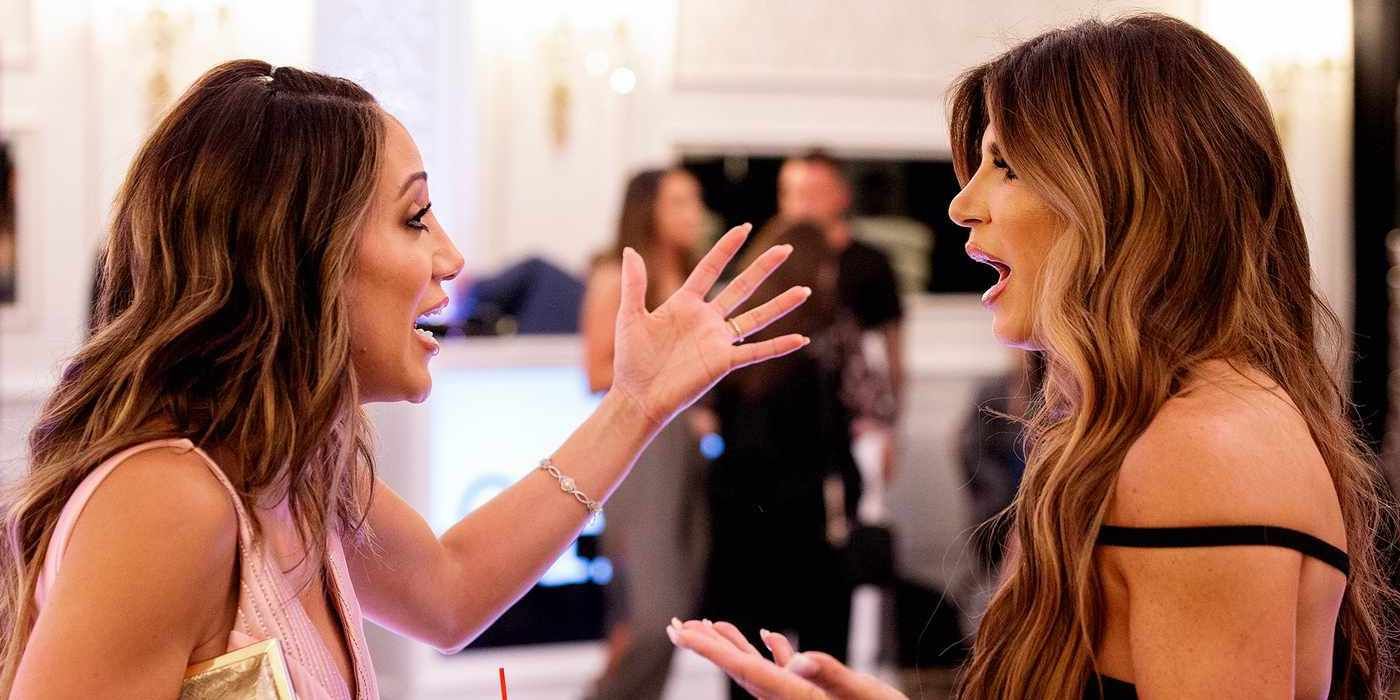 Because the delicate power balance is between Meliisa and Giudice, it would seem more than likely that production is seriously considering kicking one of them to the curb. Both have been with the show for a very long time, with the Giudices appearing since the first episode and the Gorgas jumping in during Season 3. As far as seniority goes, Teresa has Melissa beat, but there's more to it than that.
see more : 'Basketball Wives' Season 11 Marks Evelyn Lozada's Return Amid a Cast Member's Fraud Indictment
Over the years, Giudice has created some of the most talked-about moments in reality TV – specifically the rage-filled table flip during the first season's finale. When she and her then-husband Joe Giudice were convicted of fraud in 2014, production halted and regrouped during her time in prison. After a dull sixth season that saw a handful of long-running cast members replaced, the show's producers knew that it would be a bad idea to film without her. Following her 15-month prison sentence, the show was back on with a celebratory welcome home episode for the OG.
The main takeaway from the almost two-year hold is that those backing it understand the audience's attachment to not only familiar faces, but also to Giudice and her family. There's also the likelihood that Season 14 would turn up the heat on Giudice's marriage with Ruelas, with last week's finale revealing that he'd been gathering intel from a private investigator on her co-stars. The following night, Teresa went on Andy Cohen's Watch What Happens Live, where the host questioned Ruelas on his private investigator claims. Laughing it off as just a joke, Ruelas nervously tried to sideline the conversation. Many audience members' first impression of Ruelas was that he was a walking red flag.
First, there were assault charges brought up against him after he had a road rage incident that led to a physical altercation. Simultaneously, his exes began to come forward with accounts of their volatile relationships. Ruelas was accused by not one, but two of his exes of emotional, physical, and mental abuse that left them as shells of the people they were before their relationship with him. Season 12 addressed some of these claims, but Giudice stuck by her man. From what's beginning to come out, it would appear as though both Ruelas and Giudice were able to pull the wool over our eyes, with many fans siding with them over the Gorgas. But, his recent statements and actions are foreshadowing that drama may be around the corner at the reunion and beyond – meaning that producers will certainly want to keep Giudice on for the next season.
Unlike her sister-in-law, Melissa hasn't had a fully fleshed-out and engaging storyline in quite some time. The rumor mill seemed to be working overtime during the latest installment with a source close to the ladies accusing Melissa of having an affair. This isn't the first time such an allegation has come to light, with similar statements being made during her tenure on the show, which the Gorgas and her co-stars have claimed Giudice has spearheaded. Overall, the Gorgas seem to be happy in their marriage, but outside their strained relationship with the Giudice clan, there isn't really a juicy plot there. With this in mind, it would be a no-brainer that if one woman needed to be ditched, production would likely send Melissa to pack her bags.
But, neither woman can be expected to back down that easily. In most cases, Housewives very rarely quit their positions. Instead they're often fired or just not asked to return. During a recent episode of her podcast, On Display with Melissa Gorga, Melissa made her stance known. "I have no intentions on leaving," she said, adding, "I never run away when the going gets tough, that's not my personality." Acknowledging that it always seems to be one step forward and two steps back for her family, Melissa explained, "Our family has been through ups and downs for so many years on this show. I have never left before, and I have no intentions on leaving now." Unfortunately, at the end of the day, it may not be Melissa or Giudice's final decision on who stays and who goes.
A Family Affair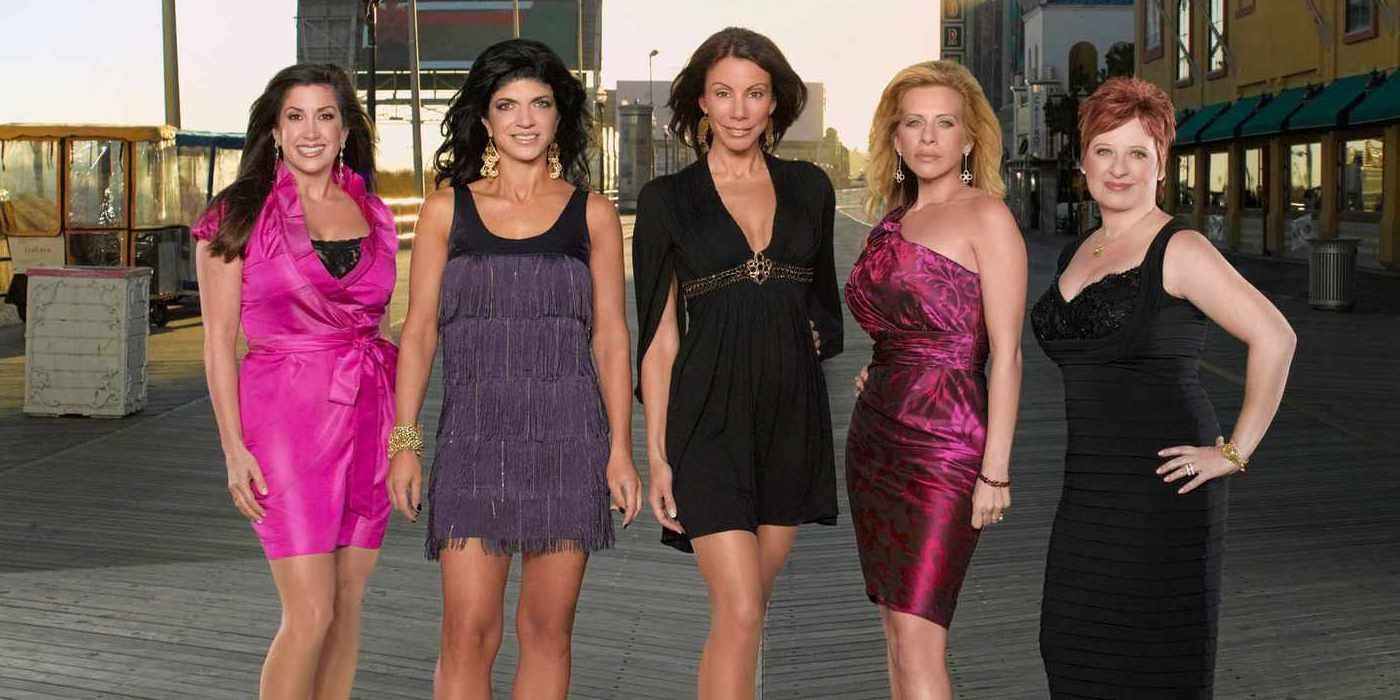 see more : 'Drag Me to Dinner' Is the Perfect Low-Stakes Complement to 'RuPaul's Drag Race'
Since its first season back in 2009, The Real Housewives of New Jersey has always been about family. While The Real Housewives of Beverly Hills had Kim and Kyle Richards (and later Kathy Hilton) and The Real Housewives of Salt Lake City has cousins Whitney Rose and Heather Gay, the Garden State's debut installment introduced us to the Manzos – a family thicker than thieves prepared to tear apart anyone who threatened their peace. It was in this first season that we met the reality TV gold that is Giudice. Finding her own bonus family with the Manzos, Giudice and her husband at the time, along with their gaggle of daughters, were a ratings dream.
While her over-the-top personality was already enough to make her an overnight reality sensation, it was the Season 1 finale that truly saw Giudice's star born. During a heated dinner conversation with fellow cast mate and early season villain, Danielle Staub, Giudice just couldn't hold in her rage and flipped a table – cementing herself in the annals of Bravo history. But, Giudice's storyline would fully commandeer the show in the third season when audiences were introduced to Teresa's brother and sister-in-law.
An off-the-rails christening gives us our first taste of the tension-filled relationship between the Giudices and the Gorgas. During an action-packed episode, we come to find out that Giudice blames Melissa for her troubles with her brother, a connection that used to see the pair joined at the hip but one that's now been torn apart. On the other side, the Gorgas lay the blame on Teresa and her ex-husband for the familial drama, citing Giudice's continuous attempts to poke holes in their marriage as the real problem. Season 3 also introduced audiences to Joe Gorga and Giudice's cousin, Kathy Wakile, who sided with the Gorgas over Teresa.
This new Gorga family takeover essentially marked the beginning of the end of the Manzo dynasty, although they continued to appear on the series. For every calm, cool, and collected family meeting that the Manzos had, the Gorgas and Giudices had a screaming match dotted with name-calling and aggressive behavior. While it's sad to see a once close family bursting at the hinges, the tense and uncertain dynamic made for captivating TV. Over the years, both families have made attempts at creating a healthier relationship, but have failed time and time again.
The drama between the Gorga siblings is an incredibly layered one with Joe Gorga clashing with his sister's first husband, just as Teresa has with her brother's wife. Joe Gorga always thought that Joe Giudice was trying to one-up him and get in between his relationship with his parents – specifically his father – and disagreed with the way his sister was treated during their marriage. Likewise, Giudice has never had anything kind to say about Melissa, often accusing her of cheating on Joe Gorga. One of the most notable tears in the dynamic came when the Gorgas lost both of their parents – something that Joe Gorga has always blamed on his sister's ex-husband due to his illegal activity which sent both him and his ex-wife to jail. For every layer that was peeled back by the season's end, more wounds resurfaced, continuing to pull apart the Gorgas and Giudices.
At the end of the day, it's anyone's guess as to what production will deem to be the right decision to ensure that the show goes on. Losing either woman would be a major hit to the fandom, and no longer seeing the families clash could shake its dedicated fan base. But, with Season 13 further proving that neither party will budge, the production team will eventually be forced to play their hand one way or the other. This week, viewers will have a front-row seat to Giudice's and Ruelas' wedding, with a three-part reunion to follow.
Source: https://dominioncinemas.net
Category: REALITY TV