Following its quiet launch on Spectrum last year, the first season of Panhandle is officially streaming on The Roku Channel—and it is a series that audiences won't want to miss out on. Luke Kirby stars as an agoraphobic armchair sleuth who is desperately trying to solve his late wife's murder, all the while investigating the other mysterious murders taking place in Boggsville, Florida. His investigation puts him in the path of the town's sole traffic cop Cammie Lorde (Tiana Okoye), who has her fair share of mysteries, and together they unite to uncover what's really going on in their town.
Just after the first episode landed on Roku, Collider caught up with Luke Kirby to discuss his role as the eccentric Bellwether Prescott, how Columbo led him to the series, what it was like to step into a new role behind the scenes as a producer on the series, the appeal of quirky armchair sleuths like Bell, and the potential for Season 2 following the jaw-dropping season finale that left Bell and Cammie on the precipice of an even bigger mystery. We also discussed The Marvelous Mrs. Maisel which took its final bow last month, and Kirby spoke about his final appearance as Lenny Bruce and the connection between Lenny and Midge (Rachel Brosnahan).
COLLIDER: The physicality that you bring to Bell is so compelling to watch, from the way that you walk to the way you move your shoulders, to even the way you move your hands and touch things. In the process of shaping the character, how did you start to incorporate those little quirks?
LUKE KIRBY: It felt very clear to me from a very early stage with exploring this guy that he has a degree of sensitivity that's kind of relentless and overwhelming, and clearly has a kind of skin that vibrates, bordering on infinite stuff, and so, I was just kind of trying to explore what that might feel like. And given the nature of the show and the sort of looseness that I felt with style, I felt like I could explore him, almost allowing him to kind of veer into the realm of the cartoonish, given his kind of heightened position in the world and just his all-around being. Those were the things that got me kind of cooking with that.
I'm always interested to learn the process that actors take to build their characters, and are you the kind of person who creates a playlist for the character, or journals as the character, or researches things that those characters are interested in?
KIRBY: Yeah, I feel like you kind of start in the murk and the mud. It's everything, it's always like a new genesis, right? So there's no light, you're a creature void of form, you know? And then you kind of spend time in that dark and try to find a little… some kind of energy that can kind of radiate, and then start to search around with that little glimmer that it gives, that little light that it gives you. And you can do that in many [ways]. You know, playlists are great, lookbooks, definitely reading stories that kind of align with the world, that give you the smells that you're looking for. It's a sensual endeavor for sure.
Then also, just trying to root into whatever this person is. You want to be as close to a real person as possible that's not unbearably boring, to feel a bit lived in as though they had a history and had a childhood and all of that. So, you know, it's always kind of really stomach-churning and awful. Also, once you have that little zest for exploring, it becomes a lot more fun that way. Just to kind of fill up the bucket, just fill up the bucket and pour it out, and hope for the best. [Laughs]
And Bell has so much to work with because you get to explore so many aspects of his childhood, his present, the past with his wife, you have so much to work with him.
KIRBY: I loved his kind of endeavoring to solve crime, it's a great character trait. It gives a character a hunt to be on, it gives them a degree of intelligence that I don't always feel like I have and a commitment to it. It's nice to play someone with an obsession. What I loved about the show is that, at the same time, the show is acting as a sort of a solver of emotional mystery by exploring his past and trying to uproot whatever traumas he may have. So I relished that component of the show for sure.
Well, these kinds of characters are so interesting. Watching this, I was thinking about, like more recently, Rian Johnson's Poker Face, and then going back a little bit, you have characters like Monk or Columbo, the "Quirky Unexpected Detective" is such a compelling genre. When you were working on the show, did you maybe figure out what it is about these characters that are so compelling for audiences while embodying that kind of character?
KIRBY: Not especially. It's more that I kind of am very fond of those worlds that get created from studying those characters. We started this show coming out of COVID, and all of the restrictions and all of that, and I spent a lot of my time at home watching Columbo and Golden Girls. Those are the two shows that I watched the most of, and both of them gave me such a degree of comfort just to sort of dive into those realities for a half hour, an hour here and there. It's probably partly my age and a generational thing, but the aesthetic, I loved being there, and it made me kind of yearn for something along those lines coming out of it. And so when this came my way, it sort of felt like those two – because of the nature of solving crime and private investigation and Florida – were melding, and I took it as a sign to go for it. But yeah, I don't really know what it is. I think we, as an audience, love to explore our own gumshoe capabilities.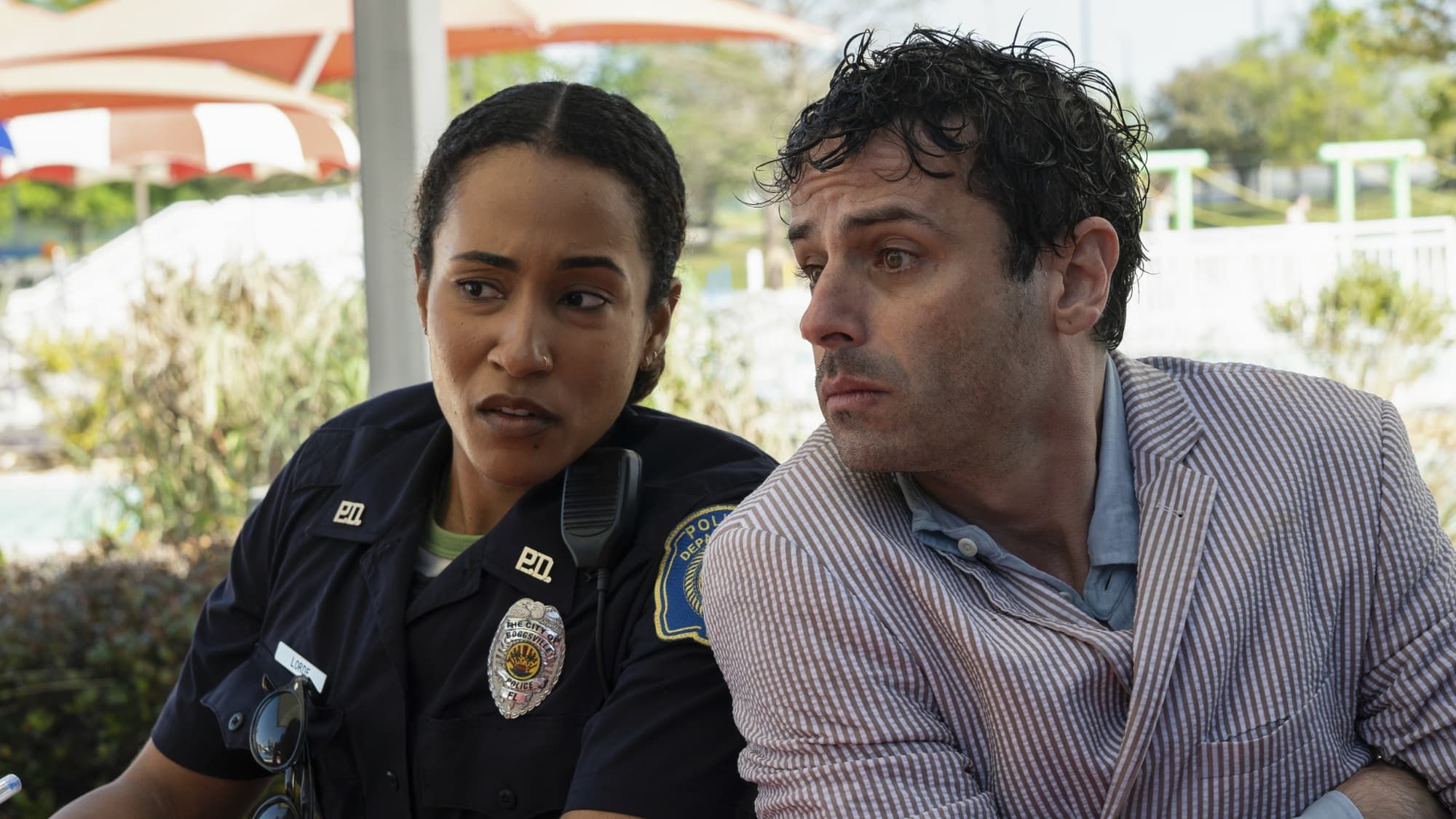 And I think you hit the nail on the head with it being like a comfort. There's something about these shows and these characters.
KIRBY: Yes, it does. It's odd that it is. Yeah, it's like sitting next to your grandparents, or something. There's something kind of cozy about it. It's peculiar because, you know, it's a little bit ghoulish, it's around violent crime. But no, it is. For me, I find it to be a joy, and my wife watches a lot of true crime, and I know that she finds it kind of… it gives her a kind of– I don't know what it is. I can't even name it, but I know she watches a lot of it, and I'm always the reluctant participant in it, but then when I sit down with it, and I go, "Oh yeah, that was juicy and creepy," you know? [Laughs]
This is your first time producing, correct?
KIRBY: Yeah, that's true.
What was that experience like for you?
KIRBY: It really was kind of me just dipping my toe and exploring that moral. I feel really strongly about what an actor's job is, and sometimes there's a boundary that you have to practice where you trust all these other departments. So sometimes I quiet myself when I'm inspired or something on a set, or in pre-production, because it's that sort of condition of staying in your lane, even though it's a collaborative exercise and everything. I felt like being a producer kind of allowed me to feel more confident and comfortable just throwing ideas out and about, you know? It was really a dipping of the toe. It opened up my space to just feel like I could have those conversations and maybe be taken a little more seriously to some degree when talking to people about all my brilliant ideas.
After finishing Season 1 I'm desperate to know, is there a potential for Season 2? Because that was a killer cliffhanger to leave us on.
KIRBY: It sure was! It sure was. I don't know. I mean, there is always potential.
Fingers crossed?
KIRBY: Definitely fingers crossed, for sure. I had a ball working on this show and I loved our cast. I loved being in Savannah, I loved Bellwether and the peculiar world that we got to live in for those months. So yeah, I'd be happy to go back. We shall see. It's an interesting time for everyone, as you know. It feels very tenuous, and we have other things to focus on right now, but yeah, of course, I'd love for it to have some legs. I like your little alligator back there.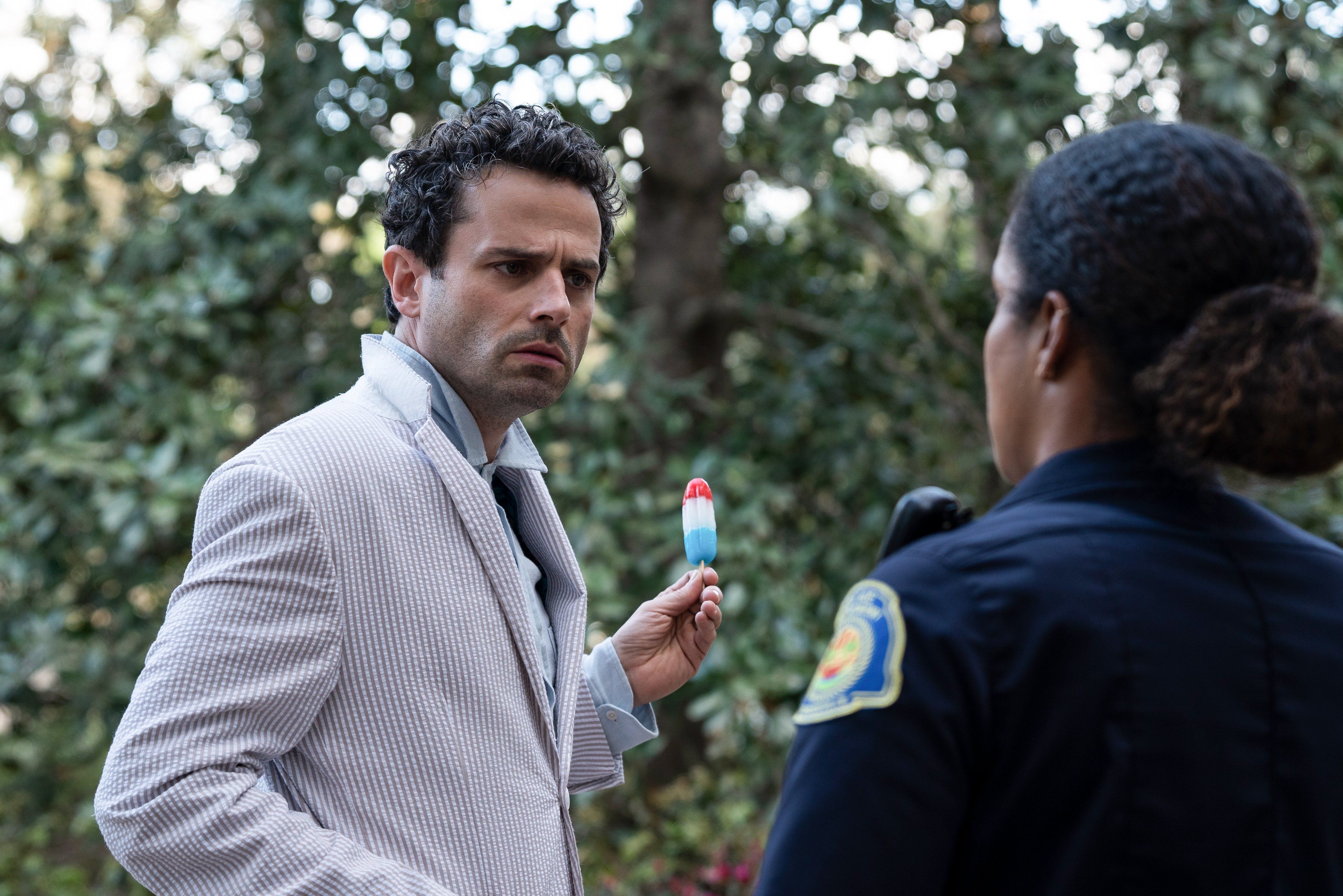 Thank you. I brought him up just for it. I'm a huge fan of alligators.
KIRBY: Aww, how cute! That's great.
While I have you for a couple more minutes, I did want to mention Marvelous Mrs. Maisel. I love that show with my whole heart and your portrayal of Lenny. Something about Amy [Sherman-Palladino] that I find fascinating, I was a huge fan of Gilmore Girls and I loved that her characters live so much longer than the show exists. Luke and Lorelai is this dynamic that people still carry with them as fans, and I think that connection between Lenny and Midge is going to be something that lingers long beyond the show's lifetime. I wonder what it is for you, as an actor, to be part of these stories that aren't just ephemeral, they last in the hearts of the audience.
KIRBY: It feels lucky because I got to explore it for the time. It's not why you do it because if it was why you'd do it, you'd be up the creek, but it is so validating to have people kind of reassure you that the work you've done felt substantive. It kind of reassures you that those initial sparks of why you did it, which I think came, for me, from that same sensation from watching other people do it, that this work matters, and that it resonates, and that there was feedback and an exchange with an audience that is meaningful and not just sort of salacious, so yeah, it's a nice thing.
I'm very glad we got those last two scenes with Lenny before it was all over.
KIRBY: Me too. I was watching the show thinking, "When am I gonna show up?"
Were there ever any ideas for him to be in other episodes? Were you filming this when the final season was filming?
KIRBY: Yeah, but that wasn't part of the why of not being there. It was just, you know, I feel like Amy and Dan [Palladino] really did a beautiful job with the show, it's so gorgeous. I feel like Lenny was sort of a curio figure, which was a great privilege for me to kind of just bounce in and out, but I really felt like they handled it so beautifully. And the way that Season 4 ended, in some ways felt like you couldn't top it. That stuff at Carnegie Hall, the scope of it was so big, and the punch of he and Midge colliding like that, and all of that It felt like, what more can you do? So, I was really content with what was given in the last season.
Panhandle is streaming now on The Roku Channel.
Source: https://dominioncinemas.net
Category: INTERVIEWS