David Dastmalchian is no stranger to playing dark, complex characters, but he dubs the role of Lester Billings in The Boogeyman as one of the scariest roles he's had to tackle yet.
Lester Billings is one of the main characters in Stephen King's short story. In Rob Savage's feature film adaptation, the focus shifts to the Harper family (Chris Messina, Sophie Thatcher, and Vivien Lyra Blair), but Lester is still in play. Even though he's only seen in one sequence, the character not only must set the tone for The Boogeyman, but his influence also needs to be felt throughout the film, and Dastmalchian finds great success in both respects.
At the start of The Boogeyman, Sadie (Thatcher) and Sawyer (Blair) are trying to move forward after the passing of their mother by heading back to school. Their father, Will (Messina), is also struggling, but he jumps back into work as a therapist. When an unexpected new patient, Lester Billings, shows up at his home office door, Will reluctantly agrees to see him. Little does Will know, Lester is carrying around a deeply sinister darkness, and that darkness is about to latch itself onto his own family.
In celebration of The Boogeyman's June 2nd nationwide release, I got the chance to chat with Dastmalchian about the making of the film, beginning with his decision to turn down the role initially.
Dastmalchian was sent the script by Dan Cohen of 21 Laps who insisted he was perfect for Lester Billings. Dastmalchian explained what happened next:
"I read it and I said, 'Absolutely not. No interest in portraying Lester Billings. I don't care to go there. I've done too much stuff in the darkness. I need a break, and I can't do it.' And then Dan is many things, a gifted producer, a wonderful human being, but he's also relentless and he just kept talking to me and saying, 'If I could just get you to talk to Rob and hear his vision of who he thinks that Lester could be and what you could do with it.' I was like, 'I don't know if I have the capacity in me right now to go where you need to go. We're coming out of a pandemic. It's been a dark time in all of our lives, to bring to life a guy who in many ways just represents so many of the things that scared me the most about this life …' And then, of course, that fateful zoom finally happens with Rob Savage and I go, 'Ah, I love this guy,' and, 'Yeah, we're gonna do this movie together.'"
What exactly happened during that meeting that gave Dastmalchian the confidence that he'd be in good hands with Savage? Here's what he said:
"Immediately I got the truth of Rob's vision as a director that spoke to his insistence that this was going to be an overall film that was not constructed for the device of mere entertainment or scares, and that a character like Lester was not a mere device as a conduit of information and, for lack of a better term, a kind of trope, a kind of caricature of the Southern yokel guy that I kind of got the feeling that he was in the short story. And he understood why this world was going to lean more towards the creation and telling of a story something like Ordinary People as opposed to scare house. So I was like, 'Okay, I'm listening,' and he started talking about the need to really invite Chris's character's mind and heart into a place with this interaction that he has with Lester that then is going to open a door for the audience to become vulnerable and start caring about these people in a way that will be meaningful because it's talking about a subject that's actually really meaningful to me! [I] Lost really important people to me over the last few years. Grief is a bitch. It is as horrifying as some of the human emotions can be that we experience. Watching and hearing Rob talk that first conversation with the genuine and authentic care that he had about it, meant a lot."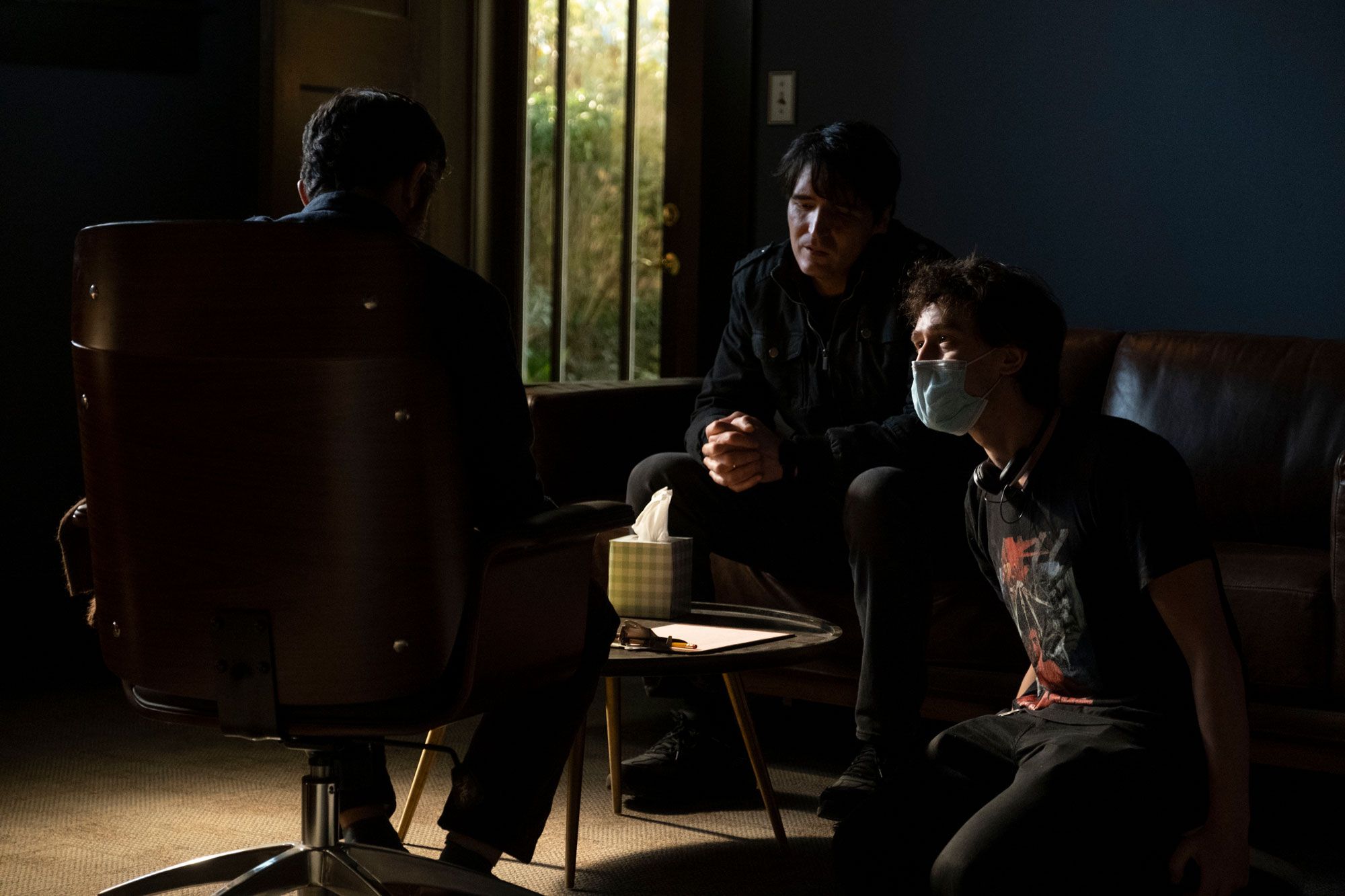 see more : Daniel Wu and Jimmy Liu on 'American Born Chinese' Wirework Fight Scenes and Monkey Prosthetics
Turns out, Dastmalchian's instincts were on point. He filmed the scene and described the experience as "a gift." He continued:
"It was like being back in theater, and I loved knowing that at any second things could implode. Things could go sideways. You take a lot of risk when you're choosing to act in different ways, and I felt like with this, I wanted to really be as vulnerable as I possibly could so that we could create a tension. I think that scene just has so much weight on it. You have to really crank up the tension for this film and really introduce some ideas and concepts that are going to then propel us into the rest of this story. I was so scared taking on that responsibility as well, just because of the fear of going places emotionally and physically, but also the pressure of like, the scene has to work. This scene needs to work. If it doesn't work, the film doesn't work."
The Boogeyman's Lester Billings is a hugely intimidating, high-pressure character to tackle. It makes sense that Dastmalchian would label it one of his scariest roles yet. But, given he's got quite a few roles on his filmography that seem as though they could also fall in that category, I had to ask Dastmalchian for other projects he'd put on that list. In addition to Lester, what character was Dastmalchian most scared to jump into? Here's what he said:
"They're all scary to be quite honest. I was terrified, I made a film called Animals that deals with addiction. That was terrifying for me because I'm someone who's dealt with addiction and mental illness most of my life. Twenty-one years clean this year, but I feel like anytime you go into that space, [you're] making yourself vulnerable. And did a film called Prisoners with Denis Villeneuve and playing Bob Taylor was really tricky for me because it deals with some of the themes and things that scare me the most about this life. I recently did a film called Late Night with the Devil, which really scared me, and mental breakdowns. There's a lot on stage as well. But Lester was its own kind of fear, bringing Lester Billings to life and being a part of this film was like its own kind of terror."
Eager to hear more from Dastmalchian about the making of The Boogeyman and about his experience reuniting with Christopher Nolan for Oppenheimer? Check out our full conversation in the video at the top of this article!
Source: https://dominioncinemas.net
Category: INTERVIEWS